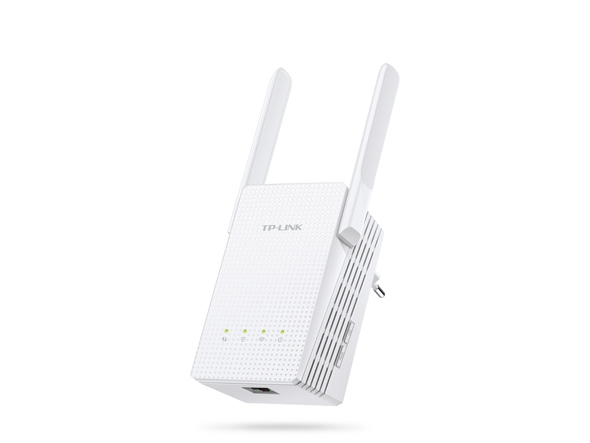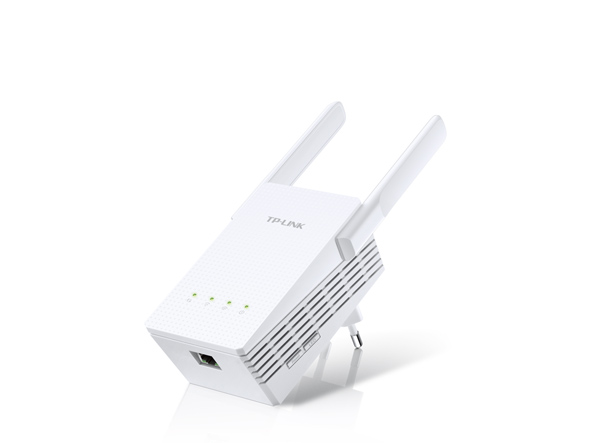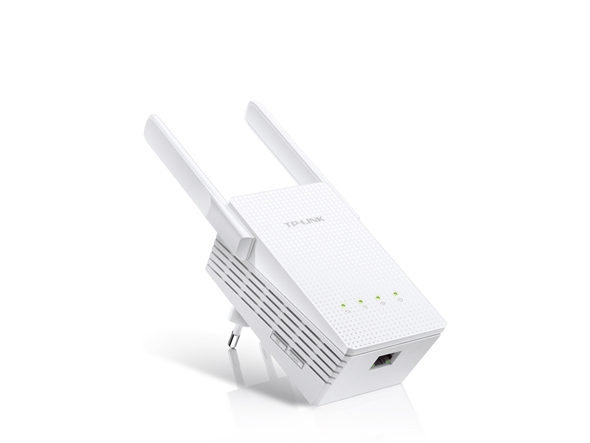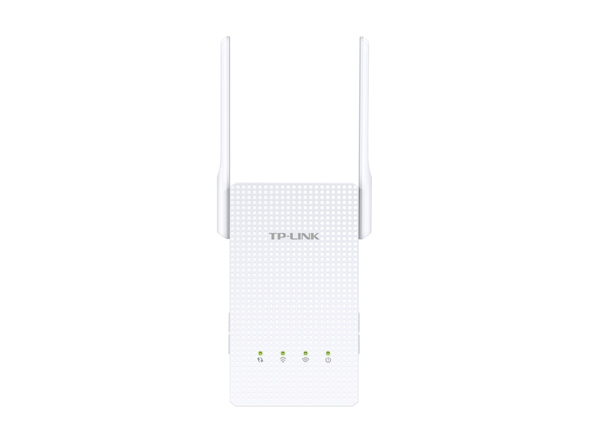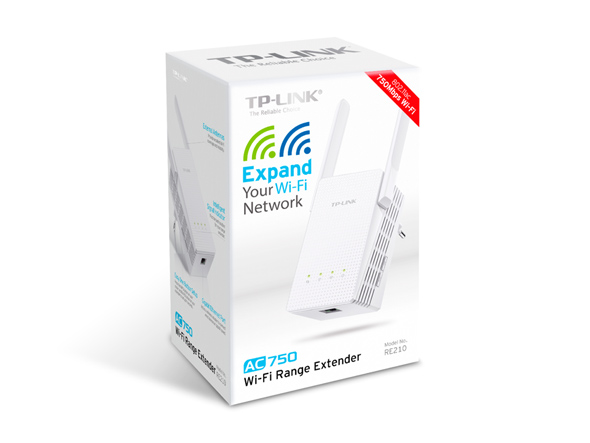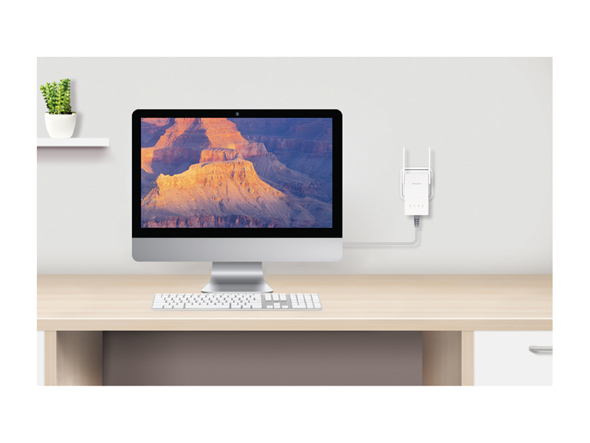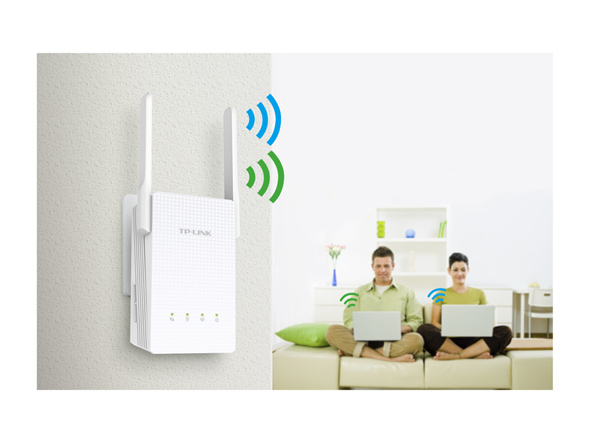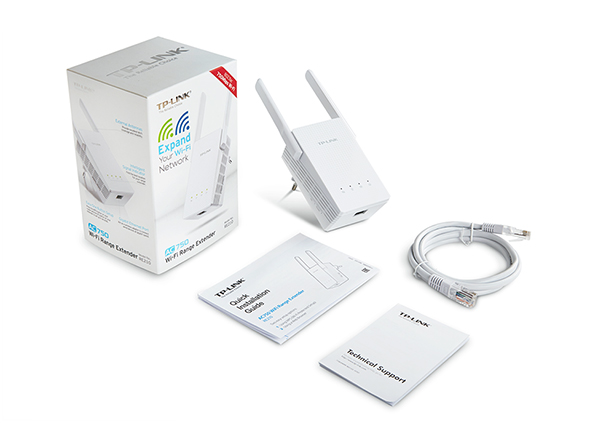 AC750 Wi-Fi Range Extender
Versterkt het draadloze signaal probleemloos naar voorheen onbereikbare plaatsen
Ondersteunt alle 802.11 a/b/g/n/ac standaarden van Wi-Fi routers en draadloze access points
AC draadloze technologie levert gecombineerde dual-band snelheden tot 750 Mbps
Via gigabit ethernetaansluiting kan extender als draadloos adapter fungeren om bekabeld apparaat aan te sluiten
Met het compacte ontwerp en mogelijkheid om aan de muur te bevestigen zeer eenvoudig in te zetten en te verplaatsen
Vergroot de dekking van
uw draadloze netwerk
Geen zin meer in plekken zonder Wi-Fi bereik? De range extender van TP-LINK maakt draadloos verbinding met uw router, versterkt het signaal en breidt het uit naar eerder onbereikbare gedeelten. Het apparaat vermindert ook signaalstoringen, om een betrouwbare Wi-Fi dekking overal in huis of kantoor te verzekeren.
Externe antennes met hoge prestaties
De twee externe antennes zorgen voor een grote en betrouwbare Wi-Fi dekking, zodat uw apparaten altijd verbonden blijven binnen het bereik van het netwerk.
Nieuwe-generatie Wi-Fi met universele compatibiliteit
De range extender is geschikt voor de nieuwe-generatie Wi-Fi standaard: 802.11ac. Dankzij de AC draadloze techniek kan hij tegelijkertijd op twee banden werken met een gecombineerde snelheid tot wel 750 Mbps. Te weten 433 Mbps via het 5 GHz kanaal en 300 Mbps via het 2,4 GHz kanaal. Bovendien werkt de extender met elke standaard Wi-Fi router of draadloos access point.
Werkt met Elke Wi-Fi Router
*Werkelijke Wi-Fi snelheid kan door omstandigheden ter plaatse verschillen.
Gigabit snelheid via kabel
Via de gigabit ethernet aansluiting fungeert de extender als wireless bridge, zodat u m.b.v. een kabel een apparaat met uw Wi-Fi netwerk kunt verbinden, bijvoorbeeld een Blu-ray speler, gaming console, DVR, of smart TV.
Gigabit Ethernet poort
Hoge-snelheid modus
In de hoge-snelheid modus zijn de prestaties maximaal, doordat de bandbreedtes van de 5 GHz en 2,4 GHz kanalen worden gecombineerd tot een supersnelle verbinding, waarbij via één band data verzonden en via de andere data ontvangen wordt. Deze instelling is ideaal voor bandbreedte-intensieve taken zoals HD video streaming en online gaming.





Ontworpen voor
eenvoudig gebruik
Intelligent lampje

Het intelligente lampje verandert van kleur om de sterkte van het signaal ontvangen van uw draadloze router aan te geven. Daardoor kunt u gemakkelijk de beste plaats voor de range extender vinden en een optimale dekking van uw Wi-Fi bereiken.

Gebruiksvriendelijk ontwerp

Druk de LED aan/uit knop om de lampjes 's nachts uit te schakelen. Door zijn compacte en voor wandmontage geschikte vormgeving is de extender gemakkelijk te installeren en verplaatsen.

Gemakkelijke bediening

Steek de extender in een stopcontact, druk de RE toets en de WPS toets van uw router in, waarna die twee binnen enkele minuten met elkaar verbinding maken.
Functionaliteit van de Hardware
Stekkertype
EU
Standaarden en protocollen
IEEE802.11ac, IEEE 802.11n, IEEE 802.11g, IEEE 802.11b

Interface
1 x 10/100/1000 M ethernet aansluiting (RJ45)
Knop
RE (Range Extender) toets, Reset toets, LED toets, aan/uit toets

Energieverbruik
+/- 6.5W
Afmetingen ( B x D x H )
94 x 54 x 75,2 mm
Antenne
2* externe
Draadloze Functies
Frequentie
2,4 GHz en 5 GHz (11ac)
Overdrachtssnelheid
5 GHz: tot 433 Mbps
2,4 GHz: tot 300 Mpbs
Ontvangstgevoeligheid
2,4 G:
270 M: -70 dBm bij 10% PER
130 M: -70 dBm bij 10% PER
108 M: -73 dBm bij 10% PER
54 M: -75 dBm bij 10% PER
11 M: -86 dBm bij 8% PER
6 M: -92 dBm bij 10% PER
1 M: -94 dBm bij 8% PER
5 G:
390 M: -60 dBm bij 10% PER
29,3 M: -83 dBm bij 10% PER
180 M: -64 dBm bij 10% PER
13,5 M: -87 dBm bij 10% PER
78 M: -68 dBm bij 10% PER
6,5 M: -90 dBm bij 10% PER
54 M: -75 dBm bij 10% PER
6 M:-90 dBm bij 10% PER
Draadloos Zendvermogen
<20 dBm (EIRP)
Draadloze Modi
Range Extender
Draadloze Functies
WMM (Wi-Fi Multimedia)
Draadloos statistieken
Gelijktijdige modus met gecombineerde 2,4 G/5 G Wi-Fi banden
Hoge-snelheid modus voor hogere snelheid voor HD gaming and video
Draadloos Mac filter
Domein inlogfunctie
Draadloze Beveiliging
64/128-bits WEP
WPA-PSK / WPA2-PSK
Overige
Certificatie
CE, FCC, RoHS
Pakketinhoud
AC750 Wi-Fi Range Extender RE210
RJ-45 ethernetkabel
Installatie-instructies
Box Dimensions (W X D X H)
100,5 x 89 x 155,5 mm
Systeemvereisten
Microsoft® Windows® 98SE, NT, 2000, XP, Vista of Windows 7, 8, Mac® OS, NetWare®, UNIX® of Linux.
Omgeving
Gebruikstemperatuur: 0°C~40℃
Bewaartemperatuur: -40°C~70℃
Rel. luchtvochtigheid gebruik: 10%~90%, niet-condenserend
Rel. luchtvochtigheid opslag: 5%~90%, niet-condenserend
SubscriptionTP-Link hecht veel waarde aan privacy. Voor meer informatie over ons privacybeleid kan je onze Privacy Policy bekijken.
From United States?
Check products and services for your region.