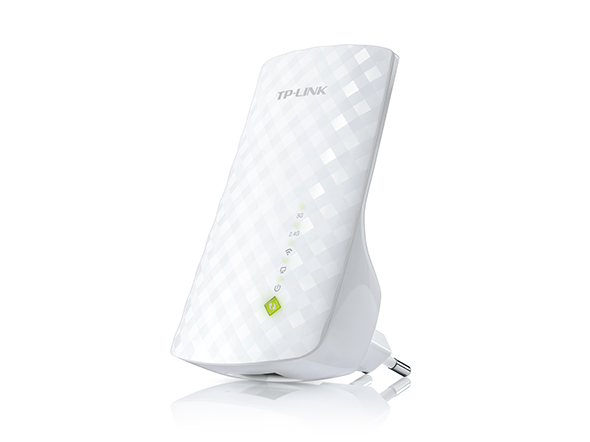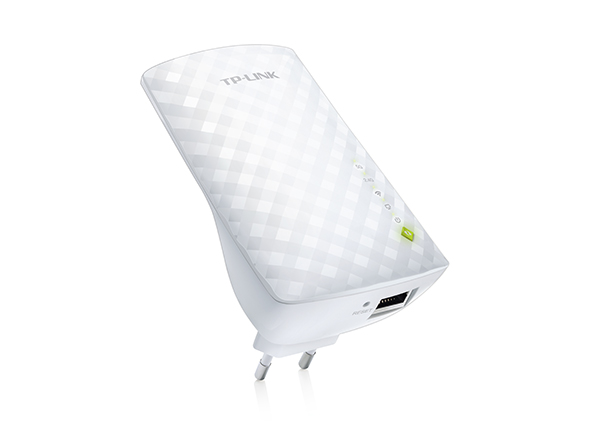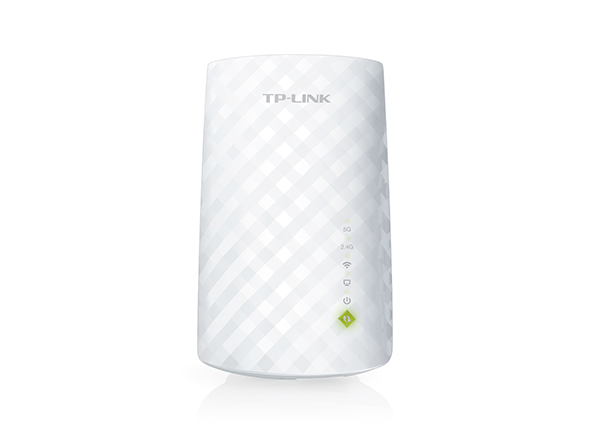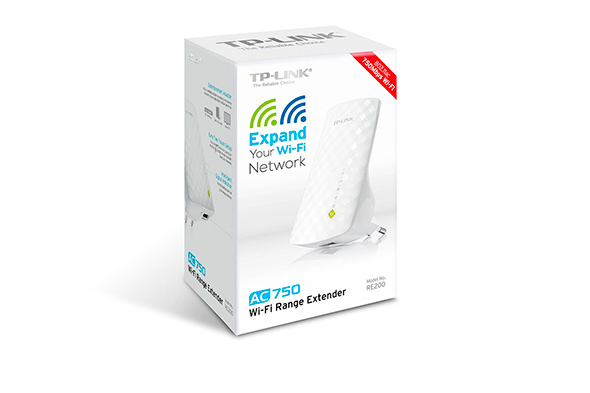 RE200
AC750 WiFi Range Extender
Versterkt draadloos signaal probleemloos naar voorheen onbereikbare of moeilijk te bekabelen plaatsen
Compatibel met 802.11 b/g/n en 802.11ac Wi-Fi apparaten
Dual-band snelheden tot 750 Mbps
Met het compacte ontwerp en mogelijkheid om aan de muur te bevestigen zeer eenvoudig in te zetten en te verplaatsen
Via ethernet-aansluiting kan range extender als draadloos adapter fungeren om bekabeld apparaat aan te sluiten
Geef het bereik van je router een boost om je Dual Band Wi-Fi signaal te vergroten
RE200 vergroot je bestaande draadloze bereik met de nieuwe generatie 11ac Wi-Fi technologie. De extender werkt met elke standaard router en creëert sterkere dual band verbindingen voor moeilijk bereikbare plekken. Het geeft je de mogelijkheid tot probleemloos draadloos internetten door uw gehele huis of kantoor.
5GHz Wi-Fi
2.4GHz Wi-Fi
Existing Router Coverage
Expanded Extender Coverage
Nieuwe Generatie 11ac Wi-Fi
Creëer sneller toegang voor 802.11 b/g/n en ac Wi-Fi apparaten. RE200 levert een snel dual band draadloze verbinding tot 750Mbps en biedt betrouwbare verbindingen voor laptops, smartphones, tablets en andere draadloze apparaten
*Werkelijke Wi-Fi snelheid kan variëren afhankelijk van de gebruiksomgeving.
Geniet van super snelheden in de High Speed Mode
Met de High-Speed technologie maakt de RE200 optimaal gebruik van de Wi-Fi bands om een super snelle verbinding mogelijk te maken - Ideaal voor HD video streaming, online gaming en andere intensive bandbreed activiteiten.
* In high speed mode biedt de RE200 een maximale prestatie maar limiteert de verbinding tot een band (2.4GHz of 5GHz).
Gemakkelijke installatie en flexibiel inzetbaar
Druk binnen twee minuten na elkaar zowel de WPS knop op uw router als de range extender knop op uw RE200 in voor het gemakkelijk tot stand brengen van een draadloze verbinding. Eenmaal verbonden met de router kunt u de RE200 uit het stopcontact halen en plaatsen op een locatie met de beste signaalkwaliteit en bereik in uw huis, zonder dat een nieuwe configuratie nodig is.
* De band die gebruik wordt tijdens het verbinden via de WPS knop is niet altijd gedefineerd en afhankelijk van de instellingen op uw router. Wanneer u een WPS verbinding wilt opstellen voor zowel de 2.4GHz en 5GHz banden ga dan naar de RE200 webconfiguratie pagina voor configuratie.
Slim indicatielampje
Het indicatielampje toont de sterkte van het signaal dat de RE200 ontvangt van de router. Dit indicatielampje helpt u de beste locatie te vinden voor optimale Wi-Fi dekking.
Good connection
Too far away from the router
No connection
Entertainment Adapter
De RE200's Ethernet poort geeft de mogelijkheid de extender te gebruiken als een draadloze adapter om uw bekabelde apparaten, zoals Blu-ray, spelconsoles, DVR's en Internet TV's, te verbinden. Op het zelfde moment kan het apparaat ook het draadloze netwerk delen.
Wireless
Working Modes
Range Extender/Access Point
Functionaliteit van de Hardware
Stekkertype
EU, UK, US, AU
Standaarden en protocollen
IEEE802.11ac,IEEE 802.11n, IEEE 802.11g, IEEE 802.11b
Interface
1 x 10/100 M ethernet-aansluiting (RJ45)
Ports
1 x 10/100Mbps Ethernet Port (RJ45)
Knop
RE (Range Extender) toets, Reset toets
Input Power
100-240V~50/60Hz
Energieverbruik
Ca. 6,5 W
Afmetingen ( B x D x H )
10,0 x 65,8 x 75,2 mm
Antenne
3 x intern
Draadloze Functies
Standaarden voor Draadloze Netwerken
IEEE 802.11a/n/ac 5GHz, IEEE 802.11b/g/n 2.4GHz
Frequentie
2,4 GHz en 5 GHz
Overdrachtssnelheid
5 GHz: tot 433 Mbps
2,4 GHz: tot 300 Mpbs
Ontvangstgevoeligheid
2,4 G:
270 M: -70 dBm bij 10% PER
130 M: -70 dBm bij 10% PER
108 M: -73 dBm bij 10% PER
54 M: -75 dBm bij 10% PER
11 M: -86 dBm bij 8% PER
6 M: -92 dBm bij 10% PER
1 M: -94 dBm bij 8% PER
5 G:
390 M: -60 dBm bij 10% PER
29,3 M: -83 dBm bij 10% PER
180 M: -64 dBm bij 10% PER
13,5 M: -87 dBm bij 10% PER
78 M: -68 dBm bij 10% PER
6,5 M: -90 dBm bij 10% PER
54 M: -75 dBm bij 10% PER
6 M:-90 dBm bij 10% PER
Draadloos Zendvermogen
< 20 dBm (EIRP)
Draadloze Modi
Range Extender/Access Point
Draadloze Functies
WMM (Wi-Fi multimedia)
Draadloos MAC Address Filtering
Draadloos statistieken
Domein inlogfunctie
Draadloze Beveiliging
64/128/152-bits WEP
WPA-PSK / WPA2-PSK
Overdrachtsvermogen
< 20 dBm (EIRP)
Overige
Certificatie
CE, FCC, RoHS
Pakketinhoud
AC750 WiFi Range Extender RE200
RJ-45 ethernetkabel
CD met hulpprogramma's e.d.
Installatie-instructies
Systeemvereisten
Microsoft® Windows® 98SE, NT, 2000, XP, Vista of Windows 7, 8, Mac® OS, NetWare®, UNIX® of Linux.
Omgeving
Gebruikstemperatuur: 0°C~40℃
Bewaartemperatuur: -40°C~70℃
Rel. luchtvochtigheid gebruik: 10%~90%, niet-condenserend
Rel. luchtvochtigheid opslag: 5%~90%, niet-condenserend
Awards

Recommendation

RE200 was recommended with 4/5 stars from Alt om DATA

2015, Denmark
From United States?
Get products, events and services for your region.