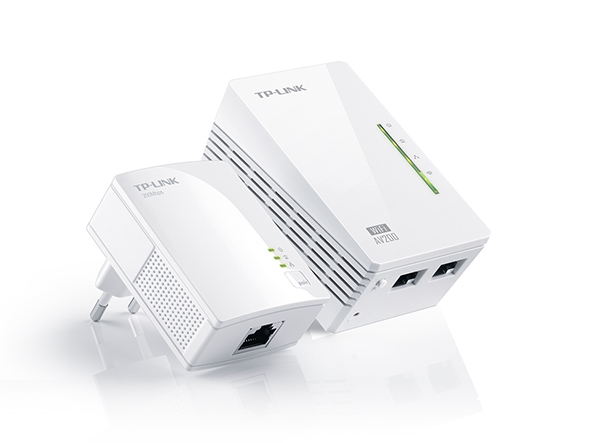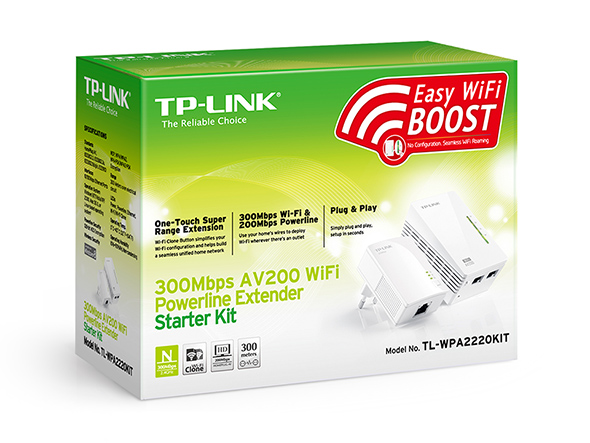 TL-WPA2220KIT
End of Life
300 Mbps AV200 Wi-Fi Powerline extender startset
Eén druk op de Super Range Extension - Wi-Fi kloon toets vereenvoudigt de Wi-Fi configuratie en helpt u een naadloos en uniform thuisnetwerk op te bouwen
Breid 300 Mbps draadloze verbindingen uit naar eerder moeilijk bereikbare gedeelten van uw huis en kantoor
De HomePlug AV standaard maakt datatransmissie tot 200 Mbps mogelijk via de bestaande elektrische leidingen in huis - ideaal voor vertragingvrije HD of 3D video streaming en online games
Wat doet dit product?
De TL-WPA2220KIT van TP-LINK brengt uw Internet verbinding naar elke ruimte in huis via het bestaande elektrische leidingennet. De TL-WPA2220KIT heeft een Wi-Fi kloon toets voor superuitbreiding van het bereik, wat betekent dat hij het SSID en wachtwoord van uw router automatisch kan kopiëren. Op deze manier vergemakkelijkt de TL-WPA2220KIT het configureren van uw Wi-Fi en maakt hij naadloos roamen binnen uw thuisnetwerk mogelijk.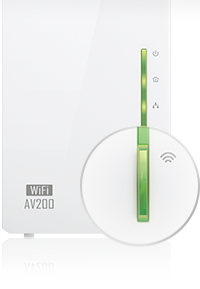 Superuitbreiding van het bereik met één druk op de toets
De TL-WPA2220KIT beschikt over een Wi-Fi kloon toets waarmee u het bereik flink kunt vergroten, waarbij de naam van het draadloze netwerk (SSID) en wachtwoord van uw router met één druk op de toets worden gekopieerd. Nadat u de toets hebt ingedrukt, kunt u de Powerline adapter overal plaatsen waar u bekabelde of draadloze toegang wenst en genieten van naadloos netwerken overal in huis of kantoor.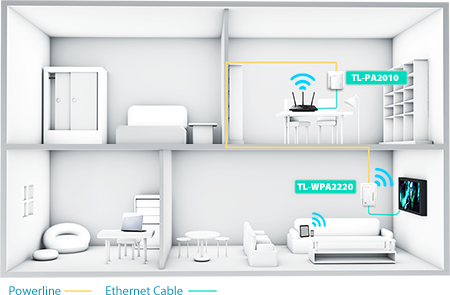 Wi-Fi dekking uitbreiden naar alle ruimten
Met draadloos snelheden tot 300 Mbps kan elke gebruiker zijn Wi-Fi netwerk moeiteloos uitbreiden via het bestaande elektriciteitsnet in huis en een draadloos signaal naar andere delen van het huis of kantoor uitzenden.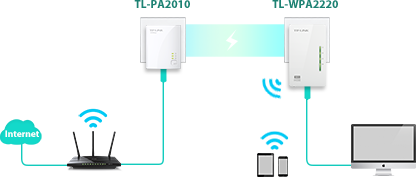 Plug and Play
Met de Powerline adapters van TP-LINK zet u binnen enkele minuten probleemloos een Powerline netwerk op - stekker erin en klaar. U kunt de verbindtoetsen van de adapters ook gebruiken om beveiliging in te stellen of meerdere Powerline adapters in uw Powerline thuisnetwerk te beheren.
1. Steek een met het Internet verbonden adapter in een dichtbijzijnd stopcontact.
2. Sluit op andere adapters PC's, laptops, Internet TV's of andere netwerkapparaten aan via een ethernetkabel of Wi-Fi – en klaar bent u!
* Aanbevolen: Druk de verbindknoppen in voor netwerk- en databeveiliging.
Functionaliteit van de Hardware
Stekkertype
10/100 Mbps ethernet aansluiting
Standaarden en protocollen
HomePlug AV, IEEE802.3, IEEE802.3u, IEEE802.11b/g/n
Interface
10/100 Mbps ethernet aansluiting
Knop
Verbinden, Reset, Wi-Fi/Wi-Fi kloon
Energieverbruik
<6W
LED-Indicator
PWR, PLC, ETH, Wi-Fi/Wi-Fi kloon
Afmetingen ( B x D x H )
3.7 x 2.1 x 1.6 in. (94×54×40mm)
BEREIK
300 meter via elektrisch leidingennet
Draadloze Functies
Frequentie
2.4-2.4835GHz
Overdrachtssnelheid
11n: Up to 300Mbps(dynamic)
11g: Up to 54Mbps(dynamic)
11b: Up to 11Mbps(dynamic)
Ontvangstgevoeligheid
270M: -68dBm@10% PER
130M: -68dBm@10% PER
108M: -68dBm@10% PER
54M: -68dBm@10% PER
11M: -85dBm@8% PER
6M: -88dBm@10% PER
1M: -90dBm@8% PER
Draadloos Zendvermogen
CE:
<20dBm(2.4GHz)
FCC:
<30dBm
Draadloze Functies
Enable/DisableWireless Radio,WMM, Wireless Statistics
Draadloze Beveiliging
64/128-bit WEP / WPA / WPA2,WPA-PSK / WPA2-PSK
Overdrachtsvermogen
CE:<20dBm(2.4GHz)
FCC:<30dBm
Functionaliteit van de Software
Modulatietechnologie
OFDM (PLC)
Encryptie
Powerline beveiliging:
128-bits AES
draadloos beveiliging:
WEP, WPA/WPA2, WPA-PSK/WPA2-PSK versleuteling
Overige
Certificatie
CE, FCC, RoHS
Pakketinhoud
Powerline ethernet adapters TL-WPA2220 en TL-PA2010
2 m ethernetkabel (RJ45)
CD met hulpprogramma's e.d.
Installatie-instructies
Systeemvereisten
Windows 2000/XP/2003/Vista, Windows 7/8, Mac, Linux
Omgeving
Gebruikstemperatuur: 0°C~40℃
Bewaartemperatuur: -40°C~70℃
Rel. luchtvochtigheid gebruik: 10%~90%, niet-condenserend
Rel. luchtvochtigheid opslag: 5%~90%, niet-condenserend
The theoretical maximum channel data transfer rate is derived from HomePlug AV specifications. Actual data transfer rate will vary from network environment including: distance, network traffic, noise on electrical wires, building material and construction, quality of electrical installation and other adverse conditions.
From United States?
Get products, events and services for your region.