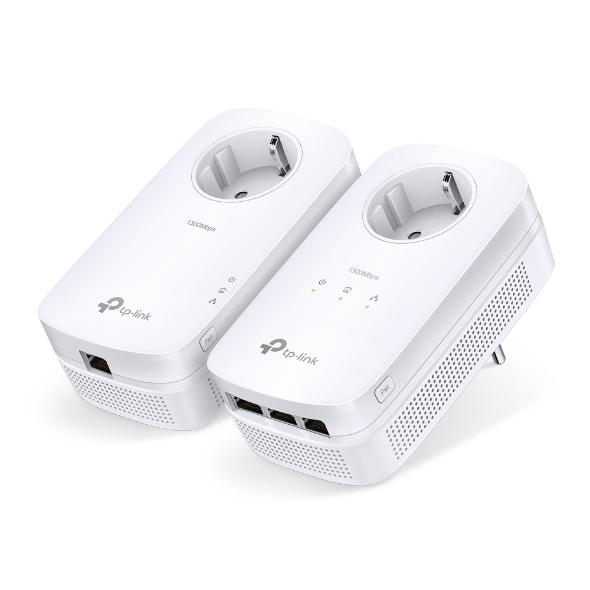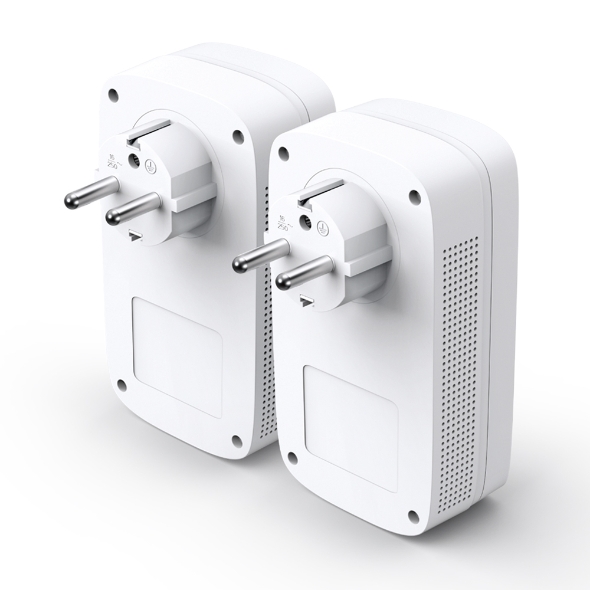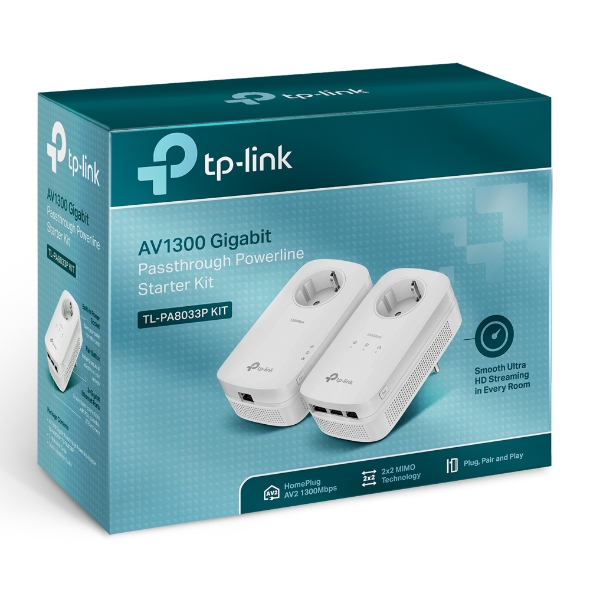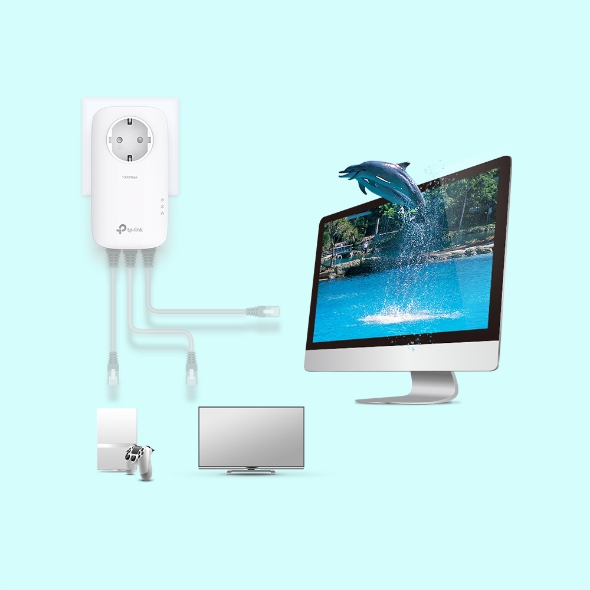 TL-PA8033P KIT
AV1300 3-poorts Gigabit Passthrough Powerline Starterskit
Voorzien van de HomePlug AV2-standaard met hoge overdrachtssnelheden tot wel 1300Mbps1 die al uw online behoeften ondersteunt
Nul-/aardkabel 2×2 MIMO met Beamforming-technologie zorgt voor een groter bereik, een hogere overdrachtscapaciteit en meer stabiele verbindingen
3 gigabit poorten creëren een veilig bedraad netwerk voor desktops, smart-tv's of gameconsoles
Door geïntegreerde stopcontacten gaat er geen stroomvoorziening verloren
Plug and play: geen configuratie nodig
Gepatenteerde energiebesparingsmodus vermindert automatisch het stroomverbruik tot wel 85%2
AV1300 Powerline Kit
Een nieuw tijdperk voor uw netwerk
HomePlug AV2
AV1300 3-poorts
Gigabit Passthrough
Powerline Starterskit
TL-PA8033P KIT
Nu met snelheden tot 1300Mbps!
Perfect voor toepassingen
die veel bandbreedte opeisen
Door de geavanceerde HomePlug AV2-technologie ondersteunt de TL-PA8033P KIT 2x2 MIMO* met
Beamforming, waardoor gebruikers profiteren van supersnelle overdrachtssnelheden tot wel 1300 Mbps. Perfect voor
toepassingen die veel bandbreedte opeisen, zoals het tegelijkertijd streamen van video's in ultra HD op meerdere apparaten,
online gamen en het versturen van grote bestanden.
* De MIMO-functie van HomePlug AV2 verhoogt de
overdrachtssnelheden aanzienlijk, met name tijdens piekuren.
Nul-l/aardkabels met Beamforming
Groter bereik
MIMO-technologie met Beamforming maximaliseert de prestaties van onafhankelijke datastromen en verbetert het bereik in huis, met name bij stopcontacten die eerder moeilijk bereikbaar waren.
Lange afstand Lange afstand
MIMO SISO
Hogere overdrachtssnelheden & stabielere verbindingen
Door de MIMO-technologie is de TL-PA8033P KIT geschikt voor 3 kabels, namelijk nul-, fase- en aardkabels, om meerdere datapaden te creëren voor snellere gegevensdoorvoer en stabielere verbindingen.
Nulkabel
Fasekabel
Aardkabel
MIMO SISO
Opmerking: MIMO - Multi-input Multi-output SISO - Single-input Single-output
3 gigabit poorten
voor maximale connectiviteit
Met 3 gigabit ethernetpoorten kan de TL-PA8033P KIT gelijktijdig verbonden worden met 3 bedrade apparaten. Hierdoor is de TL-PA8033P KIT de perfecte partner voor home entertainment. Verbind tegelijkertijd 3 apparaten, zoals smart tv's en gameconsoles met een NAS en computers met internet. Steek de ethernetkabel in de Powerline-adapter en klaar ben je!
Gamesonsole
4K tv
Computer
Plug and Play:
geen configuratie nodig
Sluit een Powerline-adapter aan op de router; steek de andere Powerline-adapter in het stopcontact in een andere kamer en sluit het apparaat aan via een ethernetkabel. En klaar ben je!
Koppelen voor een betere beveiliging
Maak uw netwerk veiliger via de eenvoudige koppelfunctie.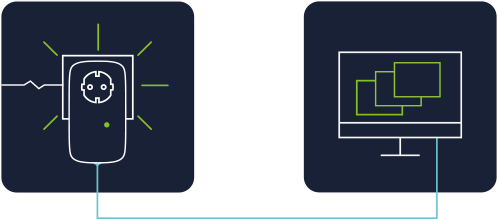 Een extra stopcontact voor andere apparaten
Door het geïntegreerde stopcontact, met een uitgangsvermogen tot 16 A*, kunt u de Powerline ook gebruiken als een gewoon stopcontact. Sluit een extra apparaat of verlengsnoer aan alsof het een gewoon stopcontact is. Bovendien helpt de ingebouwde ruisfilter om elektrische signalen weg te nemen die de prestaties van de Powerline-apparaten kunnen verstoren.
*Een vermogen van maximaal 16 A is geschikt voor elektrische
apparaten met een hoog stroomverbruik.
Bespaar tot wel
85% aan stroom
TL-PA8033P KIT is een nieuwe generatie Powerline-adapter. Hij schakelt wanneer hij niet in gebruik is automatisch over van de normale bedrijfsmodus naar een geavanceerde energiebesparingsmodus. Hiermee bespaart u tot wel 85% aan stroom.
Bedrijfsmodus
Energiebesparingsmodus
Gerelateerde producten
TL-PA8030P KIT

TL-PA8010P KIT

TL-PA8033P KIT

AV1300 Gigabit Passthrough Powerline Starter Kit

TL-PA8033P KIT

Inhoud

2-pack TL-PA8030P

2-pack TL-PA8010P

1-pack TL-PA8030P
+1-pack TL-PA8010P

HomePlug AV2-standaard

√

√

√

Powerline-snelheid

1300 Mbps

1300 Mbps

1300 Mbps

Ethernetpoort

3 gigabit poorten
+3 gigabit poorten
1 gigabit poort
+1 gigabit poort
3 gigabit poorten
+1 gigabit poort

Extra stopcontact

√

√

√

Een beveiligingsknop

√

√

√

Energiebesparing

85%

85%

85%
Functionaliteit van de Hardware
Stekkertype
EU, UK, AU
Standaarden en protocollen
HomePlug AV2, HomePlug AV, IEEE 1901, IEEE 802.3, IEEE 802.3u, IEEE 802.3ab
Interface
TL-PA8030P: 3 * gigabit ethernetpoort, stopcontact
TL-PA8010P: 1 * gigabit ethernetpoort, stopcontact
Knop
Pair-knop
Energieverbruik
Maximaal: 5,53 W
Normaal: 5,32 W
Stand-by: 1,36 W
LED-Indicator
Stroom, Powerline, ethernet
Afmetingen ( B x D x H )
131×72×42 mm
BEREIK
300 meter over het stroomnet
Power Output to Integrated Socket
16 A
Overige
Certificatie
CE, RoHS
Pakketinhoud
Powerline-adapter TL-PA8010P, TL-PA8030P
2 × ethernetkabel (2 m)
Snelle installatiegids
Systeemvereisten
Windows 2000/XP/2003/Vista, Windows 7/8, Mac, Linux
Omgeving
Gebruikstemperatuur: 0°C~40℃
Bewaartemperatuur: -40°C~70℃
Rel. luchtvochtigheid gebruik: 10%~90%, niet-condenserend
Rel. luchtvochtigheid bewaren: 5%~90%, niet-condenserend
De theoretische, maximale overdrachtssnelheid is afgeleid van de specificaties van HomePlug AV2. De actuele overdrachtssnelheid zal per netwerkomgeving variëren door factoren als: afstand, netwerkverkeer, storing door elektriciteitskabels, bouwmateriaal en -constructie, kwaliteit van de elektrische installatie enz.
De werkelijke overdrachtssnelheid zal variëren op basis van de netwerkomgeving.
From United States?
Get products, events and services for your region.