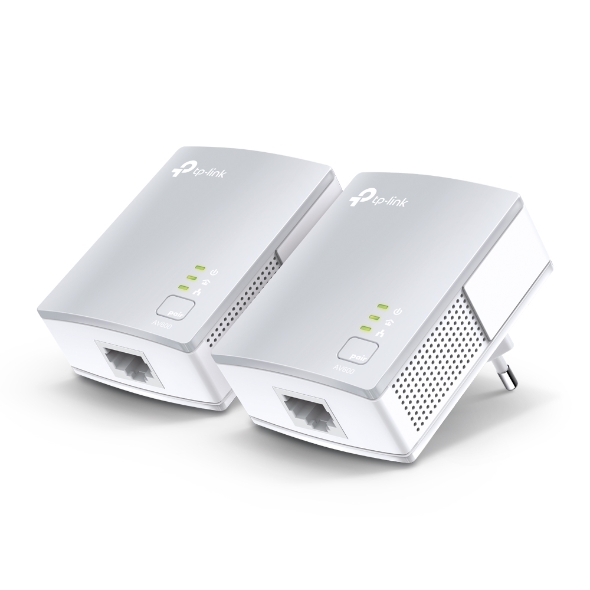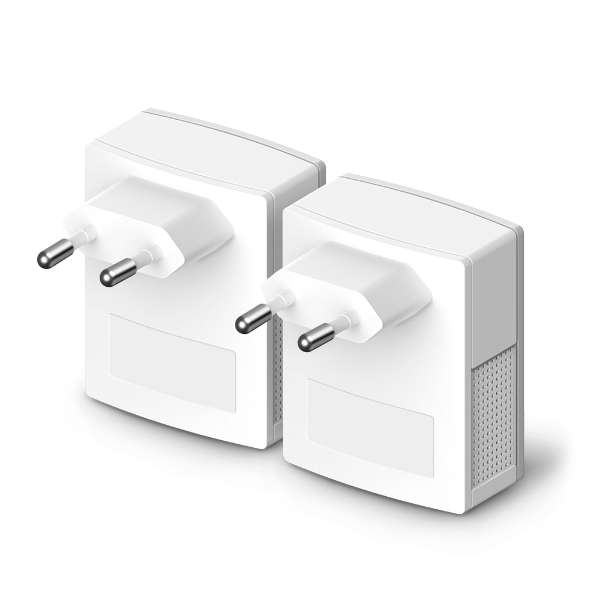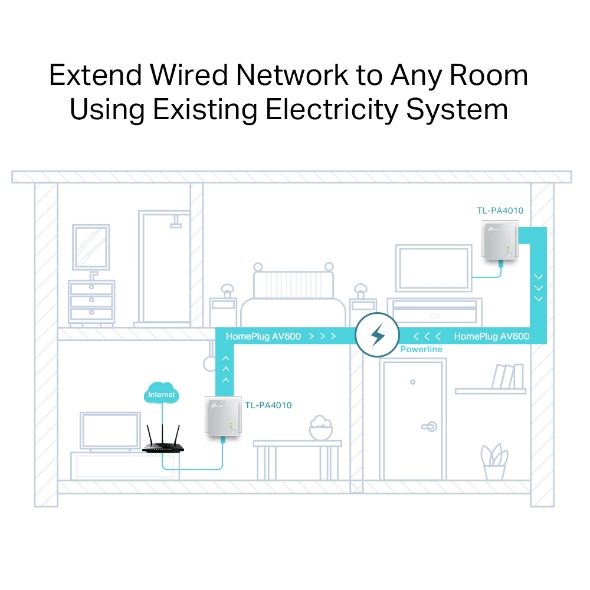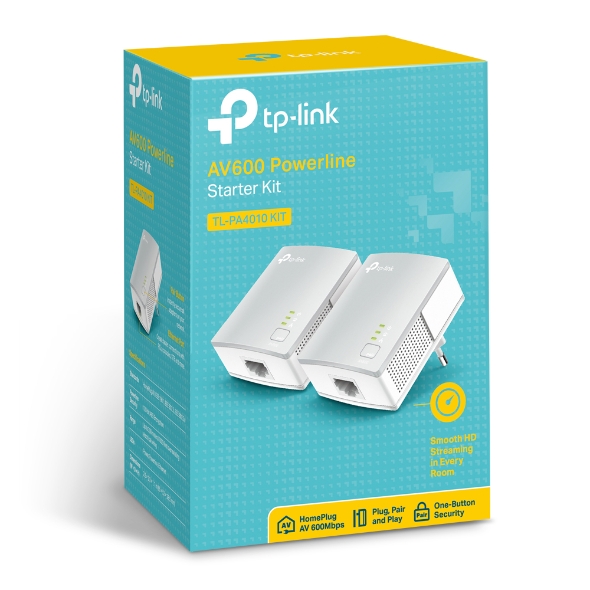 TL-PA4010 KIT
AV600 Nano Powerline-adapter Starterkit
Voorzien van de HomePlug AV-standaard voor hoge overdrachtssnelheden tot wel 600 Mbps1
Kleiner dan de meeste powerline-adapters die op de markt zijn en valt daarom nauwelijks op
Geen extra kabels, maar Plug and play: geen configuratie nodig
Gepatenteerde energiebesparingsmodus vermindert automatisch het stroomverbruik tot wel 85%2
Internet gaat verder via het stopcontact
AV600 Powerline-adapter Starterkit
TL-PA4010 KIT
Breid het netwerk uit naar alle kamers via het bestaande stroomnet
Met behulp van de geavanceerde HomePlug AV600 maakt de TL-PA4010 KIT van het bestaande stroomnet een netwerk met hoge snelheid zonder dat je hoeft te boren of nieuwe bekabeling moet aanleggen. Bovendien kun je het bedrade en draadloze netwerk uitbreiden op plaatsen met een stopcontact.
Opmerking: er moeten twee of meer Powerline-adapters worden gebruikt. De TL-PA4010 KIT is compatibel met alle routers en powerline-producten.
Internet
HomePlug AV600
HomePlug AV600
TL-PA4010
TL-PA4010
Powerline
Plug and Play: geen configuratie nodig
Zeg voorgoed vaarwel tegen een ingewikkelde installatie. Met Powerline hoef je slechts twee stappen te volgen:
Stap 1: sluit een adapter aan op de router.
Stap 2: steek de andere adapter in een stopcontact waar je bedraad internet nodig hebt.
Tip:
Druk vervolgens op iedere adapter op de pair-knop om de uitgewisselde gegevens te versleutelen. Dit maakt het netwerk veiliger.
Snelheden tot 600 Mbps en 300 meter bereik
Dankzij de geavanceerde Home Plug AV-technologie zorgt de TL-PA4010 KIT voor een stabiele, supersnelle dataoverdracht tot 600 Mbps* met een bereik van 300 meter op plaatsen met een stopcontact. Er ontstaat geen storing bij andere elektrische of elektronische apparaten. Stream in HD, game online en download grote bestanden zonder onderbrekingen dankzij de betrouwbare Powerline-verbindingen.
Internet
Router
TL-PA4010
TL-PA4010
HOMEPLUG
AV600
Tot 300 meter
*De genoemde snelheid van de HomePlug AV is gebaseerd op de maximale theoretische fysieke laag van de gegevensoverdracht. De werkelijke snelheid kan variëren en is afhankelijk van de ethernetpoort van het product en andere netwerkomstandigheden zoals dataverkeer, elektrische ruis en bekabeling.
Zeer klein en ultracompact
Door de nieuwe ultracompacte behuizing is de TL-PA4010 KIT veel kleiner dan andere standaard 600 Mbps Powerline-producten. Met een dikte van slechts 28,5 mm vormt hij bijna een geheel met het stopcontact.
52 mm
65 mm
86 mm
54 mm
28,5 mm
23 mm
Bespaar tot wel 85% stroom
De TL-PA4022P KIT schakelt automatisch over van de normale bedrijfsmodus naar een efficiënte energiebesparingsmodus wanneer hij niet in gebruik is. Hiermee bespaar je tot wel 85% stroom*.
*Werkelijke gegevens zullen variëren door netwerkomstandigheden en omgevingsfactoren.
Functionaliteit van de Hardware
Stekkertype
EU, UK, US
Standaarden en protocollen
HomePlug AV, IEEE802.3, IEEE802.3u
Interface
1 x ethernetpoort (10/100 Mbps)
Knop
Pair-knop
Energieverbruik
Maximum: 4,60 W (220 V/50 Hz)
Standaard: 4,26 W (220 V/50 Hz)
Stand-by: 0,88 W (220 V/50 Hz)
LED-Indicator
PWR, PLC, ETH
Afmetingen ( B x D x H )
65 x 52 x 28,5 mm
BEREIK
Up to 300 meters/1000 feet over existing electrical wiring
Overige
Certificatie
CE, FCC, RoHS
Pakketinhoud
Powerline ethernetadapter
Ethernetkabel (RJ45)
Installatie-cd
Snelle installatiegids
Systeemvereisten
Windows 8/7/Vista/XP/2000, Mac, Linux
Omgeving
Gebruikstemperatuur: 0~40°C
Bewaartemperatuur: -40~70°C
Luchtvochtigheid gebruik: 10~90% niet-condenserend
Luchtvochtigheid bewaren: 5~90%, niet-condenserend
Awards

BUY IT Now

TL-PA4010KIT received a 'Buy It Now' award from ComputerActive in UK.

2013, UK

Best Tested

TL-PA4010KIT won Best Tested in Powerline Adaptors comparison test

2013, Netherland
*1. De theoretische, maximale overdrachtssnelheid is afgeleid van de specificaties van de HomePlug AV2. De werkelijke overdrachtssnelheid zal per netwerkomgeving variëren door factoren als: afstand, netwerkverkeer, storing door elektriciteitskabels, bouwmateriaal en -constructie, kwaliteit van de elektrische installatie en andere ongunstige omstandigheden.
*2. Werkelijke gegevens zullen variëren door netwerkomstandigheden en omgevingsfactoren.
*3. Compatibel met alle standaard HomePlug AV en AV2 Powerline-adapters. Dit product is mogelijk niet compatibel met routers of gateways met firmware die is gewijzigd, is gebaseerd op opensourceprogramma's, niet-standaard of verouderd is.
From United States?
Get products, events and services for your region.