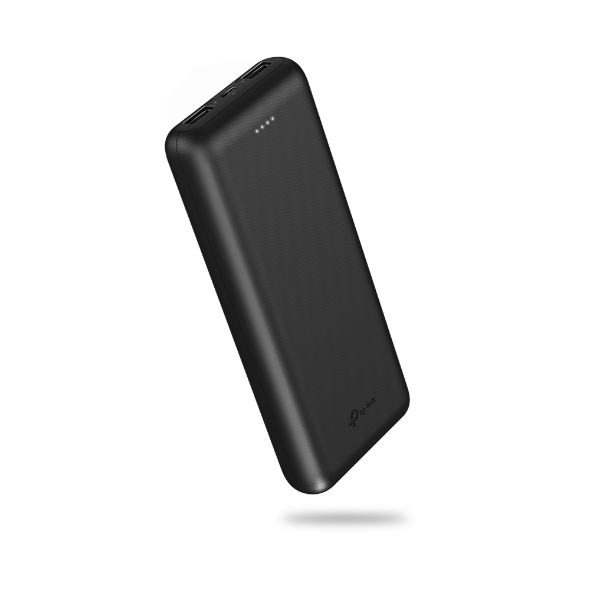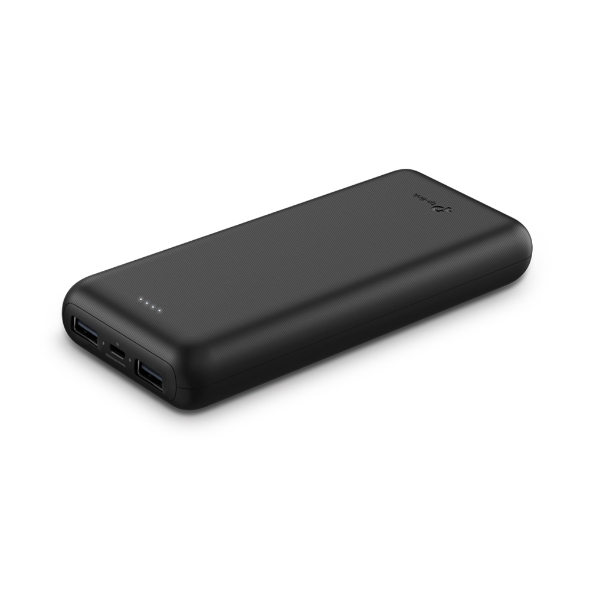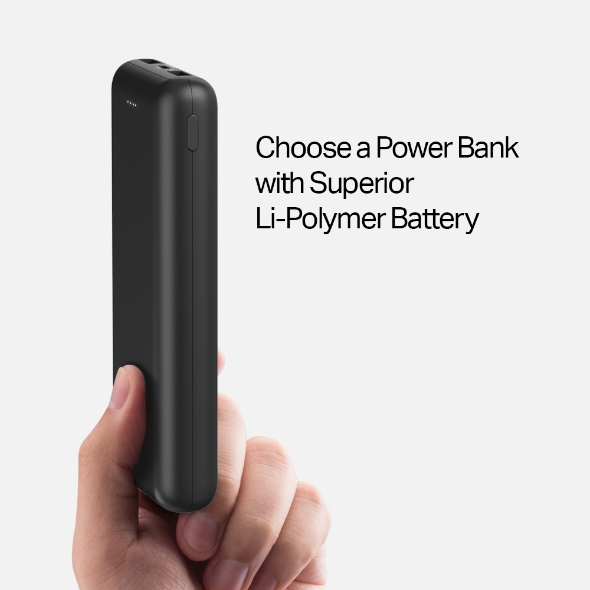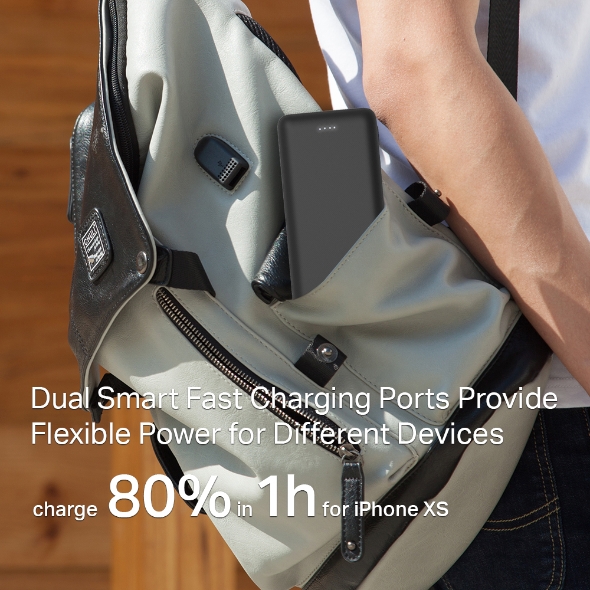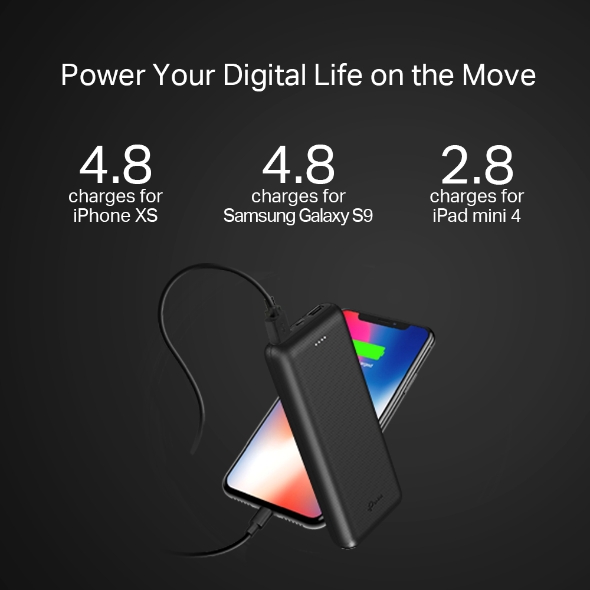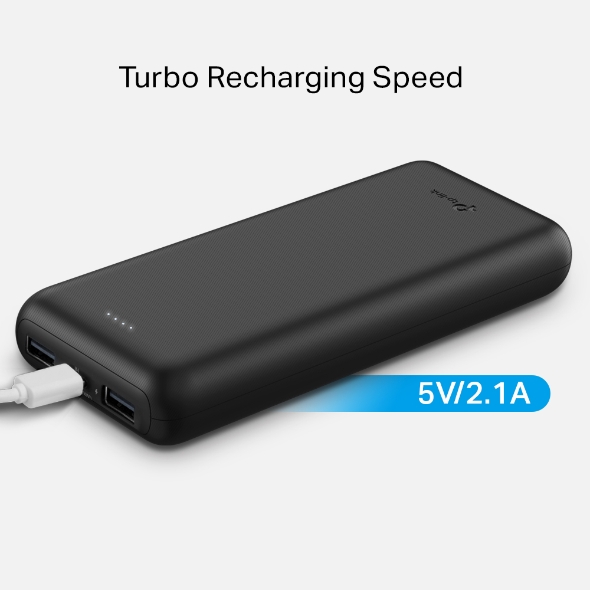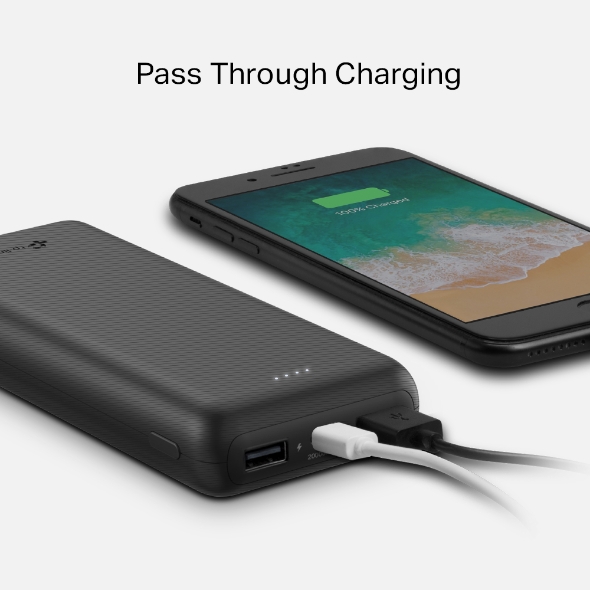 TL-PB20000
20.000 mAh Lithium-polymeer Powerbank
Hoge capaciteit van 20.000 mAh

Kan apparaten vaker opladen, laadt bijv. een iPhone XS tot wel 4,8 keer op

Met 2,1 A Turbo Recharge wordt een apparaat sneller volledig opgeladen

Lithium-polymeer-batterij is aanzienlijk veiliger

De powerbank en apparaten kunnen tegelijkertijd worden opgeladen
Enorme capaciteit, maak je geen zorgen meer over je powerbank!
20.000 mAh

Lithium-polymeer Powerbank

TL-PB20000
Twee slimme poorten voor snelladen bieden een flexibele voeding voor verschillende apparaten
Deze krachtige oplader heeft 2 poorten voor snelladen die tot 2,1 A stroom leveren. De oplader is voorzien van de Smart Charging-technologie van TP-Link, zodat de poorten verschillende producten herkennen en genoeg stroom leveren aan apparaten met een grote of kleine batterij.
laadt een iPhone XS 80% op in 1 uur
Kies een powerbank met een krachtige lithium-polymeer-batterij
De lithium-polymeer-batterij is dun en licht, maar is ook veilig waardoor hij in veel verschillende hoogwaardige digitale apparaten wordt toegepast. In vergelijking tot powerbanks met een li-ion-batterij, is deze powerbank slanker en dunner. Het is een draagbare oplader die perfect in je hand past wanneer je jouw telefoon gebruikt.
Onderweg opladen
De TL-PB20000 heeft een draagbaar ontwerp en een hoge capaciteit van wel 20.000 mAh. Bovendien is hij compatibel met de meeste digitale apparaten. Wanneer hij volledig is opgeladen, kan hij jouw apparaat meerdere keren volledig opladen.
laadt een iPhone XS
4,8 keer op

laadt een Samsung Galaxy S9
4,8 keer op

laadt een iPad mini 4
2,8 keer op
Ultrasnel opladen
De TL-PB20000 ondersteunt 5 V/2,1 A en kan veel sneller volledig worden opgeladen dan modellen die slechts 5 V/1 A ondersteunen.
Gelijktijdig opladen
De powerbank en jouw apparaten kunnen gelijktijdig worden opgeladen.
Universele compatibiliteit
Compatibel met smart-apparaten die draaien op iOS, Android of Windows en andere apparaten die usb-oplaadbaar zijn.
Meerdere beveiligingen
tegen
Kortsluiting: binnen een microseconde wordt de beveiliging ingeschakeld als er kortsluiting optreedt bij de laadapparatuur of de USB-poort.
Overspanning: indien het voltage van de adapter te hoog is.
Overbelasting: tegen te hoge uitgangsspanning.
Overlading: zodra de batterij vol is, wordt deze niet meer opgeladen.
Diepontlading: verzekert de veiligheid en prestaties van de cel en verlengt de levensduur van de batterij.
Oververhitting: voorkomt dat de temperatuur van het product te hoog wordt.
Geschikt voor op reis
Door het slanke design is hij perfect geschikt als extra voeding wanneer je op reis gaat.
ENVIRONMENT
Operating Temperature
0℃~35℃
Storage Temperature
-20℃~45℃
Operating Humidity
≤95% niet-condenserend
Storage Humidity
≤75% niet-condenserend
PACKAGE CONTENTS
Package Contents
20000 mAh Lithium-polymeer Powerbank TL-PB20000
Micro USB-kabel
Gebruikershandleiding
Specificaties
Capaciteit
20.000 mAh
Input
DC 5 V/2,1 A
Output
DC 5 V/2,1 A
Interface
1 Micro USB-poort
2 USB-poorten met smart-charging
4 LED-indicator voor energieniveau of laadstatus
Knop
1 knop voor weergave van het energieniveau
Compatibiliteit
Smart-apparaten die draaien op iOS, Android, Windows en de meeste andere USB-oplaadbare apparaten
Grootte
5.6 x 2.8 x 1.2 in. (142.5 x 72 x 29.4 mm)
† Laadgegevens zijn gebaseerd op testresultaten. De werkelijke laadprestaties kunnen variëren op basis van de omgevingsomstandigheden.
‡ batterijcapaciteit van 10.000 mAh komt overeen met 3,7 V.
SubscriptionTP-Link hecht veel waarde aan privacy. Voor meer informatie over ons privacybeleid kan je onze Privacy Policy bekijken.
From United States?
Check products and services for your region.