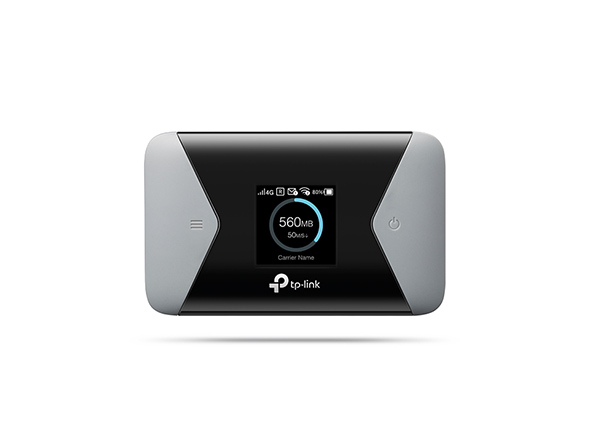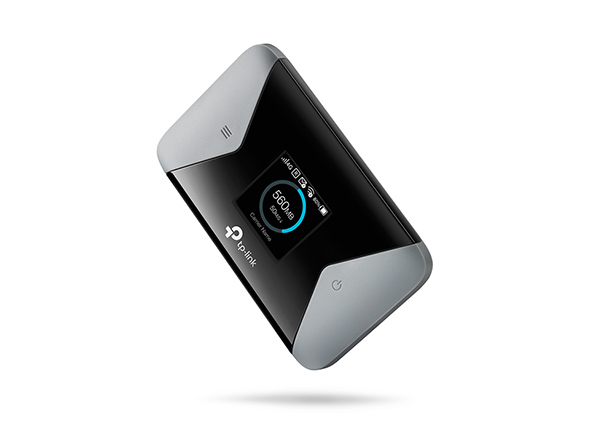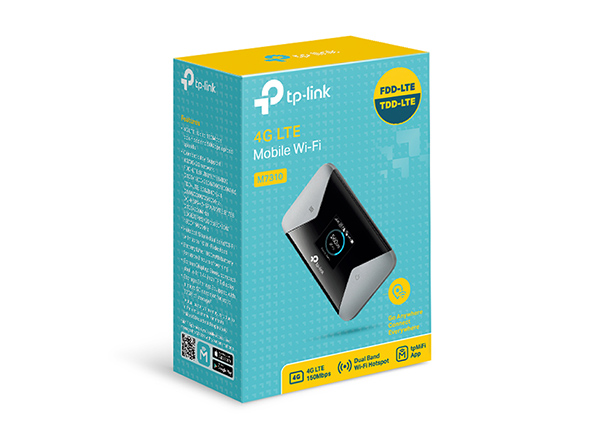 4G LTE ondersteund, met max. 150 Mbps download en 50 Mbps upload snelheden
Ondersteunt max. 11 apparaten tegelijkertijd (10 Draadloos + 1 Beakabeld)
Te selecteren 2,4 GHz of 5 GHz dual-band WiFi
Alle nuttige informatie in een oogopslag op de display
1800 mAh batterij voor max. 8 uur gebruik
Uitgerust met micro SD card-sleuf voor max. 32 GB extra opslagcapaciteit
Eenvoudig beheer met de tpMiFi App
Ga overal naartoe
en maak overal een Wi-Fi verbinding
LTE-Geavanceerde Mobiele Wi-Fi
Hoe sneller de verbinding, hoe meer je er van kan genieten
Ondersteunt door de laatste generatie 4G LTE kan de M7310 downloadsnelheden behalen tot 150Mbps, zodat u zonder vertraging kunt genieten van HD films, bestanden kunt downloaden in enkele seconden en een video gesprek kunt houden zonder verbrekingen.
Ondersteunt door de laatste generatie 4G LTE netwerk kan de M7310 downloadsnelheden behalen tot 150Mbps. Nu kunt u genieten van vertragingsvrije HD films en een videogesprekken zonder verbrekingen
4G
3G
150Mbps

50Mbps

42Mbps

7.2Mbps
Creëer uw eigen wereld van Wi-Fi.
De M7310 met verbeterde compatibiliteit zorgt voor eenvoudige toegang tot het 4G, 3G en 2G netwerk. Met deze handige gadget heeft u uw Wi-Fi overal ter wereld bij u. Daarnaast ondersteunt hij full FDD-LTE en TDD-LTE voor LTE verbindingen met hoge snelheden onderweg.
The M7310 met verbeterde compatibiliteit zorgt eenvoudige toegang tot 4G,3G en 2G netwerken. Met deze handige gadget heeft u uw Wi-Fi overal ter wereld bij u.
Alle nuttige informatie
op een gekleurd scherm
Het intuïtieve scherm van de M7310 maakt het u eenvoudig om binnen uw data budget te blijven en vermijdt het overschrijden van uw maandelijkse databundel. Het scherm geeft daarnaast informatie over de batterijduur, Wi-Fi status, verbonden gebruikers en meer.
Thuis
Apparaatinformatie
Energiebesparing
WPS
Wi-Fi Verbinding
Netwerk Modus
Data Roaming
App Download
Deel uw internettoegang
met vrienden en tot wel
10 apparaten tegelijkertijd
De M7310 kan eenvoudig een 4G/3G verbinding delen met 10 draadloze apparaten zoals tablets, laptops en mobiele telefoons op hetzelfde moment. Deze gadget kan ook internettoegang bieden aan computers via de geïntegreerde USB poort.
Internettoegang tot
11 apparaten
De M7310 kan eenvoudig de
internetverbinding delen met 10
draadloze apparaten en 1 bedraad apparaat
via de geïntegreerde USB poort.
Kom de hele dag door
met 8+ uur batterij
Met zijn krachtige 1800mAh batterij werkt de M7310 tot 8 uur op vol vermogen en 600 uur in stand-by. De M7310 kan worden opgeladen door een micro USB kabel te verbinden met een laptop of adapter zodat u eindeloos 4G kunt delen.
* Batterijduur kan variëren afhankelijk van omgevingsfactoren.
Uren
Jungle Avontuur
Kom tot rust
Ga naar huis
Spreid uw vleugels uit met deze elegante
Wi-Fi

Gadget

Het elegante en compacte ontwerp maakt de lichte M7310 perfect om mee te nemen op persoonlijke reizen, zakelijke reizen, outdoor activiteiten en overal waar u heen gaat.
Eenvoudig beheer met de tpMiFi App
Met de tpMiFi App kunt u de M7310 eenvoudig benaderen en beheren vanaf uw verbonden iOS/Android apparaten. De tpMiFi app staat u toe om data limieten in te stellen, beheren welke apparaten toegang tot uw Wi-Fi krijgen, berichten versturen en media bestanden delen van/naar een Micro SD kaart.
Krijg uw netwerk up en running in enkele seconden
M7310 kenmerkt een compact en gebruikersvriendelijk ontwerp, het enigste wat u hoeft te doen is een SIM kaart te plaatsen en op de power knop te drukken. Uw hoge-snelheid 4G hotspot zal binnen een halve minuut werken.
* Micro SIM kaart apart te koop.
Micro SD Kaart
Micro SIM Kaart
Micro SD kaart voor draadloos delen
U kunt uw foto's, muziek, video's en meer eenvoudig draadloos delen in uw netwerk vanaf een Micro SD kaart door het micro SD opslag slot te gebruiken - ondersteunt optionele opslag tot 32G.
* Micro SD kaart los verkrijgbaar.
* U heeft toegang tot uw bestanden en u kunt bestanden delen door gebruik te maken van de tpMiFi App voor iOS/Android
Functionaliteit van de Hardware
Interface
1 micro USB port for power supply1 Micro SIM card slot1 Micro SD card slot
Knop
Power On/Off,Menu
Uitgangsvermogen
1800mAh Rechargeable Battery
Netwerk Type
FDD-LTE: B1/B3/B7/B8/B20(2100/1800/2600/900/800MHz)
TDD-LTE: B38/B40/B41 (2600/2300/2500MHz)
DC-HSPA+/HSPA/UMTS: B1/B8(2100/900MHz)
EDGE/GPRS/GSM: 850/900/1800/1900MHz

Gevenssnelheden
DL: 150Mbps, UL: 50Mbps
Afmetingen ( B x D x H )
98.5*60.5*16mm
Antenne
Internal Antenna
Micro SD Card Reader
Up to 32GB
Screen Display
1.44 inch TFT
Draadloze Functies
Standaarden voor Draadloze Netwerken
IEEE 802.11a/b/g/n/ac 2.4GHz&5GHz
Frequentie
2.4GHz&5GHz
Draadloos Zendvermogen
2.4G <20dbm, 5G <23dbm
Draadloze Beveiliging
Support WPA-PSK/WPA2-PSK, Wireless MAC Filtering,
DHCP
DHCP server, DHCP Client List
Overige
Certificatie
CE, RoHS
Pakketinhoud
4G LTE Mobile Wi-Fi M7310Micro USB CableNano to Micro SIM Card Adapter1800mAh BatteryQuick Installation Guide
Systeemvereisten
Windows 10/8/7/vista/XP, Mac OS, Android, iOS, Windows Phone
From United States?
Get products, events and services for your region.