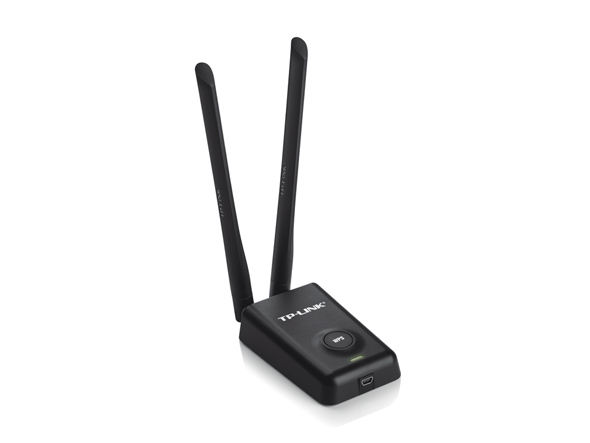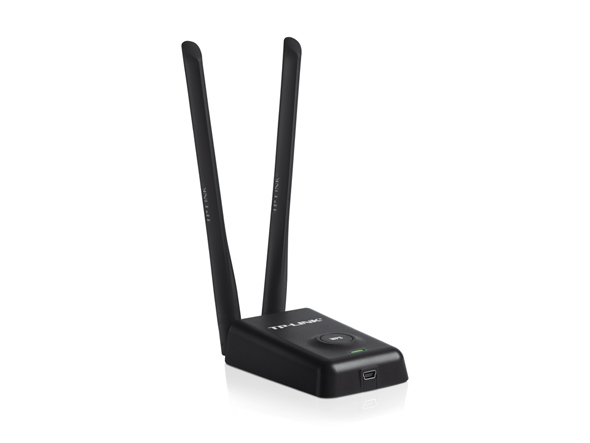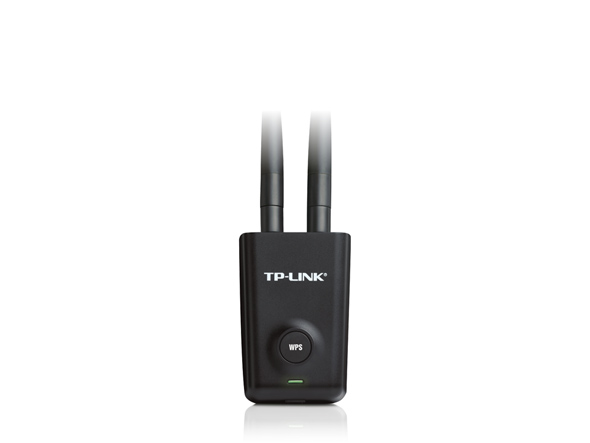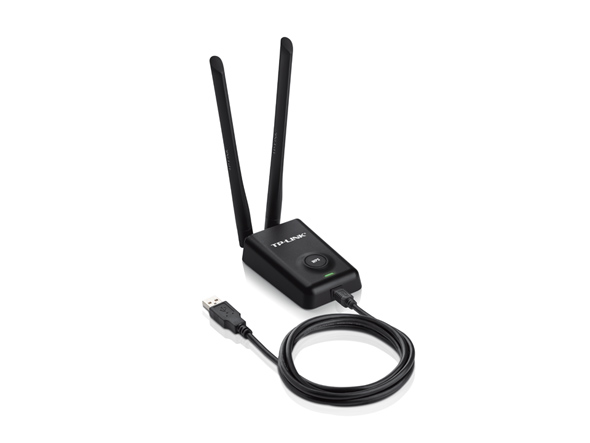 TL-WN8200ND
300 Mbps High Power draadloze USB-adapter
· Hoog vermogen en hoge ontvangstgevoeligheid voor ultralange transmissieafstand
· 300 Mbps transmissiesnelheid ideaal voor taken met grote bandbreedte behoefte
· Eenvoudige beveiliging van draadloos netwerk met één druk op de WPS toets
· Eenvoudig in te zetten m.b.v. 1,5 meter USB-verlengkabel
· Ondersteunt Windows XP / Vista / 7
Dankzij het hoge transmissievermogen heeft de TL-WN8200ND een tot 10 maal groter bereik dan normale USB-adapters. Bovendien heeft de TL-WN8200ND een zeer hoge penetratiekracht, zodat u geen hinder ondervindt van muren of vloeren wanneer u verbinding maakt met het Internet.
Naast de stijlvolle en moderne vormgeving is de desktop uitvoering voordelig voor de signaalontvangst in diverse toepassingen en omgevingen, zodat een gelijkmatig en stabiel signaal verzekerd is. Bij de TL-WN8200ND wordt een USB verlengkabel van 1,5 meter meegeleverd, zodat hij ook op een bureaublad eenvoudig te installeren is.
De TL-WN8200ND heeft een hoge ontvangstgevoeligheid, waardoor u verder weg van het access point kunt bewegen, terwijl het draadloos signaal hetzelfde blijft. Wanneer u de TL-WN8200ND gebruikt, hoeft u de laptop niet neer heen en weer te bewegen en wordt het netwerk snel opgepakt dankzij de hoge gevoeligheid.
Een CD met hulpprogramma's e.d. wordt ook bij de TL-WN8200ND meegeleverd, om u te helpen bij het installeren van de software en het instellen van het draadloze netwerk, de netwerk beveiliging en de draadloze verbinding, hetgeen zelfs voor beginners heel eenvoudig is.
De twee externe antennes met hoge gain verzekeren een hoge zend- en ontvangcapaciteit. De twee afneembare antennes kunnen worden gedraaid en in verschillende richtingen worden gezet, afhankelijk van de omgevingsomstandigheden. Voor nog veeleisender toepassingen kunnen de antennes ook worden vervangen door diverse antennes voor binnengebruik, of richtantennes (m.b.v. standaard RP-SMA stekker), zodat de flexibiliteit en draadloos dekking nog groter zijn.
De TL-WN8200ND van TP-LINK is een 300 Mbps draadloos adapter met hoog vermogen, die gebruikers de mogelijkheid biedt hun PC of notebook met zeer krachtige draadloos capaciteit uit te rusten, om de beste prestaties te bereiken. De adapter heeft een hoog vermogen, dat tot 10 maal het bereik van conventionele adapters biedt. Een van de beste eigenschappen van de TL-WN8200ND is zijn grotere penetratiekracht, die ervoor zorgt dat het signaal betrouwbaar blijft wanneer het door meerdere wanden of vloeren heen gaat.
De TL-WN8200ND ondersteunt Wi-Fi Protected Setup™ (WPS), waardoor de gebruiker alleen op de WPS toets hoeft te drukken om direct een uitstekend beveiligde verbinding tot stand te brengen. Dit gaat niet alleen sneller dan de normale manier van beveiliging instellen, maar ook gemakkelijker, omdat u geen wachtwoord hoeft te onthouden!
Functionaliteit van de Hardware
Interface
Mini USB
Knop
WPS
Standaarden voor Draadloze Netwerken
IEEE 802.11n, IEEE 802.11g, IEEE 802.11b
Afmetingen ( B x D x H )
90,8 x 60,7 x 24 mm
Type Antenne
2 afneembare, omnidirectionele antennes (RP-SMA)
Antenneversterking
5 dBi
Draadloze Functies
Frequentie
2,4 - 2,4835 GHz
Overdrachtssnelheid
Tx tot 150 Mbps
Rx tot 300 Mbps
Draadloos Zendvermogen
<20 dBm (EIRP, voor landen die CE standaarden gebruiken)
<27 dBm (EIRP, voor landen die FCC standaarden gebruiken)

Draadloze Modi
Ad-hoc / infrastructuur modus
Draadloze Beveiliging
Ondersteunt 64/128-bits WEP, WPA/WPA2, WPA-PSK/WPA2-PSK
Overige
Pakketinhoud
TL-WN8200ND
2 x 5 dBi afneembare, omnidirectionele antenne
CD met hulpprogramma's e.d.
Installatie-instructies
1,5 m USB verlengkabel
Systeemvereisten
Windows 7 (32/64-bits),
Windows Vista (32/64-bits),
Windows XP (32/64-bits)
Omgeving
Gebruikstemperatuur: 0~40°C
Bewaartemperatuur: -40~70°C
Luchtvochtigheid gebruik: 10~90% niet-condenserend
Luchtvochtigheid bewaren: 5~90%, niet-condenserend

SubscriptionTP-Link hecht veel waarde aan privacy. Voor meer informatie over ons privacybeleid kan je onze Privacy Policy bekijken.
From United States?
Get products, events and services for your region.