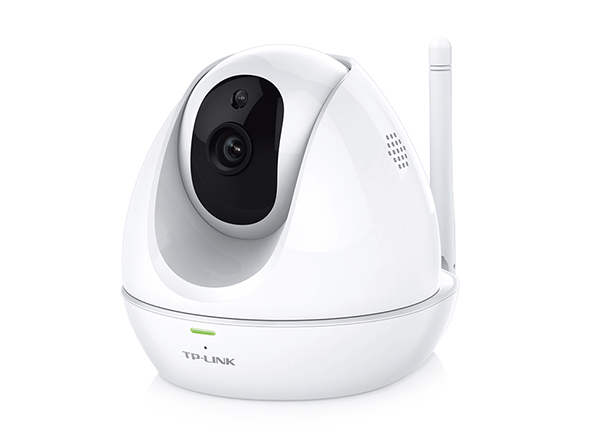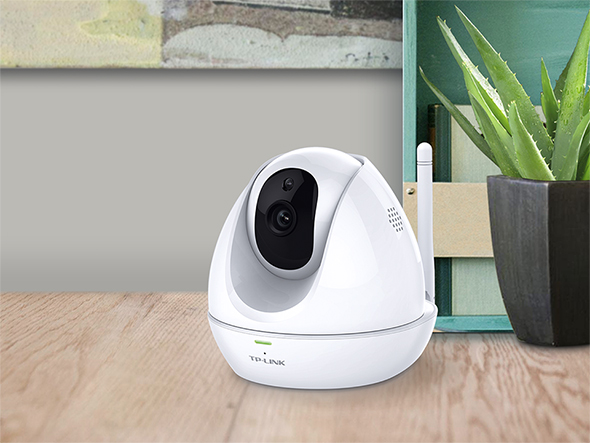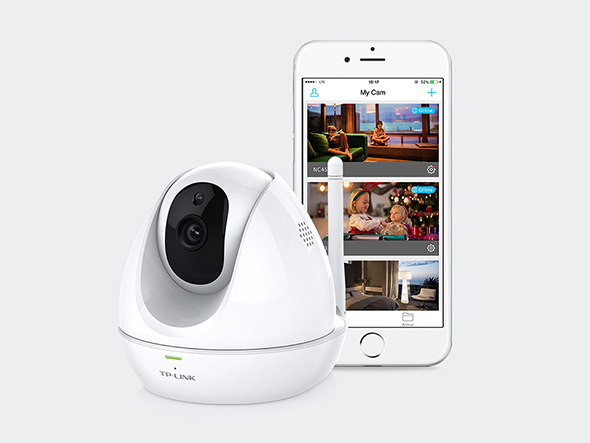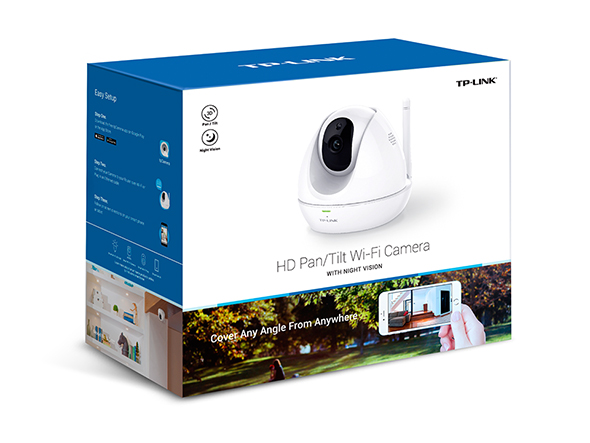 HD Pan/Tilt Wi-Fi Camera
MET NACHTZICHT
720p HD beelden - HD resolutie biedt scherpere, heldere beelden.
Pan / Tilt - Bekijk tot 360 graden horizontaal en 150 graden verticaal.
Nachtzicht - Weet wat er in het donker aan de hand is. Tot 8 meter nachtzicht.
Beweging & geluid detectie - Ontvang push en email notificaties wanneer beweging of geluid gedetecteerd wordt.
2-way Audio – Start eenvoudig om onmiddelijk te communiceren met uw familie.
SD Kaart opslag - Bewaar eenvoudig uw video's en afbeeldingen dankzij de geintegreerde SD kaart slot.
*SD card niet inbegrepen.
tpCamera App - Gebruik de tpCamera app om toegang te verkrijgen vanaf elke locatie en op elk moment.
Beveilig elke hoek en bekijk beelden waar je ook bent
HD Pan/Tilt Wi-Fi Camera
MET NACHTZICHT
NC450
Soepele Pan/Tilt voor beter zicht
De NC450 is een favoriete gadget die voldoet aan de behoeften om uw huis en kantoor te beveiligen. Blijf in contact met hetgeen wat het meest kostbaar is. De soepele en duurzame PAN/TILT tot 300/110 graden zorgt ervoor dat u
de camera bijna in elke gewenste positie kunt draaien en een groot gebied van uw huis kunt bewaken.
Uitstekende HD helderheid
Met een camera lens van glas en een 1/4" progressieve scan CMOS sensor kunt u 720p HD video's vastleggen, die levensecht lijken.
De infrarood LED helpt de camera om nachtvisie met uitstekende beeld te verkrijgen.
1/4" progressieve scan CMOS sensor
Monteerbare lens met IR
Infrarood LED
Glazenens
Camera kap
Gemoedsrust tijdens de nacht
De camera schakelt 's nachts automatisch over naar een zwart-wit video stream voor duidelijke en gedetailleerde beelden op een afstand
tot 8 meter in totale duisternis. U kunt eenvoudig weten wat er 's nachts aan de hand is.
Onmiddelijke alert voor belangrijke gebeurtenissen.
De NC450 kan automatisch push en email berichten sturen wanneer er een beweging of geluid is gedetecteerd en brengt u onmiddelijk op de hoogte van wat er aan de hand is. De geïntegreerde Micro SD Kaart slot ondersteunt tot 32GB opslag, wat u de gelegenheid biedt om afbeeldingen en video's van dierbare herinneringen op te slaan.
Gemakkelijke communicatie
Met een uitstekende 2-weg audio streaming kunt u onmiddelijk met uw familie communiceren
wanneer u wilt.
Handig beheer op afstand voor dagelijks monitoren
De tpCamera app staat u toe om uw Wi-Fi camera vanaf overal en op elk moment met internet toegang te kunnen beheren. U kunt eenvourig uw kamer monitoren, een video opnemen en foto's maken binnen handbereik.
Pan Tilt

Nachtzicht

Bewegingsdetectie

SD Kaart Slot
CAMERA
Beeldsensor
1/4" Progressieve scan CMOS sensor
Resolutie
1.0 Megapixel (1280 x 720)
Lens
F: 2.0, f: 3.6 mm
Kijkhoek
FOV = 75°
Pan/Tilt Range
Pan range 300° Tilt range 110°
Netwerk
Standaarden en Protocollen
Bonjour, TCP/IP, DHCP, ARP, ICMP, FTP, SMTP, NFS,DNS, NTP, HTTP, HTTPS, UDP
Beveiliging
Meerdere wachtwoord-beschermde gebruikers niveaus
Algemeen
Verpakkingsinhoud
NC450 Voedingsadapter Verlengkabel RJ-45 Ethernet Kabel Snelle installatie gids Passieve PoE Injector
Certificeringen
RoHS, FCC, CE
Omgeving
Gebruikstemperatuur: 0℃~40℃ Bewaartemperatuur: -40℃~70℃ Rel. luchtvochtigheid gebruik: 10%~90%, niet-condenserend Rel. luchtvochtigheid bewaren: 5%~90%, niet-condenserend
Afmetingen (B x D x H)
144 x 109 x 106 mm
Afmetingen verpakking
270 x223 x 135mm
PoE
12V DC, Max 12W
Externe voedingsvoorziening
12V DC, Max 12W
Wireless
Wireless Datasnelheden
IEEE 802.11 b/g/n, tot 300Mbps
Frequentie
2.4-2.4835GHz
Wireless Transmissievermogen
<20dBm (EIRP)
Wireless Encryptie
WEP, WPA/WPA2, WPA-PSK/WPA2-PSK
Video/Afbeelding
Video Compressie
H.264
Beeldsnelheid en Resolutie
Max. 30 fps op 1280x720 (HD)
Video Streaming
Controlleerbare frame rate
Beeldinstellingen
Rotatie: Spiegelen, omdraaien Aanpasbare bhelderheid, contrast, verzadiging Overlay mogelijkheden: tijd, datum, text
AUDIO
Audio Communicatie
2-Wegen
Audio Input
Ingebouwde microfoon
Audio Output
Ingebouwde speaker
Alarm en Event Management
Input Trigger
Beweging/Geluid detectie
Notificatiemethode
E-mail, App
Storage
SD Card
Auto Tracking
Motion
INTERFACES
Netwerk Interface
RJ-45 voor Ethernet 10/100 Base-T
Voedingsaansluiting
DC power jack
Knop
Reset/WPS druk knop
SURVEILLANCE MANAGEMENT
Gebruikers
13 gelijktijdige unicast gebruikers
Bundled Management Software
Bekijken en recorden tot 36 camera's
Minimum Systeemvereisten
Ondersteunde Browser
Microsoft Internet Explorer 8.0 of hoger Firefox 4.0 of hoger Safari 5.0 of hoger Chrome 5.0 of hoger Opera 12.0 of hoger
Ondersteunde OS
Windows XP of hoger Mac OS X 10.7 of hoger Android 4.1 of hoger iOS 7.0 of hoger
From United States?
Get products, events and services for your region.