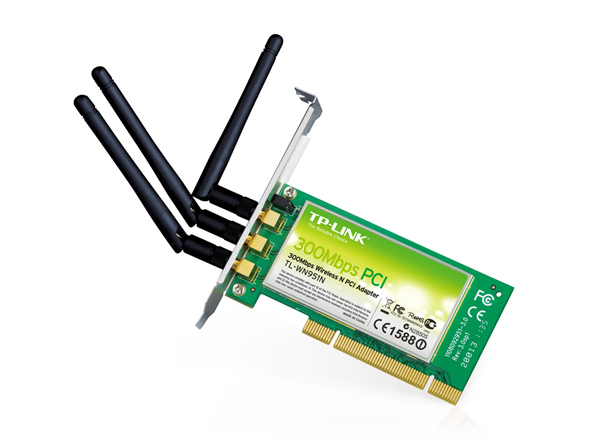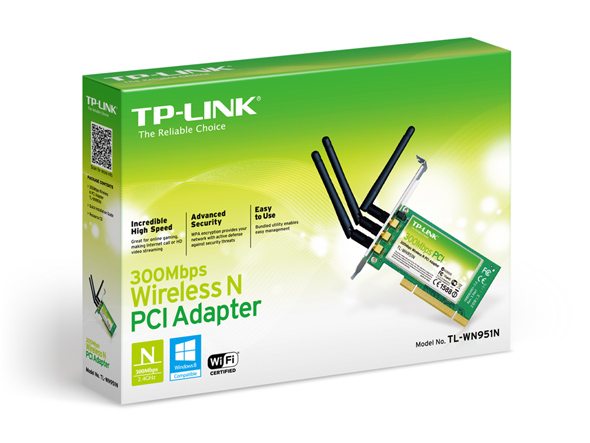 300Mbps Wireless N PCI Adapter
Uitstekende n-speed, optimaal voor het streamen van HD-video of internettelefonie
Drie antennes verhogen de robuustheid en stabiliteit van het draadloze netwerk
MIMO-technologie met een groter signaalpenetratievermogen, bredere draadloze dekking, betere prestaties en stabiliteit
Installeer in een handomdraai een streng beveiligde draadloze verbinding met Wi-Fi Protected Setup™ (WPS).
Wat dit product voor u kan doen
Met de draadloze N PCI adapter TL-WN951N kunt u een desktop computer met een draadloos netwerk verbinden en toegang krijgen tot een hoge-snelheidsinternetverbinding. In overeenstemming met IEEE 802.11n bieden ze een draadloos snelheid tot 300Mbps, wat voldoende is voor online gaming of zelfs HD video streaming.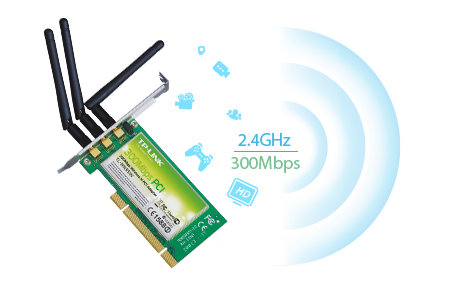 Draadloos N - Snelheid en bereik
MIMO (meervoudige input, meervoudige output antennes) technologie biedt uitstekende mogelijkheden om dataverlies over grote afstanden en door obstakels in een klein kantoor of groot appartement, of zelfs in een gebouw van staal en beton te verminderen Bovendien kunt u het draadloos netwerk gemakkelijk ontvangen bij een grote-afstandsverbinding, terwijl legacy 11g producten dat niet kunnen!
SST en CCA technologie – Stabiele draadloze signalen






Signal Sustain Technology (SST) vergroot aanzienlijk de link robuustheid en doorvoer door gelijktijdige zending door drie ruimtelijk verschillende signaalpaden en opname van informatie vanuit drie ontvangers binnen de signaalverwerking op de ontvanger. Het wegvallen van de netwerkverbinding is sterk verminderd, link robuustheid en doorvoer is toegenomen, er is gemiddeld 50% meer langdurige doorvoer op afstand dan bij 2x2 MIMO systemen Clear Channel Assessment (CCA) vermijdt automatisch kanaalconflicten door open kanalen te selecteren en de voordelen van kanaalbinding volledig te exploiteren, wat de draadloze prestaties aanzienlijk verbetert.
WPA/WPA2-encryptie - Geavanceerde beveiliging

Voor wat betreft de beveiliging van WI-FI verbindingen, is de WEP encryptie niet meer de sterkste en veiligste bescherming tegen inbreuken van buitenaf. De TL-WN951N biedt WPA/WPA2 encrypties die door de-WI-FI Alliance zijn gecreëerd, waarmee interpretabiliteit en beveiling voor WLAN wordt bevorderd, wat het draadloze netwerk effectief en efficient tegen bedreigingen van buitenaf kan beschermen.

Instelling beveiliging met één druk op de knop

TL-WN951N, dat compatibel is met WI-FI Protected Setup™ (WPS), heeft Quick Security Setup dat gebruikers in staat stelt vrijwel onmiddellijk hun beveiliging in te stellen door eenvoudigweg de 'QSS' knop in te drukken, waarmee automatisch een WPA2 beveiligde verbinding wordt gemaakt, wat veiliger is dan WEP encrypties. Dit is niet alleen sneller dan normale beveiligingsinstellingen, het is ook handiger omdat u geen password hoeft te onthouden!
Draadloze Functies
Standaarden voor Draadloze Netwerken
IEEE 802.11n, IEEE 802.11g, IEEE 802.11b
Frequentie
2,400-2,4835 GHz
Overdrachtssnelheid
11n: Up to 300Mbps(dynamic)
11g: Up to 54Mbps(dynamic)
11b: Up to 11Mbps(dynamic)
Ontvangstgevoeligheid
270M: -68dBm@10% PER
130M: -68dBm@10% PER
108M: -68dBm@10% PER
54M: -68dBm@10% PER
11M: -85dBm@8% PER
6M: -88dBm@10% PER
1M: -90dBm@8% PER

Draadloos Zendvermogen
<20dBm(EIRP)
Draadloze Modi
Modi Ad-Hoc en Infrastructuur.
Draadloze Beveiliging
Ondersteunt 64/128-bit WEP, WPA-PSK/WPA2-PSK,
Draadloze MAC-filtering
Modulatie Technology
DBPSK, DQPSK, CCK, OFDM, 16-QAM, 64-QAM
Bereik Draadloos Netwerk
11n: Tot 300Mbps (dynamisch)
11g: Tot 54Mbps (dynamisch)
11b: Tot 11Mbps (dynamisch)
Overdrachtsvermogen
< 20 dBm (EIRP)
Overige
Certificatie
CE, FCC, RoHS
Pakketinhoud
Draadloze adapter
CD met extra tools
Gids voor snelle installatie
Systeemvereisten
Windows 7 (32/64bits), Windows Vista (32/64bits), Windows XP (32/64bits), Windows 2000
Omgeving
Bedrijfstemperatuur: 0 °C – 40 °C (32 °F – 104 °F)
Opslagtemperatuur: -40 °C – 70 °C (-40 °F – 158 °F)
Luchtvochtigheid in bedrijf: 10% ~ 90% zonder condens
Luchtvochtigheid in opslag: 5% ~ 90% zonder condens
Awards

Recommend

TL-WN951N won Recommend award from Hard'n soft in Russia

2010, Russia

Editor's Choice

TL-WN951N received Editor's Choice award from PC Magazine in Russia 2011

2011, Russia

Five Stars

TL-WN951N Won Five stars from PC Magazine Russian edition in Russia

2012, Russia

Five Stars

TL-WN951N got Five Stars award from-PC Magazine in Russia

2012, Russia
From United States?
Get products, events and services for your region.