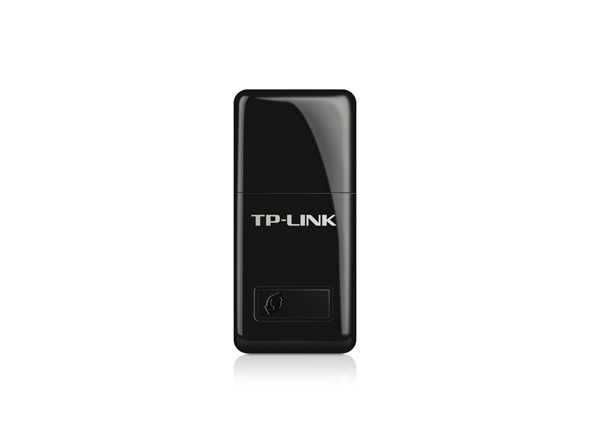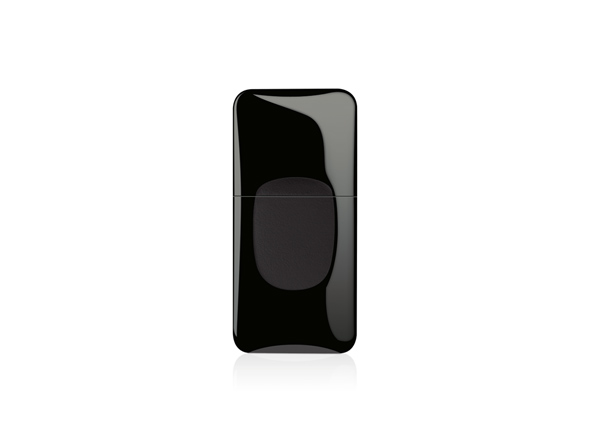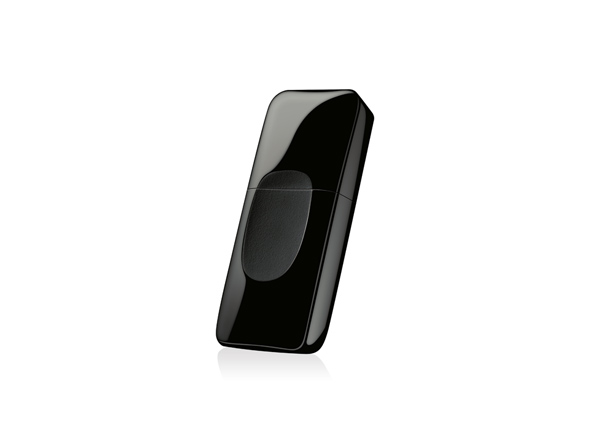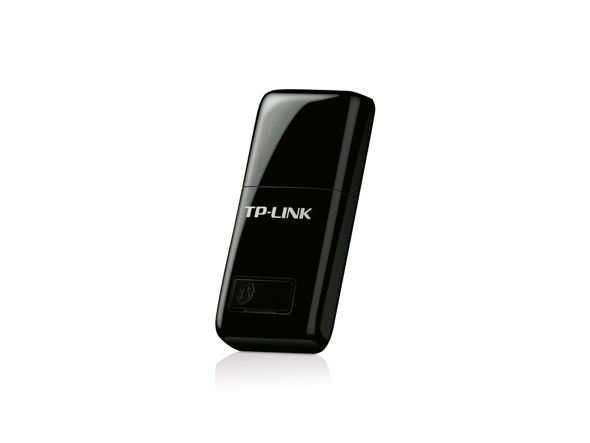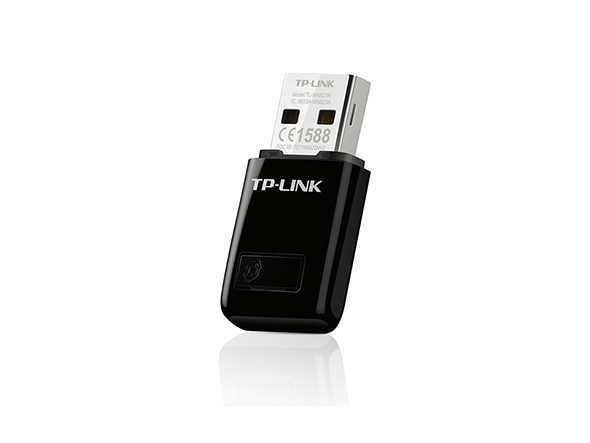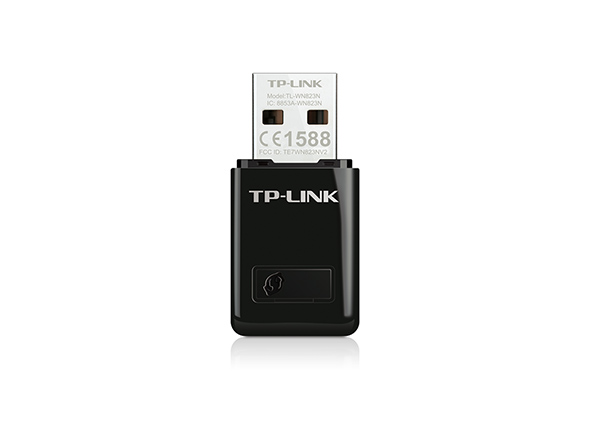 TL-WN823N
300 Mbps draadloos N mini USB-adapter
300 Mbps draadloos snelheid, ideaal voor vlekkeloze HD video, spraak streamen en online games
Ontwerp van miniformaat dat gemakkelijk mee te nemen is, met betrouwbare en hoge prestaties
SoftAP modus– maak van een bekabelde Internet verbinding naar een PC of laptop een Wi-Fi hotspot
Eenvoudig een beveiligde draadloze verbinding opzetten met één druk op de WPS toets
Wat doet dit product?
De 300 Mbps draadloos N mini USB-adapter TL-WN823N van TP-LINK is bedoeld om uw laptop of desktop met een draadloos netwerk met hoge snelheid te verbinden. Het zeer compacte formaat maakt de adapter zeer eenvoudig mee te nemen. Bovendien is de TL-WN823N dankzij de SoftAP modus, beveiliging instellen met één toets en eenvoudige configuratie software een uitstekende keuze om snel met een draadloos netwerk te verbinden.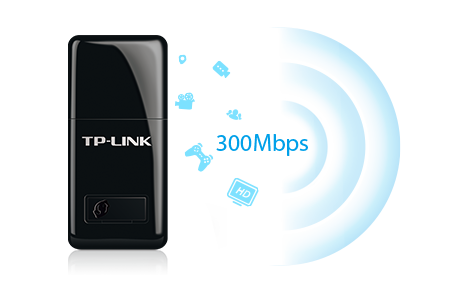 300 Mbps draadloos N snelheid - uw draadloos dekking uitbreiden
Met een draadloos snelheid tot 300 Mbps en gevanceerde MIMO techiek biedt de TL-WN823N u een snelle, betrouwbare draadloze verbinding voor online gaming en video streaming zonder vertragingen. Nog beter - de TL-WN823N bereikt de hoogste prestaties met draadloos N apparaten, maar werkt ook probleemloos met bestaande IEEE 802.11b/g netwerken.
Eenvoudig te gebruiken

Het geoptimaliseerde configuratie hulpprogramma van TP-LINK vindt u op de meegeleverde CD en hiermee kunt u alle software installatie en draadloos netwerk instellingen binnen enkele minuten voltooien. Dankzij de eenvoudige, gebruiksvriendelijke interface is de TL-WN823N zo handig, dat zelfs een beginner snel aan de slag kan en moeiteloos een verbinding tot stand brengt.

SoftAP modus – eenvoudig draadloos Internet delen

In de SoftAP modus kan deze minuscule adapter als virtueel draadloos AccessPoint worden gebruikt. In deze modus kunnen gebruikers van hun bestaande kabelverbinding met een laptop of PC gemakkelijk een draadloze verbinding maken en die delen met andere Wi-Fi apparaten zoals laptops, smartphones of tablets.

Beveiliging instellen met één toets

De TL-WN823N is compatibel met Wi-Fi Protected Setup™ (WPS) en biedt WPS Quick Security Setup, waardoor gebruikers hun beveiliging supersnel kunnen instellen, door eenvoudigweg de WPS toets in te drukken. Hierdoor wordt automatisch een veilige WPA2 verbinding tot stand gebracht, die veiliger is dan een WEP versleuteling. Dit gaat niet alleen sneller dan de normale manier van beveiliging instellen, maar ook gemakkelijker, omdat de gebruiker geen wachtwoord hoeft te onthouden!
Functionaliteit van de Hardware
Interface
USB 2.0
Knop
Wi-Fi Protected Setup (WPS) toets
Afmetingen ( B x D x H )
1.54 x 0.72 x 0.31 in. (39 x 18.35 x 7.87mm)
Type Antenne
Intern
Draadloze Functies
Standaarden voor Draadloze Netwerken
IEEE 802.11b, IEEE 802.11g, IEEE 802.11n
Frequentie
2.400~2.4835GHz
Overdrachtssnelheid
11b: tot 11 Mbps (dynamisch)
11g: tot 54 Mbps (dynamisch)
11n: tot 300 Mbps (dynamisch)
Ontvangstgevoeligheid
300M: -65dBm@10% PER
270M: -65dBm@10% PER
130M: -68dBm@10% PER
108M: -68dBm@10% PER
54M: -72dBm@10% PER
11M: -85dBm@8% PER
6M: -87dBm@10% PER
1M:-93dBm@8% PER
Draadloos Zendvermogen
<20dBm (EIRP)
Draadloze Modi
SoftAP modus
Client modus (ondersteunt Ad-hoc/Infrastructuur netwerk)
Draadloze Beveiliging
64/128-bit WEP
WPA-PSK / WPA2-PSK
WPA / WPA2
Modulatie Technology
DBPSK, DQPSK, CCK, OFDM, 16-QAM, 64-QAM
Overige
Certificatie
CE, FCC, IC, RoHS
Pakketinhoud
Draadloos adapter TL-WN823N
CD met hulpprogramma's e.d.
Installatie instructies
Systeemvereisten
Windows 8.1(32/64bits), Windows 8(32/64bits),
Windows 7(32/64bits), Windows Vista(32/64bits)
Windows XP(32/64bits), Mac OS X 10.7~10.10, Linux
Omgeving

Gebruikstemperatuur: 0℃~40℃
Bewaartemperatuur: -40℃~70℃
Luchtvochtigheid gebruik: 10%~90% niet-condenserend
Luchtvochtigheid bewaren: 5% ~90%, niet-condenserend
Subscription
TP-Link hecht veel waarde aan privacy. Voor meer informatie over ons privacybeleid kan je onze Privacy Policy bekijken.