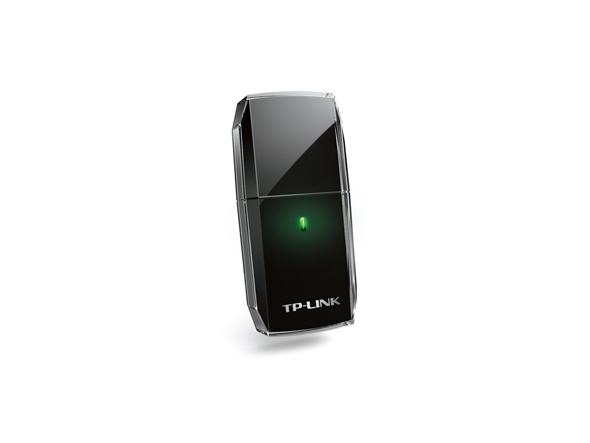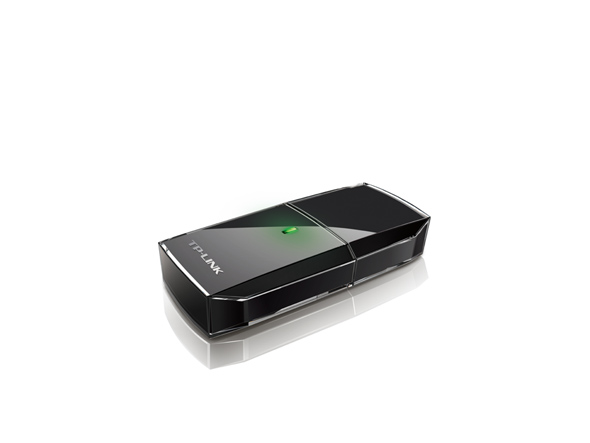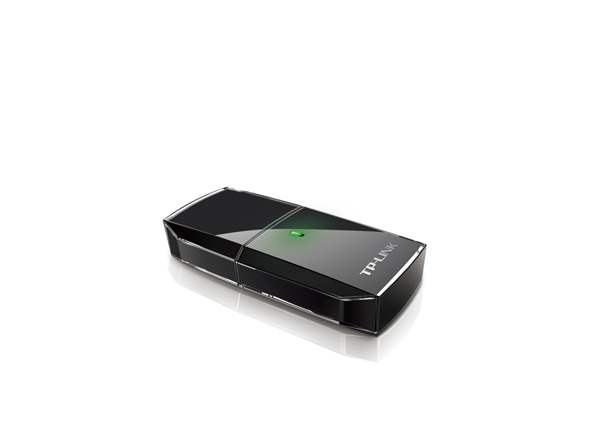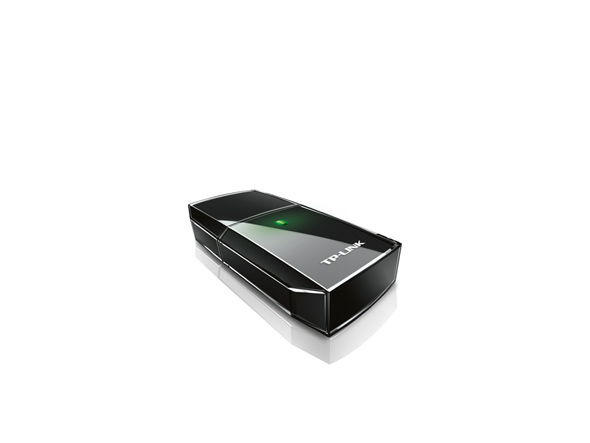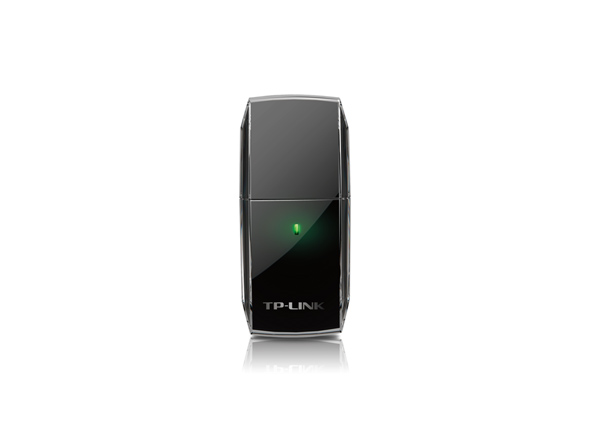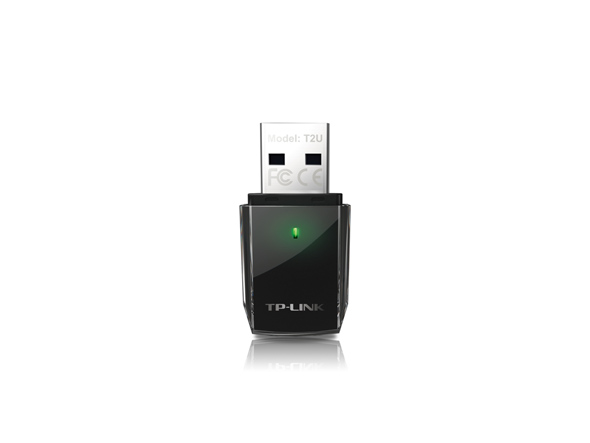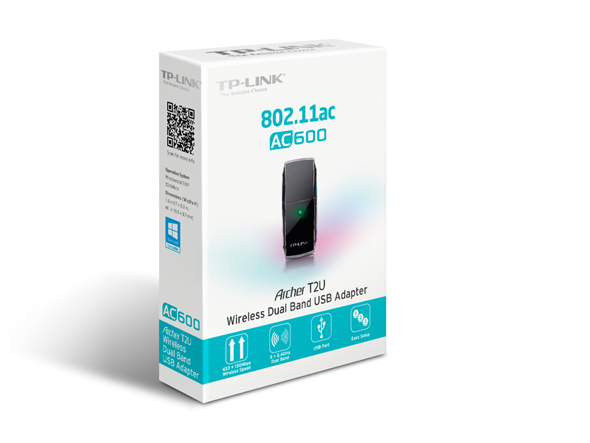 Archer T2U
AC600 Wireless Dual Band USB Adapter
600 (433+150) Mbps draadloos snelheid met 802.11ac
Gemakkelijk snelle, nieuwe-generatie Wi-Fi verbindingen tot stand brengen
Selecteerbare dual-band verbindingen voor vertragingvrije HD video streaming en gaming
Geavanceerde beveiliging: ondersteunt 64/128 WEP, WPA, PA2/WPA-PSK/WPA2-PSK (TKIP/AES)
Ondersteunt Windows 8/7/XP
802.11AC – De volgende generatie Wi-Fi
De Archer T2U van TP-LINK is uitgerust met de nieuwe-generatie Wi-Fi standaard – 802.11ac – 3 maal sneller dan draadloos N. Met 433 Mbps over de kristalheldere 5 GHz band of 150 Mbps over de 2,4 GHz band is de Archer T2U de allerbeste keuze voor naadloze HD streaming, online gaming en andere bandbreedte-intensieve taken.
AC 600 – Draadloze Dual-Band
Snelheid 433/150Mbps
De Archer T2U van TP-LINK is een dual-band USB-adapter met te selecteren 5 GHz en 2,4 GHz banden volgens de nieuwste standaard en achterwaarts compatibel met bestaande Wi-Fi netwerken. Gebruikers kunnen beschikken over kristalheldere 5 GHz verbindingen voor draadloos gebruik van hun notebook of PC, terwijl zij toegang blijven hebben tot bestaande 2,4 GHz draadloze netwerken.
Klein Design –
Makelijk om mee te nemen
Met dit compacte design is de T2U kleiner dan de meeste 11ac Wi-Fi USB adapters available en daarmee makkelijk mee te nemen. Gebruikers kunnen de mini adapter koppelen met elke USB poort.
Stijlvol –
Hoge standaard productieproces
Onze geavanceerde ontwikkeltechniek geeft de Archer T2U zijn heldere oppervlak, terwijl de polijstbehandeling zorgt voor een glad en zacht oppervlak waarmee het product kwalitatief goed aanvoelt.
Gemakkelijke installatie
Een gebruiksvriendelijke interface dankzij de simpele installatie via de CD-ROM.
Soft AP
Zet eenvoudig een Wi-Fi hotspot met hoge snelheid op in een paar klikken.
Compatabiliteit
Werkt samen met alle 802.11 a/b/g/n /ac apparaten
Draadloze Functies
Standaarden voor Draadloze Netwerken
IEEE 802.11ac, IEEE 802.11a,
IEEE 802.11n, IEEE 802.11g, IEEE 802.11b
Frequentie
5 GHz
2,4 GHz
Overdrachtssnelheid
5 GHz
11ac: tot 433 Mbps (dynamisch)
11a: tot 54 Mbps (dynamisch)
2,4 GHz
11n: tot 150 Mbps (dynamisch)
11g: tot 54 Mbps (dynamisch)
11b: tot 11 Mbps (dynamisch
Ontvangstgevoeligheid
5 GHz:
11a 6 Mbps: -94 dBm
11a 54 Mbps: -78 dBm
11n HT20 MCS0: -94 dBm
11n HT20 MCS7: -77 dBm
11n HT40 MCS0: -92 dBm
11n HT40 MCS7: -74 dBm
11ac VHT80 MCS0: -89 dBm
11ac VHT80 MCS9: -64 dBm
2,4 GHz:
11b 1 Mbps: -99 dBm
11b 11 Mbps: -91 dBm
11g 6 Mbps: -94 dBm
11g 54 Mbps: -77 dBm
11n HT20 MCS0: -95 dBm
11n HT20 MCS7: -76 dBm
11n HT40 MCS0: -92 dBm
11n HT40 MCS7: -73 dBm
Draadloos Zendvermogen
<20 dBm (EIRP)
Draadloze Modi
Ad-hoc / infrastructuur
Draadloze Beveiliging
Ondersteunt 64/128-bits WEP, WPA-PSK/WPA2-PSK, 802.1x
Modulatie Technology
DBPSK, DQPSK, CCK, OFDM, 16-QAM, 64-QAM, 256-QAM
Overige
Certificatie
CE, FCC, RoHS
Pakketinhoud
Draadloze adapter Archer T2U
CD met hulpprogramma enz.
Installatie-instructies

Systeemvereisten
Windows 8 (32/64-bits), Windows 7 (32/64-bits), Windows XP (32/64-bits)
Omgeving
Gebruikstemperatuur: 0℃~40℃
Bewaartemperatuur: -40℃~70℃
Rel. luchtvochtigheid gebruik: 10%~90%, niet-condenserend
Rel. luchtvochtigheid bewaren: 5%~90%, niet-condenserend
SubscriptionTP-Link hecht veel waarde aan privacy. Voor meer informatie over ons privacybeleid kan je onze Privacy Policy bekijken.
From United States?
Get products, events and services for your region.