Drie Wifi punten
Één Wifi netwerk
Deco Multiroom Wifi van TP-Link
Deco: snel en stabiele wifi overal in huis
Deco is de oplossing voor snelle en stabiele wifi in elke hoek van je huis. Deco werkt niet zoals een traditionele router met wifi uit één kastje maar met verschillende wifipunten die je door je huis verspreidt, zonder kabels. Die wifipunten vormen samen één groot dekkend netwerk met één naam en één wachtwoord. Ze zijn onderling draadloos verbonden en zo slim dat ze er voor zorgen dat je altijd met het dichtstbijzijnde Wifi-punt verbonden bent. Je installeert deco heel simpel met een app, en het werkt in combinatie met iedere provider.
Eenvoudige installatie
Dankzij een handige app kan je snel aan de slag. Uitgebreide antivirus van Trend Micro helpt je apparaten en gegevens te beveiligen. (Gratis 3-jarig abonnement). Je kan ook ieder apparaat voorrang geven, ongewenste websites blokkeren en met een tijdschema de Wifi voor je kinderen uitschakelen.
Naadloos Roamen
Met deco creeër je één naadloos wifi netwerk. Je hebt dus maar één netwerk naam en maar één wachtwoord. Terwijl je door je huis loopt schakelt deco je automatisch over van het ene naar het andere Wifi-punt zonder dat je dat merkt. En dus ook zonder dat jouw game, serie of videogesprek wordt onderbroken. In tegenstelling tot bij bijvoorbeeld wifi versterkers ben je dus altijd optimaal verbonden met het beste Wifi-punt in huis.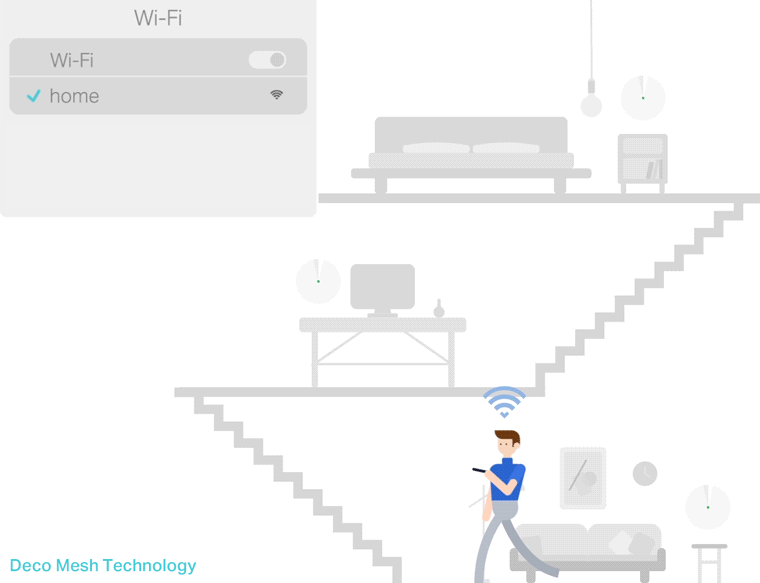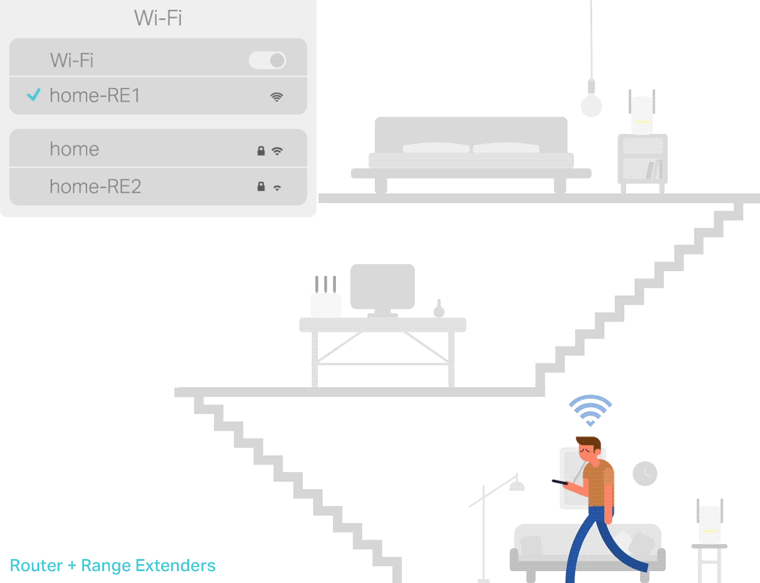 Adaptive Routing
TP-Link's unieke Adaptive Routing technologie kiest automatisch de optimale route voor ieder apparaat. Dit geeft meer flexibiliteit voor het plaatsen van de Wifi-punten en zorgt ervoor dat je overal de maximale snelheid uit je internetabonnement haalt.

"Begeeft jouw woning zich in een drukke omgeving met veel andere signalen? Of is het wifisignaal vanuit de hoek van je huis lastig te verspreiden met een gewone router? Dan kan de Deco M9 Plus een uitkomst bieden. Ook het gebruiksgemak zal voor veel mensen een verademing zijn ten opzichte van een gewone router."

"De Deco M5 beloonde we begin 2018 al met een Great value award en ook nu kunnen we niet anders dan onder de indruk zijn van de prijs-prestatie verhouding van dit systeem dat inmiddels voor 229 euro goed verkrijgbaar is en doodleuk de op drie na hoogste gemiddelde snelheid laat noteren. We sluiten in stijl af met de absolute test winnaar van deze mesh-vergelijking. De TP-Link M9 plus weet de hoogste gemiddelde snelheid te realiseren, op maar liefst negen onderdelen een podiumplek te bemachtigen en kost nog geen 400 euro. Dit systeem ontvangt dan ook onze Excellent Choice award."

"De TP-Link Deco M9 Plus doet het gemiddeld genomen het beste."

"Toch is het de TP-Link Deco M5 net als vorig jaar het keurmerk Redactie-tip verdient, met de scherpste prijs en gemiddeld genomen de beste prestaties in die klasse."
Vind hier de juiste Deco voor jouw situatie
Type Wifi

Dekking

Snelheid

Bediening
Smart Home
apparaten

Beveiliging




Deco M9 Plus

Tri-Band
Smart Home
Mesh

Tot 600M²




AC2200

Koop nu




Deco P7

Dual-Band
Mesh
+
Powerline

Tot 550M²


AC1300
+ Powerline
AV600

Koop nu




Deco M5

Dual-Band
Mesh

Tot 500M²




AC1300

Koop nu




Deco M4

Dual-Band
Mesh

Tot 260M²




AC1200

Koop nu
Subscription
TP-Link hecht veel waarde aan privacy. Voor meer informatie over ons privacybeleid kan je onze Privacy Policy bekijken.
From United States (English)?
Check products and services for your region.