How to use Multi-NAT function ( IP address mapping for multiple IP servers) on TD-8816/8817 , TD-8840T, TD-W8901G(N), TD-W8151N,TD-W8951ND(B), TD-W8961N(D/B)
Ce document concerne les modèles suivants :
Note: This FAQ is NOT suitable for TD-8840T v4.
If you have several servers in the LAN side, and the ISP has assigned several Public IP addresses to your ADSL line for each server, you can consider the Multi-NAT function on TP-Link modems.
Here is an example you can refer to.
5 Servers in the LAN side;
5 Public IP addresses are available for each server;
WAN connection type is Dynamic IP.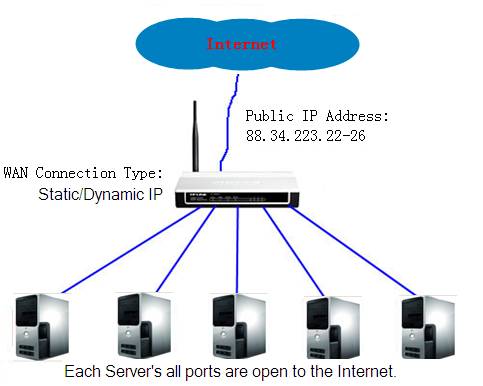 Configurations on TP-Link modems
Open the web browser and type http://192.168.1.1 in the address bar and press the Enter button. The default username and password are both admin.

Manually configure Static IP address for you internal servers. Here in the example, we use 192.168.1.10-14.
On the top menu, please go to Advanced Setup ->NAT, select your current PVC. Select Multiple and click IP Address Mapping(for Multiple IP Service).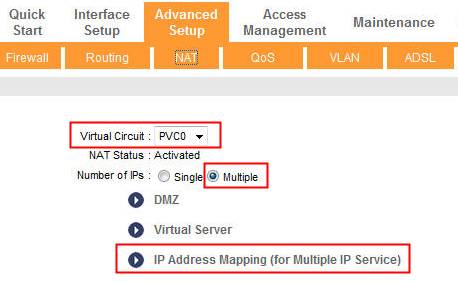 Notes:
If the Virtual Circuit is incorrect, there will be no options. You can go to Status page to check which PVC you are using. Usually, there are IP parameters behind the correct PVC.
Add five rules like the picture below:
The first rule's public start IP is 0.0.0.0, it is for modem's WAN IP:88.34.223.22.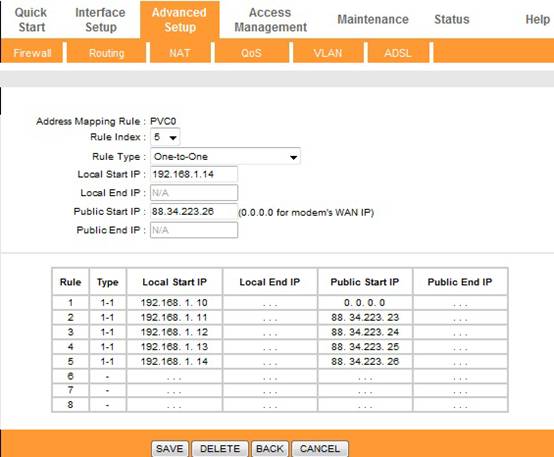 With such settings, when visit the Public IP, the connection will be forwarded to the internal matched server directly.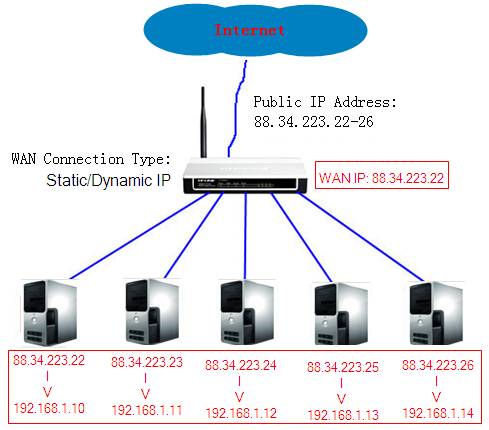 If you still don't know how to configure you modem, please feel free to contact us. support@tp-link.com
Get to know more details of each function and configuration please go to Download Center to download the manual of your product.
Est-ce que ce FAQ a été utile ?
Vos commentaires nous aideront à améliorer ce site.
SubscriptionTP-Link prend votre vie privée au sérieux. Pour plus de détails sur la politique de confidentialité de TP-Link, veuillez consultez la page suivante Politique de confidentialité de TP-Link .
De United States?
Infos produits, événements, services pour votre pays.