Aug.2015

06
TP-Link INTRODUCES AN EXTREME WI-FI SOLUTION FOR EXTREME ENTERTAINMENT AND GAMING ENTHUSIASTS: THE LATEST AC2600 WIRELESS DUAL BAND GIGABIT ROUTER - ARCHER C2600
Shenzhen, China, August 6th, 2015 - TP-Link, the world's leading innovator of home, small and medium business networking solutions, today introduced its latest AC2600 Wireless Dual Band Gigabit Router - Archer C2600, a powerhouse solution for extreme entertainment and gaming enthusiasts. Featuring blazing 2600Mbps Wi-Fi speed as well as Multi-User MIMO technology, 4-stream 11 AC wireless technology, and a 1.4GHz dual core processor, the Archer C2600 delivers flawless and seamless Wi-Fi performance during high-bandwidth activities like multi-player online gaming and multi-device video streaming.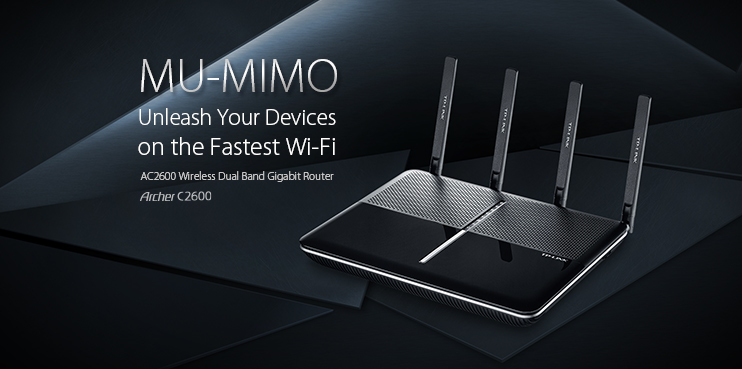 Extremely Efficient
The Archer C2600 features the industry leading Multi-User, Multiple-Input, Multiple-Output (Multi-User MIMO) technology to boost efficiency and deliver a faster Wi-Fi experience. Instead of supporting just one internet-enabled device at a time, Multi-User MIMO technology enables the router to support several devices simultaneously, effectively multiplying Wi-Fi performance for multitaskers.
"With our latest AC2600 Wireless Dual Band Gigabit Router, the Archer C2600, TP-Link has again set a new standard for the field," said Andy Chen, Director of International Business. "Entertainment lovers and extreme gamers who rely on wireless connections for streaming and gaming can now revel in a powerful and reliable Wi-Fi solution that supports even the most bandwidth-demanding applications without the interruptions caused by lag and buffer time."
Extremely Powerful
The router is equipped with 4-stream 11 AC wireless technology that boosts its peak Wi-Fi speed to multiply and maximize performance. It leverages this power to deliver four independent, yet sharable, spatial data streams across all internet-enabled devices including smartphones, tablets, TVs and game consoles. The powerful 1.4GHz dual-core processor also ensures the smooth handling of simultaneous surfing, streaming, and gaming.
With four long-range external antennas and high-powered amplifiers, the Archer C2600 provides full coverage maximizing signal strength so users can stream videos and game freely without losing their wireless connections. The router's beamforming technology also targets wireless signals to specific devices to enhance the home networking environment.
Extremely Fast
To maintain a superior quality experience across multiple devices, the Archer C2600 utilizes its dual 2.4GHz and 5GHz bands to reach a combined blazing 2600Mbps speed, delivering more than two gigabits per second. The Archer C2600 has four gigabit Ethernet ports for easy connection with other internet devices, and two USB 3.0 sharing ports for data transfer ten times faster than the USB 2.0 standard.
Archer C2600 Key Specifications
AC2600 (800Mbps over the 2.4GHz and 1800Mbps over the 5GHz)

802.11AC Wave II, Multi-User MIMO

4-Stream 11AC

1.4GHz super-fast dual-core processor

Four dual band antennas, high-powered amplifiers

Beamforming technology

Intuitive Graphic User Interface and Tether App

2 x Multi-function USB 3.0 Ports

Full Gigabit Ethernet Ports

Quality of Service (QoS) by device and application
De United States?
Infos produits, événements, services pour votre pays.