Aug.2015

12
EXPERIENCE THE ULTIMATE IN WI-FI SIMPLICITY, SPEED, AND RANGE WITH TP-Link'S FIRST TOUCH SCREEN DISPLAY ROUTER
Shenzhen, China, August 12nd, 2015 - TP-Link, the world's leading innovator of home, small and medium business networking solutions, today introduced its first wireless 1900Mbps touch screen display W-Fi router, the AC1900 Touch Screen Gigabit Wi-Fi Router – Touch P5, making it simple for even the most inexperienced users to tap into and take full advantage of their broadband networks. With its powerful 1GHz dual-core processor and expansive coverage range, TP-Link's Touch P5 is the perfect solution for households looking to tap into a smarter connected home, and enjoy ultra-fast connectivity across multiple devices.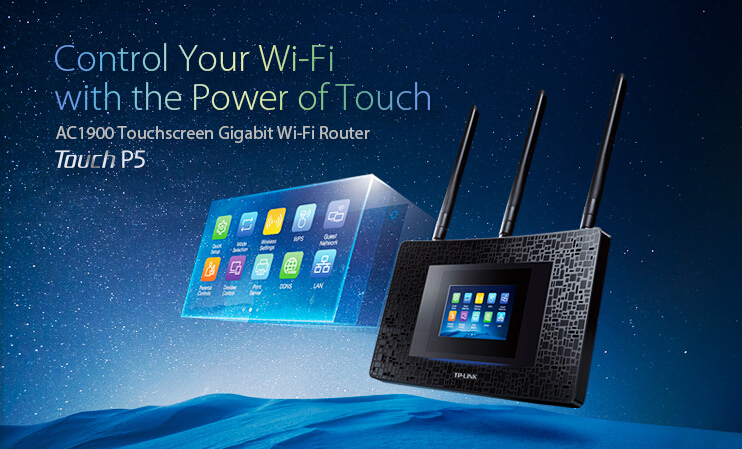 Tap into your Wi-Fi network
The Touch P5 features a novel 4.3-inch color touchscreen display that enables installation in mere minutes by simply tapping the Quick Setup function, and removes the need for a computer to support the configuration process typical with traditional routers.
For adjustment of router settings, the new Touch P5 router's customized user interface (UI) provides an intuitive experience with a touchscreen keyboard and home screen button for quick navigation. The UI's built-in functions menu also allow users to easily manage the router including creating guest networks, activating parental controls, and managing device access.
Tap into your world of entertainment
The Touch P5's powerful 1GHz dual-core processor is the strongest in its class, and ideal for smooth streaming of 4K HD videos and movies, as well as graphic intensive gaming across devices. To handle multiple, resource-intensive tasks without buffer, the Touch P5 router efficiently allocates bandwidth across its dual bands (600Mbps on the 2.4GHz band; 1300Mbps on the 5GHz band) to reach a blazing fast combined speed of 1900Mbps.
"We've set a new standard for home router technology with the AC1900 Touch Screen Gigabit Wi-Fi Router," said Andy Chen, Director of International Business at TP-Link. "With its innovative touchscreen display, the Touch P5 is the perfect networking solution for the modern home enabling users to easily setup and manage their Wi-Fi networks with just a few quick taps."
Tap into a connected home
With its three external antennas, the Touch P5 allows households to enjoy full range Wi-Fi coverage and strength, getting rid of those annoying dead spots. It also comes equipped with inbuilt beamforming technology to amplify and target Wi-Fi signals so the whole family can move around freely without losing or slowing down their connection.
The Touch P5 router also houses four Gigabit Ethernet Ports for convenient wired connection with devices around the home including computers, smart TVs and game consoles, and two USB sharing ports, including a USB 3.0 sharing port for data transfer ten times faster than the USB 2.0 standard.
With its classic black frame and contemporary clock display, TP-Link's new touch screen router is suitable for both table and wall-mounted placement and will look elegant in any home.
AC1900 Touch Screen Gigabit Wi-Fi Router – Touch P5 Key Specifications
AC1900 (2.4GHz 600Mbps + 5GHz 1300Mbps)

4.3 inch capacitive touchscreen

128 ppi screen resolution

Beamforming Technology

1GHz Dual-Core Processor

4 Gigabit Ethernet Ports

USB 3.0 Port

Multi-Function (Router/RE/AP)
De United States?
Infos produits, événements, services pour votre pays.