How to configure TCP/IP Properties of my computer to connect to TP-Link wireless router on Windows XP?
Here we take Windows XP as an example, and please make certain that your Ethernet Adapter is working well.
Step 1
On the Windows taskbar, click the Start->Control Panel, then select and double-click Networking Connections.
Step 2
Right Click Local Area Connection, select and click Properties.
Step 3
Select Internet Protocol (TCP/IP), then double click it or click Properties.
Step 4
The TCP/IP Properties window will display, there are two ways to configure the TCP/IP Properties, automatically or manually.
1. Assigned automatically by DHCP server
Select Obtain an IP address automatically and even Obtain DNS server address automatically if necessary, click OK to save the settings.
2. Assigned manually
Select Use the following IP address, type IP address, subnet mask and default gateway IP address into it.
Select Use the following DNS server addresses, type your local area DNS server IP addresses into it.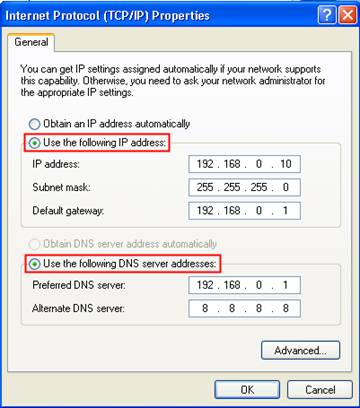 Step 5
Click OK to save and apply your settings.
Note:
1. The IP address should be in range of 192.168.0.2 to 192.168.0.253, you can use anyone of them. The Subnet mask should be 255.255.255.0; the default gateway is usual 192.168.0.1 which is the same with your router's IP address.
2. The DNS server addresses can be the gateway or provided by your ISP.
Est-ce que ce FAQ a été utile ?
Vos commentaires nous aideront à améliorer ce site.