Comment trouver le bon SSID et le mot de passe sans fil de M5350 si l'étiquette est incorrecte?
Ce document concerne les modèles suivants :
M5360 , M5350 , M5250
Problem Description
Some customers may find that when he/she uses the SSID and Password on the back of the back-cover, his/her wireless clients can't connect to M5350's wireless network.
Root cause of the problem
The default SSID of M5350 is TP-Link_M5_XXXXXX. "XXXXXX" should be the last six letters of the product's MAC address.
The default Wireless Password should be the last eight numbers of the product's IMEI.
When manufacturing, some devices were attached with wrong SSID-Password labels on the back cover. Those wrong labels didn't match the above rule and provide wrong SSID&Password.
Available Solutions
If the customer find that he/she can't connect to the wireless network with the SSID and Password on the back cover. Please check the label info with the device's real MAC and IMEI first, like bellow: (Customer has to take out the battery to see the MAC and IMEI No.)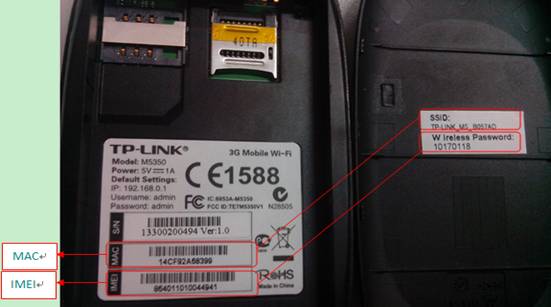 In above picture you can find that:
The MAC is: 14CF92A68339
The IMEI is: 854011010044941
The SSID is: TL-LINK_M5_B057AD(wrong)
The Wireless Password is: 10170118(wrong)
The right SSID is :TL-LINK_M5_ A68339
The right Wireless Password is: 10044941
When confimed it was the wrong-lable issue, please suggest the customer use below info to connect :
SSID: TP-Link_M5_xxxxxx(last six letters of the MAC)
Wireless Password: last eight numbers of the IMEI
If there is any other question, Please feel free to contact support.fr@tp-link.com.
Est-ce que ce FAQ a été utile ?
Vos commentaires nous aideront à améliorer ce site.
SubscriptionTP-Link prend votre vie privée au sérieux. Pour plus de détails sur lesa poltique de confidentialité de TP-Link, veuillez consultez la page suivante Politique de confidentialité de TP-Link .