Why cannot I login my TP-Link product?
Ce document concerne les modèles suivants :
TL-WR841N , TD-8817 , TL-WDR3500
There will be various reasons which make it difficult or impossible to login the product. Before you read this, you'll need to check your physical connections and make sure that the TCP/IP settings of your computer are correct.
This article is suitable for the people who may have the problems below:
1.
If you cannot access the router's management page, while the internet is still working and you can ping the router successfully. In this case, please check the SYS led on the router, if the light is solid or off instead of flashing, please try to restart (power on and off) the router.
2.
Please check the proxy server settings of your Internet Explorer. On the top menu of your browser, please go to

Tools->(Internet) Options->Connections

. Click on LAN Settings, uncheck "Use a proxy server for your LAN" and click "OK".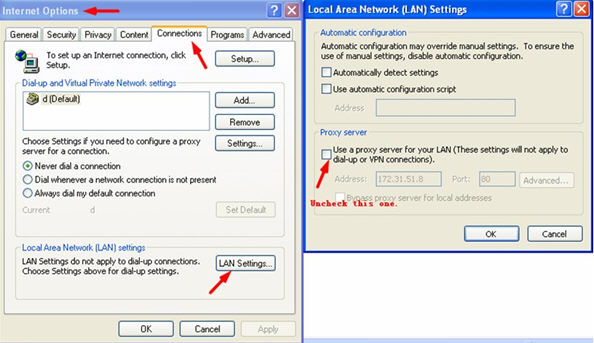 3.
On Windows Vista/7 computer, please go to Start Menu

->Control Panel->Network and Internet->Network and Sharing Center->Manage Network Connections/Change Adapter Settings->

right click Local Area Connection->Properties. Then uncheck "Internet Protocol Version 6(TCP/IP V6)" and press "OK".
4.
Wrong data transmitting.
If there are several network adapters on your computer, sometimes the data will be transferred via one network adapter but not the network adapter which is connected to TP-Link modem/router. Then please disable other network adapters and only use the one connected.

5.
Misunderstanding for Address Bar and Search Bar
We should type the LAN IP address into the Address bar (also called Location bar or URL bar) but not Search Bar.

6.
Internet Explorer configured with "Working Offline"
When we type 192.168.1.1 in the address bar and press Enter, sometimes the following windows pops out.

You can click "Connect" directly or go to "File" to uncheck "Work Offline".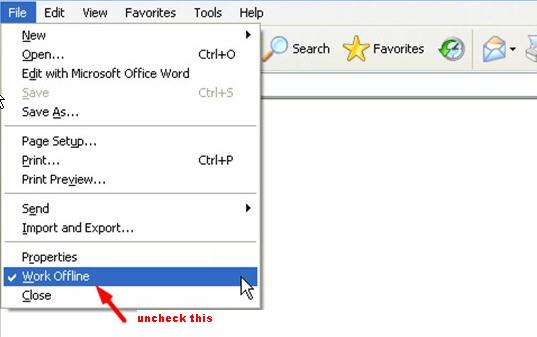 7.
Internet Explorer configured with "Always dial my default connection".
Some people set up PPPoE connection on the computer to have internet access and have these settings enabled in the Internet Explorer by default. But when we get a router to share internet, we do not need to dial up on computer. Because of that, we may have problems as the Internet Explorer is still using "Always dial my default connection". See the picture below: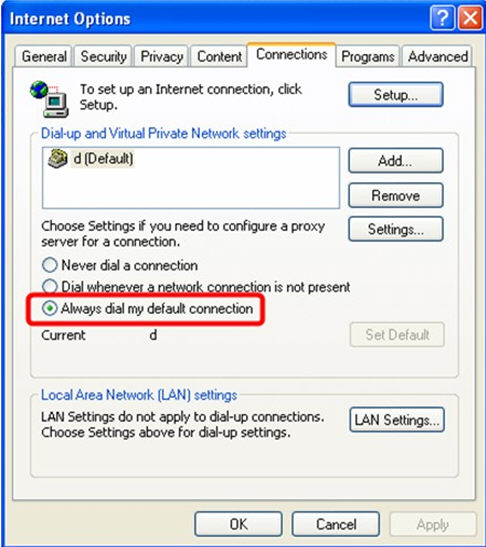 If we try to open the management page of the product, the window below will pop up: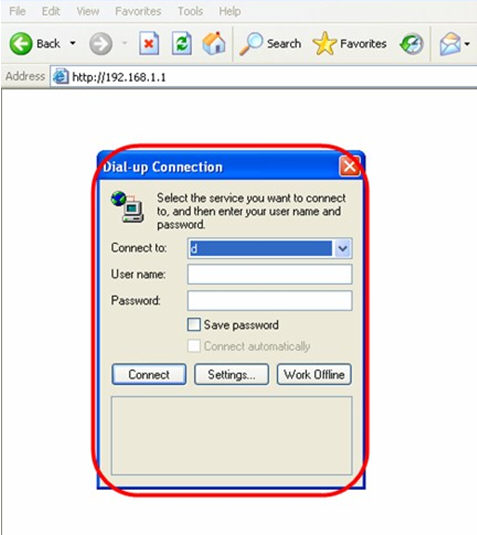 Nothing will change even if you click on "Connect". We have to wait for time out and it will work in "Browse offline" mode.
Use "never dial a connection" as the picture below:
(Go to Control Panel->open Internet Options->click on Connections tab.)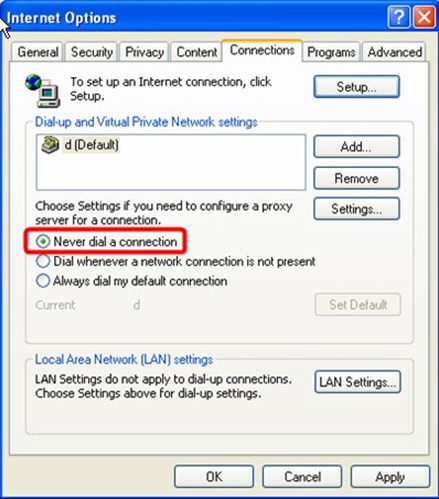 8.
A process on the computer itself may be taking up port 192.168.1.1:80.
When there may be a process using port 192.168.1.1.1:80, we won't be able to access the product by its default port 80, either. And if you're trying to do this, there will be other thing coming out instead of "the web page cannot be displayed".
Solution
: please close the related process, such as web server, hfs and so on.
9.
For Windows Vista and Windows 7 computers, we can also try to login into the router in this way:
Go to Network on Desktop and you may find your router there. Right click it then go to View device webpage and type the Username and password, then login.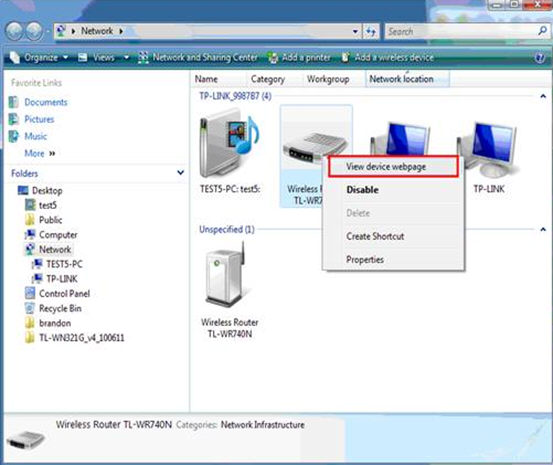 10.
The anti-virus software or the firewall installed on your computer may block you from opening the webpage as well. And we do meet the similar situation like this. Some anti-virus software needs to do some special settings. See FAQ 358.
If the problem is caused by the firewall, please disable it on your computer.
Est-ce que ce FAQ a été utile ?
Vos commentaires nous aideront à améliorer ce site.
SubscriptionTP-Link prend votre vie privée au sérieux. Pour plus de détails sur la politique de confidentialité de TP-Link, veuillez consultez la page suivante Politique de confidentialité de TP-Link .
De United States?
Infos produits, événements, services pour votre pays.