Nov.2020

17
Archer AX73—The Top Structure and Full Bandwidth Build for an Ultra-Fast 5.4 Gbps WiFi Network
SHENZHEN, China – TP-Link® today announced Archer AX73, an AX5400 Dual-Band Gigabit WiFi 6 Router, packing excellent coverage performance and the HomeShield security system. Equipped with the top structure 4T4R and HE160 on the 5 GHz band, Archer AX73 enables users to enjoy the ultra-fast 5.4 Gbps WiFi that can stream multiple 8K videos without buffering.
With 5400 Mbps WiFi 6, Archer AX73 is made to handle multitasking easily. Whether you download a AAA game at warp speed, stream media with flawless quality, process files cross devices through the air, or connect everything on the network, Archer AX73 always offers more than enough bandwidth to back a smooth experience. The HomeShield service kit includes Antivirus, Parental Controls, QoS, and Home Network Scanner to deliver expert-level care for managing your network. OneMesh enables further flexible expansion with high-quality seamless roaming.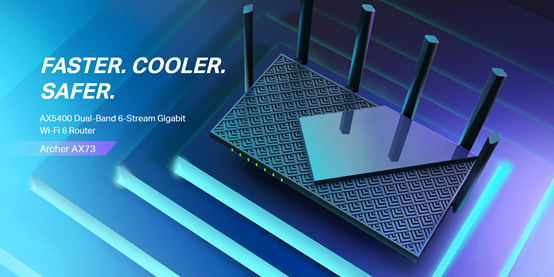 Warp Speeds Transfering 1 GB within 5 Seconds
Archer AX73 comes with the advanced WiFi 6 standard, including 1024-QAM, 160 Mhz bandwidth, and a higher symbol rate, pushing total WiFi speeds up to 5.4 Gbps. With the top structure 4T4R on the 5 GHz band, Archer AX73 perfectly matches the clients with 3T3R or higher structures, like Mac and XPS15, enabling users to make most out of the full performance from their high-end clients.
"We've added WiFi 6 features to the 5 GHz band, including the 160 Mhz bandwidth. This band alone provides users up to 4.8 Gbps bandwidth. According to tests from our lab, this bandwidth allows transmission speeds at 200+ MB/s between clients, enabling you to transfer a 1 GB file to another client in 5 seconds wirelessly," said Allen, the engineer behind Archer AX73. "If it's still hard to imagine, you can think of a traditional hard disk in most NAS, whose read/write speeds is just around 100 MB/s. Want to drop a file to another computer? WiFi now does this even faster than a Gigabit wire. Just enjoy a total wireless network which is ultra-fast and super-responsive."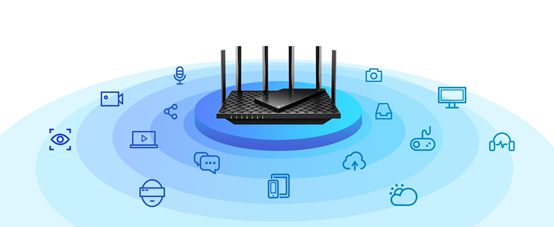 Extensive Coverage with 4T4R
Archer AX73 features 6× high-performance antennas, Beamforming, and high-power FEM that combine to generate a steady, far-reaching WiFi signal to every corner of a house. Furthermore, its 4T4R structure not only improves speed but also provides more streams to transmit clear data to the clients, adding more range performance. Compared with a mid-level 2T2R WiFi 6 router, Archer AX73 doubles the ability to adapt the signal diffraction to create a broader coverage for more directions.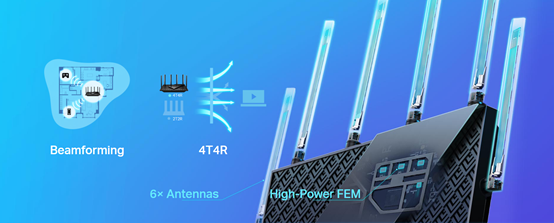 HomeShield Powered by Avira®
Today, routers are the gateway of smart homes and are easily becoming a channel through which hackers infiltrate to exploit vulnerable IoT devices. Given that these attacks either go through or directly target routers, it is mission-critical that the secure positioning of routers is reinforced. With Avira's "engineered-in-Germany" AI technology and robust antivirus experience, HomeShield on Archer AX73 starts by securing the home WiFi gateway and continues to protect the home network and all devices.

HomeShield provides versatile features to enhance network experience:
Home Network Scanner
Detects potential threats and provides advanced warnings of security issues.
Parental Controls
Limit online time and block inappropriate websites according to the unique profiles you create for each family member.
Quality of Service (QoS)
Prioritize your devices so that the most frequently used and data-demanding ones get the bandwidth they need.
Comprehensive Reports
Gain insight and better control of your home network with detailed weekly/monthly reports of your WiFi.
Customers can upgrade to HomeShield Pro and unlock more security features:
Real-Time IoT Protection
Identifies IoT devices, blocks unauthorized access, encrypts data, and protects against cyber threats and attacks on IoT devices.
Powerful Antivirus
Activate the malicious site blocker, DDoS protection, and Port Intrusion Prevention to protect your home network and devices from cyberattacks.
Advanced Parental Controls
Activate Applications Filtering, Time Rewards, Device Type Statistics, Online Time Analysis, and Overview of Online Information functions to better protect your family.
Exterior Design Unleashes More Performance
Archer AX73, aiming at bringing more advanced WiFi 6 to every home, added with the security features, is designed with stacked scale-blocks to represent connected cities and enhanced armor. By adopting this new design, Archer AX73 fits itself into contemporary aesthetics while also improving its heat performance. The larger vent area compared to most other competitors easily unleashes the performance of the whole system under heavy use, guaranteeing lower latency and more stable transmissions.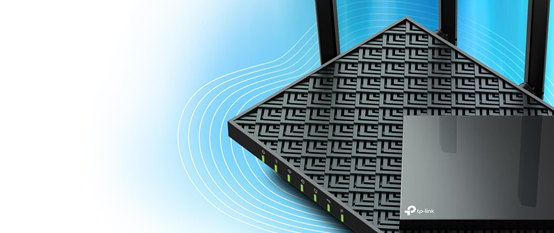 Gigabit WiFi for 8K Streaming – 5400 Mbps WiFi with support of 4×4 HE160 for faster browsing, streaming and downloading, all at the same time.†
Connect More, Stay Fast – Supports MU-MIMO and OFDMA to reduce congestion and quadruple the average throughput.‡**
Extensive Coverage – 6× antennas and Beamforming ensure broad coverage.
Powerful Processing – 1.5 GHz Triple-Core CPU guarantees reliable, high-performance output.
HomeShield – TP-Link's premium security services keep your home network safe with cutting-edge features for network and IoT protection.*
More Vents, Less Heat – Improved vents area unleash the full power of the entire machine.
USB Sharing – 1× USB 3.0 port enables easy media sharing and private cloud building.
Easy Setup – Set up the router in minutes with the Tether app.
About TP-Link
Founded in 1996, TP-Link is a global provider of reliable networking devices and accessories, involved in all aspects of everyday life. The company is consistently ranked by analyst firm IDC as the No. 1 provider of WiFi products,3 supplying distribution to more than 170 countries and serving hundreds of billions of people worldwide.
As one of the world's leading companies in the networking industry, TP-Link has two decades of iterative inventing and testing. To realize our vision of making a superior digital life available to all, we're combining the latest technology and know-how into products ideal for multi-device usage scenarios.

For more information about TP-Link, please visit us online at www.tp-link.com or follow us on:
- Facebook: facebook.com/tplink
- Twitter: twitter.com/tplink
- YouTube: youtube.com/tplink
- LinkedIn: linkedin.com/company/tp-link-technologies-co-ltd/

Media Contact: pr@tp-link.com
Disclaimer:
†Maximum wireless signal rates are the physical rates derived from IEEE Standard 802.11 specifications. Actual wireless data throughput and wireless coverage are not guaranteed and will vary as a result of network conditions, client limitations, and environmental factors, including building materials, obstacles, volume and density of traffic, and client location.
‡Use of Wi-Fi 6 (802.11ax), and features including OFDMA, MU-MIMO, 1024-QAM or HE160 require clients to also support the corresponding features.
§2.5 Gbps internet speeds require compatible service plans and equipment.
△Saving clients' battery power requires clients to also support the 802.11ax Wi-Fi standard. Actual power reduction may vary as a result of network conditions, client limitations, and environmental factors.
*HomeShield includes the Free Basic Plan. Fees apply for the Pro Plan. Visit tp-link.com/homeshield for more information.\
**Use of WPA3 requires clients to also support the corresponding feature.\
***This router may not support all the mandatory features as ratified in Draft 3.0 of IEEE 802.11ax specification.
****Further software upgrades for feature availability may be required.
De United States?
Infos produits, événements, services pour votre pays.