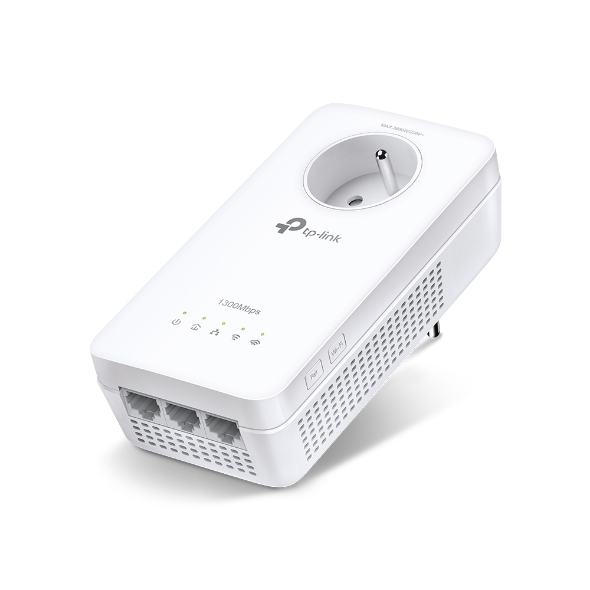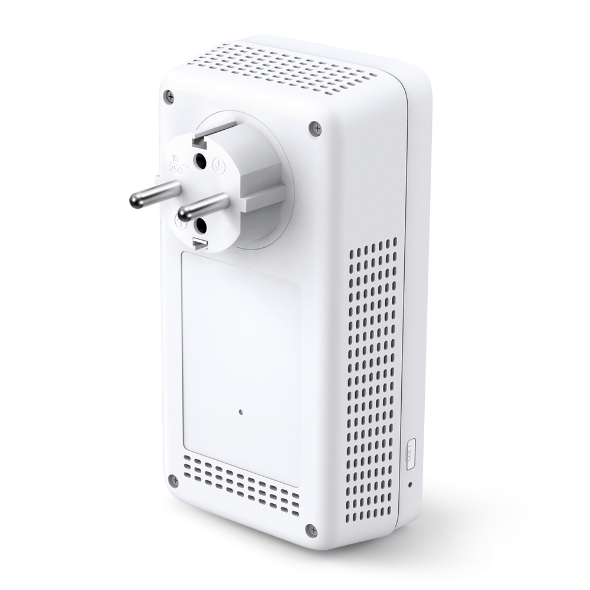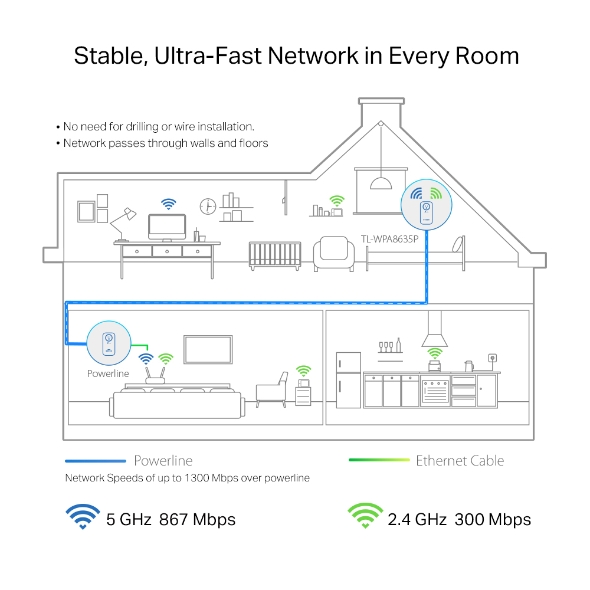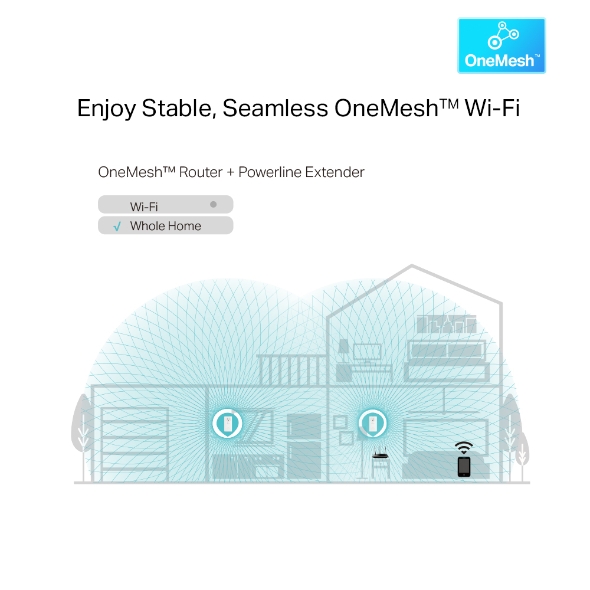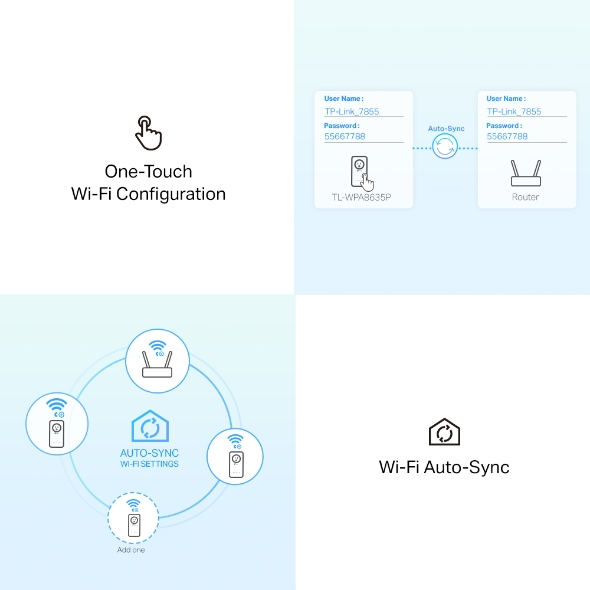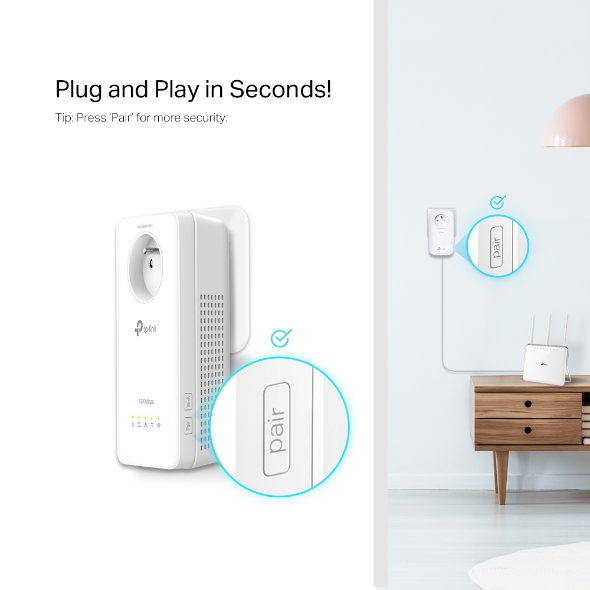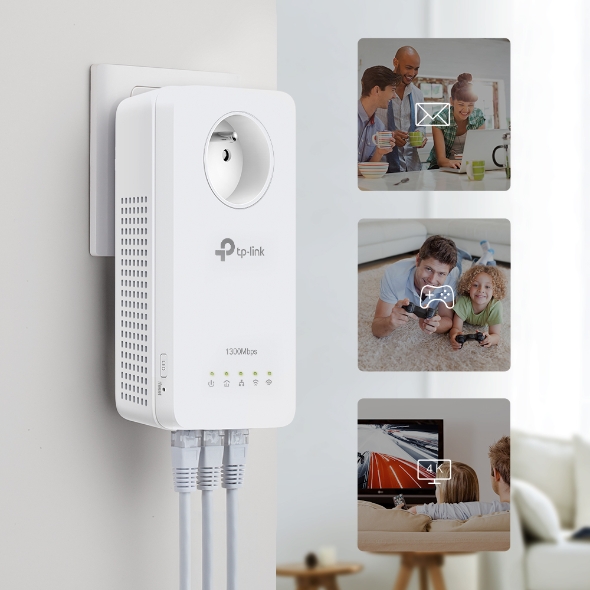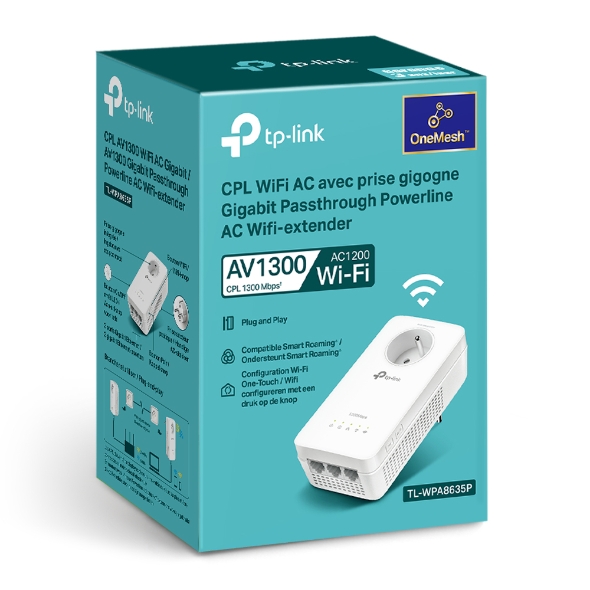 TL-WPA8635P
Meilleure Vente
CPL AV1300 + WiFi AC1350 avec 3 ports Gigabit et prise gigogne
WiFi bi-bande AC1350 avec des débits combinés allant jusqu'à 1350 Mbps
HomePlug AV2 - Fournit des débits CPL ultra rapides allant jusqu'à 1300 Mbps
MIMO 2X2 - Établit plusieurs connexions simultanées pour que vous puissiez profiter de vitesses plus élevées et d'une plus grande stabilité
Bouton Clone WiFi - Copie automatiquement le nom du réseau (SSID) et le mot de passe de votre routeur ou box en appuyant sur ce bouton
Auto-Sync - Ajoute des CPL à votre réseau via le bouton paire et synchronise uniformément les paramètres tels que SSID, mot de passe, Calendrier WiFi et Calendrier LED pour tous les appareils réseau
Prise gigogne intégrée - Continuez d'alimenter vos autres appareils via la prise de courant intégrée
Compatible avec toutes les box du marché, et routeurs/points d'accès WiFi
Garantie 3 ans
Wall-Piercing Wi-Fi Extended to Every Outlet
AV1300 Gigabit Passthrough Powerline ac Wi-Fi Extender
TL-WPA8635P
Stable, Ultra-Fast Network in Every Room
No need for drilling or wire installation.
Network passes through walls and floors

2.4 GHz 300 Mbps

5 GHz 867 Mbps
The passthrough powerline kit extends AC1200 Wi-Fi to any area in your home.
Up to
1300Mbps

AV1
500Mbps
AV2
1300Mbps
The latest HomePlug AV2 technology delivers speeds of up to 1300 Mbps
over Powerline, preventing lost speed during transfers.

Powerline

Ethernet Cable
Enjoy Stable, Seamless OneMesh™ Wi-Fi
Bothered by dropped connections while moving around your home?
With the newest OneMeshTM technology, the kit works with your existing OneMeshTM router to form a unified Mesh network. No more switching Wi-Fi network names, enjoy uninterrupted streaming and truly seamless AC1200 Wi-Fi.
OneMesh™ Router + Range Extender

Traditional Router with Extender
2×2 MIMO Technology for Efficient Transmissions
More Stable Connections

2×2 MIMO is like adding extra lanes to a highway. It establishes multiple simultaneous connections for you to enjoy higher speeds and greater stability.

Traditional SISO Transmission
SISO - Single-input Single-output

Advanced MIMO Transmission
MIMO - Multi-input Multi-output

Enhanced Long-Distance Performance

2×2 MIMO with Beamforming technology also offers the benefit of improved coverage throughout the home, particularly for previously hard-to-reach outlets.

SISO

Long Distance

MIMO

Long Distance
2×2 MIMO greatly shortens data transmission times, especially during peak hours.
One Tap for a Unified Network

One-Touch Wi-Fi Configuration
Instantly copies your network name and password from your router for easy setup.

Wi-Fi Auto-Sync
Automatically applies any setting changes across the network. Your existing Wi-Fi settings will synchronize to the new extender instantly.
Plug and Play in Seconds!
Plug TL-PA8010P in the wall and connect it to the router. Then plug TL-WPA8635P into any desired power socket.
That's it. You're done!
Tip: Press 'Pair' for more security.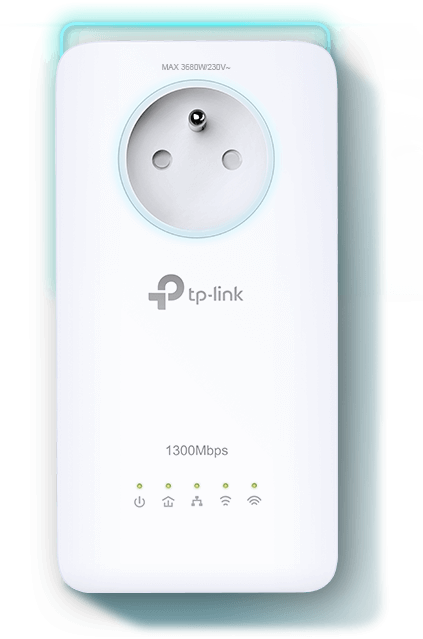 Don't Lose an Outlet
The TL-WPA8635P can be used like a traditional electrical socket, ensuring no power socket goes to waste. The built-in noise filter helps prevent electrical signal noise from affecting powerline performance.
More Gigabit Ethernet Ports, More Devices
Equipped with 3× gigabit Ethernet ports, the kit provides wired connections for 4K video and IPTV streaming, lag-free gaming, and more.
CARACTERISTIQUES MATERIELLES
Type de prise
BE
Standards et Protocoles
HomePlug AV2, IEEE 1901, IEEE 802.3, IEEE 802.3u, IEEE 802.3ab, IEEE 802.11b/g/n (2.4 GHz), IEEE 802.11a/n/ac (5 GHz)
Interface
3 Gigabit Ethernet Ports
Bouton
Pair, LED On/Off, Wi-Fi, Reset
Consommation
Maximum: 13.7W, Typical: 11W
Témoins lumineux
Power, Powerline, Ethernet, Wi-Fi (2.4 GHz), Wi-Fi (5 GHz)
Dimensions (LxPxH)
3.0 × 1.7 × 6.0 in. (75 × 42 × 152 mm)
Portée
Up to 300 meters/1000 feet over existing electrical wiring*
Compatibilité
Compatible with all HomePlug AV & HomePlug AV2 standard
powerline adapters*
Débits de transmission
Powerline: up to 1300 Mbps
Ethernet: 10/100/1000 Mbps
CARACTERISTIQUES LOGICIELLES
Sécurité
Wireless: WPA-PSK/WPA2-PSK, WEP Encryptions,
Powerline: 128-bit AES Encryption
Administration
TP-Link tpPLC App, or download new tpPLC Utility on PCs: www.tp-link.com/support/download
Technologie de modulation
OFDM
Autres
Certification
CE, RoHS
Contenu de l'emballage
AV1300 Gigabit Passthrough Powerline ac Wi-Fi Extender:
1× TL-WPA8635P
1× Ethernet Cables
1× Quick Installation Guide
Système requis
System Requirements:
Windows 10/8.1/8/7/Vista/XP, Mac OS, Linux
System Requirements for tpPLC Utility:
Windows 10/8.1/8/7/Vista/XP and Mac OS X (10.7 or later)
Environnement
Operating Temperature: 0°C~40°C (32°F~104°F)
Operating Humidity: 10%~90% non-condensing
Storage Humidity: 5%~90% non-condensing
Les débits CPL et WiFi indiqués se réfèrent au débit théorique maximal. Les débits réels varient en fonction de l'environnement WiFi, de l'installation électrique, et uniquement si les CPL sont placés sur le même circuit électrique monophasé.
*1. Compatible avec tous les CPL standard HomePlug AV et AV2. Ce produit peut ne pas être compatible avec les routeurs ou les passerelles dont le firmware a été modifié, est basé sur des programmes open source, ou est non standard ou obsolète.
* 2. Les débits de signal sans fil maximum sont les débits physiques dérivés des spécifications de la norme IEEE 802.11. Le débit de données sans fil et la couverture sans fil réels ne sont pas garantis et varieront en fonction: 1) de facteurs environnementaux, y compris matériaux de construction, objets et obstacles, 2) conditions du réseau, y compris interférences locales, volume et densité du trafic, emplacement du produit, complexité du réseau et surcharge du réseau, et 3) limitations du client, y compris les performances nominales, l'emplacement, la connexion, la qualité et l'état du client.
* 3. Les débits maximums du signal CPL sont les débits physiques dérivés des spécifications de HomeplugAV / AV2. Le débit de données et la gamme de lignes CPL réels ne sont pas garantis et varieront en fonction des conditions du réseau et de facteurs environnementaux, notamment les interférences électriques, le volume de trafic et les frais généraux du réseau, le disjoncteur AFCI et le CPL étant situés dans un circuit séparé.
De United States?
Infos produits, événements, services pour votre pays.