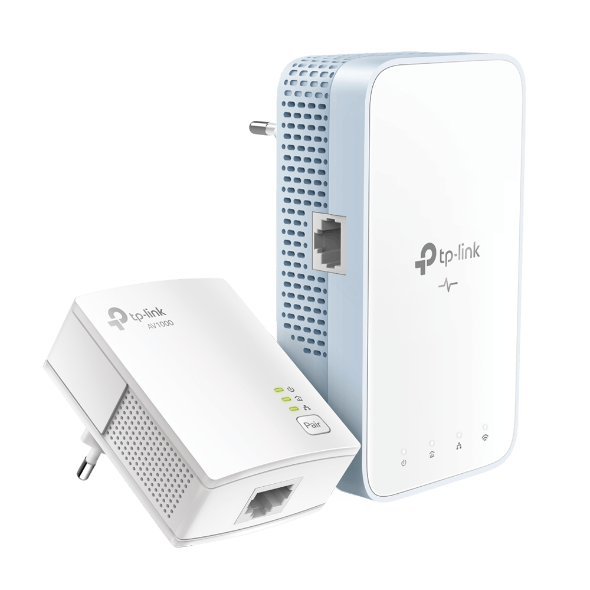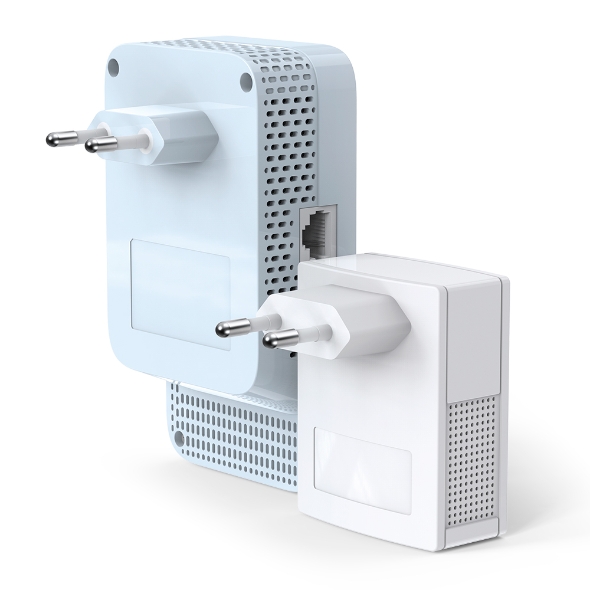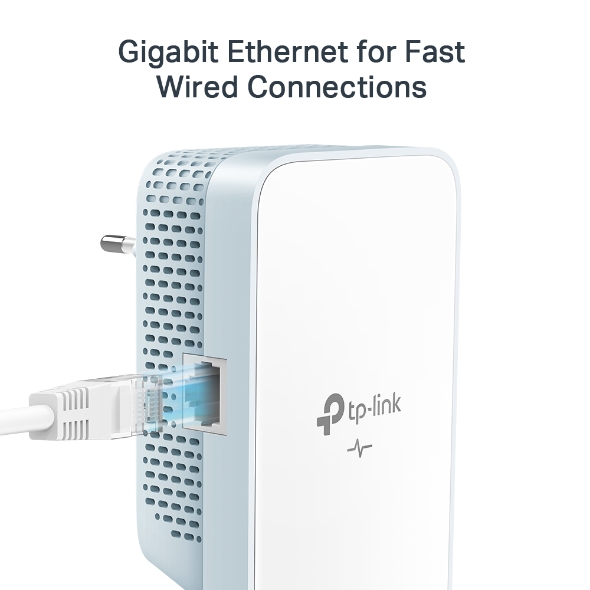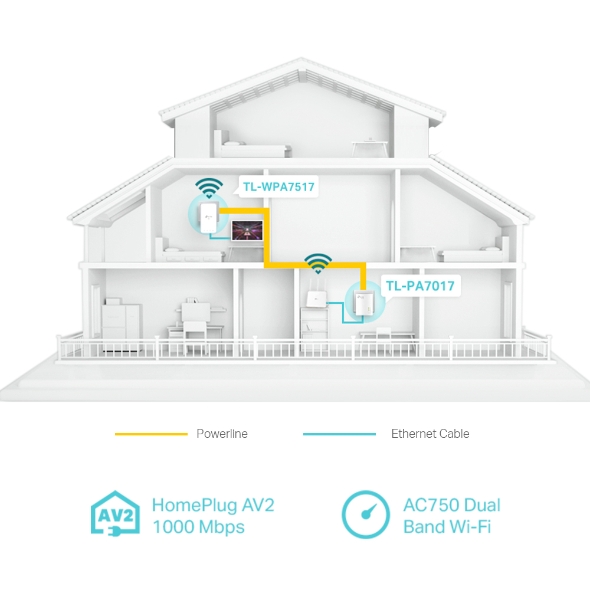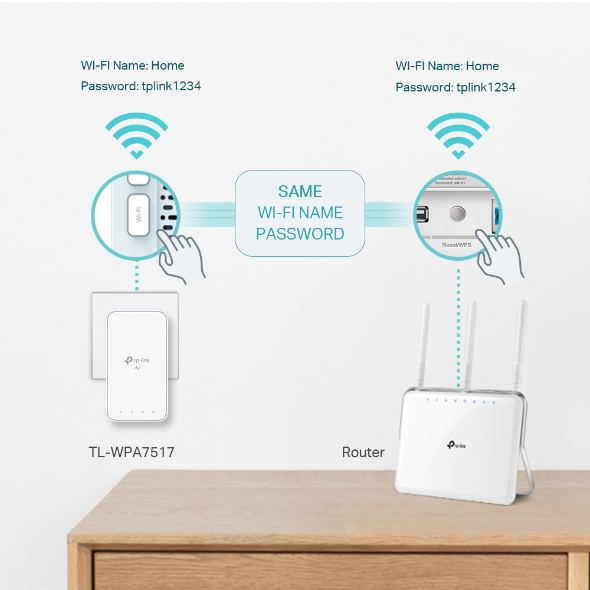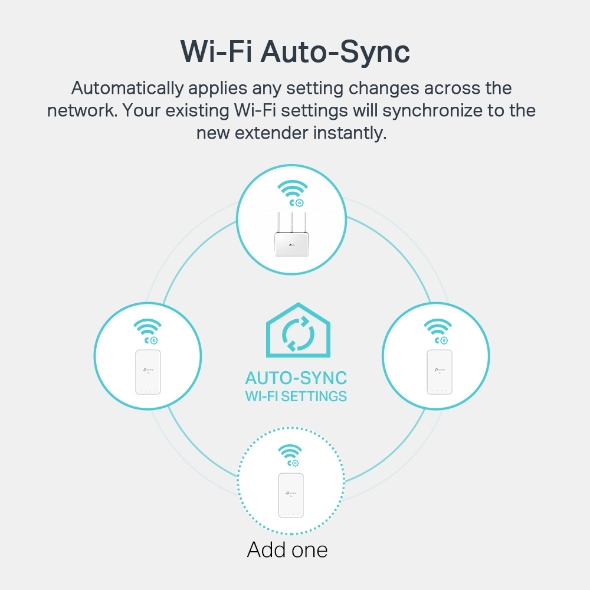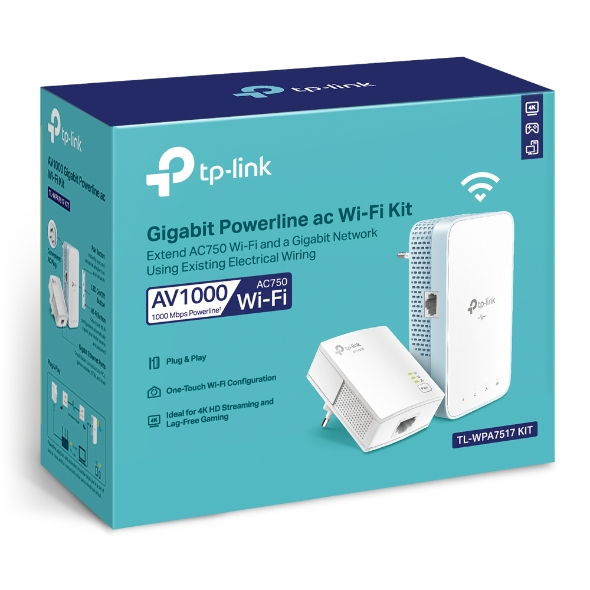 Kit CPL AV1000 + WiFi AC bi-bande Gigabit
Conforme à la norme Homeplug AV2 - Fournit aux utilisateurs des taux de transfert de données stables et à grande vitesse allant jusqu'à 1000 Mbps sur une longueur de ligne allant jusqu'à 300 mètres
WiFi bi-bande 802.11ac - Le Wi-Fi bibande AC750 (433 Mbps sur 5 GHz et 300 Mbps sur 2,4 GHz) permet la diffusion en continu, les jeux, l'envoi d'e-mails, la navigation et la publication sur vos appareils sans fil, dans toute votre maison
Wi-Fi Auto-Sync - Copiez simplement les paramètres Wi-Fi de votre routeur et appliquez les modifications sur le réseau CPL sécurisé avec Wi-Fi Clone et Wi-Fi Move
Port Ethernet Gigabit - Fournit des connexions filaires haut débit fiables pour les consoles de jeux, les téléviseurs intelligents et les NAS
Plug, Pair and Play - Configurez rapidement un réseau CPL sécurisé
GARANTIE 3 ANS
Extend AC750 Wi-Fi to Every Room Using Existing Electrical System
AV1000 Gigabit Powerline ac
Wi-Fi

Kit

TL-WPA7517 KIT
Extend Wired and Wireless Network Using Electrical System
TL-WPA7517 KIT transforms your home's existing electrical circuit into a Gigabit network, and brings wired and wireless network to anywhere there is a power outlet.
> No need for drilling or wire installation
> Network passes through walls and floors
> Expand coverage by adding more extenders
> Powerline adapters must be deployed in sets of two or more and be connected to the same electrical circuit
HomePlug AV2
1000Mbps
AC750 Dual
Band Wi-Fi
AV1000 Speeds and 300 Meters Range
Using advanced HomePlug AV2 technology, TL-WPA7517 KIT ensures stable and high-speed Wi-Fi and wired connection, providing data transmissions of up to 1000 Mbps* over the electrical wiring for ranges up to 300 meters. Stream in HD, game online and download large files without interruption thanks to reliable powerline links.
Internet
Router
TL-PA7017
TL-WPA7517
Up tp 300 Meters
AC750 Wi-Fi for an Advanced Online Experience
With the 802.11ac Wi-Fi technology, the TL-WPA7517 operates a dual band Wi-Fi network (simultaneous 300 Mbps on 2.4 GHz and 433 Mbps on 5 GHz) with more bandwidth and less interference, maximizing the performance of your powerline network.
433

Mbps
on 5GHz

300

Mbps
on 2.4GHz
Smart Camera
Smart Plug
Smart Blub
One Tap for a Unified Network
One-Touch Wi-Fi Configuration
Instantly copies your network name and password from your router for easy setup.
AUTO-SYNC


WI-FI SETTINGS
Add one
Wi-Fi Auto-Sync
Automatically applies any setting changes across the network. Your existing Wi-Fi settings will synchronize to the new extender instantly.
WI-FI Name: Home
Password: tplink1234
WI-FI Name: Home
Password: tplink1234
SAME


WI-FI NAME
PASSWORD
TL-WPA7517
Router
Plug and Play, No Configuration Required
1

Connect the TL-PA7017
to your router.

2

Plug the TL-WPA7517 into a wall socket
in the room you need network.

3

Let's enjoy the wired or wireless
internet service.
Tip: Press the "Pair" button on each adapter to create a more secure network.
Gigabit Ethernet for Fast Wired Connections
One Gigabit Ethernet port provides reliable high-speed wired connection for a bandwidth intensive device, such as game consoles, smart TVs, STB and more, or connects multiple devices by adding a switch. Two Ethernet cables are included in the box.
Powerline Management on Your Smartphone
Manage your powerline Wi-Fi through tpPLC app from your smartphone (Android, iOS), or download new tpPLC Utility on PCs to manage the powerline network.
View real-time powerline speed
LED control (also controlled by LED On/Off button)
Guest network
Appearance
Convenient AC Plug
Gigabit Ethernet Ports
Pair Button
LED On/Off Button
Wi-Fi Button
65 mm
28.5 mm
52 mm
69.5 mm
35 mm
124.1 mm
CARACTERISTIQUES MATERIELLES
Type de prise
EU
Standards et Protocoles
HomePlug AV2, HomePlug AV, IEEE 1901, IEEE 802.3, IEEE 802.3u,IEEE 802.3ab, IEEE 802.11b/g/n (2.4GHz), IEEE 802.11a/n/ac (5GHz)
Interface
TL-WPA7517: 1 Ethernet PortTL-PA7017: 1 Ethernet Port
Bouton
Pair, Reset, Wi-Fi Clone, LED On/Off
Consommation
TL-WPA7517: Maximum: 11W, Typical: 6.5WTL-PA7017: Maximum: 2.9W, Typical: 2.6W
Témoins lumineux
Power, Powerline, Ethernet, Wi-Fi (2.4GHz), Wi-Fi (5GHz)
Dimensions (LxPxH)
69.5 × 35 × 124.1 mm
52 × 28.5 × 65 mm
Portée
Up to 300 meters/1000 feet over existing electrical wiring
Compatibilité
Compatible with all HomePlug AV & AV2 standard powerline adapters
Débits de transmission
Powerline: Up to 1000 MbpsEthernet: 10/100/1000 Mbps
CARACTERISTIQUES LOGICIELLES
Administration
tpPLC: Scan the QR code to download TP-Link tpPLC App.Or download new tpPLC Utility on PCs: www.tp-link.com.
Technologie de modulation
OFDM (PLC)
Chiffrement
Powerline: 128-bit AES EncryptionWireless: WPA-PSK / WPA2-PSK, WEP Encrptions
LOGICIEL
OneMesh™
OneMesh™ SupportedWithout replacing your existing devices or buying a whole new WiFi ecosystem, OneMesh™ helps you create a more flexible network that covers your entire home with TP-Link OneMesh™ products. Learn More>All OneMesh Products>
Autres
Certification
CE, RoHS
Contenu de l'emballage
AV1000 Powerline Wi-Fi Kit: TL-WPA7517 & TL-PA7017Ethernet Cable × 2Quick Installation Guide
Système requis
Windows 10/8.1/8/7/Vista/XP, Mac OS, Linux
Environnement
Operating Temperature: 0°C~40°C
Operating Humidity: 10%~90% non-condensing
*1. Compatible avec tous les CPL standard HomePlug AV et AV2. Ce produit peut ne pas être compatible avec les routeurs ou les passerelles dont le firmware a été modifié, est basé sur des programmes open source, ou n'est pas standard ou obsolète.
* 2. Les débits de signal WiFi maximum sont les débits physiques dérivés des spécifications de la norme IEEE 802.11. Le débit de données WiFi et la couverture WiFi réels ne sont pas garantis et varieront en fonction 1) de facteurs environnementaux, y compris les matériaux de construction, les objets physiques et les obstacles, 2) les conditions du réseau, y compris les interférences locales, le volume et la densité du trafic, l'emplacement du produit, la complexité du réseau et la surcharge du réseau, et 3) les limitations du client, y compris les performances nominales, l'emplacement, la connexion, la qualité et l'état du client.
* 3. Les débits maximums du signal CPL sont les débits physiques dérivés des spécifications HomeplugAV / AV2. Le débit de données et la plage CPL réels ne sont pas garantis et varieront en fonction des conditions du réseau et des facteurs environnementaux, y compris les interférences électriques, le volume de trafic et la surcharge du réseau, le disjoncteur AFCI et le CPL étant situés dans un circuit séparé.
De United States?
Infos produits, événements, services pour votre pays.