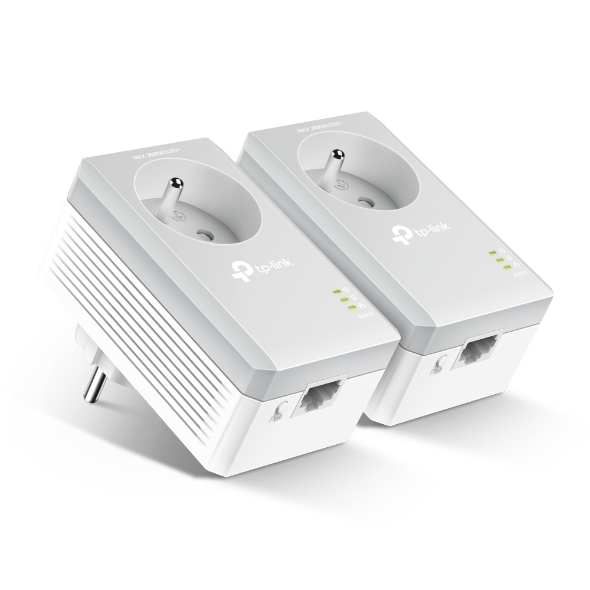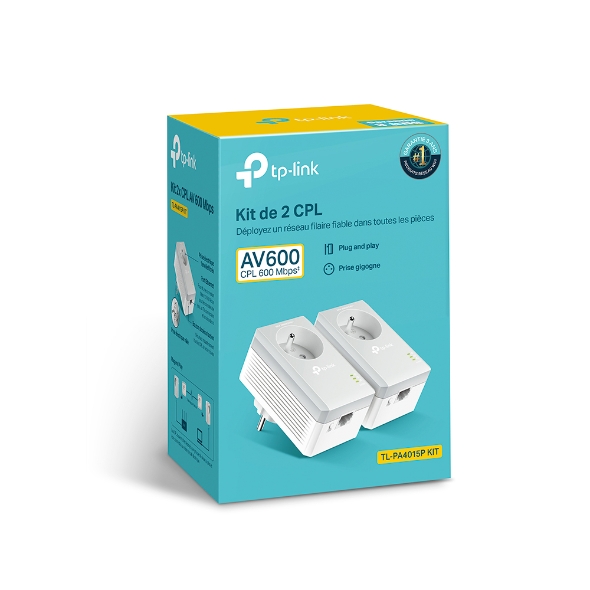 TL-PA4015PKIT
Kit de 2 CPL AV 600 Mbps avec prise intégrée
Transferts de données jusqu'à 600 Mbps via le circuit électrique, idéal pour la diffusion de vidéos HD
Prise électrique intégrée garantissant qu'aucune prise électrique n'est perdue
Conception Plug and Play et chiffrement aisé par l'appui sur le bouton Pair
Mode veille breveté réduisant automatiquement la consommation électrique de près de 85%*
Compatible avec toutes les box du marché, et routeurs/points d'accès WiFi
Garantie 3 ans
* Donnée variable en fonction de la qualité du réseau électrique et de facteurs environnementaux.
Internet Goes Further with Your Home's Electricity System
AV600 Passthrough Powerline Starter Kit
TL-PA4015PKIT
TL-PA4015P
TL-PA4015P
Powerline
Internet
HomePlug AV600
HomePlug AV600
Extend Wired Network to Any Room Using Existing Electricity System
With advanced HomePlug AV600, the TL-PA4015PKIT transforms your home's existing electrical circuit into a high-speed network with no need for new wires or drilling and brings wired network to anywhere there is a power outlet. In addition, its integrated power socket makes sure that no power outlet is going to waste.
Note: Powerline adapters must be deployed in sets of two or more. And TL-PA4015PKIT is compatible with all Routers and other powerline products.
AV600 Speeds and 300 Meters Range
Using advanced HomePlug AV technology, TL-PA4015PKIT provides stable and high-speed data transmissions of up to 600 Mbps* for ranges of up to 300 meters where there is a power outlet. No interference on electrical or electronic equipment. Stream in HD, game online and download large files without interruption thanks to reliable powerline links.
Router
TL-PA4015P
TL-PA4015P
*Listed HomePlug AV speed refers to the theoretical maximum physical-layer data transfer rate. Actual data speeds vary and are limited by the product's Ethernet port and other network conditions such as data traffic, electrical noise, and wiring issues.
Plug and Play with No Configuration Required
Ditch the complicated setup process for good. Get started with powerline in just two steps:
Step1 : connect one adapter to your router.
Step2 : plug in another adapter wherever you need wired internet service.
Tip:
Press the Pair button on each adapter to encrypt the data sent between them, enhancing your network security.
Extra Power Socket for Additional Devices
The integrated power socket of TL-PA4015P allows an additional device or power bar to be connected to the adapter as though it were a normal wall socket, and the built-in noise filter also helps to prevent electrical signal noise from affecting Powerline performance. This ensures that even with the TL-PA4015P plugged in, no power outlet is going to waste.
Saves Up to 85% on Power
TL-PA4015PKIT automatically switches from its "Working" mode to efficient "Power-Saving" mode when not in use, reducing energy consumption by up to 85%*.
*Actual data will vary because of the network conditions and environmental factors.
CARACTERISTIQUES MATERIELLES
Type de prise
FR
Standards et Protocoles
HomePlug AV, IEEE802.3, IEEE802.3u
Interface
1 port Ethernet 10/100Mbps, Prise électrique femelle 2P+T
Bouton
Bouton Pair (Reset)
Consommation
Maximum: 2.90W
Typique: 2.51W
Veille: 0.66W (220V/50Hz)
Témoins lumineux
Alimentation, CPL et Ethernet
Dimensions (LxPxH)
58 x 42 x 95 mm
Gamme
300 m dans le réseau électrique
Puissance de sortie de la prise gigogne
16 A
Autres
Certification
CE, RoHS
Contenu de l'emballage
2 TL-PA4015P
2 cordons Ethernet
1 Guide d'installation rapide
Système requis
Windows 2000/XP/2003/Vista, Windows 7/8/10, Mac, Linux
Environnement
Température de fonctionnement : 0 à 40°C
Température de stockage : -40 à 70°C
Humidité relative de fonctionnement : 10% à 90% sans condensation
Humidité relative de stockage : 10% à 90% sans condensation
*1. The theoretical maximum channel data transfer rate is derived from HomePlug AV2 specifications. Actual data transfer rate will vary from network environment including: distance, network traffic, noise on electrical wires, building material and construction, quality of electrical installation and other adverse conditions.
*2. Compatible with all HomePlug AV and AV2 Standard Powerline adapters. This product may not be compatible with routers or gateways with firmware that has been altered, is based on open source programs, or are non-standard or outdated.
*3. The Power Saving feature takes effect when your appliances are disconnected or turned off. Actual power saving data will vary in different network conditions and environments.
SubscriptionTP-Link prend votre vie privée au sérieux. Pour plus de détails sur la politique de confidentialité de TP-Link, veuillez consultez la page suivante Politique de confidentialité de TP-Link .
De United States?
Infos produits, événements, services pour votre pays.