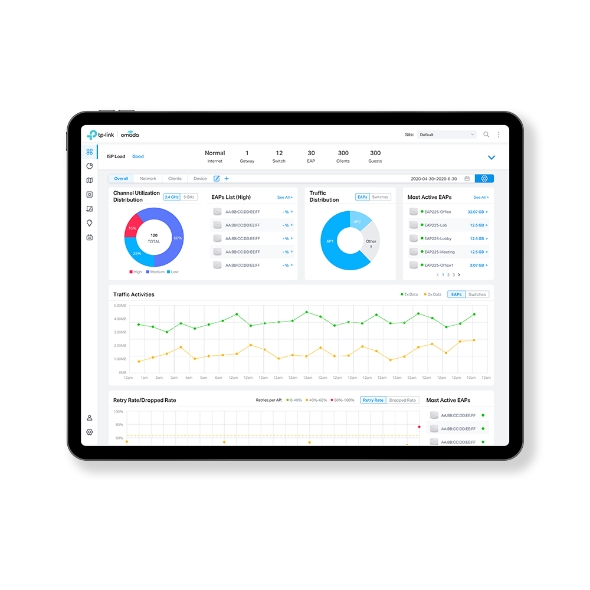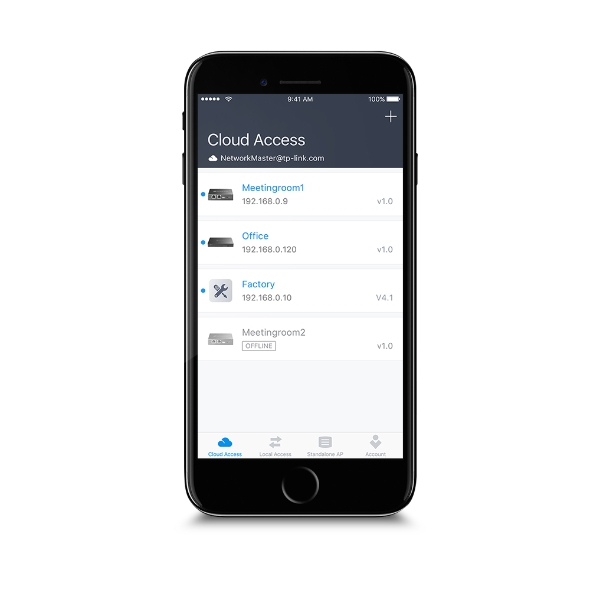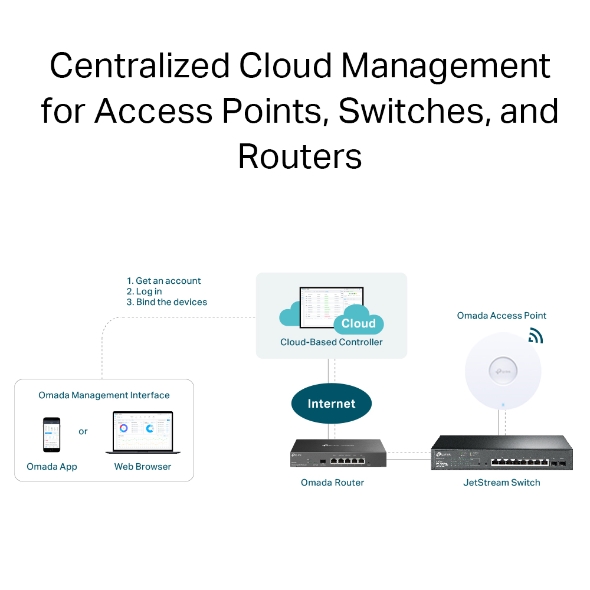 Omada Cloud-Based Controller
Prochainement
Contrôleur Omada Cloud
Fonctionne entièrement dans le Cloud.
Aucun investissement ni installation supplémentaire de contrôleur matériel dans les locaux du client.
Gestion centralisée pour les points d'accès Omada illimités, les commutateurs JetStream et les routeurs SafeStream. *
Accès au Cloud pour gérer n'importe où, à tout moment.
Prise en charge Zero-Touch Provisioning pour un déploiement efficace et réduit le coût global de déploiement, d'exploitation et de maintenance.
L'application Omada pour une gestion pratique.
Le tableau de bord facile à utiliser permet de voir facilement l'état de votre réseau en temps réel et de vérifier l'utilisation du réseau et la distribution du trafic.
Contrôleur Cloud
Gestion centralisée

dans le Cloud pour les routeurs pro Multi-WAN/VPN, Switches et points d'accès WiFi
Administration centralisée à tout moment, depuis n'importe où
Le contrôleur basé sur le cloud Omada, existant entièrement dans le cloud pour la plate-forme Omada Software Defined Networking (SDN), fournit une gestion cloud 100% centralisée des points d'accès EAP, switches JetStream et routeurs SafeStream, le tout contrôlé à partir d'une seule interface. Aucun investissement ni installation de contrôleur matériel supplémentaire dans les locaux du client n'est requis.
Dispo entièrement dans le cloud
Administration centralisée illimitée*
Aucun investissement de contrôleur matériel supplémentaire
Aucune installation dans les locaux du client
1. Obtenir un compte
2. Log in
3. Bind the devices
Omada Management Interface
Omada App
ou
Navigateur Web
Cloud-Based Controller
Cloud
Internet
Routeur SafeStream
Switch JetStream
Point d'accès Omada
Cloud avec une efficacité supérieure - Provisioning sans intervention
Le déploiement sans contact d'Omada permet le déploiement et la configuration à distance de réseaux multi-sites, il n'est donc pas nécessaire d'envoyer un ingénieur pour la configuration sur site. Omada Cloud garantit un déploiement efficace à moindre coût.
Etape 1
Branchez sur place et connectez les appareils Omada Powered à Internet
Etape 2
Enregistrez les appareils via votre tableau de bord Omada Cloud
Etape 3
Les appareils obtiennent automatiquement le fichier de configuration du cloud
Etape 4
Bénéficiez d'un provisionnement à distance et d'une gestion cloud à 100%
Cloud avec une sécurité accrue - Protection de la confidentialité des utilisateurs
TP-Link Omada sépare les données de gestion du réseau des données utilisateur, sans trafic utilisateur passant par le cloud, pour assurer une meilleure protection de la vie privée des utilisateurs.
Cloud
User Traffic
Management Data
T1 / DSL
SafeStream Gateway
JetStream Switch
Omada Access Point
24/7
Automated Fault Detection
Geographically Isolated
Back-Up Servers
Reliable Products
Haute Qualité
Cloud avec une fiabilité supérieure - Disponibilité des SLA
Une plus grande fiabilité est garantie avec une disponibilité SLA de 99,99%, une détection automatique des pannes 24h / 24 et 7j / 7, des serveurs de sauvegarde géographiquement isolés et une qualité de produit fiable. Votre réseau fonctionne même si le trafic de gestion est interrompu.
Rapport d'état du réseau
Vérification de la répartition du trafic
Topologie du réseau en un coup d'œil
Surveillance réseau simple et intelligente
Le tableau de bord facile à utiliser permet de voir facilement l'état de votre réseau en temps réel; vérifier l'utilisation du réseau et la distribution du trafic; recevoir des journaux d'état du réseau, des avertissements d'événements anormaux et des notifications; ou même suivre les données clés pour de meilleurs résultats commerciaux. La topologie du réseau permet aux administrateurs informatiques de voir et de dépanner rapidement les connexions en un coup d'œil.
Plusieurs facteurs garantissent une maintenance réseau plus facile
Sélection automatique des canaux et réglage de la puissance

Fournit des performances sans fil puissantes tout en réduisant considérablement les interférences Wi-Fi en ajustant automatiquement les paramètres de canal et les niveaux de puissance de transmission des points d'accès voisins dans le même réseau.

Canall 1

Canal 11

Canal 6

Gestion des lots, gestion multi-sites et mises à jour du micrologiciel à distance

Améliorez la maintenance du réseau sans avoir à configurer sur site ou à gérer les appareils un par un.

Planification puissante

Maintenez votre réseau facilement avec un traitement plus agile et efficace. Aucune tâche manuelle requise.

Backup Schedule

Reboot Schedule

Wi-Fi Schedule

PoE Schedule

Channel Adjustment Schedule
Plus de commodité avec l'application Omada
Accédez et configurez à distance l'ensemble de votre réseau d'un simple toucher de votre téléphone depuis n'importe où dans le monde.
Choisissez le contrôleur qui convient à votre entreprise
Omada Cloud-Based Controller
Omada On-Premises Controller
Software Controller
Hardware Controller
(OC300)
Hardware Controller
(OC200)
Management Scale
Unlimited*
<1,500 Devices**
<500 Devices
<100 Devices
Usage Method
Log in and use
Deploy to intranet servers
or private clouds
Connect to the intranet
Network Type
Medium/Large multi-site network
Medium/Large network
Small/Medium local network
Pricing Model
Device license fee
Free
Hardware costs
Cloud Access
√
√
√
√
Automatic Channel
Selection
√
-
-
-
Zero-Touch
Provisioning
√
-
-
-
* La capacité de gestion des appareils de l'Omada Cloud-Based Controller v4.x est de 1 500 et peut être mise à niveau vers la v5.0 pour une capacité illimitée. La V5.0 est actuellement en développement. Si vous avez besoin de gérer plus de 1 500 appareils avec la v4.x, veuillez nous contacter pour obtenir de l'aide.
** L'échelle de gestion réelle du contrôleur logiciel Omada dépend des spécifications matérielles du PC / serveur.
Hospitality

TP-Link Omada allows hotels to build reliable WiFi networks. Hotel WiFi network solutions including network topology, design, features, installation, and products are introduced.

Full WiFi coverage and wired connections
Flexible guest control
Seamless roaming
Easy Management

Education

Due to its reliable, scalable, and secure network solution, TP-Link has been widely acknowledged by global customers in the Education market ranging from infant schools with a few APs up to colleges and universities with hundreds of APs.

Easy management
High-density WiFi
Full WiFi coverage and wired connections
VPN and security

Retail

A good wireless network cannot only serve the network office system of the mall, but also bring a more comfortable shopping experience to customers. The TP-Link Omada SDN Solution empowers store owners to create a modern and compelling in-store experience for every customer.

Boost online business
Full WiFi coverage
Seamless roaming
High-concurrent clients
Easy management
Administration
Omada App
Yes
Administration Centralisée
• Unlimited centralized management scale• Centrally manage Omada access points, JetStream switches, and SafeStream routers
Accès Cloud
Yes
Administration Niveau 3
Yes
Administration Multi-sites
Yes
Zero-Touch Provisioning
Yes
Fonctions d'administration
• Automatic Device Discovery • Batch Configuration• Batch Firmware Upgrading • Intelligent Network Monitoring• Abnormal Event Warnings• Unified Configuration• Reboot Schedule• Captive Portal Configuration
SubscriptionTP-Link prend votre vie privée au sérieux. Pour plus de détails sur la politique de confidentialité de TP-Link, veuillez consultez la page suivante Politique de confidentialité de TP-Link .
De United States?
Infos produits, événements, services pour votre pays.