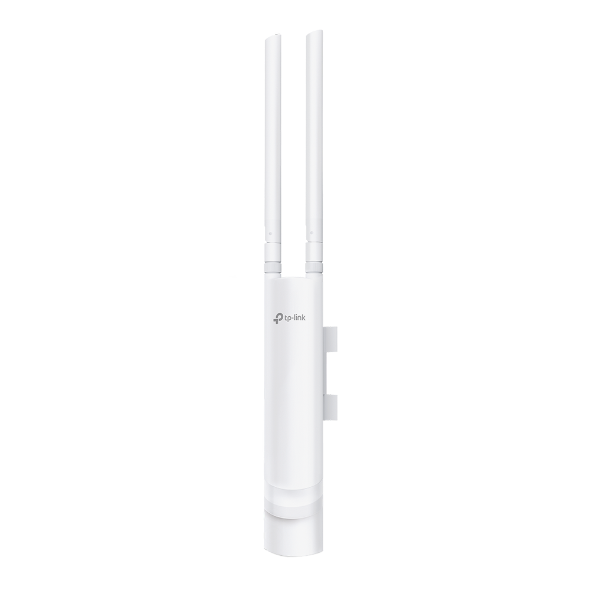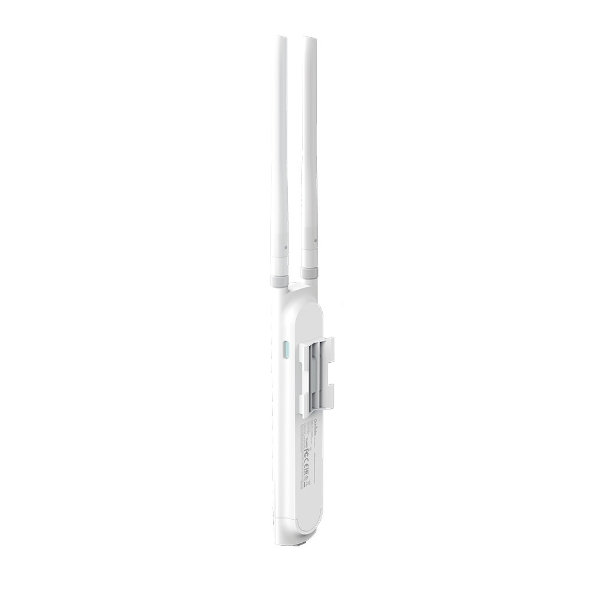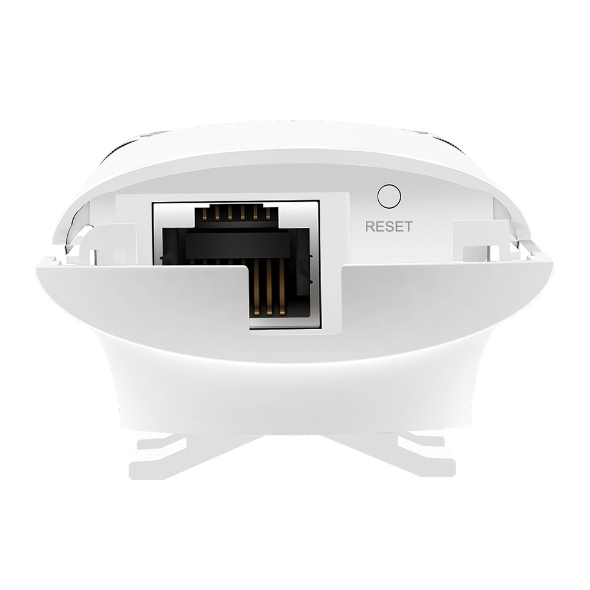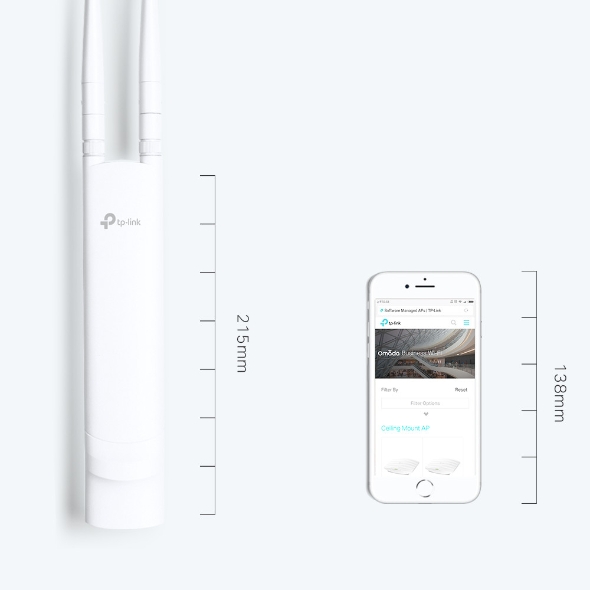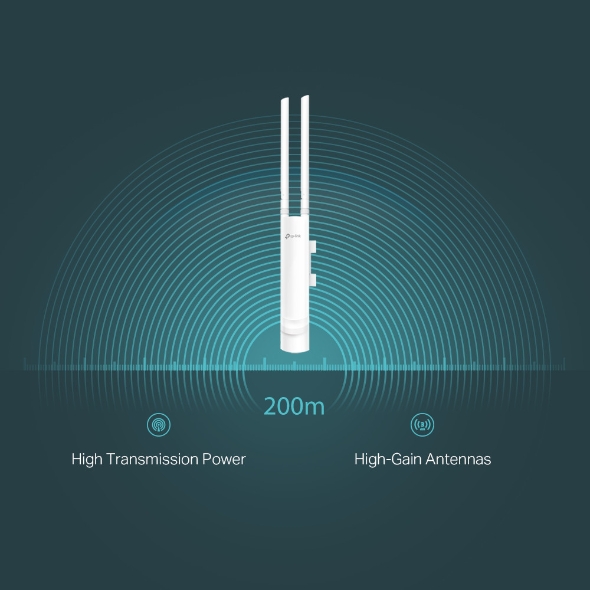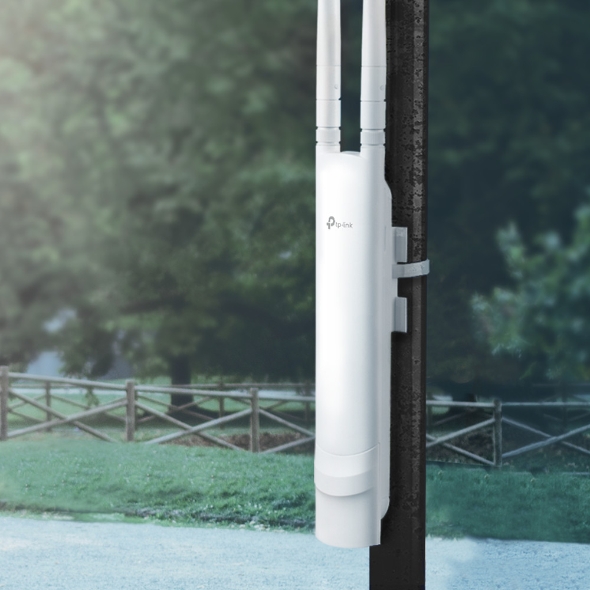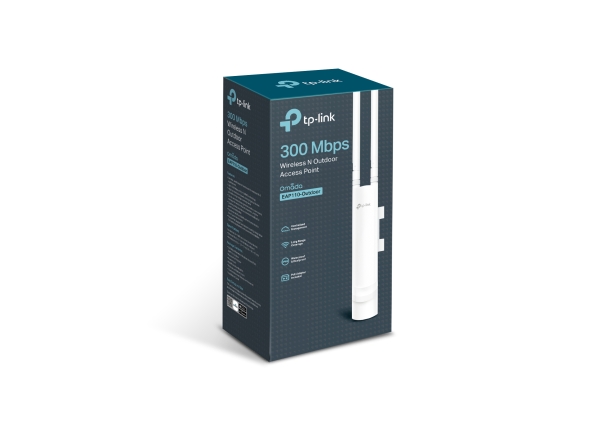 Point d'accès WiFi N 300 Mbps Extérieur (IP65)
Conçu pour les projets WiFi extérieurs
Intégré dans Omada SDN: Zero-Touch Provisioning (ZTP) ‡, gestion centralisée du cloud et surveillance intelligente.
Gestion centralisée: accès au cloud et application Omada pour plus de commodité et une gestion facile.
Débit WiFi jusqu'à 300 Mbps grâce à la technologie 2x2 MIMO
Une zone de couverture à longue portée grâce à une grande puissance d'émission et ses 2 antennes à gain élevé
Etanche IP65 : boîtier résistant aux intempéries (hermétique à la poussière et projections d'eau)
Déploiement flexible et installation pratique via le support Passive PoE (Power over Ethernet) et sa conception de montage
Contrôleur Omada permet aux administrateurs de gérer très simplement des centaines de points d'accès
La gestion WiFi centralisée via le Cloud et l'application Omada offrent une administration facile jusqu'à 100 points d'accès EAP
Portail captif fournit une méthode d'authentification des invités sécurisée et pratique
Prise en charge du VLAN pour une gestion réseau améliorée
Garantie 2 ans
Profitez du WiFi à l'extérieur, véritablement
Omada
EAP110-Outdoor
Conception matérielle haut niveau
Grâce à une conception spéciale de son antenne, à son design, à ses options d'alimentation et à ses méthodes d'installation, EAP110-Outdoor peut parfaitement s'adapter à différents scénarios, tant à l'intérieur qu'à l'extérieur.
Antennes détachables
EAP110-Outdoor est conçu avec 2 antennes détachables omnidirectionnelles, ce qui signifie que d'autres antennes peuvent également être connectées pour vos besoins spécifiques.
Design discret qui conveint également aux besoins en intérieur
EAP110-Outdoor possède des dimensions similaires à celles d'un téléphone portable, avec des dimensions: 215 × 46 × 27mm
215 mm
138 mm
Prend en charge le PoE passif pour une configuration extérieure facile
Supprimez les adaptateurs d'alimentation CC et les cordons d'alimentation avec alimentation via Ethernet passive (PoE), ce qui simplifie et accélère le déploiement en extérieur.
10/100 Mbps Ethernet Port 24V Passive PoE
Déploiement facile
EAP110-Outdoor peut être facilement installé sur un poteau ou sur un mur avec les kits de montage fournis.
WiFi qui tient la distance
Avec une puissance de transmission élevée et deux antennes omnidirectionnelles à gain élevé,
EAP110-Outdoor offre une couverture sans fil stable jusqu'à 200 mètres * dans les environnements extérieurs.
High Transmission Power
High-Gain Antennas
* Basé sur des tests terrain. La portée de transmission réelle peut varier selon l'environnement, l'appareil de réception, etc.
Boîtier étanche spécialement conçu pour
Environnement extérieur
Certifié IP65 lors des essais de protection contre la pénétration, un boîtier résistant aux intempéries protège les points d'accès contre les conditions extérieures difficiles.
Protection contre la foudre et protection ESD
Administration réseau centralisée et efficace via le Cloud
Avec le contrôleur logiciel Omada, les petites et moyennes entreprises peuvent prendre le contrôle de centaines de points d'accès intérieurs et extérieurs à partir d'un seul endroit. C'est la gestion du réseau comme il se doit - efficace et intuitive. La gestion WiFi centralisée via le Cloud et l'application Omada offrent une administration facile jusqu'à 100 points d'accès EAP, depuis n'importe où, à tout moment.
Contrôleur Logiciel Omada
Hospitality

TP-Link Omada allows hotels to build reliable WiFi networks. Hotel WiFi network solutions including network topology, design, features, installation, and products are introduced.

Full WiFi coverage and wired connections
Flexible guest control
Seamless roaming
Easy Management

Education

Due to its reliable, scalable, and secure network solution, TP-Link has been widely acknowledged by global customers in the Education market ranging from infant schools with a few APs up to colleges and universities with hundreds of APs.

Easy management
High-density WiFi
Full WiFi coverage and wired connections
VPN and security

Outdoor WiFi

TP-Link Omada outdoor WiFi access points offer smooth outdoor WiFi experience for outdoor events, WiFi outside home, or in the garden, yard, outdoor swimming pool, outdoor café, outdoor barns and shed. With Omada outdoor WiFi extenders, the outdoor wifi system is ideal for wirelessly connecting outdoor camera and outdoor speakers.

Long Outdoor WiFi Range
Outdoor WiFi for Camera and Outdoor Events, and WiFi Outside Home
Ideal for Outdoor WiFi in Garden, Outdoor Swimming Pool, and Outdoor Café.
Outdoor WiFi Extender with IP67 or IP65 Weatherproof Enclosure
Shuraa Facilities Management LLC

Shuraa Facilities Management LLC Chooses TP-link for Wireless Service Deployments

Shuraa Facilities Management LLC

Shuraa Facilities Management LLC Chooses TP-link for Wireless Service Deployments

"The hotel has overcome some of its Wi-Fi internet connectivity for guests following the implementation of TP-Link's solutions. In addition, it has been able to provide connectivity in more than 100 guest apartments without compromising of guest comfort and experience."
CARACTERISTIQUES MATERIELLES
Interface
1× Fast Ethernet (RJ-45) Port (Support Passive PoE)
Bouton
Reset
Alimentation
24V Passive PoE (+4,5pins; -7,8pins. PoE Adapter Included)
Consommation
3.12 W
Dimensions (LxPxH)
216 × 46 × 27 mm
Type d'antenne
2× 3 dBi External Omni waterproof
Etanche
IP65
Montage
Pole / Wall Mounting (Kits included)
Caractéristiques WiFi
Capacité client sans fil
100+**
Standards WiFi
IEEE 802.11n/g/b
Fréquence WiFi
2.4 GHz
Débits Maximaux
• 11n: Up to 300 Mbps (dynamic)• 11g: Up to 54 Mbps (dynamic)• 11b: Up to 11 Mbps (dynamic)
Puissance de transmission
• CE: ≤20 dBm (EIRP)• FCC: ≤22 dBm
Fonctions WiFi
• Multiple SSIDs(Up to 8 SSIDs)• Enable/Disable Wireless Radio• Automatic Channel Assignment• Transmit Power Control (Adjust Transmit Power on dBm)• QoS(WMM)• Load Balance• Rate Limit• Reboot Schedule• Wireless Schedule• Wireless Statistics based on SSID/AP/Client
Sécurité WiFi
• Captive Portal Authentication• Access Control• Wireless Mac Address Filtering• Wireless Isolation Between Clients• SSID to VLAN Mapping• Rogue AP Detection• 802.1X Support• 64/128/152-bit WEP / WPA / WPA2-Enterprise, WPA-PSK / WPA2-PSK
Administration
Omada App
Yes
Administration Centralisée
• Omada Hardware Controller (OC300)• Omada Hardware Controller (OC200)• Omada Software Controller
Accès Cloud
Yes. Requiring the use of OC300, OC200, or Omada Software Controller.
Alertes Email
Yes
DEL ON/OFF
Yes
Administration de contrôle d'accès des adresses MAC
Yes
SNMP
v1, v2c
Journal système local/distant
Local/Remote Syslog
SSH
Yes
Administration par interface WEB
HTTP/HTTPS
Administration Niveau 3
Yes
Administration Multi-sites
Yes
Administration VLAN
Yes
Autres
Certification
CE, FCC, RoHS
Contenu de l'emballage
• 300Mbps Wireless N Outdoor Access Point, EAP110-Outdoor• Passive PoE Adapter• Power Cord• Mounting Kits• Waterproof Rubber Insert• Waterproof Antennas• Installation Guide
Système requis
Microsoft Windows XP, Vista, Windows 7, Windows 8, Windows 10, Windows 11, Linux
Environnement
Operating Temperature: -30℃~65℃
Storage Temperature: -40℃~70℃
Operating Humidity: 10%~90% non-condensing
Storage Humidity: 5%~90% non-condensing

* Les débits de signal WiFi maximum sont les débits physiques dérivés des spécifications de la norme IEEE 802.11. Le débit de données WiFi et la couverture WiFi réels ne sont pas garantis et varieront en raison de 1) des facteurs environnementaux, y compris les matériaux de construction, les objets physiques et les obstacles, 2) les conditions du réseau, y compris les interférences locales, le volume et la densité du trafic, l'emplacement du produit, complexité du réseau et surcharge du réseau, et 3) limitations du client, y compris les performances, l'emplacement, la connexion, la qualité et l'état du client.
‡ Zero-Touch Provisioning nécessite l'utilisation du contrôleur Omada Cloud.
* La protection contre la foudre et les décharges électrostatiques peut être obtenue grâce à une configuration correcte du produit, à la mise à la terre et au blindage des câbles. Reportez-vous au manuel d'instructions et consultez un informaticien pour vous aider à configurer ce produit.
De United States?
Infos produits, événements, services pour votre pays.