TP-Link Deco Mesh vs EasyMesh vs OneMesh vs Omada Mesh What's the Difference?
Omada Mesh, Deco Mesh, and OneMesh™ are three different Mesh WiFi solutions provided by TP-Link. And now, some TP-Link WiFi routers, range extenders, and powerline WiFi adapters are also compatible with EasyMesh to form flexible Mesh WiFi.
All four have some features in common but can still be used in different scenarios. Since mixing them up is easy, this article will show you how TP-Link Deco Mesh, EasyMesh, OneMesh™, and Omada Mesh work differently while providing some tips on how to use them. Pick the perfect one to enjoy the best possible WiFi experience.
What is Mesh WiFi?
Brief Comparison of Mesh Technology
What is Deco Mesh?
What is EasyMesh?
What is OneMesh™?
What is Omada Mesh?
What is Mesh WiFi?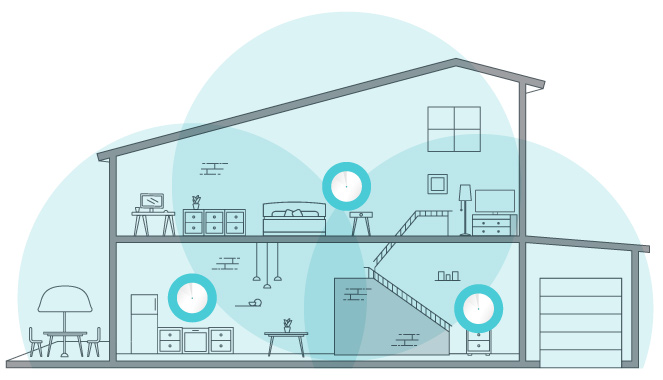 Mesh WiFi is a whole home WiFi system built to eliminate dead zones and provide uninterrupted WiFi throughout your home.
Mesh systems enable devices in your network to have faster speeds, greater coverage, and a more reliable connection. While traditional routers broadcast WiFi from a single point, Mesh WiFi systems have multiple access points.
When one unit links to the modem, that unit becomes the main hub. The other units (called "nodes") will capture and rebroadcast the router's signal. The result is an efficient wireless network that provides a strong signal no matter where you are.
Compared with traditional WiFi routers and range extenders, Mesh WiFi devices come with roaming protocols (to keep you on the same network) and Mesh technologies such as self-healing and adaptive routing to keep your network stable. Range extenders, on the other hand, require you to log in to a new network manually to maintain a strong connection once you're far enough away from your router. Refer to What is Mesh WiFi to find a more detailed introduction and benefits of Mesh WiFi.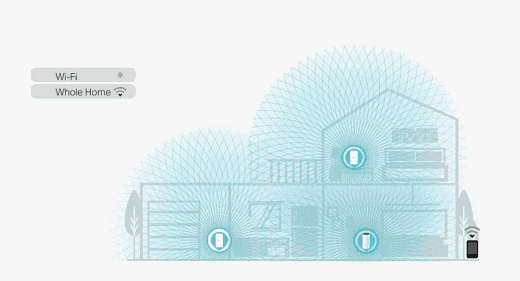 Brief Comparison of Mesh Technology
Currently, four kinds of Mesh WiFi systems are provided.
Mesh Types

Mesh Products

TP-Link Deco Whole Home Mesh WiFi

TP-Link WiFi Routers, Range Extenders, and Powerline WiFi Adapters

Compatible with EasyMesh products from other vendors

TP-Link WiFi Routers, Range Extenders, Powerline WiFi Adapters, Modem Routers, and 4G WiFi Routers

TP-Link Omada Access Points

Roaming Protocol

802.11k/v/r

802.11k/v

802.11k/v

802.11k/v

Router-Router Wireless Backhaul

√

√

-

√

Recommended Scenarios

Home networking and small office

Home networking, small office, and business
What is Deco Mesh?
Deco Mesh is technology only used in TP-Link Deco products (Full Product List) for Mesh networking. Deco replaces a collection of routers and range extenders with an intelligent WiFi system of multiple units working together seamlessly. It adapts as your WiFi needs change and uses complex algorithms behind the scenes to automatically and efficiently route data along the fastest path. For more about Deco Mesh, refer to Deco Whole Home Mesh WiFi.
Deco provides solutions for all scenarios. You can choose the best Mesh system with the latest WiFi 7. Also, you can choose different Deco series/installation methods according to your demands. To accommodate these requirements, technologies such as 5G/4G, IP65, and PoE have been integrated into the Deco line. Seamless AI-Driven Mesh is integrated to make Deco units work together to form one unified network with seamless roaming, adaptive path selection, and self-healing.
Furthermore, with TP-Link Mesh technology, every Deco model works together to immerse your whole home in powerful WiFi no matter its size or shape. Just choose one as a main Deco. Then follow the Deco app instructions to set it up. After configuring the main Deco, add the other Deco units one by one into the Mesh network via your Deco app.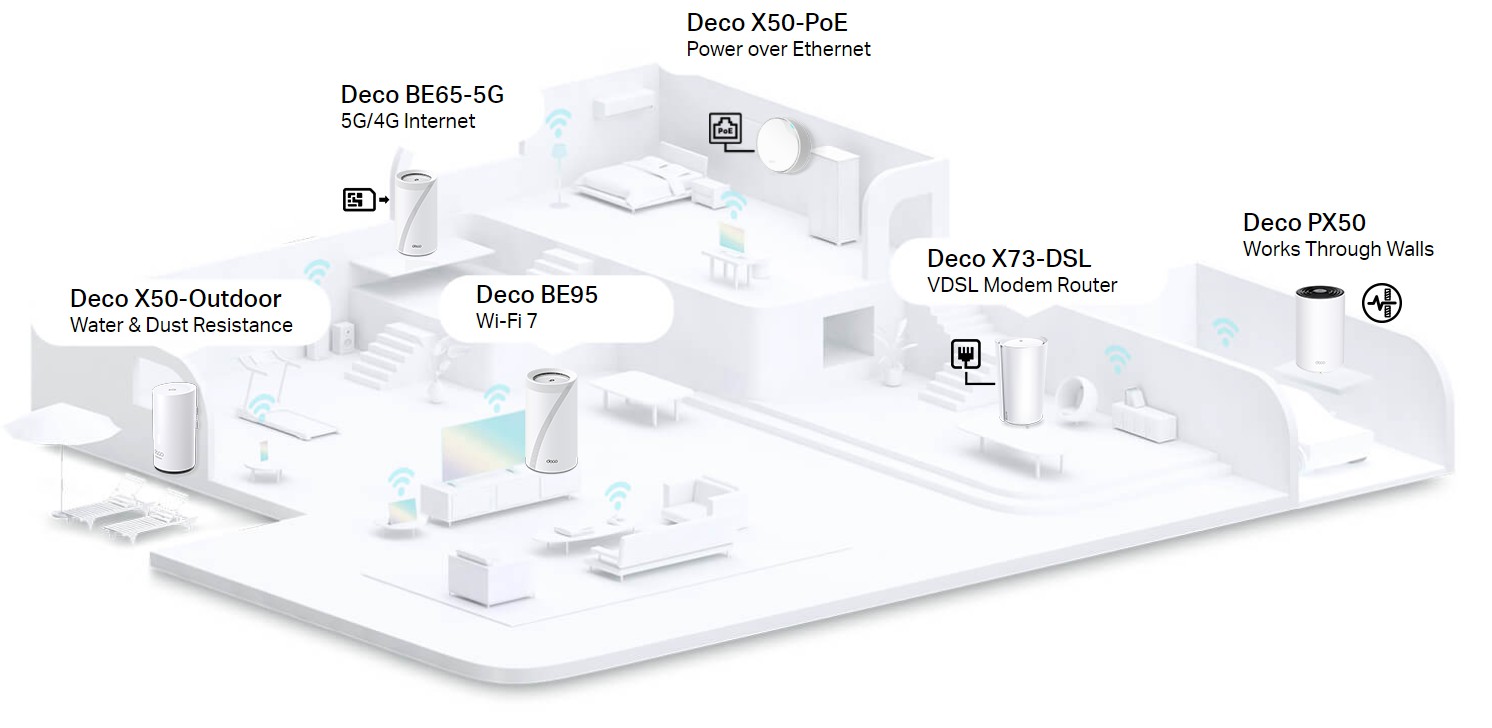 After setting up, you can manage your Mesh network on any of the Deco units, and the modifications will be synchronized with others on the Mesh network instantly. You can also swap out the main Deco and quickly replace it with any of the Deco units on your Deco app.
Deco units support Ethernet backhaul connections. This means every two Deco units—even different models—can be wired with an Ethernet cable. They will transmit data between the two units through the Ethernet connection, which is more stable and faster than wireless connections. To use an Ethernet backhaul connection, you don't need to wire every Deco unit. Instead, you can set up one for Ethernet backhaul and the other for wireless backhaul at the same time if you want.
For example, suppose you have three Deco units and want to create WiFi in your living room and bedroom and in the office a little farther away from the other rooms, where there is no WiFi coverage. In that case, you can put the main Deco and satellite Deco-1 in your living room and bedroom (wireless backhaul). As for satellite Deco-2, you can place it in the office with a long Ethernet cable connected to the main Deco or satellite Deco-1 unit. In this case, the satellite Deco-2 unit will work through an Ethernet backhaul, while the main and Deco-1 will work through a wireless backhaul.
What is EasyMesh?
EasyMesh is a standard certification launched by the WiFi Alliance, which brings a standards-based approach to multiple AP networks. This kind of mesh system allows devices from multiple vendors to be onboard, configured, and able to communicate with each other to form Mesh WiFi. This brings flexibility, enabling devices from different vendors to work together to increase capacity and effective throughput by forming a smart and adaptable network. Refer to What is EasyMesh for more details.

TP-Link is committed to the development of EasyMesh products and has launched a series of WiFi routers, range extenders, and Powerline WiFi adapters that are compatible with EasyMesh (Full Product List). You can choose a WiFi router with range extenders or powerline adapters to form Mesh WiFi, or several WiFi routers to set up the Mesh WiFi. Theoretically, TP-Link EasyMesh will work with any EasyMesh-certified products thanks to the standardized EasyMesh technology. However, EasyMesh networking methods can vary based on the manufacturers. We highly recommend using TP-Link EasyMesh products together to ensure the best performance and full compatibility. Besides, TP-Link's EasyMesh-compatible products are also capable of forming whole home Mesh WiFi with OneMesh products.
As for management, unified management via the TP-Link Tether app or web UI is available for TP-Link EasyMesh-compatible WiFi routers and range extenders. The main router will work as the management center. You can set and modify the wireless settings such as network name, password, and advanced features like Access Control and QoS on the router. The router will then synchronize with your extension devices. Unified management is not guaranteed for devices from other vendors.
What is OneMesh™

?
OneMesh™ is a trademark for various TP-Link home WiFi products which support Mesh networking, including WiFi routers, DSL modem routers, 3G/4G routers, range extenders, and Powerline adapters. You can check whether your devices support OneMesh™ with the OneMesh Product List. Refer to How OneMesh™ Works to learn more about TP-Link OneMesh™.
To set up a OneMesh™ network, you can use a OneMesh™ wireless router, modem router, or 3G/4G router with several sets of range extenders or Powerline adapters. One thing to note, however, is that two OneMesh™ routers cannot create a Mesh network. You can add a bunch of OneMesh™ wireless range extenders or Powerline adapters, but only one OneMesh™ router is needed on the same Mesh network. Wireless routers only support OneMesh™ while in Router mode, whereas modem routers support OneMesh™ in any operation mode. To fully use two routers, you can set them up separately and create two OneMesh™ networks with network expansion devices.
To add more extenders onto a OneMesh™ network, we suggest connecting all the extenders to the router for better performance. You can also join one extender to another one already connected to the router. But we don't recommend adding more than two extenders to a single link chain considering WiFi quality.
Similar to EasyMesh, a OneMesh™ router acts as the management center on a OneMesh™ network. You can set and modify the wireless settings such as network name, password, and advanced features like Access Control and QoS on the router. The router will then synchronize with your extension devices. You should note that you would no longer be able to modify these items on any of the extenders on the OneMesh™ network separately.
Another difference is that OneMesh™ products do not support Ethernet backhaul currently. Wireless backhaul, however, is still available. To enjoy a seamless connection between dual-band networks, you must manually enable Smart Connect on your host router. Then your host router's 2.4 GHz and 5 GHz bands will share the same SSID and password.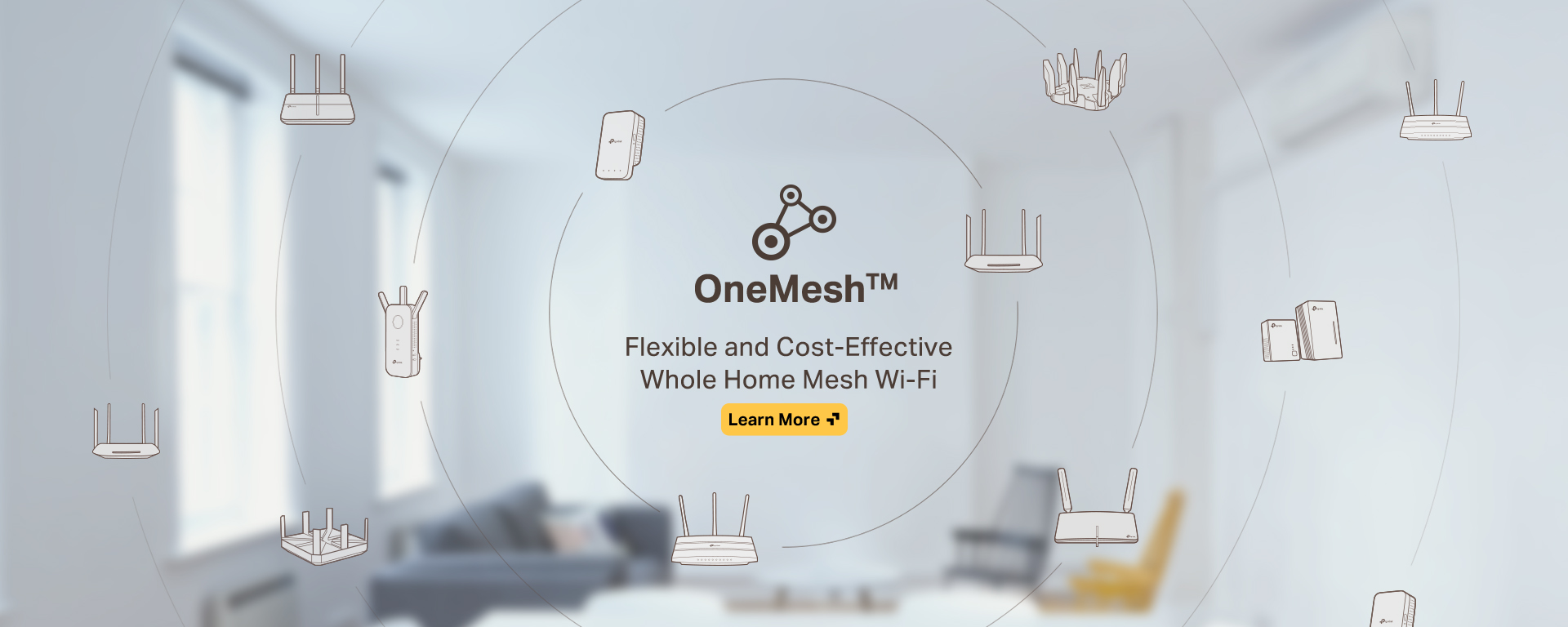 What is Omada Mesh?
Omada Mesh enables wireless connectivity between TP-Link Omada EAP products (Full Product List) for extended range without additional cables, making wireless deployment more flexible and convenient.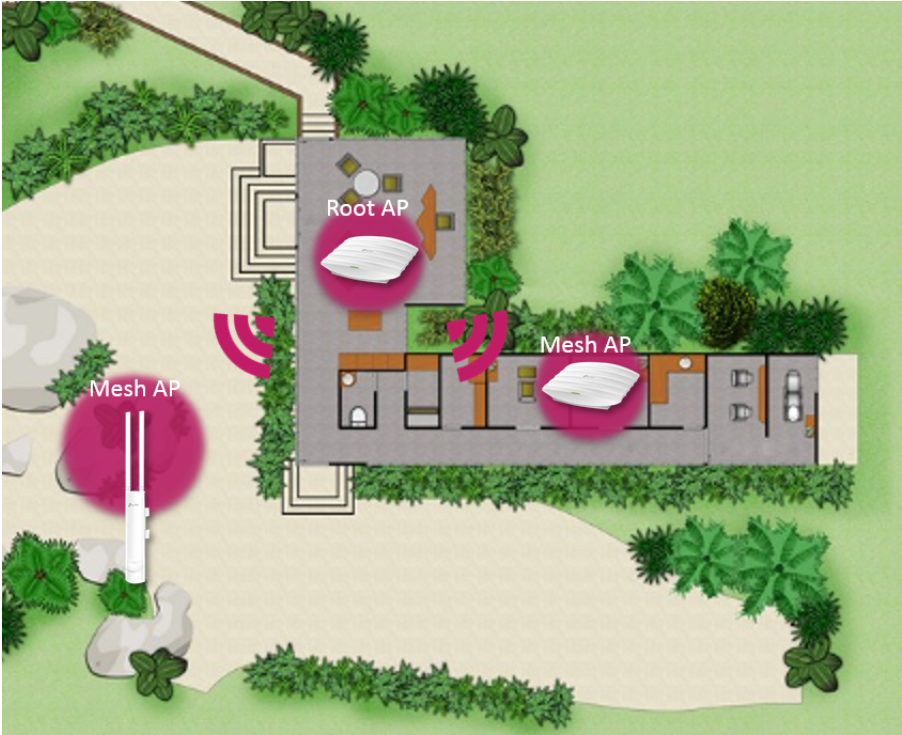 Traditionally, if you want WiFi to cover your home indoors and outdoors, you have to connect all the APs to the main router or PoE Switch via Ethernet cables, which is time-consuming. In some hard-to-wire areas, maintaining a cable connection is even impractical. Now you can connect APs effortlessly via a wireless connection, regardless of where they are relative to the main router or PoE switch. In the typical Omada Mesh scenario, a root AP is deployed and connected via a cable. Once the other APs are powered on, they act as Mesh APs and wirelessly connect to the root AP. All the APs work as an integrated system to provide seamless WiFi service for users.

The most potent AI technology ensures the optimized network performance and reliability of Omada Mesh with intelligent self-organization optimizing the best path between APs. When adding a new AP to the network, the system automatically determines the nearest AP to create a link.
Self-healing ensures you stay online even when one AP is disrupted. When the system detects a link failure, it calculates and rebuilds a new possible path automatically.
It is worth mentioning that Omada Mesh-related configuration should be done in the Omada SDN controller. And if you want to use a mesh network, please keep your Omada Controller running. If your Omada Controller is accidentally shut down, the Mesh network can maintain the basic WiFi coverage as long as the mesh relationships among Mesh APs are not changed, but it can't be managed or changed. The Auto Failover/Fast Roaming and most of the advanced features will not work.
To learn how to configure Omada Mesh with an example, take a look at How to Build a Mesh Network via Omada EAP in Your Home.
Summary
Though Deco Mesh, EasyMesh, OneMesh™, and Omada Mesh all support Mesh networking, they are different Mesh technologies. Deco Mesh, Omada Mesh, and EasyMesh or OneMesh™ are supported by different TP-Link products, so they cannot build a Mesh network together. For EasyMesh-compatible products from TP-Link, they can combine with EasyMesh routers, range extenders, or Powerline WiFi adapters from TP-Link or other vendors and are also capable of forming whole home Mesh WiFi with OneMesh products. Please choose one of the Mesh products based on your actual needs and start building a seamless network for your office or home today.
###
About TP-Link
TP-Link is a global innovator and provider of consumer and enterprise networking products and the world's No. 1 provider of WLAN and broadband CPE devices* with products available in over 120 countries for hundreds of millions of customers. TP-Link provides award-winning networking products in wireless routers, cable/DSL gateways, powerline adapters, range extenders, cloud cameras, smart home devices, and accessories for global end-users. We remain committed to intensive R&D, efficient production, and strict quality control. TP-Link also endeavors to provide stable Business Wi-Fi solutions for small and medium business customers and reliable enterprise switches and routers.
*According to IDC Worldwide Quarterly WLAN Tracker Report, Q4 2021 Release. Based on units shipped.
For further information, visit www.tp-link.com, follow TP-Link on
Facebook: www.facebook.com/TPLINK,
Twitter: www.twitter.com/TPLINK,
YouTube: www.youtube.com/tplinktech,
LinkedIn: https://www.linkedin.com/company/tp-link
TP-Link Community: https://community.tp-link.com/en
All information and pricing provided are subject to change without notice. TP-Link is a registered trademark of TP-Link Corporation Limited. All trade names are the property of their respective owners.
From United States?
Get products, events and services for your region.