From United States (English)?
Get products, events and services for your region.
How to Upgrade the CAPs Using the TP-LINK AC Controller?
Configuration Guide
Updated 11-28-2016 01:36:10 AM
Dieser Artikel gilt für:
CAP1200( V1 ) , AC50( V1 ) , AC500( V1 ) , CAP300( V1 ) , CAP300-Outdoor( V1 ) , CAP1750( V1 )
As illustrated below, there are two pieces of CAPs (CAP1750 & CAP300) managed by AC controller, now we want to upgrade the firmware of CAP1750 and CAP300 in batch via the AC controller.

Step1. Please go to "AP Firmware Upgrade" page, upload the corresponding firmware of CAP300 and CAP1750.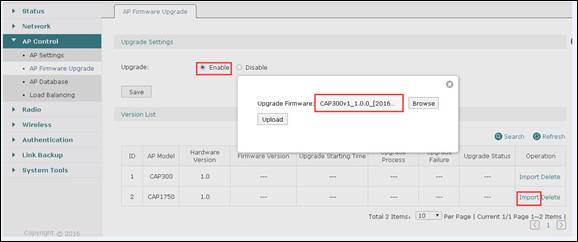 Step2. Please set up the upgrade starting time.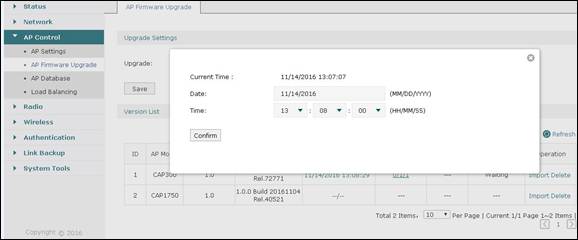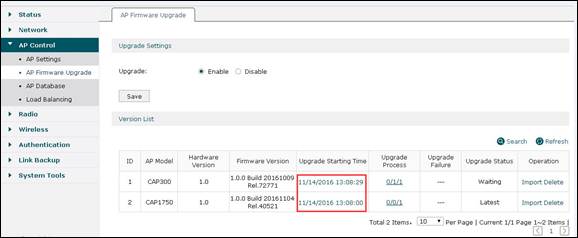 Step3. When upgrade starting time comes, AC controller will upgrade CAPs automatically. After upgrading successfully, you will find "Completed" in "Upgrade Status".
Note: While upgrading, do not power off CAP/AC or unplug the Ethernet cable.
Finden Sie diese FAQ hilfreich?
Mit Ihrer Rückmeldung tragen Sie dazu bei, dass wir unsere Webpräsenz verbessern.
Sonstiges Feedback?
Wie können wir dies verbessern?
Vielen Dank.
Vielen Dank für Ihr Feedback.
Über TP-Link
Informationen