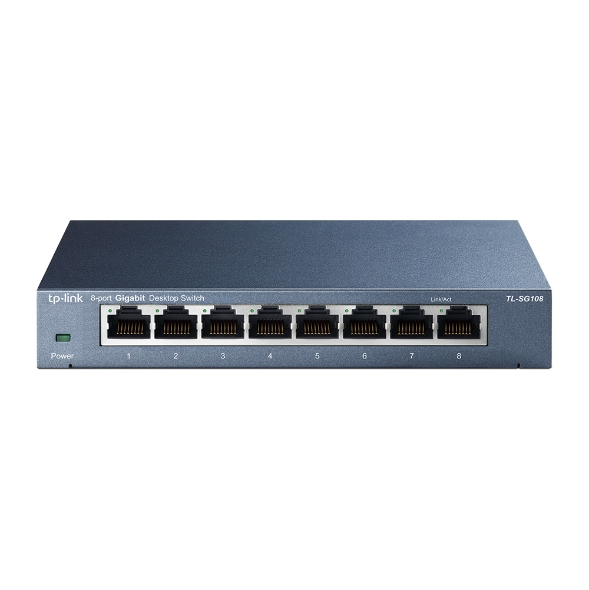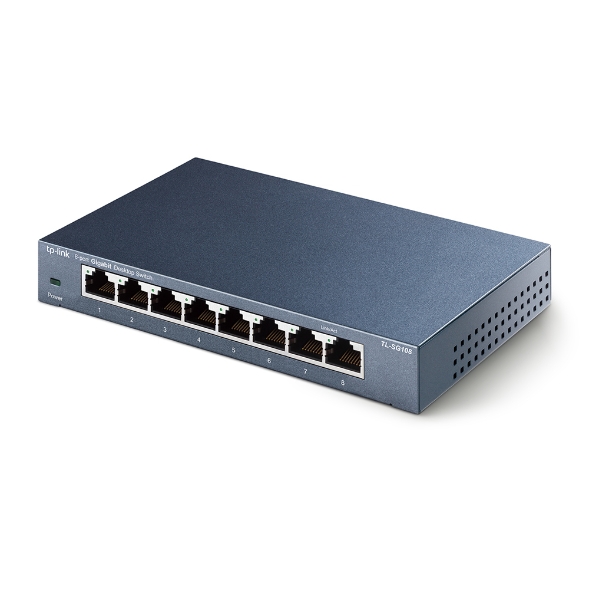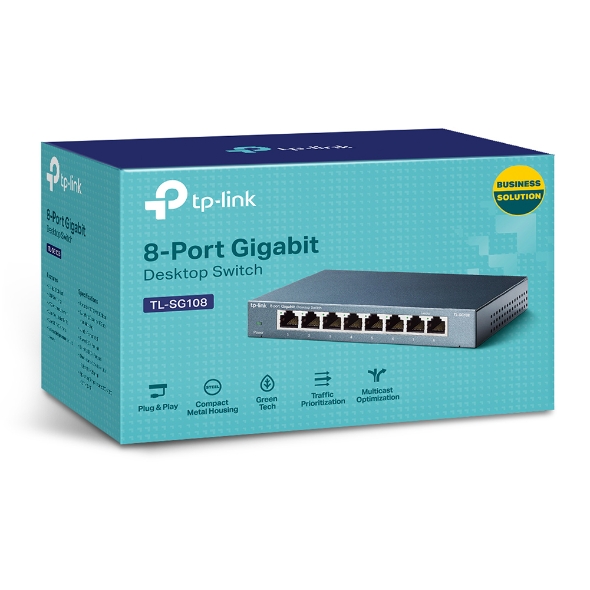 8-Port-Gigabit-Desktop-Switch
8 Gigabit-RJ45-Ports mit Autoabstimmung und Auto-MDI/MDIX
Green IT, spart bis zu 82% Energie
Flusskontrolle nach IEEE802.3x für zuverlässige Datenübertragung
Metallgehäuse für Tischaufbau oder Wandmontage
Unterstützt QoS/DSCP nach IEEE802.1p sowie IGMP-Snooping
Plug-and-Play, keine Konfiguration notwendig
Produktfunktionalitäten
Der 8-Port-Gigabit-Desktop-Switch TL-SG108 von TP-LINK bietet eine einfache Möglichkeit, den Übergang zum Gigabit-Ethernet zu wagen. Erhöhen Sie die Geschwindigkeit Ihrer Netzwerk-Server und Backbone-Verbindungen oder machen Sie Gigabit zur Realität an Ihrem Arbeitsplatz. Außerdem ist der TL-SG108 für einen geringeren Stromverbrauch ausgelegt. Mit der innovativen, energieeffizienten Technik des TL-SG108 sparen Sie bis zu 82%* Energie ein, womit dieses Gerät auch eine umweltfreundliche Lösung für Ihr Heim- und Büronetzwerk ist.
Gigabit-Switch
Ausgestattet mit 8 10/100/1000Mbit/s-Ports erweitert der TL-SG108 Ihre Netzwerk-Kapazität erheblich, womit die unmittelbare Übermittlung großer Dateien ermöglicht wird. So können Poweruser im Haus, im Büro, in einer Arbeitsgruppe oder in einer kreativen Produktionsumgebung jetzt große, bandbreitenintensive Dateien schneller bewegen. Übermitteln Sie Dokumente, Programme oder Multimedia-Dateien ohne Verzögerung über das Netzwerk.
Schalten Sie auf grün mit Ihrem Ethernet
Sie haben nun die Möglichkeit, sich für den grünen Weg zu entscheiden, wenn Sie zu einem Gigabit-Netzwerk upgraden wollen! Der 8-Port-Gigabit-Switch TL-SG108 der neuen Generation verfügt über die neueste innovative, energieeffiziente Technik, die Ihre Netzwerkkapazität wesentlich erweitern kann, und zwar mit sehr viel weniger Energieverbrauch. Er passt den Stromverbrauch automatisch an den Link-Status und die Kabellänge an, um die Ökobilanz Ihres Netzes zu verbessern.
Strom runter, wenn Ports nicht aktiv sind
Wenn ein Computer oder Netzwerk-Gerät ausgeschaltet ist, verbraucht der entsprechende Port eines traditionellen Switchs weiterhin eine erhebliche Menge an Strom. Der TL-SG108 erkennt automatisch den Link-Status der einzelnen Ports und reduziert den Stromverbrauch der Ports, die sich im Leerlauf befinden, was eine Energieeinsparung von bis zu 72% bedeutet.
Energiezuteilung nach Kabellänge
Im Idealfall würden kürzere Kabel weniger Strom verbrauchen, weil weniger Energie über die Länge des Kabels verloren geht. Das ist bei den meisten Geräten nicht der Fall, da sie die gleiche Menge an Energie über das Kabel schicken, unabhängig von dessen Länge.
Verkehr-Optimierung
802.1p und DSCP-QoS ermöglichen den glatten und latenzempfindlichen Verkehr wie Voice und Video, und IGMP-Snooping optimiert die Multicast-Datenstrom.
Einfache Handhabung
Die automatischen Funktionen dieses Gigabit-Switchs machen die Installation dank Plug-and-Play problemlos. Es ist keine Konfiguration erforderlich. Auto-MDI/MDIX eliminiert die Notwendigkeit für Crossover-Kabel. Autoabstimmung an jedem Port erkennt die Verbindungsgeschwindigkeit eines Netzwerkgeräts (10, 100 oder 1000Mbit/s) und passt sich intelligent an, um die Kompatibilität und die optimale Leistung sicherzustellen.
HARDWARE-FUNKTIONEN
Standards und Protokolle
IEEE802.3
IEEE802.3u
IEEE802.3ab
IEEE802.3x
Schnittstelle
8 10/100/1000Mbit/s-Ports mit Autoabstimmung und Auto-MDI/MDIX
Anzahl Lüfter
0
Energieverbrauch
Maximal 3,97W (230V/50Hz)
Externe Spannungsversorgung
100..240V/50..60Hz Wechselspannung
Puffergröße
1,5Mb
LEDs
System
Power
Anzeigen für Link, Geschwindigkeit und Aktivität für jeden Port
Abmessungen (B*T*H)
158mm*101mm*25mm
Maximale Leistungsaufnahme
3.31W(220V/50Hz)
Max Heat Dissipation
11.29BTU/h
PERFORMANCE
Paketweiterleitungsrate
11.9Mpps
MAC-Adresstabelle
4K
Paketpufferspeicher
1.5Mb
Jumbo-Frames
16KB
SOFTWARE-FUNKTIONEN
Erweiterte Funktionen
Green IT, bis zu 82% Energieeinsparung
Flusskontrolle nach IEEE802.3x
QoS nach IEEE802.1p
IGMP-Snooping
Transfermethode
Store-and-Forward
SONSTIGES
Zertifizierung
CE
FCC
RoHS
Verpackungsinhalt
8-Port-10/100/1000Mbps-Desktopswitch
Spannungsadapter
Installationsanleitung
Systemanforderungen
Microsoft® Windows® 2000/XP/2003/Vista/2008/7/2012/8/10
MacOS®
NetWare®
UNIX®
Linux
Umgebung
Betriebstemperatur: 0°C..40°C
Lagertemperatur: -40°C..70°C
Betriebsfeuchtigkeit: 10%..90%, nicht kondensierend
Lagerfeuchtigkeit: 5%..90%, nicht kondensierend
1. For V2 and later version.
Subscription Für TP-Link ist Datenschutz sehr wichtig. Weitere Informationen zu unseren Datenschutzbedingungen finden Sie in der Datenschutzerklärung von TP-Link.
From United States?
Check products and services for your region.