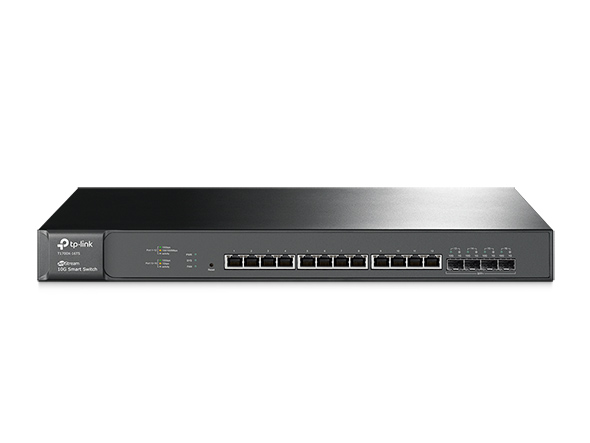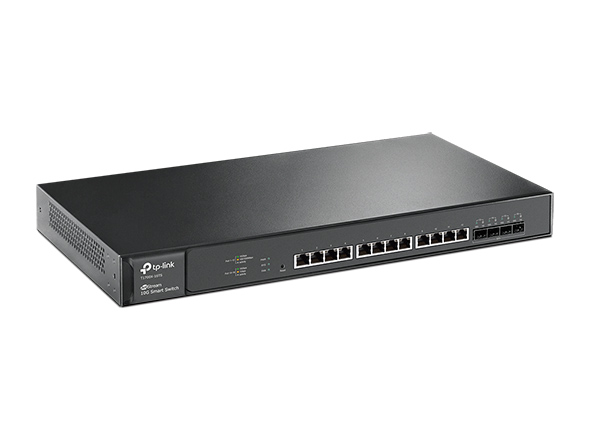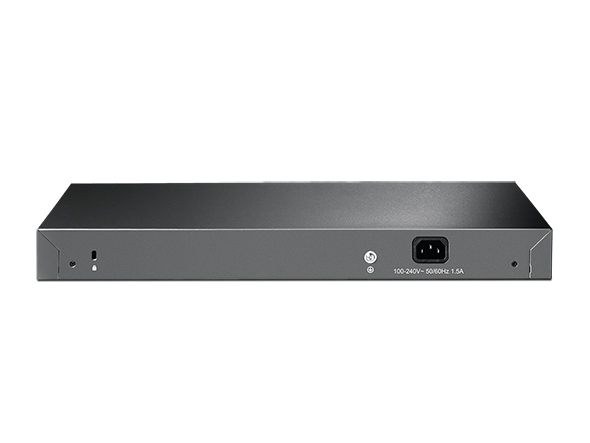 T1700X-16TS
12-Port-JetStream-10GBase-T-Smart-Switch mit 4 10G-SFP+-Slots
Jetstream-12-Port-10GBase-Smart-Switch mit 4 10G-SFP-Slots

Mit 12 10G-Base-T-RJ45-Ports und 4 10G-SFP+Glasfaser-Ports und 320Gbit/s Switching-Kapazität

Die 10G-Base-T-Technologie stellt eine kostengünstige Möglichkeit dar, aktuelle Netzwerke auf 10G-Ethernet-Verbindungen unter Verwendung von CAT5e-/CAT6-Verkabelung über kurze Distanz (55m) bzw. CAT6A-/CAT7-Verbindungen (bis zu 100m) aufzurüsten

L2+-Funktionen und Statisches Routing helfen Ihnen dabei, Ihre Netzwerk-Ressourcen für den internen Verkehr noch effizienter zu nutzen

Fortgeschrittene Sicherheitsfunktionen wie IP-MAC-Port-Binding, ACL, Port-Sicherheit, DoS-Schutz, Sturm-Kontrolle, DHCP-Snooping sowie 802.1X- und RADIUS-Authentifizierung

Umfassende IPv6-Unterstützung für Verwaltung, QoS und ACL

Verwaltung über Weboberfläche, CLI, SNMP und RMON

Dual-Image verbessert die Zuverlässigkeit und Verfügbarkeit Ihres Netzwerks
Kostengünstige 10-Gigabit-Switching-Lösung für SMB-Sektor
T1700-Serie 10G-Smart-Switches
In einer Welt, in der wachsende Unternehmungen, Virtualisierung, Cloud-basierte Dienste und Anwendungen wie VoIP, HD-Streaming und IP-Überwachung, stetig an Bedeutung gewinnen, sind neben verlässlichen Diensten auch eine gesteigerte Skalierbarkeit, eine höhere Übertragungskapazität und eine optimierte Performance absolut unabdingbar für den SMB-Netzwerksektor. TP-Links neue 10G-Smart-Switches der T1700-Serie bietet die perfekte Lösung, diesen hohen Anordnungen zu entsprechen. Diese neue Serie umfasst den Full-10-Gigabit-Smart-Switch T1700X-16TS und den Stackable Gigabit-Smart-Switch T1700-28TQ mit 10G-Uplink, die beide diese hohen Anforderungen an Performance und Skalierbarkeit voll erfüllen.
FULL-10-GIGABIT-
SMART SWITCH
Jetztstream-12-Port-10GBase-T-
Smart-Switch
mit 4 10G-SFP+-Slots
Zukunftssichere
10GBase-T-Technologie
Noch bis vor Kurzem standen 10-Gigabit-Verbindungen nur über Glasfaserverbindungen zur Verfügung, welche wiederum mit sehr hohen Kosten verbunden waren.
Heute ist die 10-Gigabit-T-Technologie weiterverbreitet und kostengünstiger. Mit nur geringen Latenzen ist das kupferbasierende 10G-Base-T in der Lage, über die Kompatibilität mit sowohl Fast-Ethernet als auch Gigabit-Ethernet, zwischen schnellen und langsamen Verbindungen zu wechseln. Das Wichtigste ist allerdings, dass die 10G-Base-T-Technologie eine kostengünstige Möglichkeit darstellt, aktuelle Netzwerke auf 10G-Ethernet-Verbindungen unter Verwendung von CAT5e-/CAT6-Verkabelung über kurze Distanz (55m) bzw. CAT6A-/CAT7-Verbindungen (bis zu 100m) aufzurüsten. Dadurch wird der Verkabelungsaufwand deutlich reduziert.
16 10-Gigabit-Ports,
320Gibt/s Switching-Kapazität
Der T1700X-16TS besitzt 12 10G-Base-T-RJ45-Ports und vier SFP-Glasfaser-Anschlüsse und bringt es somit auf unglaubliche Gesamtgeschwindigkeiten von bis zu 320Gbit/s. Dadurch wird hohe Belastbarkeit garantiert, Überlastungen verhindert und anspruchsvolle Anwendungen sowie reibungslosen Datenübertragung gewährleistet.
GIGABIT STACKABLE
WITH 10G UPLINK
24-Port Gigabit Stackable Smart Switch
with 4 10GE SFP+ Slots
Physical Stacking
With True Physical Stacking Technology, up to six T1700G-28TQ units can be stacked with a single IP address.
This provides enhanced scalability, simple management, and increased redundancy for high-density deployment. It also supports efficient network expansion in the future.
6 Units

True Physical Stacking Technology of up to six units supports network simplification

144 GE Ports

Up to 144 Gigabit Ethernet ports per stack

24 10G SFP+

Up to 24 10G SFP+ slots per stack

768 Gbps

Up to 768Gbps of switching capacity for aggregated networks

1 Management IP

With all units identified by a single IP address, configuring and monitoring the stack is easy
Fanless Design for Silent Operation
The T1700G-28TQ utilizes a fanless design, which reduces the amount of ambient noise in your office. Removing the fan also reduces power consumption and helps you build a more cost-effective network.
Software-Funktionen
Statisches L2+-Routing

Durch die Funktion des statischen Routings erlaubt der Switch allen Geräten verschiedener VLANs und Subnetzen miteinander zu kommunizieren, was den Datenübertragungsfluss des Netzwerks noch effizienter macht.

Umfangreiche L2-Funktionen

Unsere T1700-Serie ist mit dem vollen Sortiment an L2-Funktionen ausgestattet, welche all Ihren Anforderungen eines einheitlichen Netzwerks gerecht werden.

802.1Q/MAC/Protocol VLAN

Link-Aggregation-Group (LAG)

IGMP- & MLD-Snooping

Multicast-VLAN

Effektive Sicherheits-Strategien

Eine Vielzahl verschiedener Sicherheits-Strategien garantieren Ihnen ein sicheres Netzwerk, indem unautorisierter Zugang, Angriffe von außen und Malware-Infiltration verhindert werden.

Zugriffskontrollliste

DHCP-Snooping

802.1x-Authenfikation

IP-MAC-Port-Binding

Umfassende QoS-Funktionen

Fortschrittliche Kontrollen und Funktionen bieten optimierte Netzwerk-Leistungen und effiziente Zustellungen zeitkritischen Datenverkehrs.

Port- oder 802.1p-basierte Priorisierung

Layer-3-basierte- Priorisierung (DSCP)

Datenratenbegrenzung

Voice-VLAN

IPv6-Unterstützung

Die gesamte T1700-Serie bietet umfassende IPv6-Funktionen wie IPv6-Management, Statisches Routing, ACL und QoS2. Diese Funktionen vereinfachen den Übergang zu einem IPv6-basierenden Netzwerk und schützen den Wert Ihres Investments.

Dual-Image

Zwei Firmware-Images reduzieren Downtimes während Ihrer Firmware-Upgrades. Im Falle eines Fehlers auf dem aktiven Image, wird das Backup-Image automatisch aktiviert.
1 Nur der T1700X-16TS unterstützt Private-VLAN
2 IPv6-basiertes Statisches Routing/ACL/QoS wird in Kürze per nächster Firmware-Update verfügbar sein
Hardware-Spezifikationen
| | T1700X-16TS | T1700G-28TQ |
| --- | --- | --- |
| 10/100/1000Mbit/s-RJ45-Ports | - | 24 |
| 10GBase-T-RJ45-Ports | 12 | - |
| Uplink | 4 dedizierte 10G-SFP+-Slots | 4 dedizierte 10G-SFP+-Slots |
| Switching-Kapazität | 320Gbit/s | 128Gbit/s |
| Abmessungen(B×T×H) | 440mm×220mm×44mm | 440mm×180mm×44mm |
| Anzahl Lüfter | 2 | - |
| Weitere Informationen | GO | GO |
Zubehör
10GBase-SR-SFP+-LC-Transceiver

850nm-Multimode-Transceiver
300m maximale ÜbertragungsdistanzLC/UPC-Anschluss

TXM431-SR

10GBase-SR-SFP+-LC-Transceiver

1310nm-Multimode-Transceiver
10km maximale Übertragungsdistanz
LC/UPC-Anschluss

TXM431-SR

1m/3m-SFP+-Kabel

1m/3m Kabellänge
SFP+-Anschluss auf beiden Seiten

TXC432-CU1M / TXC432-CU3M
HARDWARE-FUNKTIONEN
Standards und Protokolle
IEEE802.3i
IEEE802.3u
IEEE802.3ab
IEEE802.3z
IEEE802.3an
IEEE802.3ae
IEEE802.3ad
IEEE802.3x
IEEE802.1d
IEEE802.1s
IEEE802.1w
IEEE802.1q
IEEE802.1x
IEEE802.1p
Schnittstelle
12 100/1000/10GBase-T-RJ45-Ports, alle mit Autoabstimmung und Auto-MDI/MDIX
4 10G-SFP+-Slots
Kabel
100BASE-TX/1000Base-T: UTP-Kategorie 6 oder höher (maximal 100m)
10GBase-T: UTP-Kategorie 6 (maximal 55m) oder höher (maximal 100m)
1000BASE-X: MMF, SMF
10GBASE-LR
10GBASE-SR
Anzahl Lüfter
2 geregelte
Physischer Diebstahlschutz
Yes
Spannungsversorgung
100..240V, 50/60Hz
Abmessungen (B*T*H)
440mm*220mm*44mm
Montage
Rack Mountable
Maximale Leistungsaufnahme
76,58W
Maximale Wärmeabgabe
261.29 BTU/h
PERFORMANCE
Switchingkapazität
Bis zu 320Gbps
Paketweiterleitungsrate
Im Standalone-Betrieb 238,1Mpps
MAC-Adresstabelle
16k
Paketpufferspeicher
2MB
Jumbo-Frames
9kB
Anzahl Statischer Routen
32 für IPv4
Anzahl IP-Interfaces
16
SOFTWARE-FUNKTIONEN
Quality of Service
Unterstützt 802.1p-CoS/DSCP-Priorität
8 Prioritätswarteschlangen
Queue-Scheduling: SP, WRR, SP+WRR
Port-/flussbasierte Datenratenbegrenzung
IPv6-QoS*
Voice-VLAN
Layer2- und Layer2+-Funktionen
Statisches Routing
DHCP-Relay*
IGMP-Snooping V1/V2/V3
802.3ad-LACP (Bis zu 14 Aggregationsgruppen mit 8 Ports pro Gruppe)
Spanning-Tree STP/RSTP/MSTP
BPDU-Filterung/-Guard
TC/Root-Protect
Loopback-Erkennung
Flusskontrolle nach IEEE802.3x
LLDP, LLDP-MED*
VLAN
Unterstützt bis zu 4k VLANs
MAC-Adress-/protokollbasierendes VLAN
Privates VLAN
Zugriffskontrollliste
L2..L4-Paket-Filterung basierend auf Quell- und Ziel-MAC-Adresse, IP-Adresse und TCP/UDP-Ports
IPv6-ACL*
Sicherheit
AAA*
Port-Sicherheit
DHCP-Snooping
IP-/MAC-Adress-Portbindung
ARP-Inspektion
802.1x- und RADIUS-Authentifizierung
SSH v1/v2
SSL v3/TLSv1
Broadcast-/Multicast-/Unknown-Unicast-Sturmkontrolle
DoS-Abwehr
IPv6
IPv4/IPv6-Dual-Stack
Multicast-Listener-Discovery(MLD)-Snooping
IPv6-Neighbor-Discovery (ND)
Path-maximum-transmission-unit(MTU)-Discovery
Internet Control Message Protocol (ICMP) Version 6
TCPv6/UDPv6
IPv6-Anwendungen
DHCPv6-Client
Ping6
Tracert6
Telnet (v6)
IPv6-SNMP
IPv6-SSH
IPv6-SSL
HTTP/HTTPS
IPv6-TFTP
Verwaltung
Weboberfläche und CLI
SNMP v1/v2c/v3, kompatibel zu öffentlichen MIBs und TP-LINK-eigenen MIBs
RMON (Gruppen 1, 2, 3, 9)
CPU-Überwachung
Port-Mirroring
Firmware-Upgrade: TFTP und Web
Systemdiagnose: VCT
Systemprotokoll und öffentliche MIBs
Dual-Image
SONSTIGES
Zertifizierung
CE
FCC
RoHS
Verpackungsinhalt
T1700X-16TS
Spannungskabel
Installationsanleitung
CD
Rackmount-Kit
Gummifüßchen
Systemanforderungen
Microsoft® Windows® 2000/XP/2003/Vista/2008/7/2012/8/10
MacOS®
NetWare®
UNIX®
Linux
Umgebung
Betriebstemperatur: 0°C..40°C
Lagertemperatur: -40°C..70°C
Betriebsfeuchtigkeit: 10%..90%, nicht kondensierend
Lagerfeuchtigkeit: 5%..90%, nicht kondensierend
*Diese Funktionen werden in Kürze per Firmware-Update verfügbar sein.
Von United States?
Erhalten Sie Produkte, Events und Leistungen speziell für Ihre Region