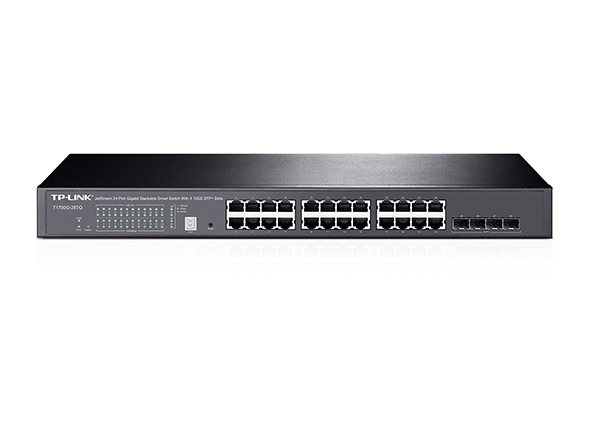 T1700G-28TQ
Stackable JetStream-24-Port-Gigabit-Smart-Switch mit 4 10GE-SFP+-Slots
Physischem Stacking von bis zu 6 Einheiten und eine Datenrate von 40Gbit/s ermöglichen hohe Skalierbarkeit und Redundanz
10Gbit/s-SFP+-Ports für Stacking und/oder Uplink, für schnelle Auslieferung auch an datenhungrige Anwendungen
L2+-Routing routet internen Datenverkehr zur effizienten Nutzung Ihrer Ressourcen
Erweiterte Sicherheitsmerkmale: IP-/MAC-Adress-Port-Bindung, Zugriffsliste, Portsicherheit, DoS-Abwehr, Storm-Kontrolle, DHCP-Snooping, 802.1X und RADIUS-Authentifizierung
Unterstützung von IPv6: Dual-Stack, MLD-Snooping und IPv6-Neighbor-Discovery
Verwaltung über Web/CLI/SNMP/RMON
Dual-Image
Produktfunktionalitäten
TP-Links Stackable Gigabit-Smart-Switch T1700G-28TQ ist gedacht, um ein hochverfügbares, skalierbares, robustes Netz aufzubauen. Er verfügt über 24 10/100/100Mbps-RJ-45-Ports und 4 dedizierte 10G-SFP+-Slots, die als Uplinks oder Stacking-Links verwendet werden können. Der Switch bietet exzellente Performance, mächtige L2- und L2+ -Funktionen, QoS auf Enterpriseebene und effektive Sicherheitsstrategien. Zudem verbessert physisches Stacking die Performance und erleichtert die Verwaltung. Der T1700G-28TQ stellt eine zuverlässige, kostengünstige Lösung für kleine Unternehmensnetze dar.
Physisches Stacking
Physisches Stacking verbindet mehrere Geräte zu einem virtuellen System, so dass sie wie ein einziges Gerät verwaltet werden können. Das Stacksystem des T1700G-28TQs ermöglicht eine interne bidirektionale Datenrate von bis zu 40Gbit/s mit Redundanz und Ausfalltoleranz. Der Switch unterstützt bis zu 6 Einheiten in einem Stack, wodurch Sie einen virtuellen Switch von bis zu 144 Gigabit-Ethernet-Ports mit 12 freien 10Gbit/s-SFP+-Uplinks und 768Gbps Switchingkapazität aufbauen können. Damit sind Sie für zukünftige Erweiterungen Ihres Netzes bestens gerüstet.
Üppiger Layer-2- und Layer2+-Funktionsumfang
Der T1700G-28TQ unterstützt eine Vielzahl an L2-Funktionen wie 802.1Q-Tag-VLAN, Port-Isolation, Port-Mirroring, STP/RSTP/MSTP, Link-Aggregation-Gruppen und Flusskontrolle nach 802.3x. Weiterhin bietet der Switch erweiterte Funktionen für die Wartung des Netzes, wie Loop-Back-Erkennung, Kabeldiagnostik und IGMP-Snooping.
IGMP-Snooping stellt sicher, dass der Switch die Multicast-Streams intelligent nur an die entsprechenden Abonnenten leitet, während die IGMP-Drosselung und -Filterung jeden Teilnehmer auf eine Port-Ebene beschränken, um unbefugten Zugriff auf das Multicast zu verhindern.
Zudem unterstützt der T1600G-28TQ L2+-Funktionen wie Statisches Routing, womit Sie Ihren internen Datenverkehr effiezient an sein Ziel weiterleiten lassen können.
Sicherer Netzwerkaufbau
Der T1700G-28TQ bietet IP-MAC-Port-VID-Bindung, Port-Sicherheit, Storm Control und DHCP-Snooping, die gegen Broadcast-Stürme, ARP-Angriffe etc. schützen. Darüber hinaus schränkt die Access-Control-List(ACL, L2 bis L4)-Funktion den Zugriff auf sensible Netzwerkressourcen durch die Verweigerung von Paketen in Abhängigkeit von Quell- und Ziel-MAC-Adressen, IP-Adressen, TCP/UDP-Ports und sogar VLAN-ID ein. Weiterhin unterstützt der Switch 802.1X-Authentifizierungsmethoden, die in Verbindung mit einem RADIUS-Server zur Authentifizierung einige Informationen benötigen, bevor der Zugriff auf das Netzwerk erlaubt wird.
Erweiterte QoS-Merkmale
Um Sprach-, Daten- und Videodienste in einem Netz zu integrieren, wendet der Switch vielfältige QoS-Richtlinien an, mit denen der Administrator auf der Grundlage einer Vielzahl von Parametern die Priorität des Verkehrs bestimmen kann, um sicherzustellen, dass Sprache und Videos immer klar, glatt und verzerrungsfrei übertragen werden.
Verwaltungsfunktionen auf Unternehmensebene
Der T1700G-28TQ ist einfach zu bedienen und zu verwalten. Er unterstützt verschiedene benutzerfreundliche Standard-Managementfunktionen wie die intuitive, webbasierte grafische Benutzeroberfläche (GUI) oder das branchenübliche Command Line Interface (CLI), wobei der jeweilige Datenverkehr mithilfe der SSL- oder SSH-Verschlüsselung geschützt werden kann. Durch die SNMP (v1/2/3) und RMON-Unterstützung können vom Switch hilfreiche Statusinformationen abgefragt werden und kann dieser auf abnormale Ereignisse Traps senden.
Erschwingliche 10-Gigabit-Switchinglösung für wachsende Unternehmensnetze
10Gbit/s-Smart-Switches der T1700-Serie
In einer Welt expandierender Unternehmen und wachsender Virtualisierung, cloud-basierender Dienste und Anwendungen wie VoIP, HD-Videostreaming und Überwachung über IP, müssen SMB-Netze mit neuen Anforderungen hinsichtlich Skalierbarkeit und Leistungsfähigkeit zurechtkommen.
TP-Links neue 10Gbit/s-Smart-Switches der T1700-Serie stellen eine ideale Antwort auf diese Anforderungen dar. Die Serie umfasst den Full-10-Gigabit-Smart-Switch T1700X-16TS sowie den Stackable Gigabit-Smart-Switch T1700G-28TQ mit 10G-Uplinks. Beide bieten hohe Performance, Skalierbarkeit und Kostengünstigkeit, die kleine und mittelgroße Unternehmen von 10Gbit/s-Lösungen erwarten können.
FULL-10-GIGABIT-
SMART-SWITCH
12-Port-10GBase-T-Smart-Switch
mit 4 10G-SFP+-Slots
Zukunftssichere
10GBase-T-Technik
Bis vir Kurzem war 10-Gigabit-Konnektivität der teuren glasfaserbasierenden Technik vorbehalten, um schnellen Zugriff auf das lokale Netz oder das Rechenzentrum zu ermöglichen.
Heute wird die 10GBase-T-Technik immer gebräuchlicher und billiger. Außer dass sie geringe Latenzen ermöglichen, sind 10Gbit/s-Kupferverbindungen abwärtskompatibel zu Fast-Ethernet und Gigabit-Ethernet und handeln automatisch die beste Geschwindigkeit aus. Weiterhin ist die 10GBase-T-Technik dazu geeignet, Ihr Netz kostengünstig auf 10G-Ethernet aufzurüsten, da Sie Ihre alte CAT5e/CAT6- (bis zu 55m) bzw. CAT6A/CAT7-Verkabelung (bis zu 100m) weiterverwenden können.
16 10-Gigabit-Ports,
320Gbps-Switchingkapazität
Der T1700X-16TS verfügt über 12 10GBase-T-RJ45-Ports und vier dedizierte SFP+-Anschlüsse, hinter denen insgesamt eine Switchingkapazität von 320Gbps liegt. Damit erhalten Sie ein robustes Netz, das Ihre Daten schnell und flüssig überträgt.
GIGABIT-STACKABLE
MIT 10G-UPLINK
Stackable 24-Port-Gigabit-Smart-Switch
mit 4 10GE-SFP+-Slots
Physisches Stacking
Mit echtem physischem Stacking können bis zu sechs T1700G-28TQ zusammengeschlossen werden, so dass sie wie ein einziger Switch verwaltet werden können.
Damit verfügen Sie über erweiterte Skalierbarbeit, einfachere Verwaltung und zusätzliche Ausfallsicherheit. Zudem sind Sie zukunftssicher.
6 Units

Echtes physisches Stacking von bis zu sechs Switches

144 GE-Ports

Bis zu 144 Gigabit-Ethernet-Ports pro Stack

24 10G-SFP+-Ports

Bis zu 24 10G-SFP+-Slots pro Stack

768 Gbps

Bis zu 768Gbps Switchingkapazität

1 Management-IP-Adresse

Da alle Geräte des Verbunds über eine einzige IP-Adresse angesprochen werden, ist dieser sehr einfach zu konfigurieren und zu überwachen
Lüfterloses Design für geräuschlosen Betrieb
Der T1700G-28TQ arbeitet ohne aktive Kühlung, was die Geräuschkulisse in Ihrem Büro sowie Energieverbrauch und Betriebskosten deutlich reduziert.
Softwarefunktionen
Statisches L2+-Routing

Einfache Netzsegmentierung durch switchinternes Routing erlaubt es Geräten aus unterschiedlichen VLANs/Subnetzen, miteinander zu kommunizieren.

Umfangreiche L2-Funktionen

Die Geräte unserer T1700-Serie bieten eine ganze Menge L2-Funktionen, mit denen Sie Ihren aktuellen und zukünftigen Anforderungen gerecht werden.

802.1Q-/MAC-Adress-/Protokoll-/Private-VLAN1

Link-Aggregation-Gruppe (LAG)

IGMP- & MLD-Snooping

Multicast-VLAN

Robuste Sicherheitsstrategien

Die Unterstützung zahlreicher Sicherheitsfunktionen erlaubt Ihnen den Betrieb eines sicheren, einheitlichen Netzes, indem Sie unbefugte Zugriffe sowie Angriffe von außen und durch Malware unterbinden.

Access Control List (ACL)

DHCP-Snooping

802.1x-Authentication

IP-MAC-Port-Bindung

Umfassende QoS-Funktionen

Optimale Performance und effiziente Auslieferung von Daten zeitkritischer Anwendungen.

Port- oder 802.1p-basierende Priorisierung

Layer3-basierende Priorisierung(DSCP)

Ratenbegrenzung

Voice-VLAN

IPv6-Unterstützung

Die T1700-Series bietet Ihnen umfassende IPv6-Funktionen wie IPv6-Management, Statisches Routing, ACL und QoS2, was den Übergang in ein IPv6-basierendes Netz erleichtert und eine lange Lebensdauer Ihrer Geräte ermöglicht.

Dual-Image

Dual-Image-Firmware reduziert die durch Firmwareupdates unumgängliche Downtime. Das Backup-Image wird aktiviert im Fall, dass auf dem aktiven Image ein Fehler auftritt.
1 Nur der T1700X-16TS unterstützt Private-VLAN
2 Statisches Routing/ACL/QoS für IPv6 wird bald per Firmware-Upgrade verfügbar sein
Hardwarespezifikationen
| | T1700X-16TS | T1700G-28TQ |
| --- | --- | --- |
| 10/100/1000Mbps-RJ45-Ports | - | 24 |
| 10GBase-T-RJ45-Ports | 12 | - |
| Uplink | 4 dedizierte 10G SFP+-Ports | 4 dedizierte 10G SFP+-Ports |
| Switchingkapazität | 320Gbps | 128Gbps |
| Abmessungen (B*T*H) | 440mm*220mm*44mm | 440mm*180mm*44mm |
| Lüfter | 2 intelligente | 0 |
| Weitere Details | Hier | Hier |
Zubehör
10GBase-SR-SFP+-LC-Transceiver

850nm-Multimode-Transceiver
maximale Übertragungsdistanz 300m
LC/UPC-Anschluss

TXM431-SR

10GBase-LR-SFP+-LC-Transceiver

1310nm-Singlemode-Transceiver
maximale Übertragungsdistanz 10km
LC/UPC-Anschluss

TXM431-LR

1m-/3m-SFP+-Kabel

Kabellänge 1m/3m
SFP+-Anschlüsse auf beiden Seiten

TXC432-CU1M / TXC432-CU3M
HARDWARE-FUNKTIONEN
Standards und Protokolle
IEEE802.3i
IEEE802.3u
IEEE802.3ab
IEEE802.3z
IEEE802.3ae
IEEE802.3ad
IEEE802.3x
IEEE802.1d
IEEE802.1s
IEEE802.1w
IEEE802.1q
IEEE802.1x
IEEE802.1p
Schnittstelle
24 10/100/1000Mbit/s-RJ45-Ports
4 10G-SFP+-Slots
Kabel
10BASE-T: UTP-Kabel der Kategorie 3 oder höher (maximal 100m)
100BASE-TX: UTP-Kabel der Kategorie 5 oder höher (maximal 100m)
1000BASE-T: UTP-Kabel der Kategorie 6 oder höher (maximal 100m)
1000BASE-X: MMF, SMF
10GBASE-LR
10GBASE-SR
Anzahl Lüfter
0
Physischer Diebstahlschutz
Yes
Spannungsversorgung
100..240V/50..60Hz Wechselspannung
Energieverbrauch
21,8W
Gewicht
2,8kg
Abmessungen (B*T*H)
440mm*180mm*44mm
Montage
Rack Mountable
Maximale Leistungsaufnahme
21.8W (220V/50Hz)
Max Heat Dissipation
74.38 BTU/h
PHYSISCHES STACKING
Steckplätze für SFP+-Transceiver und DAC(Direct Attach Copper)-Kabel
TXM431-SR
TXM432-LR
TXC432-CU1M
TXC432-CU3M
Maximale Anzahl installierbarer Stacking-Ports
2 (SFP+)
Verbindungsgeschwindigkeit beim Stacking (pro Port)
20Gbps (Vollduplex)
Geräte pro Stack
bis zu 6
PERFORMANCE
Switchingkapazität
Standalone-Switch: 128Gbit/s
Paketweiterleitungsrate
Standalone-Switch: 95,2Mpps
MAC-Adresstabelle
16k
Paketpufferspeicher
1,5MB
Jumbo-Frames
9kB
Anzahl Statischer Routen
32 (IPv4)
Anzahl IP-Interfaces
16
SOFTWARE-FUNKTIONEN
Quality of Service
802.1p-CoS/DSCP-Priorität
8 Prioritätswarteschlangen
Queue-Scheduling: SP, WRR, SP+WRR
Port-/Fluss-basierte Datenratenbegrenzung
IPv6-QoS*
Voice-VLAN
Layer2- und Layer2+-Funktionen
Statisches Routing
DHCP-Relay*
IGMP-Snooping V1/V2/V3
802.3ad-LACP (Bis zu 14 Aggregationsgruppen mit 8 Ports pro Gruppe)
Spanning Tree STP/RSTP/MSTP
BPDU-Filterung/-Guard
TC-/Root-Protect
Loopback-Erkennung
Flusskontrolle nach 802.3x
LLDP, LLDP-MED*
VLAN
Unterstützt bis zu 4k VLANs
MAC-Adress-basierendes VLAN
Port-basierendes VLAN
Zugriffskontrollliste
L2..L4-Paket-Filterung basierend auf Quell- und Ziel-MAC-Adresse, IP-Adresse und TCP/UDP-Ports
IPv6-ACL
Sicherheit
AAA*
Port-Sicherheit
DHCP-Snooping
IP-/MAC-Adress-Portbindung
ARP-Inspektion
802.1x- und RADIUS-Authentifizierung
SSH v1/v2
SSL v3/TLSv1
Broadcast-/Multicast-/Unknown-Unicast-Sturmkontrolle
DoS-Abwehr
IPv6
IPv4/IPv6-Dual-Stack
Multicast-Listener-Discovery(MLD)-Snooping
IPv6-Neighbor-Discovery (ND)
Path-maximum-transmission-unit(MTU)-Discovery
Internet Control Message Protocol (ICMP) Version 6
TCPv6/UDPv6
IPv6-Anwendungen
DHCPv6-Client
Ping6
Tracert6
Telnet(v6)
IPv6-SNMP
IPv6-SSH
IPv6-SSL
HTTP/HTTPS
IPv6-TFTP
Verwaltung
Weboberfläche und CLI
SNMP v1/v2c/v3, kompatibel zu öffentlichen MIBs und TP-LINK-eigenen MIBs
RMON (Gruppen 1, 2, 3, 9)
CPU-Überwachung
Port-Mirroring
Firmware-Upgrade über TFTP und Web
Systemdiagnose: VCT
Systemprotokoll und öffentliche MIBs
Dual-Image

* Diese Funktionen sind in späteren Firmwareversionen verfügbar.
SONSTIGES
Zertifizierung
CE
FCC
RoHS
Verpackungsinhalt
T1700G-28TQ
Spannungskabel
Installationsanleitung
CD
Rackmountkit
Gummifüßchen
Systemanforderungen
Microsoft® Windows® 2000/XP/2003/Vista/2008/7/2012/8/10
MacOS®
NetWare®
UNIX®
Linux
Umgebung
Betriebstemperatur: 0°C..40°C
Lagertemperatur: -40°C..70°C
Betriebsfeuchtigkeit: 10%..90%, nicht kondensierend
Lagerfeuchtigkeit: 5%..90%, nicht kondensierend
Subscription Für TP-Link ist Datenschutz sehr wichtig. Weitere Informationen zu unseren Datenschutzbedingungen finden Sie in der Datenschutzerklärung von TP-Link.
From United States?
Check products and services for your region.