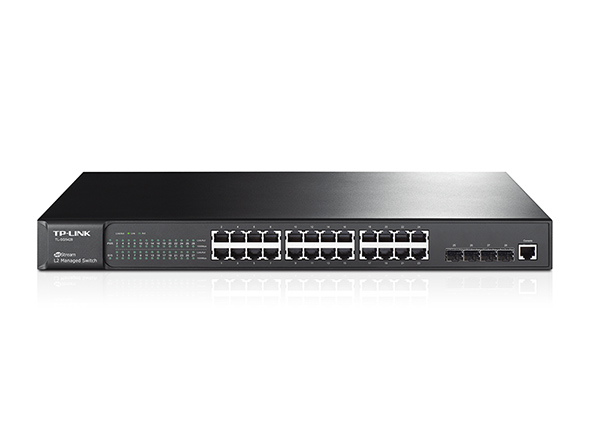 JetStream-24-Port-Gigabit-L2-Managed-Switch mit 4 SFP-Slots
Zuverlässige Schutzmechanismen wie ACL, 802.1X-Authentifizierung, Portsicherheit, IP-Filtering, Sturmkontrolle, DHCP-Snooping, IP-Source-Guard und DoS-Abwehr
L2/L3/L4-QoS und IGMP-Snooping optimieren Sprach- und Videoanwendungen
Management über SNMP, RMON, Weboberfläche, CLI und Telnet
Produktfunktionalitäten
Der TL-SG5428 bietet vielfältige Layer2-Managementfunktionen für Arbeitsgruppen und Abteilungen. Dieser kann nach Bedarf ein Hochleistungsnetzwerk für Arbeitsgruppen zur Verfügung stellen oder als Backbone für ein Fast-Ethernet-Netz dienen. Vier SFP-Slots geben Ihnen zusätzliche Flexibilität in Ihrem Netz.
Unterschiedliche Schutzmechanismen zeichnen den TL-SG5428 aus. Schutz vor Broadcaststorms oder DoS-Angriffen bieten die erweiterten Access-Control-Lists (ACLs). Durch Quality of Service (QoS, L2 bis L4) haben Sie vielfältige Trafficmanagementmöglichkeiten. Eine schnelle und einfache Konfiguration wird Ihnen durch das Webmenü ermöglicht. Zusätzlich ist die Administration über CLI, SNMP und RMON möglich.
Der TL-SG5428 stellt für Arbeitsgruppen und ganzen Abteilungen einen kostengünstigen und robusten Switch dar.
Hohe Switchingkapazität
TP-LINKs Managed L2- Switch TL-SG5428 ist eine nicht-blockierende Switchlösung für Gigabitanbindungen mit einer internen Anbindung von 56Gb/s. Zur Erweiterung Ihres Netzes stehen 24 Gigabitports und 4 SFP-Slots zur Verfügung.
Virtual Stacking
Durch IP-Clustering können bis zu 32 TL-SG5428s über eine IP-Adresse verwaltet werden, unabhängig von Ihrem Standort. Dies vereinfacht die Konfiguration, Wartung und Überwachung der Switches.
Umfassende Sicherheitsmaßnahmen
Access Control Lists (ACL, L2 bis L4) können Datenpakete abhängig von ihrem Ursprungs- oder Bestimmungsort, der MAC-Adresse, IP-Adresse, TCP- und UDP-Ports oder VLAN-IDs abgelehnt werden, um Netzwerkressourcen zu schonen.
Ferner unterstützt dieser Switch 802.1X-Authentifizierung, welche in Verbindung mit RADIUS-Servern benötigt wird. Zusätlich werden Gast-VLANs unterstützt, um Nicht-802.1X-Clients den Zugriff auf spezielle Netzwerkressourcen zu ermöglichen. IP-MAC-Port-VID-Binding, Portsicherheit, Sturmkontrolle, DHCP-Snooping und IP-Source-Guard-Unterstützung schützen vor Broadcast-Angriffen, ARP- und Denial-of-Service(DoS)-Angriffen.
Vielfältige Managementmethoden
Der TL-SG5428 unterstützt verschiedene nutzerfreundliche Managementmethoden, z.B. ein intuitives Webmenü oder Eingabe über die Kommandozeile (CLI). Der Administratorenzugriff kann durch eine SSL- oder eine SSH-Verschlüsselung geschützt werden. Mit SNMP (v1/2/3) und RMON können bestimmte Statusinformationen abgefragt werden.Mit Link-Aggregation, Spanning-Tree-Protocol (STP/RSTP/MSTP) und virtuellem Stacking können skalierbare Topologien realisiert werden.
Optimierte Sprach- und Videoanwendungen
Vielfältige QoS-Richtlinien ermöglichen Sprach- und Videoanwendungen die unterbrechungsfreie Übertragung, basierend auf IP- oder MAC-Adresse, TCP- oder UDP-Port etc. Speziell für Sprachanwendugen kann das Voice-VLAN genutzt werden.
Auch für andere Mulitmediaanwendungen wie IPTV bietet der TL-SG5428 Lösungen wie z.B. IGMP. Während IGMP-Snooping die Datenpakete nur an den Anforderer weiterleitet, verhindern IGMP-Throttling und -Filtering unautorisierten Zugriff auf den Multicast-Stream.
HARDWARE-FUNKTIONEN
Standards und Protokolle
IEEE802.3i
IEEE802.3u
IEEE802.3ab
IEEE802.3z
IEEE802.3ad
IEEE802.3x
IEEE802.1d
IEEE802.1s
IEEE802.1w
IEEE802.1q
IEEE802.1x
IEEE802.1p
Schnittstelle
24 10/100/1000Mbit/s-RJ45-Ports mit Autoabstimmung und Auto-MDI/MDIX
4 Gigabit-SFP-Slots*
1 Konsolenanschluss
* Nur 1000 Mbit/s
Kabel
10BASE-T: UTP-Kabel der Kategorie 3 oder höher (maximal 100m)
100BASE-TX: UTP-Kabel der Kategorie 5 oder höher (maximal 100m)
1000Base-T: UTP-Kabel der Kategorie 6 oder höher (maximal 100m)
100BASE-FX: MMF, SMF
1000BASE-X: MMF, SMF
Anzahl Lüfter
0
Spannungsversorgung
100..240V/50..60Hz Wechselspannung
Energieverbrauch
Maximal 24,2W (230V/50Hz)
Abmessungen (B*T*H)
440mm*260mm*44mm
PERFORMANCE
Switchingkapazität
56 Gbit/s
Paketweiterleitungsrate
41,6 Mpps
MAC-Adresstabelle
8k
Jumbo-Frames
10240 Bytes
SOFTWARE-FUNKTIONEN
Quality of Service
802.1p-CoS/DSCP-Priorität
Unterstützt 4 Prioritätswarteschlangen
Queuescheduling: SP, WRR, SP+WRR
Port-/Flussbasierte Durchflussbegrenzung
Voice-VLAN
VLAN
Bis zu 4k VLANs
Port-/protokollbasierendes/privates VLAN
GARP/GVRP
Zugriffskontrollliste
L2..L4-Paketfilterung basierend auf Quell- und Ziel-MAC-Adresse, IP-Adresse, TCP-/UDP-Ports, 802.1p, DSCP, Protokoll und VLAN-ID
Zeitraumbasierend
Sicherheit
IP-MAC-Port-VID-Binding
IEEE802.1X-port-/MAC-basierende Authentifizierung, RADIUS, Gast-VLAN
DoS-Awehr
Dynamische ARP-Inspektion (DAI)
SSH v1/v2
SSL v2/v3/TLSv1
Portsicherheit
Broadcast/Multicast/Unknown-Unicast-Sturmkontrolle
Layer2-Switchingfunktionen
IGMP-Snooping V1/V2/V3
802.3ad-LACP (bis zu 14 Aggregationsgruppen mit 8 Ports pro Gruppe)
Spanning Tree STP/RSTP/MSTP
BPDU Filtering/Guard
TC/Root-Protect
Loopback-Erkennung
Flusskontrolle nach 802.3x
Verwaltung
Weboberfläche, CLI
SNMP v1/v2c/v3, kompatibel zu öffentlichen MIBs und TP-LINK-privaten MIBs
RMON (Gruppen 1, 2, 3, 9)
DHCP/BOOTP-Client, DHCP-Snooping, DHCP-Option 82
CPU-Monitoring
Port-Mirroring
Zeiteinstellung: SNTP
Integriertes NDP/NTDP
Firmwareupgrade über TFTP und Web
Systemdiagnose: VCT
Systemprotokoll & öffentliche MIBs
SONSTIGES
Zertifizierung
CE
FCC
RoHS
Verpackungsinhalt
Switch
Spannungskabel
Schnellinstallationsanleitung
CD
Rackeinbausatz
Gummifüßchen
Systemanforderungen
Microsoft® Windows® 2000/XP/2003/Vista/2008/7/2012/8/10
MacOS®
NetWare®
UNIX®
Linux
Umgebung
Betriebstemperatur: 0°C..40°C
Lagertemperatur: -40°C..70°C
Betriebsluftfeuchtigkeit: 10%..90%, nicht kondensierend
Lagerluftfeuchtigkeit: 5%..90%, nicht kondensierend
Subscription Für TP-Link ist Datenschutz sehr wichtig. Weitere Informationen zu unseren Datenschutzbedingungen finden Sie in der Datenschutzerklärung von TP-Link.
From United States?
Check products and services for your region.