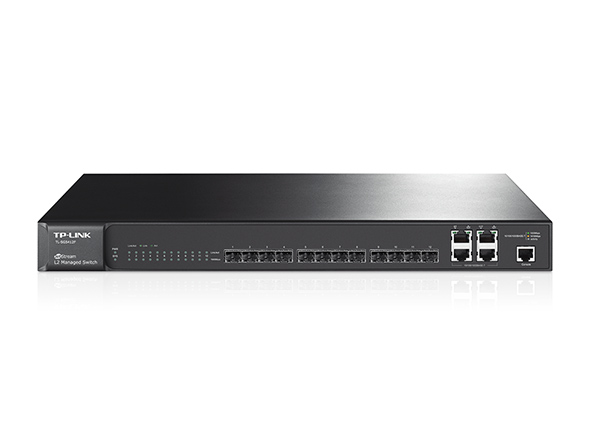 TL-SG5412F
JetStream 12-Port-Gigabit-L2-Managed Switch mit 4 Combo-1000BASE-T-Ports
ACL, 802.1X-Authentifizierung, Portsicherheit, IP-Filterung, Sturmkontrolle, DHCP-Snooping, IP-Source-Guard und DoS-Abwehr stellen Ihnen robuste Sicherheitsmechanismen zur Verfügung
L2/L3/L4-QoS und IGMP-Snooping optimieren Audio- und Videoanwendungen
Login über SNMP, RMON und Web/CLI/Telnet erlauben vielfältige Zugriffsmöglichkeiten
Produktfunktionalitäten
Entwickelt für Arbeitsgruppen und ganze Abteilungen, bietet TP-LINKs TL-SG5412F alle benötigten Layer-2-Management-Funktionen. Er liefert maximalen Durchsatz, wo Sie ihn benötigen - in leistungshungrigen Arbeitsgruppen oder als Aggregation-Layer-Gerät in Business-Netzen. Darüber hinaus sorgt der TL-SG5412F mit seinen 4 Gigabit-Ports für größtmögliche Flexibilität.
Der L2-Managed-Switch verfügt über fortschrittlichste Sicherheits- und Verwaltungsfunktionen. Eine fortgeschrittene Access Control List (ACL, L2 bis L4) bietet eine komplette Absicherung und Schutz vor Eindringlingen, ARP- und Denial-of-Service(DoS)-Attacken usw. Quality of Service (QoS, L2 bis L4) bietet verbessertes Traffic-Management, damit ihr Datenstrom nicht abreißt. Weiterhin haben Sie über die einfach zu bedienende Weboberfläche und ein CLI sowie SNMP und RMON vielfältige Konfigurationsmöglichkeiten.Für Anforderungen von Arbeitsgruppen und Abteilungen bietet dieser kostengünstige Layer-2-Gigabit-Switch TL-SG5412F Ihnen die ideale Lösung.
Hohe Switchingkapazität
TP-LINKs L2-Managed-Switch TL-SG5412F stellt eine nichtblockierende Switching-Lösung im Gigabit-Ethernet-Bereich dar. Die interne Übertragungskapazität liegt bei 24Gbps. Der Switch verfügt über 12 Gigabit-Ports und 4 Combo-RJ45-Ports. Hierdurch verbessert der TL-SG5412F Ihre Performance deutlich.
Virtuelles Stacking
Mittels IP-Clustering können bis zu 32 TL-SG5412Fs über eine einzige IP-Adresse verwaltet werden, unabhängig vom geografischen Standort. Da alle Einheiten durch eine einzige IP-Adresse identifiziert werden, kann dieser Stack ganz einfach konfiguriert und überwacht werden.
Umfassende Sicherheitsstrategie
Zugriffskontrolllisten (ACLs auf L2 bis L4) beschränken den Zugriff auf vertrauliche Informationen durch die Blockierung bestimmter Pakete nach Quell- und Ziel-MAC-Adresse, IP-Adresse, TCP-/UDP-Ports und sogar VLAN-ID. Dies wird durch Hardware realisiert, so dass die Switching-Performance nicht beeinträchtigt wird. Darüber hinaus unterstützt der TL-SG5412F 802.1X-Authentifizierung in Verbindung mit einem RADIUS-Server, um Authentifizierungsinformationen zu erfordern, bevor der Zugriff auf das Netzwerk gestattet wird. Weiterhin unterstützt er Gast-VLANs, damit nicht alle 802.1X-Clients ohne Weiteres auf alle Ressourcen zugreifen können. Darüber hinaus können IP-MAC-Port-VID-Binding, Portsicherheit, Sturmkontrolle, DHCP-Snooping und IP-Source-Guard Ihr Netz gegen Broadcast-Stürme, ARP- und Denial-of-Service(DoS)-Attacken usw. absichern. Der TL-SG5412F stellt Ihnen einige typische DoS-Angriffe zur Auswahl, die Sie leichter als je zuvor blockieren können.
Sicherheit und Elastizität auf Enterprise-Niveau
Der TL-SG5412F unterstützt verschiedene benutzerfreundliche Standard-Management-Funktionen, wie z.B. die intuitive webbasierte grafische Benutzeroberfläche (GUI) oder das Standard-Command-Line-Interface (CLI), die auch noch SSL- bzw. SSH-Verschlüsselung unterstützen. Über SNMP (v1/2/3) und RMON können wichtige Statusinformationen abgefragt und Trigger auf abnormale Ereignisse gesetzt werden. Dieser Informationsaustausch spart Zeit und Geld. Mit Link-Aggregation, Spanning-Tree-Protocol (STP/RSTP/MSTP) und virtuellem Stacking können Sie eine hochintelligente und skalierbare Topologie aufbauen, um den Anforderungen von Enterprise-Umgebungen bis ins Letzte gerecht zu werden.
Optimierung für Sprach- und Video-Anwendungen
Sprach-, Daten- und Videodienste in ein Netz zu integrieren, erreicht der TL-SG5412F spielend mit Hilfe von QoS. Der Administrator kann die Priorität verschiedener Arten des Datenverkehrs (nach IP- oder MAC-Adresse, TCP- oder UDP-Port-Nummer usw.) priorisieren, so dass Sprach- und Videoanwendungen stets flüssig und unterbrechungsfrei laufen. Sie können sogar ein Voice-VLAN anlegen, um diese Applikationen noch weiter gegen Störungen zu isolieren. Für andere Multimedia-on-Demand-Anwendungen wie IPTV bietet der TL-SG5412F erweiterte Funktionen für einfaches Stream-Management. Beispielsweise leitet IGMP-Snooping Multicast-Streams nur an die vorgesehenen Empfänger weiter, während IGMP-Drosselung & -Filterung die Teilnehmer auf eine Port-Ebene beschränkt, um unerlaubte Zugriffe auf den Multicast zu verhindern.
HARDWARE-FUNKTIONEN
Standards und Protokolle
IEEE802.3i
IEEE802.3u
IEEE802.3ab
IEEE802.3z
IEEE802.3ad
IEEE802.3x
IEEE802.1d
IEEE802.1s
IEEE802.1w
IEEE802.1q
IEEE802.1x
IEEE802.1p
Schnittstelle
12 1000Mbit/s-SFP-Slots
4 10/100/1000Mbit/s-RJ45-Ports mit Autoabstimmung und Auto-MDI/MDIX
1 Konsolenanschluss
Kabel
10BASE-T: UTP-Kabel der Kategorie 3 oder höher (maximal 100m)
100BASE-TX: UTP-Kabel der Kategorie 5 oder höher (maximal 100m)
1000Base-T: UTP-Kabel der Kategorie 6 oder höher (maximal 100m)
1000BASE-X: MMF, SMF
Anzahl Lüfter
0
Spannungsversorgung
100..240V/50..60Hz Wechselspannung
Energieverbrauch
Maximal 15,2W (230V/50Hz)
Abmessungen (B*T*H)
440mm*260mm*44mm
19-Zoll-Stahlgehäuse, Höhe 1U
Montage
Rack Mountable
PERFORMANCE
Switchingkapazität
24 Gbit/s
Paketweiterleitungsrate
17,9 Mpps
MAC-Adresstabelle
8k Einträge
Jumbo-Frames
bis zu 10kB
SOFTWARE-FUNKTIONEN
Quality of Service
CoS-/DSCP-Priorität nach IEEE802.1p
4 Prioritätswarteschlangen
Queue-Scheduling: SP, WRR, SP+WRR
Port-/flussbasierte Begrenzung
Voice-VLAN
VLAN
4k VLANs
Port-/MAC-Adress-/protokollbasierendes VLAN
GARP/GVRP
Zugriffskontrollliste
Paketfilterung auf L2 bis L4, basierend auf Quell- und Ziel-MAC-Adresse, IP-Adresse, TCP-/UDP-Ports
IEEE802.1p, DSCP, Protokoll- und VLAN-ID
Zeitbasierend
Sicherheit
IP-/MAC-Port-VID-Binding
Port-/MAC-Adress-basierende Authentifizierung nach IEEE802.1X, Radius, Gast-VLAN
DoS-Abwehr
Dynamische ARP-Inspektion (DAI)
SSH v1/v2
SSL v2/v3/TLSv1
Portsicherheit
Broadcast/Multicast/Unknown-Unicast Sturmkontrolle
Layer2-Switchingfunktionen
IGMP-Snooping V1/V2/V3
LACP nach 802.3ad (bis zu 15 Aggregationsgruppen mit 8 Ports pro Gruppe)
Spanning-Tree STP/RSTP/MSTP
BPDU-Filtering/Guard
TC/Root-Protect
Loopback-Erkennung
Flusskontrolle nach IEEE802.3x
Verwaltung
Weboberfläche, CLI
SNMP v1/v2c/v3, kompatibel zu öffentlichen und TP-LINKs privaten MIBs
RMON (Gruppen 1, 2, 3 und 9)
DHCP/BOOTP-Client, DHCP-Snooping, DHCP-Option 82
CPU-Überwachung
Portspiegelung
Zeiteinstellung über SNTP
Integriertes NDP/NTDP
Firmwareupgrade über TFTP & Web
Systemdiagnose: VCT
Systemprotokoll & öffentliche MIBs
SONSTIGES
Zertifizierung
CE
FCC
RoHS
Verpackungsinhalt
Switch
Spannungskabel
Schnellinstallationsanleitung
CD
Rackeinbausatz
Gummifüßchen
Systemanforderungen
Microsoft® Windows® 2000/XP/2003/Vista/2008/7/2012/8/10
MacOS®
NetWare®
UNIX®
Linux
Umgebung
Betriebstemperatur: 0°C..40°C
Lagertemperatur: -40°C..70°C
Betriebsfeuchtigkeit: 10%..90%, nicht kondensierend
Lagerfeuchtigkeit: 5%..90%, nicht kondensierend
Subscription Für TP-Link ist Datenschutz sehr wichtig. Weitere Informationen zu unseren Datenschutzbedingungen finden Sie in der Datenschutzerklärung von TP-Link.
Von United States?
Erhalten Sie Produkte, Events und Leistungen speziell für Ihre Region