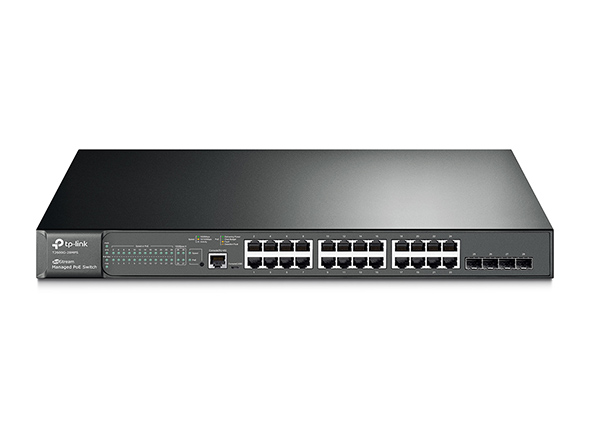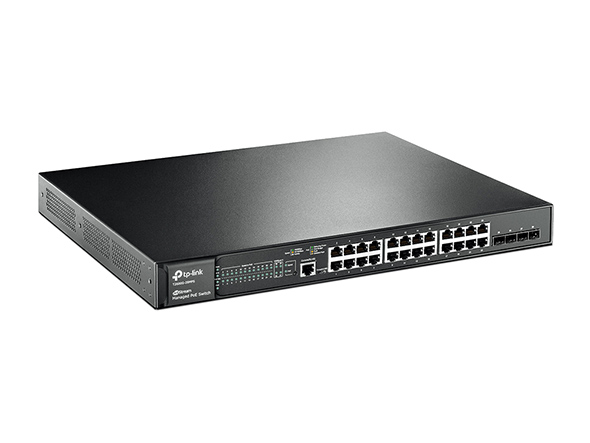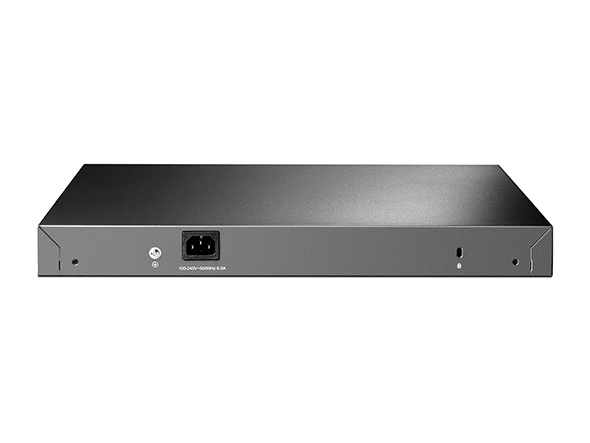 T2600G-28MPS (TL-SG3424P)
JetStream-24-Port-Gigabit-L2-PoE+-Switch mit 4 SFP-Slots
24 802.3at/af-PoE+-Ports mit einer Leistungsaufnahme von 384W

L2+-Funktionen wie Statisches Routing hilft beim effizienten Organisieren des internen Datenverkehrs

IP-/MAC-Adress-Port-Bindung, ACL, Portsicherheit, DoS-Abwehr, Storm-Control, DHCP-Snooping, 802.1x- und RADIUS-Authentifizierung erlauben wirkungsvolle Sicherheitsstrategien

L2/L3/L4-QoS und IGMP-Snooping optimieren Voice- und Videoanwendungen

IPv4/IPv6-Unterstützung mit Dual-Stack, MLD-Snooping, IPv6-Neighbor-Discovery

Management über Web, CLI (Konsole/Telnet/SSH), SNMP und RMON
Produktfunktionalitäten
Der Jetstream-24-Port-Gigabit-L2-Managed-PoE-Switch verfügt über 24 10/100/1000Mbit/s-Ports, die PoE+ nach 802.3at/af- unterstützen und eine Gesamtleistung von 384W abgeben können, perfekt für WLAN-Accesspoints IP- Kameras. Er bietet gute Performance, mächtige L2- und L2+-Funktionen wie Statisches Routing, QoS auf Enterprise-Ebene und weitere erweiterte Sicherheitsstrategien. IP-/MAC-Adress-Port-Bindung und die Zugriffskontrollliste (ACL) schützen vor Broadcast-Storms, ARP- und Denial-of-Service(DoS)-Angriffen. Der Jetstream-24-Port-Gigabit-L2-Managed-PoE-Switch ist somit optimal für kleine und mittlere Unternehmen geeignet.
IEEE802.3at/af-kompatibles Power over Ethernet
Der T2600G-28MPS verfügt über 24 10/100/1000Mbit/s-Ports, die den Standard IEEE802.3at/af (PoE) unterstützen und insgesamt 384W für die Stromversorgung von PoE-fähigen Geräten zur Verfügung stellen. Dadurch ergibt sich eine effiziente und kostengünstige Lösung, um mit Accesspoints, Überwachungskameras, IP-Telefonen oder anderen PoE-fähigen Endgeräten zu arbeiten.
Sicherer Netzwerkaufbau
Der managed JetStream-L2-Switch T2600G von TP-Link bietet IP-MAC-Port-VID-Bindung, Port-Sicherheit, Storm-Control und DHCP-Snooping, die gegen Broadcast-Stürme, ARP-Angriffe etc. schützen. Er bietet einige typische DoS-Attacken zur Auswahl. Sie können sich vor diesen Angriffen leichter schützen als je zuvor. Darüber hinaus schränkt die Access-Control-List (ACL, L2 bis L4)-Funktion den Zugriff auf sensible Netzwerkressourcen durch die Abweisung von Paketen in Abhängigkeit von Quell- und Ziel-MAC-Adressen, IP-Adressen, TCP/UDP-Ports und sogar VLAN-ID ein. Darüber hinaus unterstützt der Switch 802.1X-Authentifizierungsmethoden, die in Verbindung mit einem RADIUS-Server zur Authentifizierung einige Informationen benötigen, bevor der Zugriff auf das Netzwerk erlaubt wird. Die Guest-VLAN-Funktion wird unterstützt, damit Nicht-802.1X-Clients auf angegebene Netzwerkressourcen zugreifen können.
Umfangreiche Layer-2- und Layer2+-Funktionen
Als weitere Anwendung von Layer-2-Switches unterstützt der T2600G-28MPS die vollständige Palette von Layer-2-Funktionen, darunter 802.1Q-Tag-VLAN, Port-Mirroring, STP-/-RSTP-/-MSTP, Link Aggregation Control Protocol und Flusskontrolle nach 802.3x. Weiterhin bietet der Switch erweiterte Funktionen für die Wartung des Netzes, wie Loop-back-Erkennung, Kabeltest und IGMP-Snooping. IGMP-Snooping stellt sicher, dass der Switch Multicast-Streams intelligent nur an die entsprechenden Abonnenten leitet, während IGMP-Drosselung und -Filterung jeden Teilnehmer auf eine Port-Ebene beschränken, um unbefugten Zugriff auf das Multicast zu verhindern. Zudem unterstützt der T2600G-28MPS L2+-Funktionen wie Statisches Routing, womit Sie Ihren internen Datenverkehr effizient an sein Ziel weiterleiten lassen können.
IPv6-Unterstützung
Der T2600G-28MPS unterstützt verschiedene IPv6-Funktionen wie Dual-Stack, MLD-Snooping, IPv6-ACL*, DHCPv6-Snooping*, IPv6-Interface*, Path-Maximum-Transmission-Unit (PMTU) und IPv6-Neighbor-Discovery, womit Ihr Netz hardwareseitig bereits "Next Generation Network" (NGN) unterstützt. Der T2600G-28MPS ist zertifiziert mit dem IPv6-Ready-Logo, was garantiert, dass Ihr Netzwerk bereit für die Aktualisierung von Next-Generation-Network (NGN) ist.
OAM*
Der T2600G-52TS unterstützt OAM nach IEEE802.3ah sowie das Device-Link-Detection-Protokoll (DLDP), wodurch die Überwachung die Fehlerbehebung in Ihrem Netz deutlich erleichtert wird.
Verwaltungsfunktionen auf Unternehmensebene
Der T2600G-28MPS ist einfach zu bedienen und zu verwalten. Er unterstützt verschiedene benutzerfreundliche Standard-Managementfunktionen wie die intuitive, webbasierte grafische Benutzeroberfläche (GUI) oder das branchenübliche Command Line Interface (CLI), wobei der jeweilige Datenverkehr mithilfe der SSL- oder SSH-Verschlüsselung geschützt werden kann. Durch die Unterstützung SNMP (v1/2/3) und RMON können vom Switch hilfreiche Statusinformationen abgefragt werden und kann dieser auf abnormale Ereignisse Traps senden.
* per Firmware-Upgrade verfügbar
Hospitality

TP-Link Omada allows hotels to build reliable WiFi networks. Hotel WiFi network solutions including network topology, design, features, installation, and products are introduced.

Full WiFi coverage and wired connections
Flexible guest control
Seamless roaming
Easy Management

Education

Due to its reliable, scalable, and secure network solution, TP-Link has been widely acknowledged by global customers in the Education market ranging from infant schools with a few APs up to colleges and universities with hundreds of APs.

Easy management
High-density WiFi
Full WiFi coverage and wired connections
VPN and security

Switches for Business WiFi

For small and medium-sized businesses, a network switch is the fundamental component to build their business network. TP-Link offers an extensive portfolio of network switches with abundant functions and flexible options for every stage of your business growth.

High-Speed Wired LAN Network
Manage with Ease
Abundant Security Strategies
Lower Yours Costs
Comprehensive Products
HARDWARE-FUNKTIONEN
Standards und Protokolle
IEEE802.3i
IEEE802.3u
IEEE802.3ab
IEEE802.3z
IEEE802.3ad
IEEE802.3x
IEEE802.1d
IEEE802.1s
IEEE802.1w
IEEE802.1q
IEEE802.1x
IEEE802.1p
Schnittstelle
24 10/100/1000Mbit/s-RJ45-Ports mit Autoabstimmung und Auto-MDI/MDIX
4 1000Mbit/s-SFP-Slots
1 Konsolen-Port
1 Micro-USB-Konsolen-Port
Kabel
10BASE-T: UTP-Kabel der Kategorie 3 oder höher (maximal 100m)
100BASE-TX: UTP-Kabel der Kategorie 5 oder höher (maximal 100m)
1000BASE-T: UTP-Kabel der Kategorie 6 oder höher (maximal 100m)
1000BASE-X: MMF, SMF
Anzahl Lüfter
2
Physischer Diebstahlschutz
Yes
Spannungsversorgung
100..240V/50..60Hz Wechselspannung
Energieverbrauch
Maximal (mit PoE): 468,7W
PoE+-Ports
PoE-Standards: 802.3at/af
PoE+-Ports: 24
Maximale Leistung: 384W
Abmessungen (B*T*H)
440mm*330mm*44mm
Montage
Rack Mountable
Maximale Leistungsaufnahme
18.26W (220V/50Hz with no PD connected)450.80W (110V/60Hz with 384W PD connected)
Maximale Wärmeabgabe
99.02 BTU/h (with no PD connected)1599.20 BTU/h (with 384W PD connected)
PERFORMANCE
Switchingkapazität
56Gbps
Paketweiterleitungsrate
41,7Mpps
MAC-Adresstabelle
16k
Jumbo-Frames
9216 Byte
SOFTWARE-FUNKTIONEN
Quality of Service
CoS/DSCP-Priorität nach IEEE802.1p
8 Prioritätswarteschlangen
Scheduling: SP, WRR, SP+WRR
Port-/flussbasierende Begrenzung
Voice-VLAN
Layer2- und Layer2+-Funktionen
Statisches Routing
DHCP-Relaying
DHCP-Server
IGMP-Snooping v1/v2/v3
802.3ad-LACP (bis zu 8 Aggregationsgruppen mit jeweils 8 Ports)
STP/RSTP/MSTP
BPDU-Filtering/Guard
TC/Root-Protect
Loopback-Erkennung
Flusskontrolle nach 802.3x
L2PT
VLAN
4k VLANs
Port-/MAC-/protokollbasierendes/privates 802.1Q-VLAN
GARP/GVRP
Zugriffskontrollliste
L2..L4-Paketfilterung, basierend auf Quell- und Ziel-MAC-Adresse,
IP-Adresse, TCP-/UDP-Ports, 802.1p, DSCP, Protokoll und VLAN-ID
Zeitbasierend
Sicherheit
IP-MAC-Port-VID-Bindung
AAA
IEEE.802.1X- und RADIUS-Authentifizierung
DoS-Abwehr
Dynamische ARP-Inspektion (DAI)
SSHv1/v2
SSLv2/v3/TLSv1
Portsicherheit
Sturmkontrolle für Broadcasts, Multicasts und Unknown-Unicasts
IPv6
Dual-Stack
Multicast-Listener-Discovery(MLD)-Snooping
IPv6-Neighbor-Discovery (ND)
Path-Maximum-Transmission-Unit(MTU)-Discovery
Internet Control Message Protocol (ICMP) Version 6
TCPv6/UDPv6
IPv6-ACL
DHCPv6-Snooping
IPv6-Interface
IPv6-Anwendungen
DHCPv6-Client
Ping6
Tracert6
Telnet(v6)
IPv6-SNMP
IPv6-SSH
IPv6-SSL
HTTP/HTTPS
IPv6-TFTP
IPv6-ACL
IPv6-Interface
IPv6-Routing
DHCPv6-Relaying
DHCPv6-Snooping
Verwaltung
Weboberfläche, CLI
SNMPv1/v2c/v3, kompatibel zu Public-MIBs und privaten TP-LINK-MIBs
RMON (Gruppen 1, 2, 3, 9)
sFlow
PPPoE-Circuit-ID
DHCP/BOOTP-Client, DHCP-Snooping, DHCP-Option 82
Dual-Image
CPU-Monitoring
Port-Mirroring
Zeiteinstellung über SNTP
NDP/NTDP
Firmwareupgrade über TFTP und Web
Systemdiagnose: VCT
Syslog und Public-MIBs
Passwortwiederherstellung
SONSTIGES
Zertifizierung
CE
FCC
RoHS
Verpackungsinhalt
Switch
Spannungskabel
Schnellinstallationsanleitung
CD
Rackeinbausatz
Gummifüßchen
Systemanforderungen
Microsoft® Windows® 2000/XP/2003/Vista/2008/7/2012/8/10
MacOS®
NetWare®
UNIX®
Linux
Umgebung
Betriebstemperatur: 0°C..40°C
Lagertemperatur: -40°C..70°C
Luftfeuchtigkeit im Betrieb: 10%..90%, nicht kondensierend
Luftfeuchtigkeit lagernd: 5%..90%, nicht kondensierend
Subscription Für TP-Link ist Datenschutz sehr wichtig. Weitere Informationen zu unseren Datenschutzbedingungen finden Sie in der Datenschutzerklärung von TP-Link.
Von United States?
Erhalten Sie Produkte, Events und Leistungen speziell für Ihre Region