How to use my Range Extender properly if your range extender is configured correctly
In theory, if your range extender is configured correctly you should have internet access when you connect to it, and wireless signal should be better. Here we will introduce some simple and useful ways to help you make a better use of your Range Extender.
Part A: How to confirm whether my Range Extender has been configured successfully?
Method 1: ALL Range Extenders have LED light called Signal or 2.4/5G. Once your range extender has successfully connected to your wireless router, the Signal or 2.4/5G LED light will be solid "on" (no matter what color it is or how many signal bars there are).

Method 2: You can also determine the working status of your Range Extender via its management Webpage. Please login the Webpage via domain name which can be found at the bottom panel of the range extender, such as http://tplinkrepeater.net .
You can also find out your Range Extender's IP address to login, and your Range Extender's IP address is assigned by your Wireless router.
So you need to log into the Web GUI of your wireless router and go to DHCP Clients List to find the IP address of your Range Extender. For example, the IP address of the Range Extender is "192.168.0.101" as the figure below shows.

And then you just need to type it in the address field of your browser to log into the Management Webpage of your Range Extender.

If everything is OK, you can see the following status Webpage (two green ticks) of your Range Extender.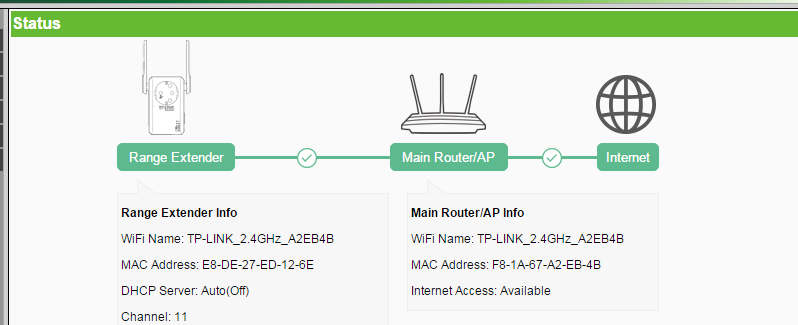 Note: If you have no idea how to check the DHCP Clients List of your router, please contact the vendor of your router for help.
Part B: Is my Range Extender in the proper location?
You should choose a proper location for your Range Extender to extend Wi-Fi coverage and improve the signal strength of your wireless network after configuring it successfully. It is recommended to make judgments on the basis of signal lights (or 2.4/5G lights).
The color or number of signal lights (or 2.4/5G lights) indicates the signal strength that RE gets from the main router, which is just used to help you choose the best location for your RE. For example, RE200 is connected to your router and the signal is good, then the 2.4G or 5G light will be solid green. For further detail information, please refer to the QIG or UG of your RE.
Note: RE450 is different and it is the color of its RE light that indicates the signal strength, not the 2.4/5G light.
Is this faq useful?
Your feedback helps improve this site.

TP-Link Community
Still need help? Search for answers, ask questions, and get help from TP-Link experts and other users around the world.
From United States?
Get products, events and services for your region.