IP cameras are the flexible, cost-effective security and surveillance option for today's business. Using Power over Ethernet technology, they are quick to install and offer more functionality than a traditional analogue CCTV device.
Power to your
surveillance cameras
Each security solution is unique to the location, business and its surveillance needs. The physical layout of a school with multiple rooms, long corridors and numerous buildings differs significantly from the open expanse of a warehouse.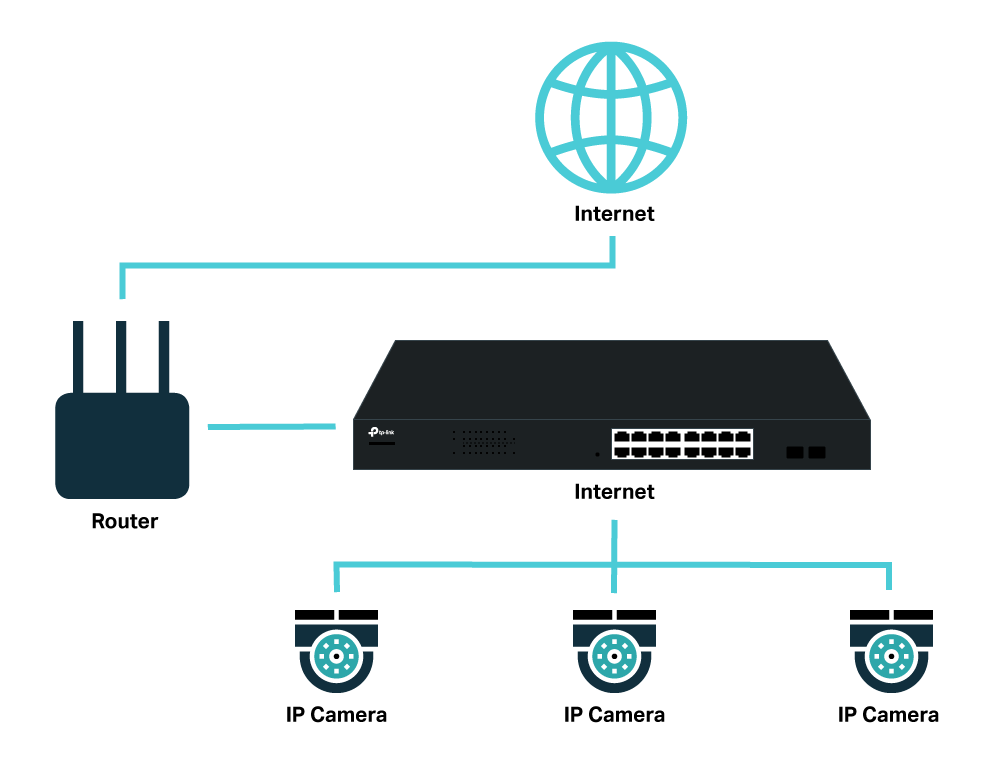 One underlying essential for a successful IP camera installation is choosing the right PoE or PoE+ infrastructure. Install the right PoE and PoE+ switches in your network
And you'll have the capacity to watch multiple lag free feeds in real-time and store recordings locally or to the cloud.
Solid foundations
By their very nature, IP cameras are only as good as the PoE switches powering them. Choosing the right network switches makes the difference between an OK and an excellent surveillance solution.
There is a dazzling array of features to choose from when you start looking at network switches. To help you narrow down the 'must-have' from the superfluous features, we have created this handy guide to help you find the right solution for your surveillance project.
Professional network site survey
To help you find the right WLAN for today, with the capacity to power tomorrow, TP-Link offers customers a Network Site survey service. Because each office and business is unique, one of our highly experienced network engineers will conduct a professional Site Survey to establish the current network strengths and weaknesses. Our engineer then prepares your bespoke report providing best of breed network solutions so you can achieve your business goals.

Contact the team to find out more about this complimentary service.
Essential features for
IP camera deployments
Range

PoE is limited to a range of 100 meters. In other words your camera has to be within 100 meters of your PoE switch. However, when 100 meters isn't enough search for PoE or PoE+ switches like TL-SL1218MP with an 'Extend' mode. The Extend button more than doubles the PoE range up to a maximum of 250 meters, giving you the option to run longer CAT5/CAT6 Ethernet cables.

PoE power budget

Check the power budget required by each camera; this will tell you the minimum PoE budget required for each port on the switch. When looking at corresponding PoE switches, it is vital to understand the difference between PoE and PoE+ and how it will affect your overall installation.

PoE (802.3af) is the original standard and offers 15.4W of power to the Ethernet port which equates to 12.95W that can be delivered up to 100 meters from the switch.

PoE+ (802.3at) almost doubles the available budget, providing 30W of power to the Ethernet port, of which 25.5W can be delivered up to 100 meters from the switch.

In other words, PoE+ enables you to pick cameras with a higher power budget and future proof your network with the latest backwards compatible power over Ethernet standards.

Camera compatibility

Check whether your chosen IP Camera is PoE or PoE+ compatible. A PoE+ compatible device requires a PoE+ switch to operate correctly. It is also essential to check the power budget needed for each device and ensure the corresponding switch has sufficient PoE budget per port.

Manufacturer support

With sensitive solutions like security, there is no room for downtime, which makes your PoE switch mission-critical. Unless you have the budget and space to hold switches in stock in case of failure, look for brands that offer extensive local pre and post-sales support. With a well-established operation in the UK, TP-Link provides a Limited Lifetime warranty on its entire business range, so you benefit from rapid replacements.
6-Port 10/100Mbps Desktop
PoE Switch with 4-Port PoE+

TL-SF1006P

802.3af/at

8-Port 10/100Mbps + 2-Port Gigabit Desktop Switch with 8-Port PoE+

TL-SL1210MP

802.3af/at

16-Port 10/100Mbps +
2-Port Gigabit
Unmanaged PoE Switch

TL-SL1218MP

802.3af/at

PoE Ports
4 PoE+ 10/100 Mbps RJ45 ports
8 PoE+ 10/100 Mbps RJ45 ports
16 PoE+ 10/100 Mbps RJ45 ports
Gigabit SFP Ports
-
1 SFP Port
2 SFP slots
Non-PoE Ports
2 10/100 Mbps
1 10/100/1000 Mbps
2 10/100/1000 Mbps
Power Budget per port
30W
30W
30W
Total Power Budget
67W
124W
192W
Extend Mode
Up to 250 meters
Up to 250 meters
Up to 250 meters
Priority Mode
Port 1-2
-
Port 1-8
Sign up for news & offersTP-Link takes your privacy seriously. For further details on TP-Link's privacy practices, see TP-Link's Privacy Policy.
From United States?
Check products and services for your region.