TP-Link switches for
Wall-to-wall WiFi and beyond
If the average British family consumes 190Gb of data per month, imagine how that translates into business data consumption. Combined with the UKs trail blazing adoption of SaaS where 41% of businesses have adopted at least one cloud service. Without a solid WLAN infrastructure you risk a glitchy G Suite, sluggish Salesforce and unstable Amazon Web Service (AWS).
Picking the right PoE
For a service as mission critical as business Wi-Fi, selecting the right switches to power the network is crucial. For many practical reasons Power over Ethernet is the most popular choice for powering wireless access points.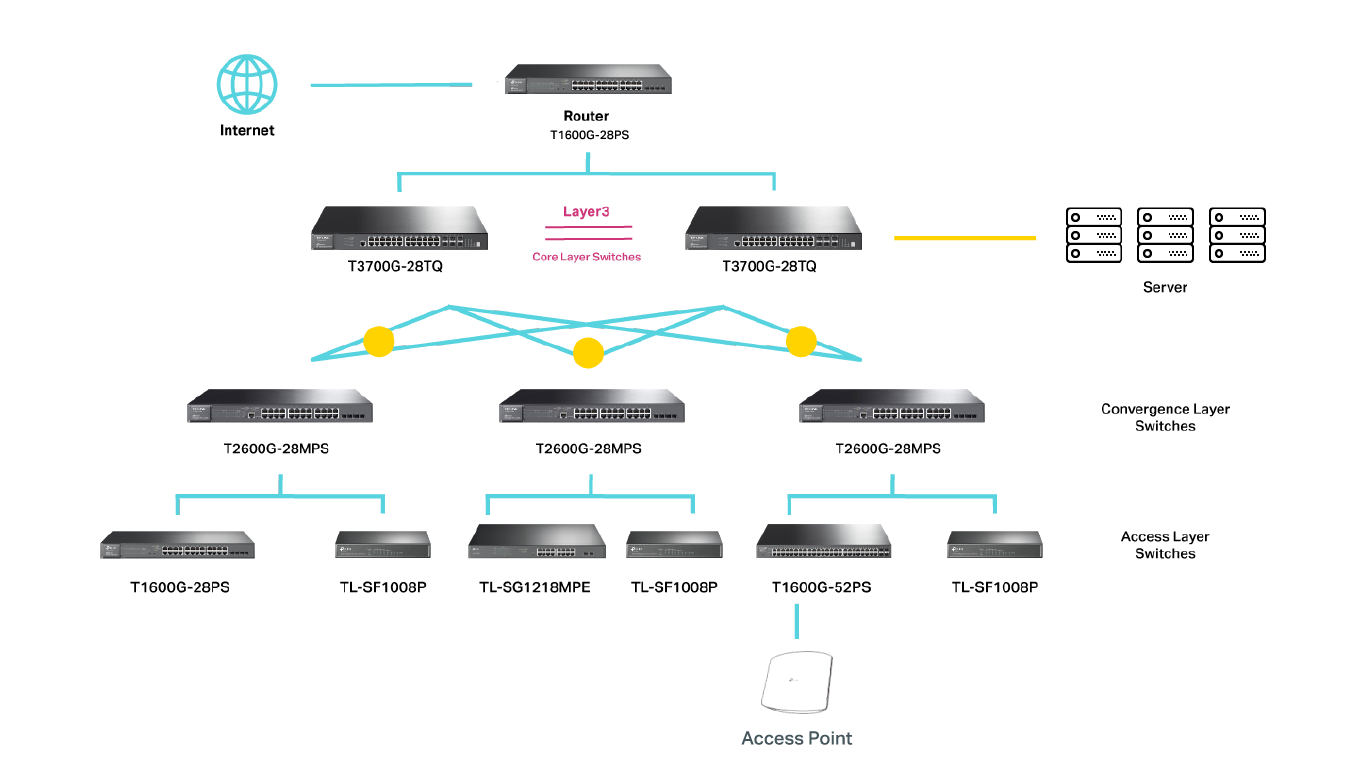 Professional network site survey
If you're looking for a professional second opinion on the health of your network, TP-Link offers site survey service. One of our experienced engineers will visit your business to conduct a site survey and establish its current strengths and weaknesses. The resulting, bespoke report will provide best of breed infrastructure recommendations designed to enable your business to reach its commercial goals.

To book your no-obligation site survey, contact the team now.
There are six crucial elements to consider
before selecting a switch:
PoE power budget and compatibility

Each access point requires power. Firstly, check whether your access point needs a PoE or PoE+ connection. Then assess the power budget required by each wireless AP. The power budget for each device tells you the minimum power budget required from each port on your network switch. These two pieces of information will instantly narrow your choice of switch.

When specifying switches, you need to understand the difference between PoE and PoE+ and how it affects your network.

• PoE (802.3af) is the original standard which has a maximum of 15.4W per Ethernet port which equates to 12.95W that can be delivered up to 100 meters from the switch.

• PoE+ (802.3at), the latest standard, almost doubles the available power budget, providing up to 30W per port, of which 25.5W can be delivered up to 100 meters from the switch.

In other words, PoE+ has a higher power budget per port and will future proof your network with the latest backwards compatible power over Ethernet standards.

Port speed

Picking switches with Gigabit ports ensures high speed data transfer between the switch and the ceiling mounted access point so your team benefits from the fastest available wireless speeds.

VLAN or Virtual LAN

Many smart switches include the L2 functionality required to create VLANs. A virtual LAN has many practical and security benefits, it enables you to logically group users based on their role in the business. For example, create a separate network for the data hungry marketing department, therefore guaranteeing plenty of bandwidth for the sales team. Alternatively, add an extra layer of security by preventing people outside the Finance and HR teams from accessing sensitive data accounting and HR applications like Oracle, Sage and QuickBooks.

Port security

Wireless security is second nature. Security for fixed location devices like access points shouldn't be overlooked when considering your networks overall integrity. MAC Binding is one of the most efficient ways to prevent rogue devices connecting to your network; it effectively locks a specific device to a single port on your switch. In other words, if someone unplugs an access point and tries to connect a laptop, the port will shut down because the MAC address has changed so you avoid unauthorised devices on the network.

Port density

As a rule of thumb picking switches with a higher port density provides better value for money by making better use of limited space and power. For example, three 8 port switches will support up to 21 individual devices. In this scenario, at least one port on each switch is used to connect to the network and you will need 3 power outlets, one for each switch. However, a single 24 port switch will power 23 devices and require just one power outlet.

Configuration and management

There are two options for setting up and managing switches, Command-Line Interface (CLI) or General User Interface (GUI). CLI is specific to each switch manufacturer, whereas GUI is a universal web interface enabling people with a networking background to install, configure and trouble shoot the switch without any additional training.
PoE Class Switches
For more information about the TP-Link range of award winning ceiling
mounted access points and cloud controllers visit
https://www.tp-link.com/omada/
JetStream 8-Port Gigabit Smart PoE Switch with 2 SFP Slots

T1500G-10PS
(TL-SG2210P)

JetStream 16-Port Gigabit Easy Smart PoE/PoE+ Switch

TL-SG1218MPE

JetStream 24-Port Gigabit Smart PoE+ Switch with 4 SFP Slots

T1600G-28PS
(TL-SG2424P)

All Ports
8
16
24
PoE Ports
8
16(PoE+)
24(PoE+)
Power Budget
per port
15.4W
30W
30W
Gigabit SFP Ports
2
-
4
Total power budget
53W
192W
192W
L2+ Features
Link Aggregation

Spanning Tree Protocol

Port Mirroring
Static Link Aggregation

Port Mirroring
Static Routing
Security Features

ACL

Port Security

DoS Defend

Storm Control

DHCP Snooping

802.1X

Radius Authentication

Support 4
priority queues

Rate Limit


Storm Control


ACL

Port Security

DoS Defend

Storm Control

DHCP Snooping

802.1X

Radius Authentication
Quality of service
L2/L3/L4 QoS

IGMP snooping
QoS

IGMP snooping
L2/L3/L4 QoS

IGMP snooping
Management Features

SNMP

RMON

Intelligent power
management


SNMP

RMON

Dual Image
IPV6

IPv6 applications

IPv6 neighbour discovery (ND)

DHCPv6 Client

MLD snooping


MLD snooping

IPv6 neighbour discovery
Sign up for news & offersTP-Link takes your privacy seriously. For further details on TP-Link's privacy practices, see TP-Link's Privacy Policy.
About Us
Press
Partners
Learning Center
From United States (English)?
Check products and services for your region.