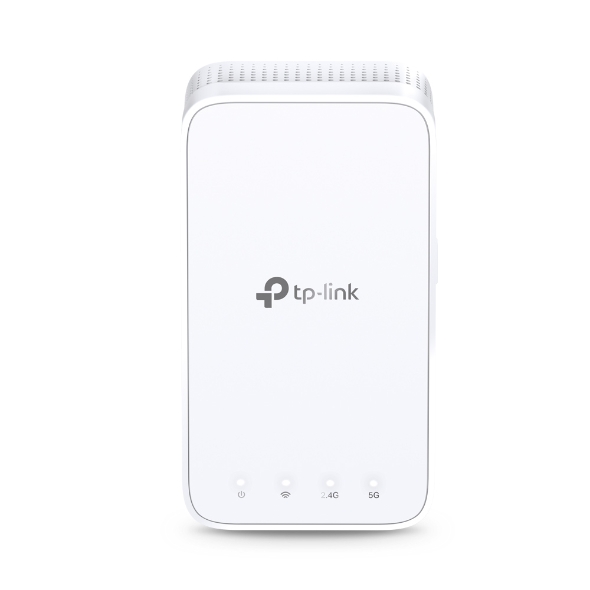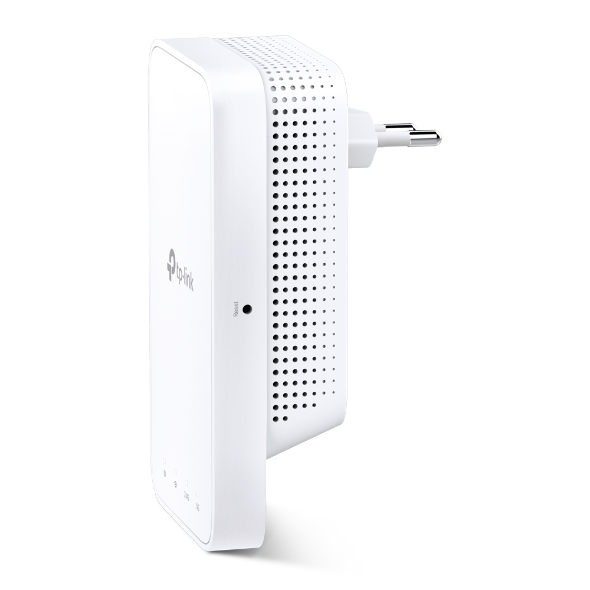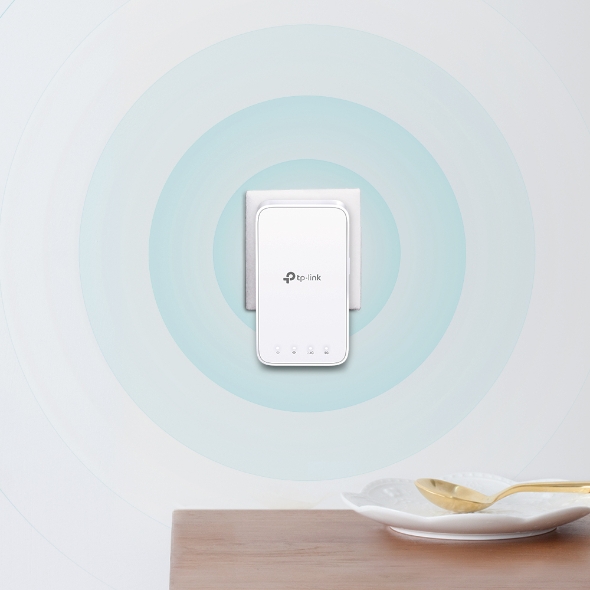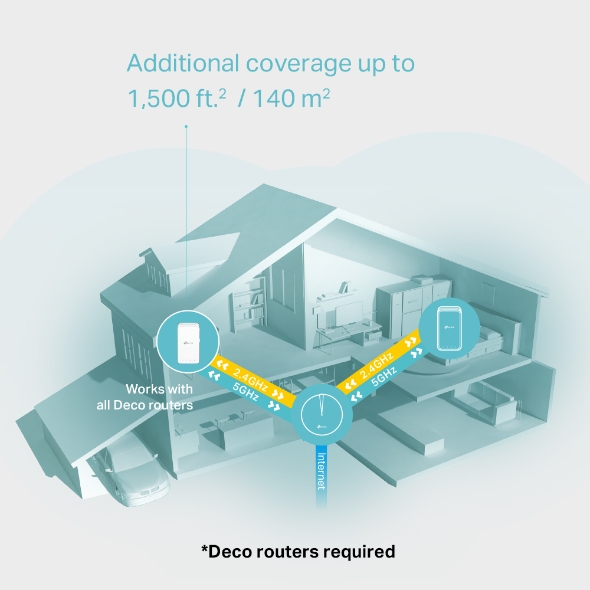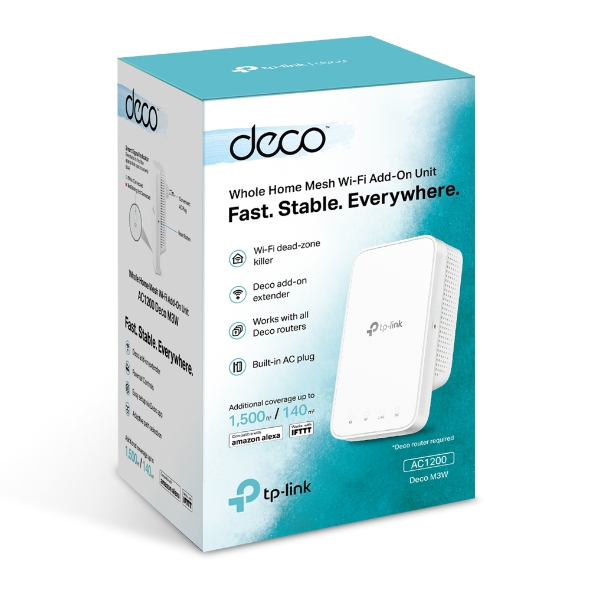 AC1200 Whole Home Mesh Wi-Fi Add-On Unit Deco M3W
Only works with Deco Whole Home Mesh Wi-Fi router.
Plug the add-on satellite into any outlets to easily expand mesh Wi-Fi coverage.
Enjoy additional Wi-Fi coverage of up to 1,500 sq. ft.† to eliminate weak signal areas by plugging in every Deco M3W.
Multiple Deco units form a whole-home network that auto-selects the best connection as you move around your home.
Parental Controls limit online time and block inappropriate websites according to unique profiles created for each family member.
Setup is easier than ever with the Deco app there to walk you through every step.
Fast. Stable. Everywhere.
Whole Home Mesh Wi-Fi Add-On Unit
AC1200 Dual-Band Wi-Fi
Deco M3W
Why Do You Need Deco M3W?
Can't get Wi-Fi in your
bedroom?

Lose connection while walking
around the house?

Network buffering
all the time?

Worried about your children's
network security?
Wi-Fi Dead-Zone Killer
Deco M3W is an add-on satellite for Deco Whole Home Mesh Wi-Fi System. Enjoy additional Wi-Fi coverage up to 1,500 sq. ft. to eliminate weak signal areas by plugging in an Deco M3W.
Works with
all Deco routers
Notes: Deco M3W needs to work with Deco routers to extend Mesh Wi-Fi.
Convenient Plug-In Wi-Fi
The built-in AC plug and compact design provide more options on where you need to expand Wi-Fi coverage. Simply add the add-on extenders by plugging them directly into wall outlets in the hallway, kitchen, garage or basement and enjoy faster Wi-Fi in more places.
Plug in the extender about halfway between the main router and the Wi-Fi dead zone. The smart signal indicator helps you find the appropriate spot, just a glance, flexibly and conveniently.
White

White Solid:
Connected and network is available

Red

Red Solid:
Connected but network is unavailable

Red Blinking:
Disconnected
Works with All
Deco Routers
Deco M3W is compatible with all Deco routers to form Mesh network. Enjoy all functions of the main Deco router* wherever you are at home.
Check how to configure mixed Deco network >>
*The functions of mixed Deco system are consistent with that of the main Deco router.
Deco M5 Plus
/ M5 / P7
Deco M3W
Deco M9 Plus
Deco M4 / E4
Deco M9 Plus
Deco M3W
Deco M3W
Deco M3W
Seamless Roaming with One Wi-Fi Name
TP-Link Mesh means Deco units work together to form a unified network with a single network name. Enjoy uninterrupted streaming, downloading, gaming and more as you move through your home, and no more switching Wi-Fi names, creating a truly seamless online experience.
Seamless Roaming

Uninterrupted streaming when moving around your home Extender

One Wi-Fi Name

No more switching Wi-Fi network names

Stays Fast, Always

Adaptive path selection keeps your network running at top speed

Self-Healing

Ensure you stay online even if one node fails by automatically rerouting data
No More Buffering
With AC1200 dual band Wi-Fi, adaptive path selection and QoS functions, Deco system eliminates buffering so you can enjoy smooth streaming.
Robust Parental Controls
Simple, intuitive parental controls make it easy to
keep your children safe while they are online.
Easily create a profile for each family member and set custom time limits and online time allowances.

Keep your family safe online with one-touch security settings that block websites based on age-appropriateness.

Set limits on how much time each person in your family can spend online.

Check out which sites your children visit and how much time they spend on each to ensure your children are safe while they are having fun online.

Take a break from Wi-Fi for dinner and family game nights. Just tap a button to suspend internet access for everyone in your home.
Wi-Fi Made Easy
Setup Just Got a Lot Easier

Installing Deco system is fast and easy. Just unpack the system, download the Deco app and follow its onscreen directions.

Learn how to set up the Deco system >>

Convenient Management

Manage your Wi-Fi at home or away in the Deco app, including seeing the connected devices, prioritizing your devices, setting up a guest network and more.

Voice Control

Pair with Alexa to control Deco system with simple voice commands.
†Maximum wireless transmission rates are the physical rates derived from IEEE Standard 802.11 specifications. Range, coverage, and maximum quantity of connected devices are based on test results under normal usage conditions. Actual wireless data throughput. wireless coverage, and quantity of connected devices are not guaranteed and will vary as a result of 1) environmental factors, including building materials, physical objects, and obstacles, 2) network conditions, including local interference, volume and density of traffic, product location, network complexity, and network overhead, and 3) client limitations, including rated performance, location, connection quality, and client condition.
Sadece Parmaklarınızı Kullanarak Deco Ağı'nı Yapılandırın !
Deco uygulaması iOS veya Android cihazlarınızla Deco Bütün Ev Mesh Wi-Fi Sisteminizi kurmanın, yönetmenin ve izlemenin en kolay yolunu sunar.
Kurulum Çok Daha Kolay
Deco'yu kutudan çıkarıp Prize takın, uygulamayı yükleyin ve sonra ekrandaki talimatları izleyin. Deco uygulaması gerisini halledecek ve ağınızı birkaç dakika içinde kullanıma hazır hale getirecektir.
Deco'yu kablo modeminize bağlayın ve her iki cihazı da açın

Deco uygulamasını indirin ve başlatın

Deco sisteminizi yapılandırmak için uygulama içi talimatları izleyin.
Yönetimi Basit
Deco, Evde, işte veya herhangi bir yerdeyken, Wi-Fi'nizi istediğiniz yerden yönetmeyi kolaylaştırır.
Basit Yönetim Ekranı

Ağınızın çalışma durumunu görüntüleyin, bağlı cihazları kontrol edin ve yönlendiricinizin sunduğu tüm özellikleri edinin..

Birden Çok Deco, Tek Uygulama

Deco uygulaması, Deco Wi-Fi'inize bağlı tüm Deco ağlarınızı ve cihazlarınızı yönetir.

Bağlı Cihazları Kontrol Edin

İnternet erişimini duraklatma ve sürdürme, internet hızını test etme ve cihazlara öncelik verme veya engelleme özelliği olan bağlı cihazlarınızın listesini görüntüleyin.

Uzaktan Yönetim

Nerede bulursanız olun, telefonunuzun bir dokunuşuyla ağın uzaktan kontrolünü elinize alın.
Güçlü Ebeveyn Denetimleri
Basit, sezgisel ebeveyn denetimleri, çocuklarınızı çevrimiçiyken güvende tutmayı kolaylaştırır.
Her aile üyesi için kolayca bir profil oluşturun ve özel zaman sınırlarını ve çevrimiçi zaman ayırmalarını ayarlayın. Aygıtları profillere atamayınböylece kuralların tek tek aygıtlara ve aile üyelerine yayabilirsiniz.

Ailenizin içeriğe uygunluğunu engelleyen tek dokunuşla güvenlik ayarları ile ailenizi çevrimiçi ortamda güvende tutun.

Ailenizdeki her bir kişinin çevrimiçi ortamda ne kadar zaman geçirebileceği ile ilgili sınırları belirleyin.

Insights ile çocuklarınızın hangi siteleri ziyaret ettiğini ve her biri için ne kadar zaman harcadıklarını kontrol edebilirsiniz. 'Çevrimiçi ortamda eğlenirken çocuklarınızın güvende olduğunu bilmenin harika bir yolu'.

Aile oyun geceleri için Wi-Fi'den biraz dinlenin. Evinizdeki herkes için internet erişimini askıya alabilir için bir düğmeye dokunmanız yeterli.
Özelliklerle dolu Sezgisel Bir Uygulama
Aylık Kullanım Özeti
Kullanım dahil her ay ağ ayrıntılarınızın kapsamlı bir listesine bakın,
engellenen içerik, güvenlik tehditleri ve daha fazlası.
Ev Otomasyonu
Güçlü otomasyon ve ses kontrol araçlarıyla hayatınızı kolaylaştırın.
*Şu anda sadece Deco M9 Plus için
Esnek Kısayol
Tek bir tıklama ile tüm cihazları telefonunuzdan veya tabletinizden esnek bir şekilde kontrol edin.
*Şu anda sadece Deco M9 Plus için
Ağınızı Koruyun
Dahili Antivirüs, kötü amaçlı web sitelerine karşı korunmanıza ve çevrimiçi ödemenizi korumanıza yardımcı olur.
*Sadece Deco M9 Plus, Deco P7 ve Deco M5 için
Cihazlarınıza Öncelik Verin
Hangi cihazın her zaman en hızlı bağlantıya sahip olacağını seçin
veya belirli bir süre için önceliği belirleyin.
Uygulama Önceliklerini Ayarlayın
Basit kontrollerle sizin için en önemli olan faaliyetler için daha fazla bant genişliği tahsis edin.
*Şu anda sadece Deco M9 Plus, Deco P7 ve Deco M5 için
Wi-Fi'yi Arkadaşlarınızla Paylaşın
Misafirler için ayrı Wi-Fi profilleri ayarlayın ve şifreyi
ile paylaşın çevrimiçi atlamalarını kolaylaştırmak.
Hızınızı Kontrol Edin
Run a speed test to ensure you're getting the internet speeds you're paying for.
View every device on your network and see how much bandwidth they're using.
Desteğimiz Her Zaman Arkanızda
Deco hakkında sorularınız mı var? Yardım her zaman sadece bir tık uzaklıktadır. Deco uygulamasında cevapları bulun ve sadece basit bir tıklama ile bizimle irtibata geçmekten çekinmeyin.
DESTEK
Notlar: Uygulama ara yüzleri ve işlevleri, uygulama sürümüne ve Deco modellerine göre biraz değişebilir.
DONANIM ÖZELLİKLERİ
Buton
1 reset button on the right
Dimensions
4.9 × 2.7 × 1.4 in (124 × 69 × 35 mm) (without plug)
Anten Tipi
2 internal dual-band antennas
KABLOSUZ ÖZELLİKLERİ
Kablosuz Standartlar
IEEE 802.11 ac/n/a 5 GHz, IEEE 802.11 b/g/n 2.4 GHz
Frekans
2.4 GHz and 5 GHz
Bağlantı Hızı
300 Mbps on 2.4 GHz867 Mbps on 5 GHz
İletim Gücü
FCC: <30 dBmCE: <20 dBm (2.4 GHz) <23 dBm (5 GHz)
Kablosuz Güvenlik
WPA-PSK/WPA2-PSK
Gelişmiş Fonksiyonlar
● Guest network● TP-Link Mesh Technology:Auto Path SelectionSelf-HealingAP SteeringBand Steering
YAZILIM ÖZELLİKLERİ
Quality of Service
WMM
IPv6
Support
WAN Türü
Dynamic IP/Static IP/PPPoE/L2TP/PPTP
Yönetim
Local Management, Remote Management
DHCP
Server, Client
Erişim Kontrolü
Blacklist
Firewall Güvenliği
SPI Firewall
Protokoller
Supports IPv4 and IPv6
Gelişmiş Özellikler
Parental ControlsQuality of Service
Gelişmiş Fonksiyonlar
Monthly ReportsAuto FW UpdateExpand Wi-Fi by adding more Deco units
Misafir Ağ
Support
APP
Easy setup via Deco App
DİĞERLERİ
Sertifika
CE, FCC, IC, NCC, BSMI, IDA, RCM, JPA, JRF, VCCI, KC, RoHS
Paket İçeriği
1 wall-plug add-on satellite (Deco M3W)1 quick installation guide
Smartphone/Tablet Requirements
iOS 9.0 or laterAndroid 4.3 or later
Ortam
Operating Temperature: 0℃~40℃ (32℉~104℉)Storage Temperature: -40℃~70℃ (-40℉~158℉)Operating Humidity: 10%~90% non-condensingStorage Humidity: 5%~90% non-condensing