Fast.
Stable.


Everywhere.
Mesh WiFi,
Better

WiFi.

Deco Mesh uses WiFi nodes that work together to cast stronger, more reliable WiFi throughout your whole home, so you never lose your connection as you move from room to room.1

Deco Mesh provides more reliable WiFi throughout your whole home.
Experience WiFi Like Never Before.
Are you ready for a new WiFi experience? Deco provides exceptional speed, coverage, and stability,
taking your experience to a whole new level.
Speed.

Deco automatically selects the best connection for your devices, ensuring the fastest speeds, always.

Speed.

Coverage.

Deco nodes seamlessly blanket your home in powerful WiFi so you are always connected, no matter its shape or size.

Coverage.

Stability.

With multiple WiFi nodes, Deco provides a more robust WiFi to ensure a No-Drop WiFi experience throughout your home.

Stability.
Mesh vs. Traditional Routers
Stop dropping your WiFi connection or switching networks as you move throughout your home with mesh.
Deco Mesh

Mesh routers work together so you can move freely from room to room on a single network and experience WiFi uninterrupted. Want more coverage? Simply add another Deco. It's just that easy!

Traditional Router & Range Extender

Range extenders can expand traditional routers' coverage, but typically at the cost of limited performance and switching between multiple networks throughout your home.
Simple. Easy. Yet Powerful.
Setup and manage your network anytime and anywhere on the friendly TP-Link Deco app.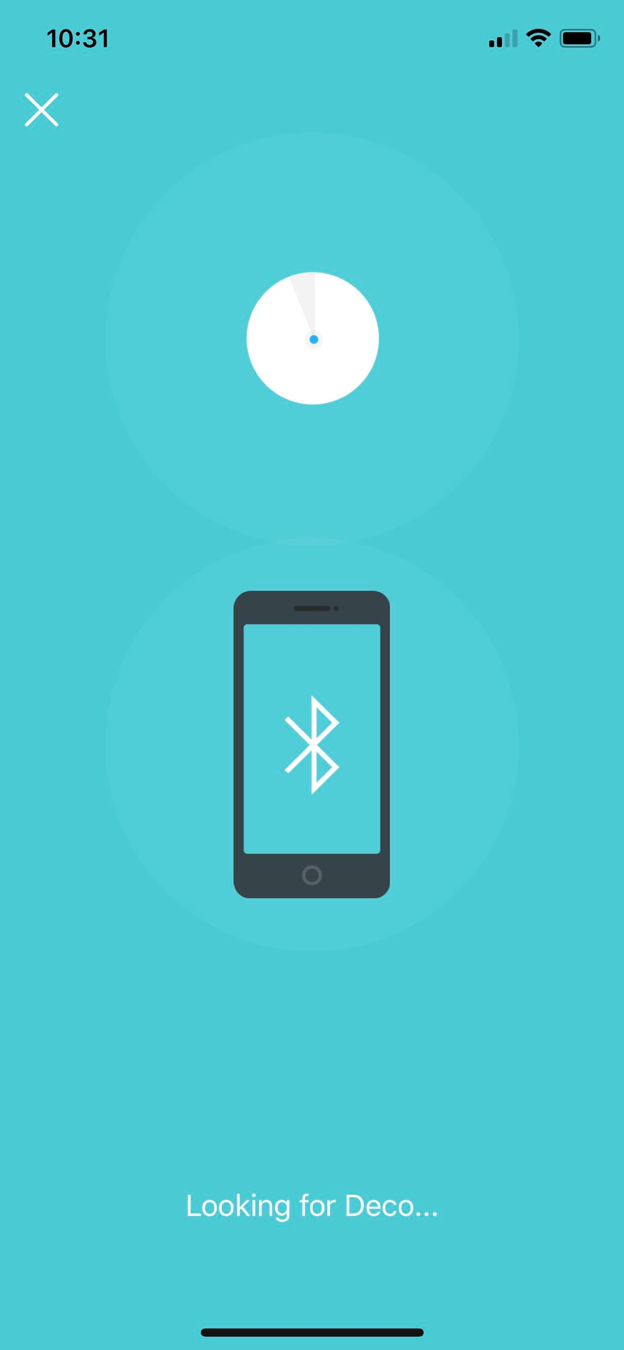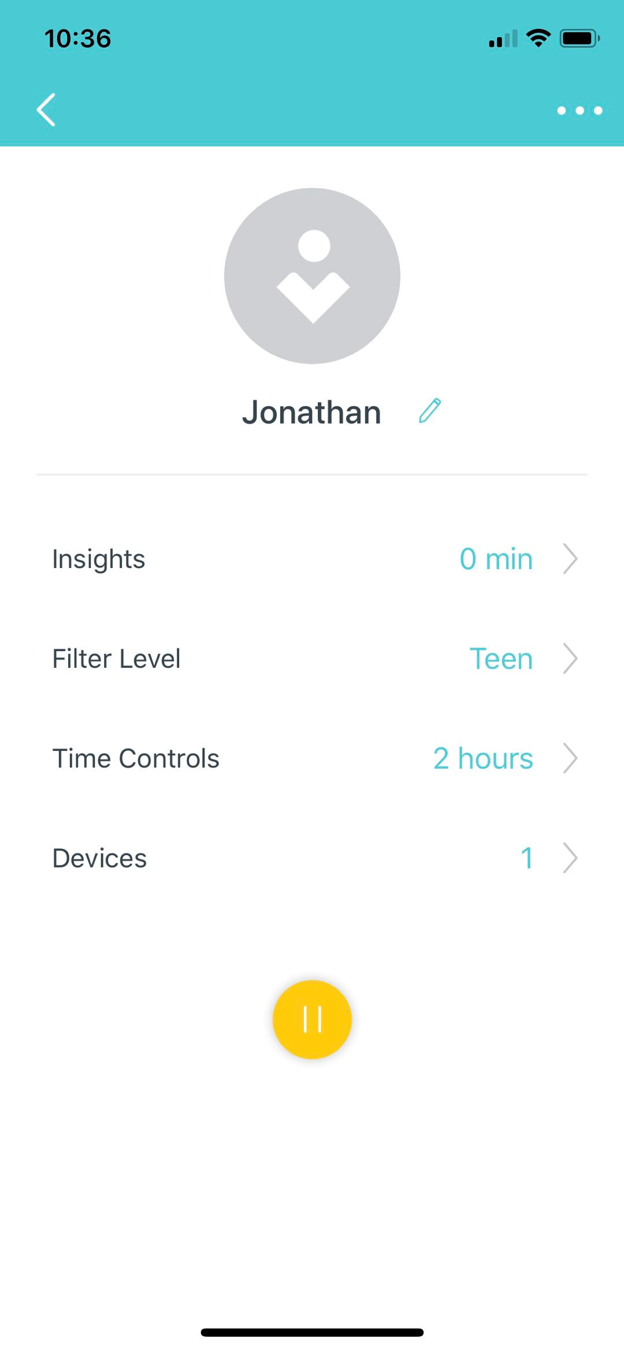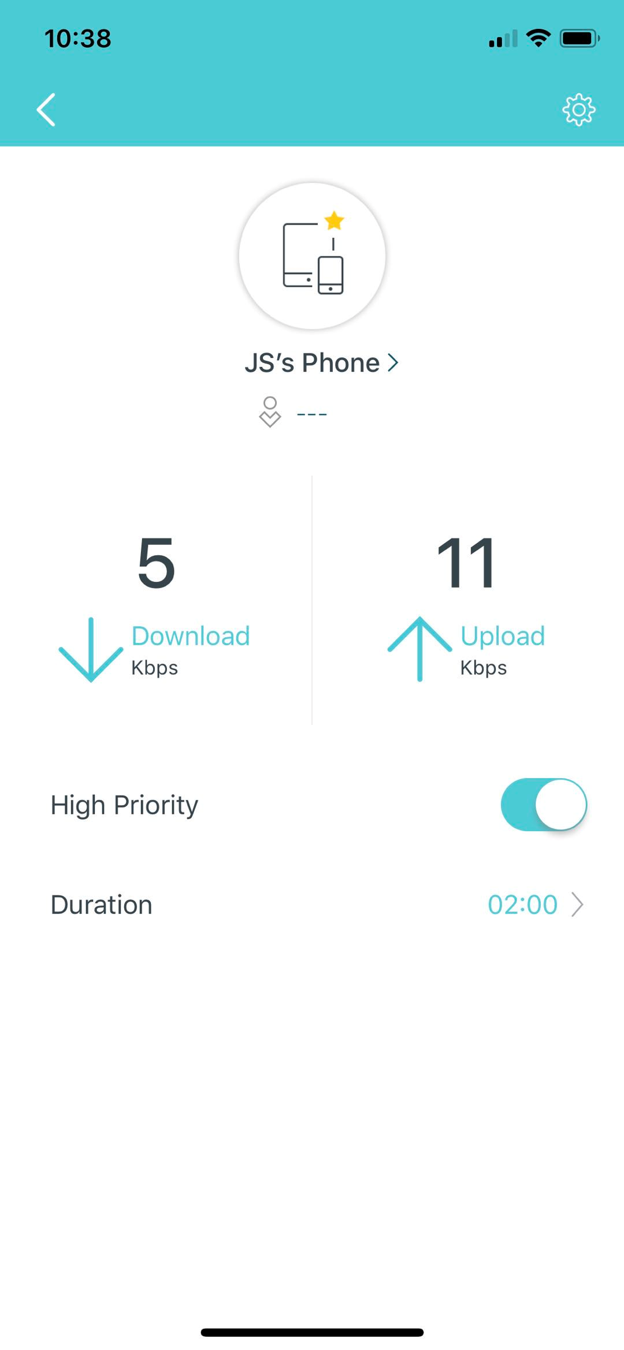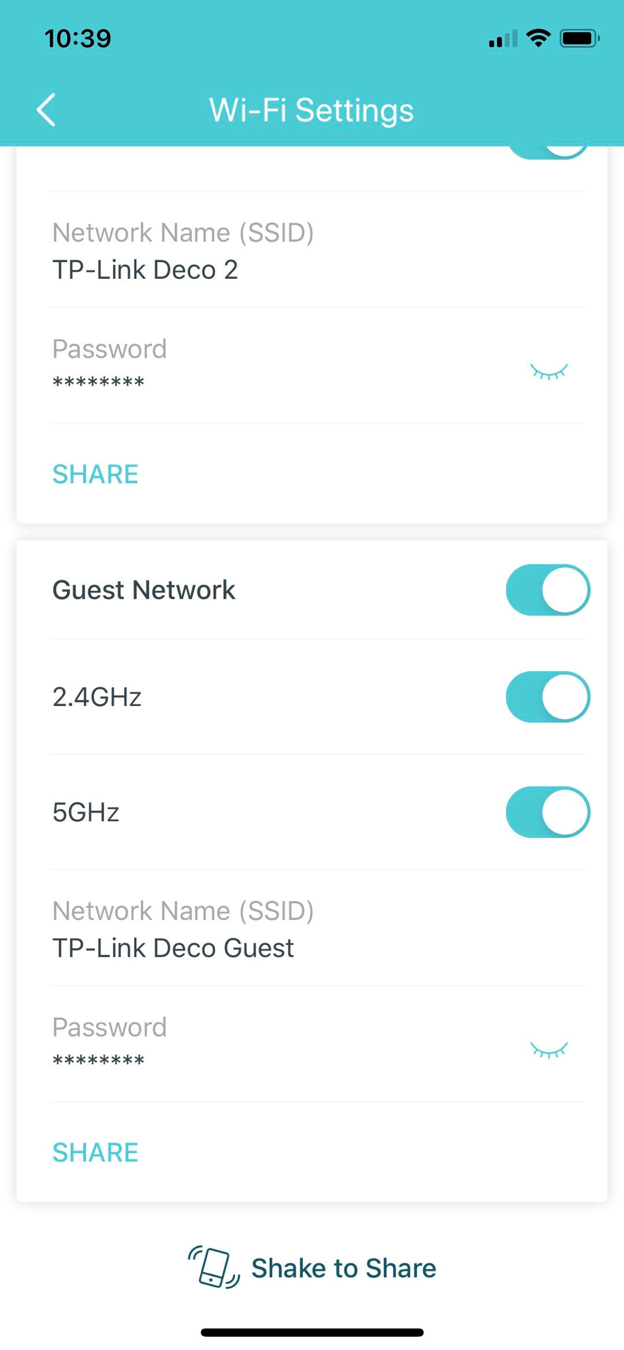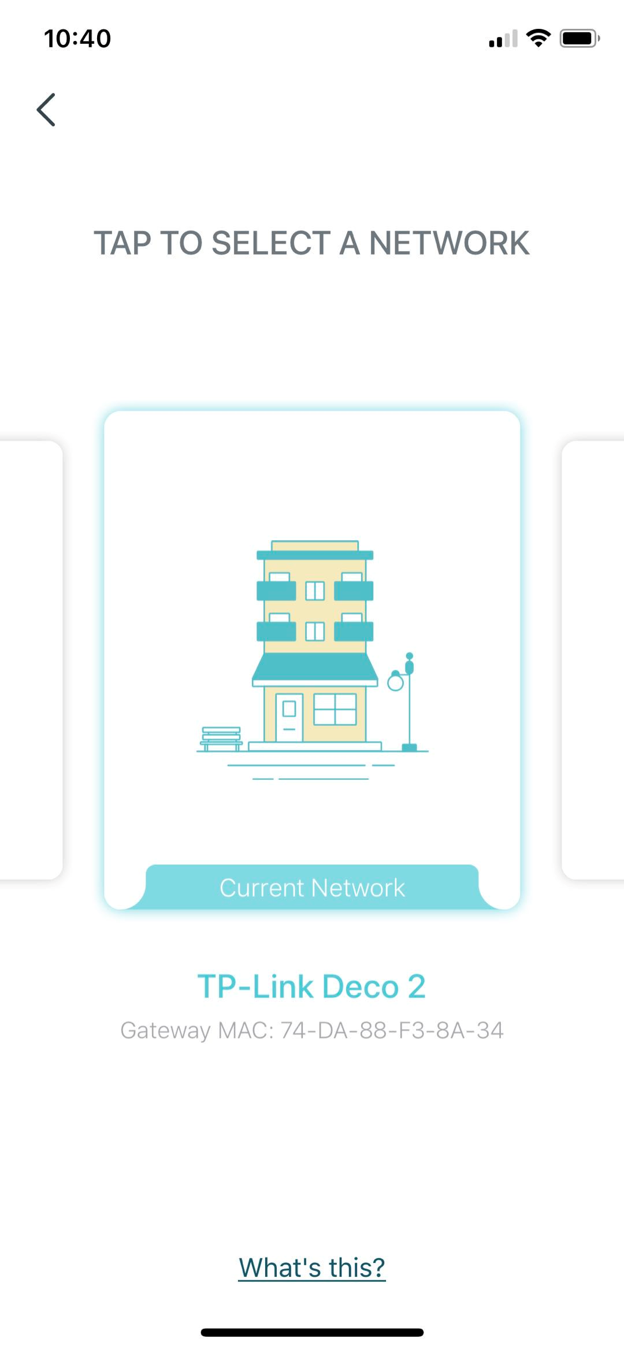 Easy Setup
In just three easy steps your entire home can be blanketed in strong and reliable WiFi.
Parental Control
Create custom user profiles to limit internet time, monitor usage, and block explicit content.
Device Prioritization
Boost speeds on your favorite devices when you need them.
Guest Network
Share your WiFi with family and friends.
Control from Anywhere
Manage your network, set up parental controls and more from wherever you are.
Total

Security.

Advanced WiFi encryption and over-the-air updates ensure your network is always secure while TP-Link's robust HomeCare™ security adds another layer of protection for your family.2
Experience New
Wi-Fi 6

with Deco.

Wi-Fi 6 technology takes mesh WiFi to a new level with faster speeds, more connected devices, and reduced lag for a superior WiFi experience.3

WiFi 6 is only available on select models.
What People Say About us
"The M5 is reliable and packs more useful features than most Wi-Fi systems in its price range."
- PC World
"An excellent Wi-Fi system, especially if security is key."
- CNET
"The TP-Link Deco M9 Plus Mesh Wi-Fi System is an excellent performer that offers a robust feature set."
- PCMag
"Attractive, Easy to Install Router Boosts Coverage Dramatically."
- Gary, an Amazon Verified Customer
Best Sellers
A few of our outstanding products for you to choose from.
Why

TP-Link

?

With over 24 years in the industry, we focus on providing customers superior value, ranking TP-Link the World's No. 1 supplier of WiFi devices.5
No. 1 in Customer Satisfaction

J.D. Power awarded TP-Link No. 1 in Customer Satisfaction for both 2017 and 2019 because of the company's initiative and commitment to providing the highest quality for the best value.6

Top Tier Quality

TP-Link's in-house integrated R&D, manufacturing, and strict quality control ensures only the highest standards while other brands outsource design and manufacturing to OEMs.

World's No. 1 Provider of WiFi Devices

TP-Link is the largest supplier of wireless routers serving hundreds of millions of people worldwide.5
Seamless roaming requires that clients need to support 802.11k/v/r and may require additional set up. Performance may vary depending on the client device.
TP-Link HomeCare is only available on select models. Please click "Learn More" for additional information on HomeCare and supported models.
Claims about 802.11ax Wi-Fi technology are based on comparisons of the expected maximum theoretical data rates for one spatial stream using 802.11ax at 160 MHz (1201 Mbps) as opposed to one spatial stream using 802.11ac at 80 MHz (433 Mbps) as documented in IEEE 802.11ax draft 3.0 spec and IEEE 802.11-2016 wireless standard specifications, and require the use of similarly configured 802.11ax wireless network routers. Use of 802.11ax Wi-Fi standard requires clients to also support the 802.11ax Wi-Fi standard.
Maximum wireless signal rates are the physical rates derived from IEEE Standard 802.11 specifications. Actual wireless data throughput, wireless coverage and number of connected devices are not guaranteed and will vary as a result of network conditions, client limitations, and environmental factors, including building materials, obstacles, volume and density of traffic, and client location.
According to latest published IDC Worldwide Quarterly WLAN Tracker Report, Q2 2018 Final Release.

TP-Link received the highest numerical score in the J.D. Power 2017 and 2019 U.S. Wireless Router Satisfaction Reports, of customers' satisfaction with wireless routers. Visit jdpower.com/awards for more information
A New Look For Great WiFi
Deco uses new mesh WiFi technology to deliver great WiFi in a way traditional routers and range extenders can't. Multiple units work together to provide fast, strong WiFi for everyone in the family.
Better Than Google
With over two decades in global networking, we know what it takes to make great WiFi. Which is why it's no surprise that Deco outperforms Google WiFi in both wireless range and speed.***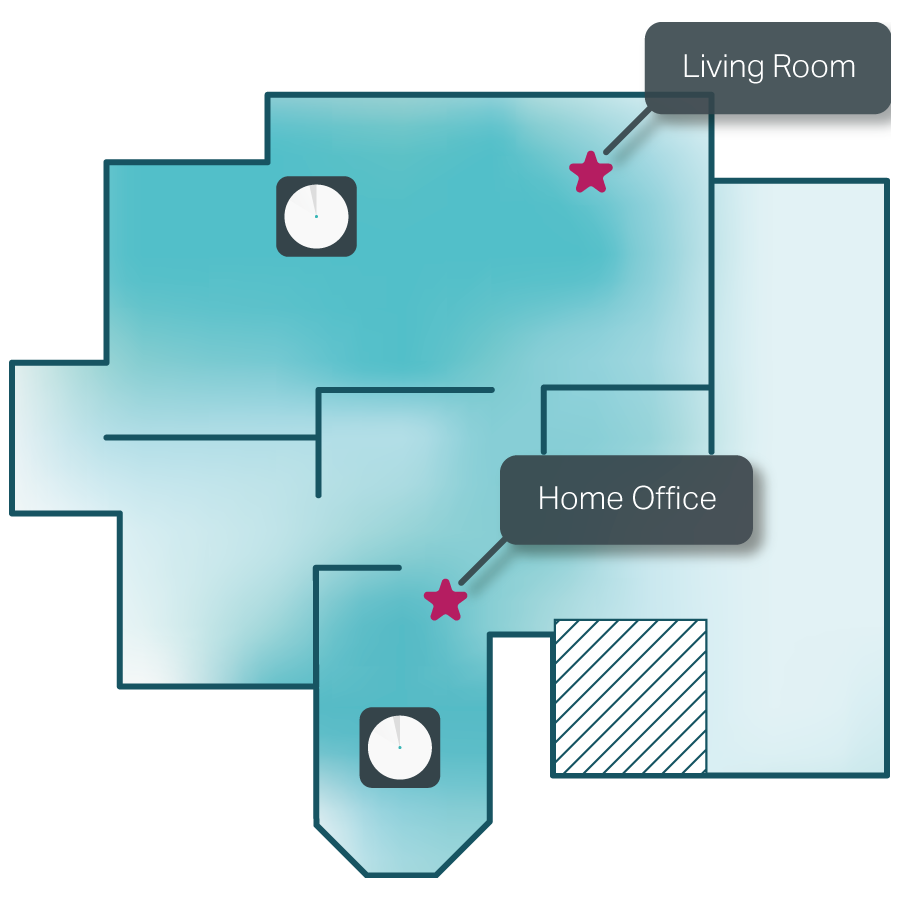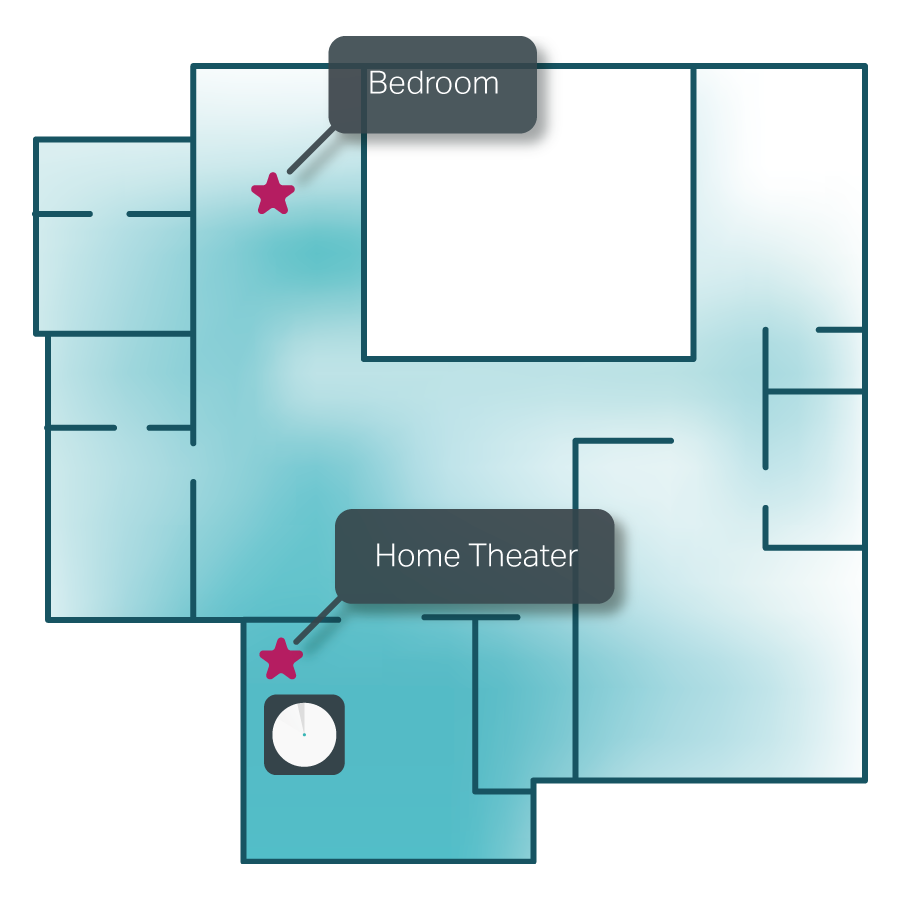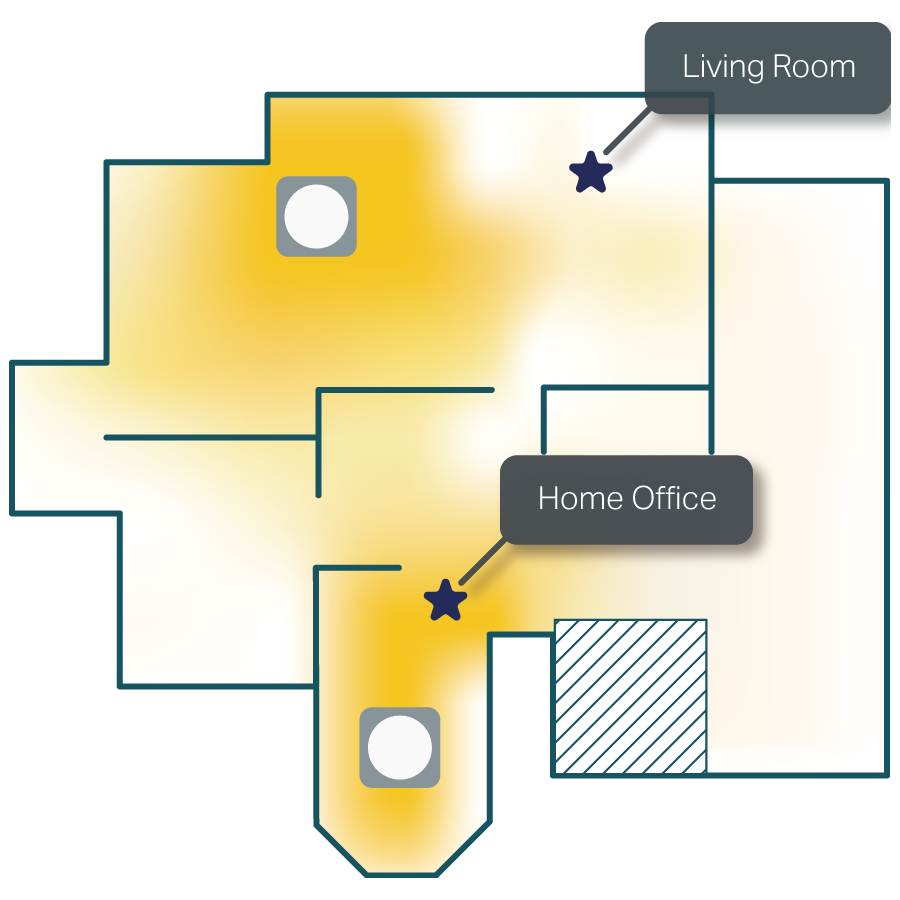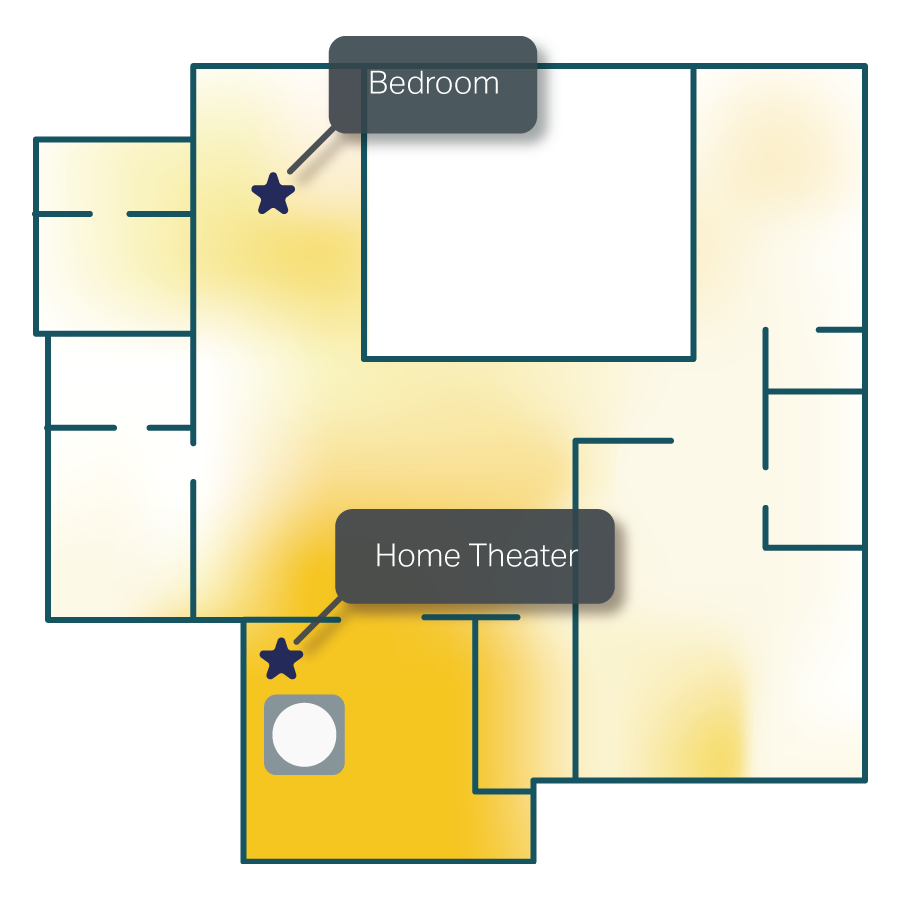 See the Stats
| Room | Deco M5 | Google WiFi |
| --- | --- | --- |
| Living Room | 334.91 Mbps | 173.86 Mbps |
| Home Office | 1004.76 Mbps | 795.11 Mbps |
| Bedroom | 394.60 Mbps | 307.50 Mbps |
| Home Theater | 608.80 Mbps | 365.62 Mbps |
1: According to a 2018 study by Allion USA in a 3,000 sq. ft. two-story house. Individual results may vary based on home building materials, house layout, network conditions, client limitations, and interference.
Deco Covers Every Home
Brick and cement. Floors and ceilings. Walls and hallways. All of them make it tough for WiFi to travel across your home. Deco units work together to move WiFi around the obstacles in your home and deliver complete coverage.
covers 3,800-5,500 square feet, 3-5 bedrooms*
Ranch-Style Home

Multi-Story Home

L-Shaped Home
covers 2,000-3,800 square feet, 2-4 bedrooms*
Apartment

Townhouse

One-Story Home
Which Deco WiFi System is right for you?
How large is your home in square feet?

How many floors does your home have?

From a bird's eye view, what shape is your home?
Based on your answers, we recommend:
Deco M5 1-Pack
Every house is unique, with different layouts, a variety of building materials and personalized arrangement of décor. This all can affect how WiFi travels in the home. With the Deco M5 1-Pack, say goodbye to dead spots and enjoy corner-to-corner coverage.
Click here to Restart
Based on your answers, we recommend:
Deco M5 2-Pack
Every house is unique, with different layouts, a variety of building materials and personalized arrangement of décor. This all can affect how WiFi travels in the home. With the Deco M5 2-Pack, say goodbye to dead spots and enjoy corner-to-corner coverage.
Click here to Restart
Based on your answers, we recommend:
Deco M5 3-Pack
Every house is unique, with different layouts, a variety of building materials and personalized arrangement of décor. This all can affect how WiFi travels in the home. With the Deco M5 3-Pack, say goodbye to dead spots and enjoy corner-to-corner coverage.
Click here to Restart
Stronger WiFi.
More Devices.
Deco provides better coverage and stronger signal than routers and range extenders. That's because each unit is a powerful router with a quad-core CPU and four antennas.
With multiple units working together seamlessly, a Deco system can connect more devices than a traditional router, supporting a mix of 100-plus smart home and WiFi devices.*
Mesh WiFi vs. Traditional WiFi:
Deco units deliver seamless coverage and connect your whole home.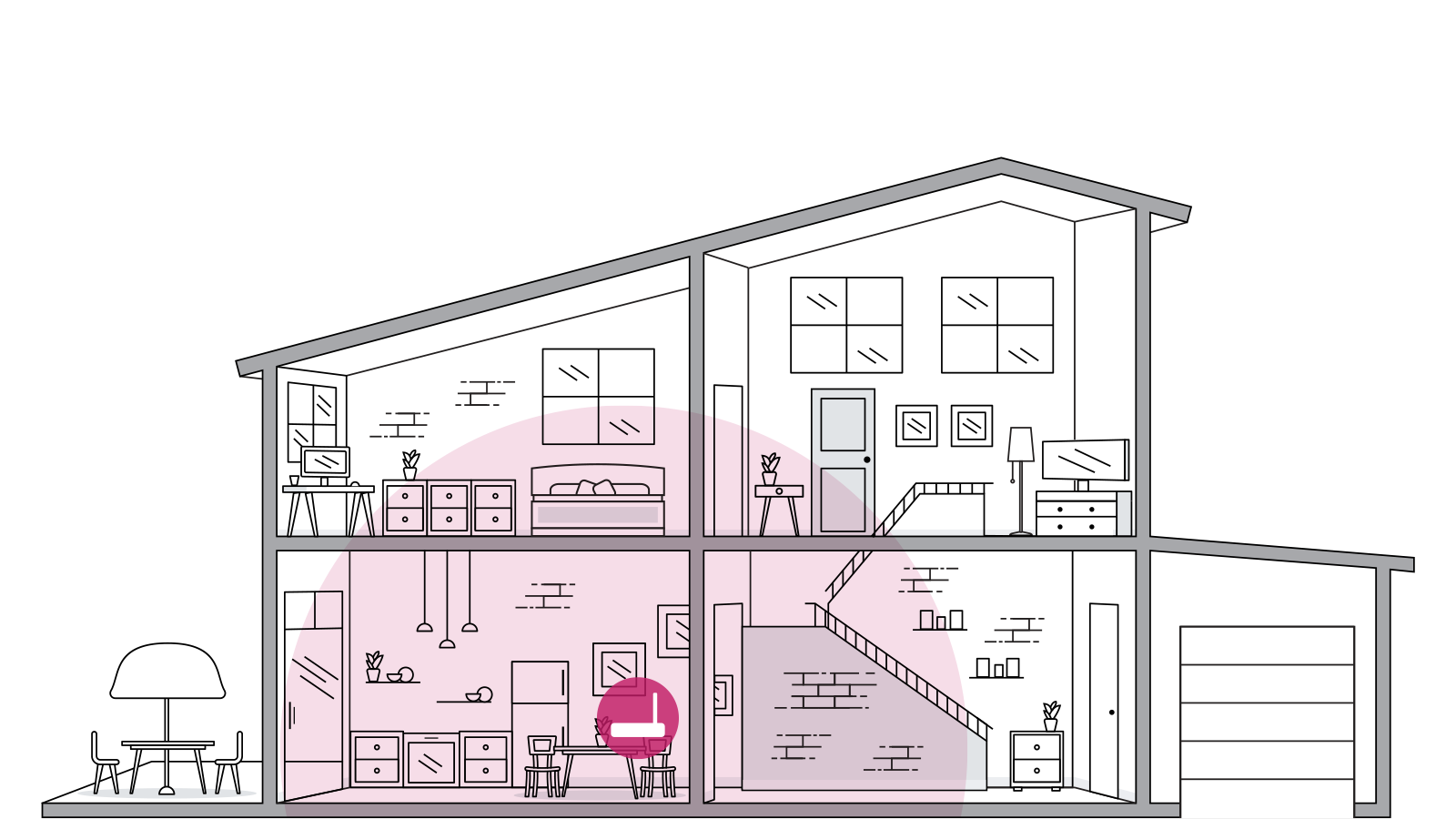 Mesh WiFi vs. Traditional WiFi:
Traditional routers have limited range and can't keep your whole home connected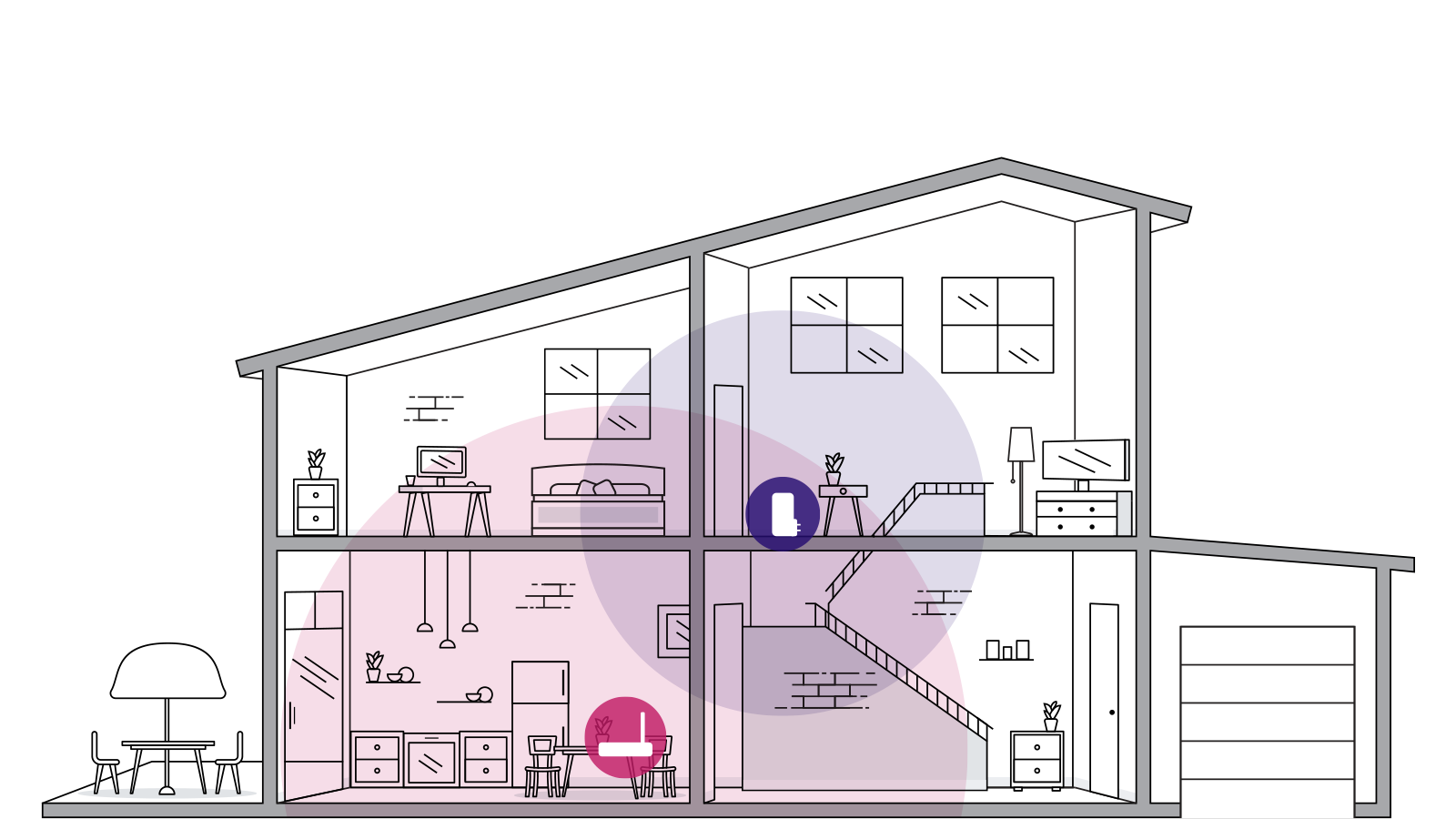 Mesh WiFi vs. Traditional WiFi:
Range extenders add coverage to your home but create separate networks.
one name, one password
All you need is one WiFi name and password for your entire Deco network. Walk around your home and stream music or video chat with friends as Deco automatically and intelligently keeps you connected.
Traditional WiFi

Deco Mesh
Mesh WiFi With Built-In Smarts
Adaptive Routing
Deco adapts as your WiFi needs change. Complex algorithms work behind the scenes to automatically and efficiently route data along the fastest path.
: main unit (connected to modem)

: connected unit
Self-Healing
Because Deco is a mesh system, it can use any route between the units to connect you to the internet. So, even if one of your Deco units loses power or is disrupted, Deco will adapt and reroute your traffic to keep you streaming and gaming.
A More secure wifi system
Hardware Security

Deco only gets better and more secure with firmware updates, and its firewall only allows approved packets onto your devices.

Advanced Encryption

Deco automatically encrypts every wireless connection using advanced WPA encryption, whether it's between each Deco unit or between Deco units and your WiFi devices.

Real-Time Antivirus

Deco automatically protects every device from viruses, malware, ransomware. That includes devices that don't normally have protection, like WiFi cameras and smart locks.5

Content Filtering

Create profiles and filter content using preset or customized lists while Deco automatically blocks malicious websites using a continuously updated database.
Comparison Chart
Part Number
Deco M5
Google WiFi
Eero
Automatically Updates Software
•
•
•
Standard Firewall Protection
•
•
•
WiFi Encryption (WPA2-PSK )
•
•
•
Comprehensive IoT Security
•
§
Blocks Malicious Sites
•
§
Prevents Intruders
•
§
Quarantines Infected Devices
•
§
Active Reporting and Insights
•
§
Family Profiles with Content Filters
•
§

§: Requires paid subscription

Note: Comparison was compiled based on product information available from product brochures/websites as of 3/1/2018. No actual testing was performed.
Easy Setup
Everything you need for great WiFi is included in the box and on the Deco app.
1. Download and open the Deco app.

2. Connect any Deco unit to your modem and plug it in.

3. Create your WiFi name and password.

4. Use the app to set up more units and enjoy great WiFi.
Simple Management
Deco makes it easy to manage your WiFi from anywhere, whether you're on the couch or at work.
Check In While Away

Check your WiFi while away to make sure smart devices like lights, thermostats and security cameras are online and running.

Remote Management

Adjust parental controls and other WiFi settings and provide access to family members so they can help, too.

Simple Updates

Receive notifications when updates are ready and choose the best time to install them to prevent interrupting your WiFi.
An Intuitive App Full of Features
Create Family Profiles
Create profiles and keep your family safe with content filters. View a list of visited sites, block the inappropriate ones and set internet time limits.
Set Bandwidth Priorities
Prioritize the devices and activities most important to you with simple bandwidth control settings.
Share WiFi with Friends
Set up separate WiFi for guests and share the password to make it easier for them to hop online.
Pause the Internet
Call a timeout on the WiFi during dinner and family game nights. Just tap a button to pause the internet for everyone in your home.
Keep Internet Fast
Run a speed test to ensure you're getting what you're paying for. See every device on your network plus how much bandwidth they're using.
From United States?
Bölgeniz için ürünler, etkinlikler ve hizmetler alın.