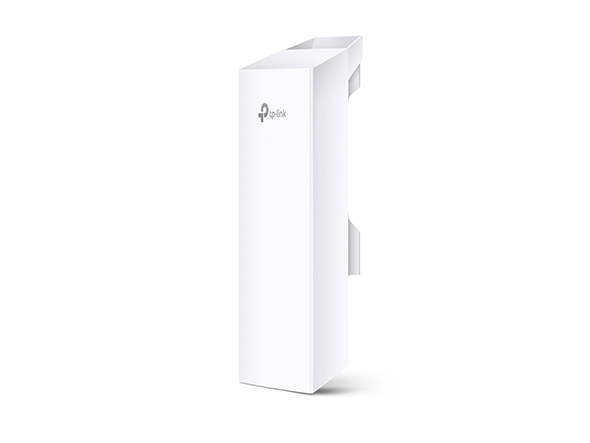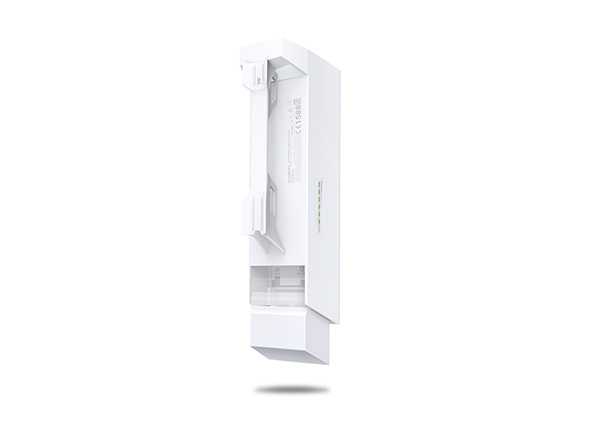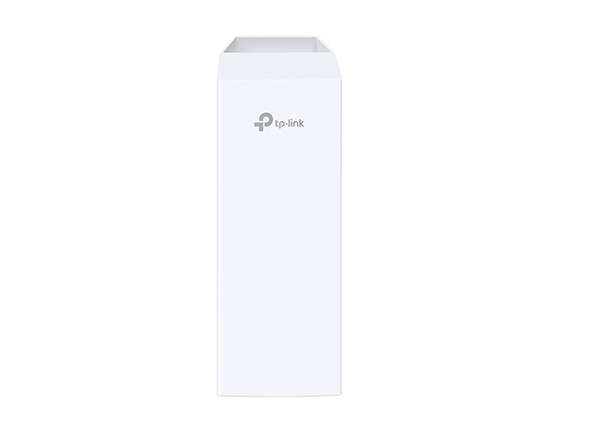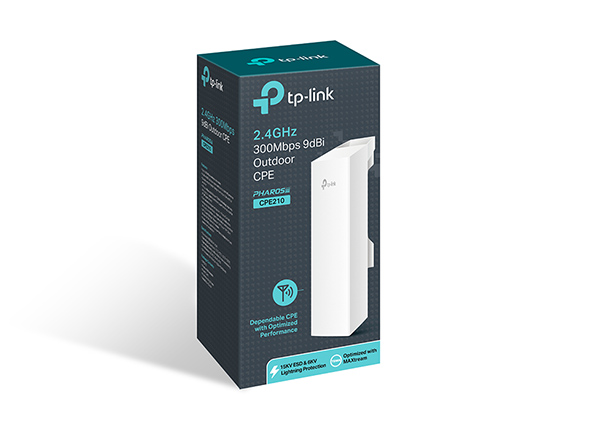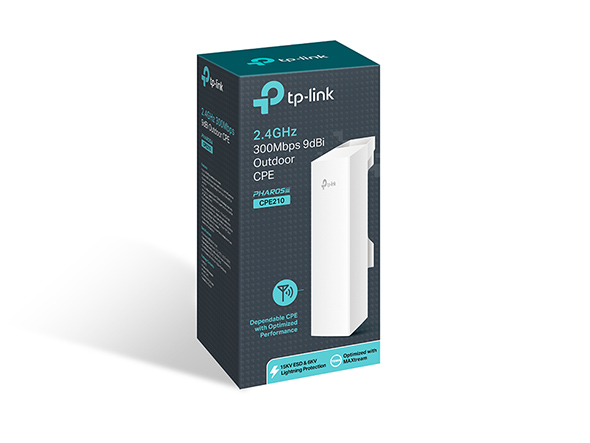 2.4GHz 300Mbps 9dBi Outdoor CPE
Built-in 9dBi 2x2 dual-polarized directional MIMO antenna
Adjustable transmission power from 0 to 27dBm/500mw
System-level optimizations for more than 5km long range wireless transmission
TP-LINK Pharos MAXtream TDMA (Time-Division-Multiple-Access) technology improves product performance in throughput, capacity and latency performance, ideal for PTMP applications
Centralized Management System – Pharos Control
AP / Client / AP Router / AP Client Router (WISP) operation modes
Passive PoE Adapter supports up to 60 meter (200 feet) Power over Ethernet deployment and allows the device to be reset remotely
2.4GHz 300Mbps 9dBi Outdoor CPE
TP-Link's 2.4GHz 300Mbps 9dBi Outdoor CPE, the CPE210 is dedicated to cost effective solutions for outdoor wireless networking applications. With its centralized management application, it is flexible and ideal for point-to-point, point-to-multipoint and outdoor Wi-Fi coverage applications. Professional performance, coupled with user-friendly design, makes CPE210 an ideal choice for both business and home users.
Enterprise Hardware
With Qualcomm Atheros level chipsets, high gain antennas and high
quality material, specially designed enclosure, and PoE power supply, CPE210 is
specially designed for outdoor use and can operate flawlessly in almost any climate,
with operating temperatures ranging from -40℃ (-40℉) to +70 ℃ (158℉).
Qualcomm Atheros 650MHz CPU
High power Tx and high sensitivity Rx radio front-end design
Advanced Antenna System
Built-in High Gain Dual-Polarized Antenna
Dedicated metal reflector ensures higher gain
and lower noise interference
Horizontal Elevation
Horizontal Azimuth
Vertical Elevation
Vertical Azimuth
5km+ Wireless Data Transmission
Specially designed for outdoor uses, ideal for long distance wireless data transmission over 5km+, tested in the field.
5km+
TP-Link MAXtream TDMA Technology
As network scale increases, wireless competition and collisions among CPEs and base stations will be
so enormous that the real throughput of the network will drop, resulting in a serious impact on end-user
experience. To mitigate these effects, the CPE210 uses MAXtream TDMA Technology.
Total Throughput*
MAXtream TDMA Mode
802.11 CSMA Mode
Real throughput depends on the actual application environment.
Quantity of Clients
Pharos Control – Centralized Management System
CPE210 also comes equipped with centralized management software that helps users easily
manage all the devices in their network from a single PC - Pharos Control. Functions like device discovery,
status monitoring, firmware upgrading, and network maintenance can be managed using Pharos Control.
PharOS
User-friendly web-based
management system allows
professionals to do more specific
configurations.
2.4GHz 300Mbps 9dBi Outdoor CPE CPE210
AP / Client / AP Router /
AP Client Router (WISP) operation modes

Weather Proof Enclosure

Passive PoE Adapter
Built-in 9dBi Dual-polarized
Directional Antenna

6000V Lightning Protection

15KV ESD Protection
Asansörler için Kablosuz Ağ

TP-Link offers wireless point to point link delivering up to 300 Mbps throughput. The point to point link provides wireless coverage to the entire shaft, and delivers network to the elevator car, connecting the surveillance cameras or digital signage. So that real time video can be recorded to a DVR without hard wiring coax cable directly from the camera to the recorder.

Easy, Flexible Installation
Stable Connections at High-Speeds
Ideal for Elevator Camera
No Complex Cabling
PoE Support

Uzak Mesafe İletim için

Pharos Series devices use wireless technology to provide flexible, cost-effective solutions for outdoor surveillance applications.

Easy and Flexible Installation without Long-Range Cables
Stable Wireless Connections in Outdoor Environments
Ideal for Wireless Surveillance for Remote Sites
Peru WISP

TP-Link Helps WISP to Provide Reliable Wireless Connectivity in Peru

Peru WISP

TP-Link Helps WISP to Provide Reliable Wireless Connectivity in Peru

"The performance of CPE was better than expected, working stable even with -85 dBm of received power." —David Grillo, Engineer, Kroton

ADINET WISP in Indonesia

TP-Link Helps Local WISP Provide Long Distance Wireless Connectivity in Indonesia

ADINET WISP in Indonesia

TP-Link Helps Local WISP Provide Long Distance Wireless Connectivity in Indonesia

"Amazing! The performance of the Pharos Wireless Broadband Solution has exceeded even our wildest expectations." —Bagus Prakoso, Owner of ADINET
DONANIM ÖZELLİKLERİ
İşlemci
Qualcomm Atheros 560MHz CPU, MIPS 74Kc
Bellek
64MB DDR2 RAM, 8MB Flash
Arabirim
1 10/100Mbps Shielded Ethernet Port (LAN0,Passive PoE in)1 Grounding Terminal1 Reset Button
Güç Kaynağı
Passive Power over Ethernet via LAN0 (+4,5pins; -7,8pins)
Voltage range: 16-27VDC
Güç Tüketimi
10.5 Watts Max
Note: When deployed using Passive PoE, the power drawn from the power source will be higher by some amount depending on the length of the connecting cable.
Boyutlar ( W X D X H )
224 x 79 x 60 mm
Anten Tipi
Built-in 9dBi 2x2 Dual-polarized Directional AntennaBeam Width: 65° (H-Plane) / 40° (E-Plane)Note: For more details, please refer to datasheet
Koruma
15KV ESD Protection
6KV Lightning Protection
Muhafaza
Outdoor ASA stabilized plastic material
IPX5 waterproof Certification
KABLOSUZ ÖZELLİKLERİ
Kablosuz Standartlar
IEEE 802.11b/g/n (with Pharos MAXtream disabled)
Tescilli Protokol
TDMA Mode (with Pharos MAXtream enabled)
Kablosuz Hızı
Up to 300Mbps (40MHz,Dynamic)
Up to 144.4Mbps (20MHz,Dynamic)
Up to 72.2Mbps (10MHz,Dynamic)
Up to 36.1Mbps (5MHz,Dynamic)
Frekans
2.4~2.483GHz
Note: Available operating frequency may vary depending on the limitations of the countries or regions in which the device is used.
İletim Gücü
27dBm/500mw (Adjustable power by 1dBm)
Note: Maximum transmission power may vary across different channels depending on the limitations of the countries or regions in which the device is used.
YAZILIM ÖZELLİKLERİ
Kablosuz Konfigürasyonlar
Pharos MAXtream TDMA Technology
802.11b/g/n Modes
Selectable Channel Width: 5/10/20/40MHz
Automatic Channel Selection
Transmission Power Control
Dynamic Frequency Selection (DFS)
WDS Enable/Disable
Security: WPA/WPA2, WPA-PSK/WPA2-PSK (AES/TKIP) Encryption, 64/128/152-bit WEP Encryption
SSID Broadcast Enable/Disable
Multi-SSID with VLAN Tagging (AP mode only)
Distance/ACK Timeout Setting
Wireless MAC Address Filter
Wireless Advanced:
> Beacon Interval/RTS Threshold/Fragmentation
>Threshold/DTIM Interval/AP Isolation/Short GI/Wi-Fi Multimedia
Yönetim
Discovery and Remote Management via Pharos Control application
HTTP/HTTPS Web-based management
System Log
SNMP Agent(v2c)
Ping Watch Dog
Dynamic DDNS
SSH Server
Sistem Araçları
Wireless Signal Quality Indicators:
Signal Strength/Noise/Transmit CCQ/CPU/Memory
Monitors: Throughput/Stations/Interfaces/ARP/Routes/WAN/DHCP
Spectrum Analyzer
Speed Test
Ping
Traceroute
Sistem Düzeyindeki Optimizasyonlar
Optimized IGMP Snooping/Proxy for multicast applications
Hardware watch dog
POE ADAPTÖR ÖZELLİKLERİ
Boyutlar (H X W X D)
110*57*33.5mm
Arayüzler
1 AC Jack with Earth Ground1 10/100Mbps Shielded Ethernet Port (Power + Data)1 10/100Mbps Shielded Ethernet Port (Data)
Buton
Remote Reset Button
Güç Durum LEDleri
Green
Giriş
100-240VAC, 50/60Hz
Çıkış
24VDC, 0.6A Max+4, 5pins; -7, 8pins. (Support up to 60m Power over Ethernet)
Verimlilik
>80%
Sertifikalar
CE/FCC/UL/IC/GS/PSB/C-tick/SAA/S-Mark/KC-mark
DİĞERLERİ
Sertifika
CE, FCC, RoHS, IPX5
Paket İçeriği
Outdoor Wireless CPE24V 0.6A Passive PoE AdapterPole Mounting StrapsAC Power CordInstallation Guide
Sistem Gereksinimleri
Microsoft Windows 98SE, NT, 2000, XP, Vista™ or Windows 10, Windows 8, Windows 7, MAC OS, NetWare, UNIX or Linux.
Note: We recommend you to use one of following Web browsers for an improved user experience: Google Chrome, Safari, and Firefox. IE browsers are not recommended.
Ortam
Operating Temperature: -40℃~70℃ (-40℉~158℉)Storage Temperature: -40℃~70℃ (-40℉~158℉)Operating Humidity: 10%~90% non-condensingStorage Humidity: 5%~95% non-condensing
*Maximum wireless transmission rates are the physical rates derived from IEEE Standard 802.11 specifications. Range and coverage specifications along with the number of connected devices were defined according to test results under normal usage conditions. Actual wireless transmission rate, wireless coverage, and number of connected devices are not guaranteed, and will vary as a result of 1) environmental factors, including building materials, physical objects and obstacles, 2) network conditions, including local interference, volume and density of traffic, product location, network complexity, and network overhead and 3) client limitations, including rated performance, location, connection quality, and client condition.
*Protection against lightning and electro-static discharge may be achieved through proper product setup, grounding and cable shielding. Refer to the instruction manual and consult an IT professional to assist with setting up this product.
*Power supply distances are based on test results under normal usage conditions. Actual power supply distance will vary as a result of 1) AP status, including transmit power, connected devices and network traffic, 2) cable properties, including type and texture and 3) environmental factors, which include temperature and humidity.
AbonelikTP-Link, gizliliğinizi ciddiye alır. TP-Link'in gizlilik uygulamaları hakkında daha fazla ayrıntı için bkz. TP-Link's Privacy Policy.
From United States?
Check products and services for your region.