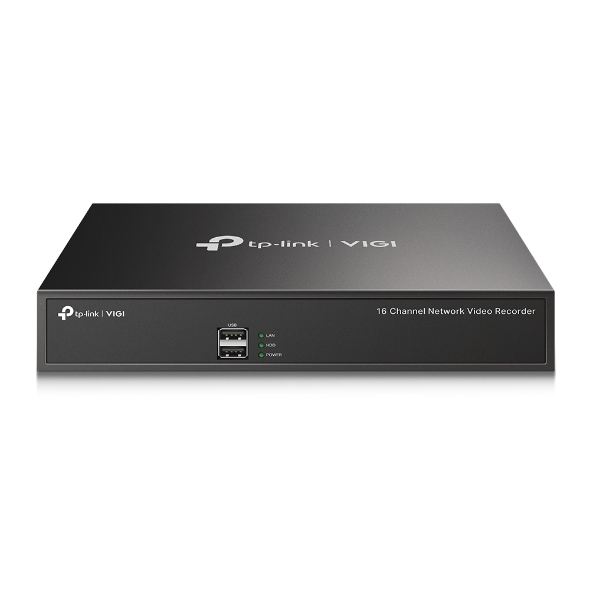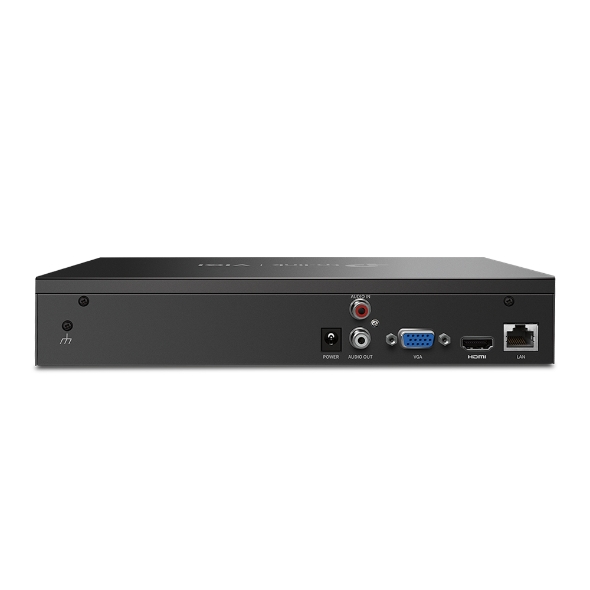 VIGI 16 Channel Network Video Recorder
24/7 Continuous Recording: บันทึกข้อมูลจากกล้องที่เชื่อมต่อได้สูงถึง 10 TB เพื่อเก็บรักษาข้อมูลให้สามารถเข้าถึงข้อมูลได้อย่างสะดวกสบายและรวดเร็ว
16-Channel Real-Time Live View: แสดงผลภาพคมชัดสูงถึง 8 ล้านพิกเซล และสามารถแสดงผลภาพจากกล้องได้พร้อมกันถึง 16 ช่องเพื่อให้คุณสามารถสอดส่องได้ทุกรายละเอียดจากทุกมุม
Quick Lookup and Playback: สามารถค้นหาเหตุการณ์ได้ง่าย จากช่วงเวลา ประเภทของเหตุการณ์ และแท็กข้อมูล สามารถเล่นภาพย้อนหลังจากกล้องหลายตัวได้พร้อมกันเพื่อความรวดเร็วในการตรวจสอบ
Remote Monitoring: ใช้งานร่วมกับแอปฯ VIGI ที่สร้างขึ้นเพื่อการตรวจตราจากระยะไกล ที่ใช้งานง่ายและสะดวกสบาย
H.265+: ไม่ต้องใช้งานแบนด์วิธเพิ่มเติม กล้องของคุณจะส่งข้อมูลวิดีโอที่คมชัดและผ่านการบีบอัดเพื่อลดพื้นที่จัดเก็บข้อมูล ลดการใช้งานเครือข่าย และประหยัดค่าใช้จ่ายในการเก็บรักษาข้อมูล โดยไม่ลดคุณภาพของไฟล์
ONVIF Ensure Compatibility*: ใช้งานง่าย เพียงเพิ่ม IPCs ของอุปกรณ์ VIGI และแบรนด์อื่น ๆ เพื่อสร้างเครือข่ายระบบรักษาความปลอดภัยที่ทรงพลัง โดยไม่มีอุปสรรคเรื่องความเข้ากันได้ของอุปกรณ์
1 HDD Interface (up to 10 TB)†: บันทึกข้อมูลได้สูงสุด 10 TB (บันทึกวิดีโอต่อเนื่องนาน 720 วัน△) ผ่านฮาร์ดดิสก์แบบ SATA เพื่อเก็บรักษาข้อมูลให้ปลอดภัยไว้กับคุณ
Two-Way Audio: รองรับระบบอินเตอร์คอม เพื่อการใช้งานระบบสื่อสารด้วยเสียง 2 ทิศทาง ให้คุณพูดคุยโต้ตอบกับผู้ที่อยู่ในสถานที่จากที่ใดก็ได้ ช่วยให้ง่ายต่อการจัดการ
Security Never Shuts Down
VIGI NVR1016H 16 Channel Network Video Recorder
24/7 Recording

16-Channel Live View

Quick Lookup&Playback

Remote Monitoring

Optional
Output Interface

ONVIF Ensures
Compatibility

Massive HDD
(1 up to 10 TB)†

Smart Video Coding
VIGI NVR Introduction
The VIGI network video recorder coordinates with camera systems to help you view, store, and playback videos.
AUDIO IN and AUDIO OUT for Two-Way Audio
HDMI and VGA Ports for Video Output
LAN Port for Ethernet Connection
Two USB Ports for Mouse, Keyboard, or Mobile Hard Disk Connection‡
Security for every hour and every day.
24/7 Continuous Recording
Stores up to 10 TB of footage from connected cameras to secure your data for quick, convenient access.
10 TB
524 Days△
Storage Days
Every angle all on one screen.
16-Channel Real-Time Live View
Sharp image definition up to 8MP and a 16-channel display ensures you capture every detail, from every angle.
Reviewing footage is faster than ever.
Quick Lookup&Playback
Find the target footage easily by date, event types, and tags. Replay with variable playback speeds to quickly review footage. 
Smart Playback Modes
Normal/Event/Tag Playback
Easy to Search Footage
Filter by channel/time/tag/event type
Practical Tools
Variable playback speeds, smart
playback rules, quick edit&export and more.
57.5%
Gap**
50%
Gap**
15% Gap**
H.265+
H.265
H.264
Video Coding Technology
More Compression. More Savings. More Quality.
Without using any extra bandwidth, your cameras transmit compressed crystal-clear video to save disk space, ease network loads, and reduce monitoring costs without sacrificing image quality.
No need to check long compatibility lists.
ONVIF Ensures Compatibility
Easily add IPCs from VIGI and other brands to establish a powerful and varied network thanks to barrier-free compatibility.*

Up to 524 days of footage stored locally.
1 HDD (up to 10 TB)
Stores up to 10 TB ( 524 days of video) on a SATA hard drive, keeping your data storage secured locally.
Greet your visitors before they enter.
Two-Way Audio
With voice intercom support, carry two-way conversations while watching your feed from anywhere. Suitable for management.
More bandwidth for more cameras.
80 Mbps Video Access Bandwidth
High video access bandwidth ensures your NVR manages more cameras with high resolution.
Based on laboratory testing using VIGI cameras, VIGI NVR can manage up to 16× 4MP cameras.
Manage everything with one.
Run your business with peace of mind.
The VIGI professional surveillance system by TP-Link is dedicated to protecting the business you've worked hard to build—whenever, wherever. Our outstanding functions, reliable quality guarantees, and simplified installation work together to ensure your business stays safe and sound.
DECODING
Decoding Format
H.265+/H.265/ H.264+/H.264
Live View/Playback Resolution
8 MP/5 MP/ 4 MP/3 MP/1080p/UXGA/720p/VGA/4CIF/DCIF/2CIF/CIF/QCIF
Capability
2-ch @ 8MP, 4-ch @ 4MP, 8-ch @ 2MP
NETWORK
Protocol
TCP/IP, DHCP, DNS, NTP, UPnP
Incoming Bandwith
80 Mbps
Outgoing Bandwidth
60 Mbps
HARD DISK
SATA
1 SATA Interface
Capacity
Up to 10 TB
INTERFACES
Network Interface
1 RJ-45 10/100 Mbps Self-Adaptive Ethernet Interface
USB Interface
2× USB 2.0
GENERAL
Operating Temperature
-10–55 °C
Weight
578.5 g
Package Contents
VIGI Network Video RecorderPower AdapterHDD ScrewsMouseQuick Installation Guide
Dimensions( W X D X H )
246.2 × 148.2 × 45 mm
External Power Supply
DC 12V/1.5A
Power Consumption
4.25 W (without disk)
VIDEO/IMAGE
Synchronous Playback
16-Channel
Video Input
16-Channel IP Video Input, up to 8 MP Resolution
Recording Resolution
8 MP/5 MP/ 4 MP/3 MP/1080p/UXGA /720p/VGA/4CIF/DCIF/2CIF/CIF/QCIF
HDMI Output Resolution
1 Channel, Resolution: 3840x2160/30Hz,1920x1080/60Hz,1680x1050/60Hz, 1440x900/60Hz, 1280x1024/60Hz,1280x720/60Hz
VGA Output Resolution
1 Channel, Resolution: 1920x1080/60Hz,1680x1050/60Hz,1440x900/60Hz, 1280x1024/60Hz, 1280x720/60Hz
†HDD is not included.
‡A hard disk drive (not included) must be installed for operation. Some devices may be incompatible, such as a wireless mouse.
△ Calculations based on laboratory testing using a 3MP VIGI camera. Actual performance may vary according to the amount of activity recorded, resolution, and other variables.
*Some features may operate sub-optimally due to compatibility issues. For best performance, we recommend using VIGI NVR with VIGI cameras.
From United States?
Get products, events and services for your region.