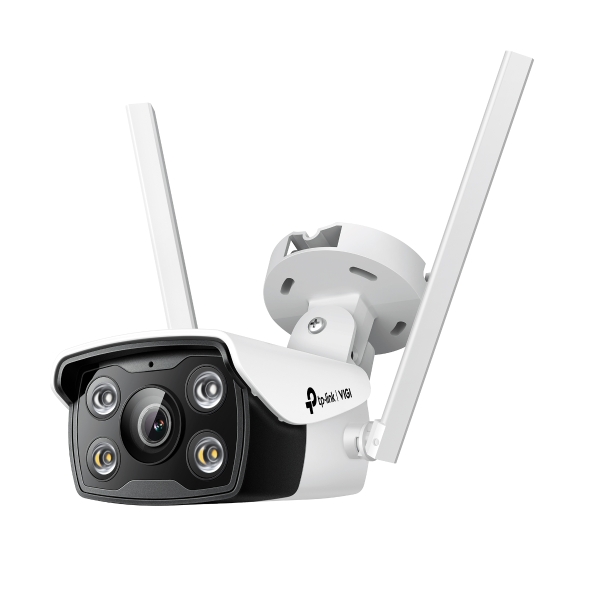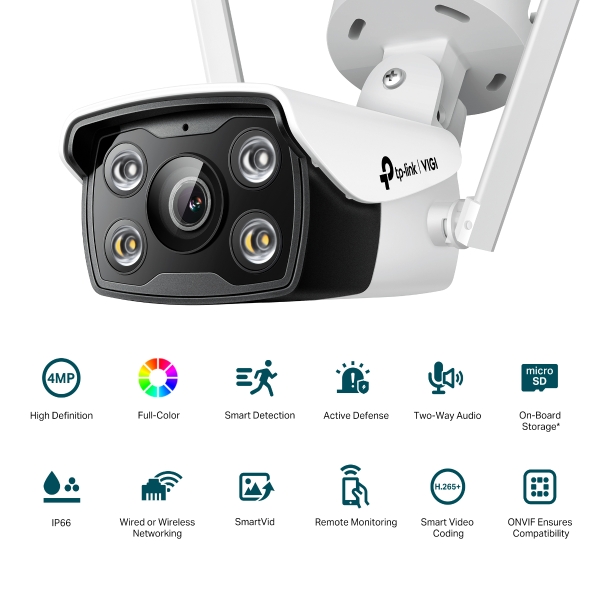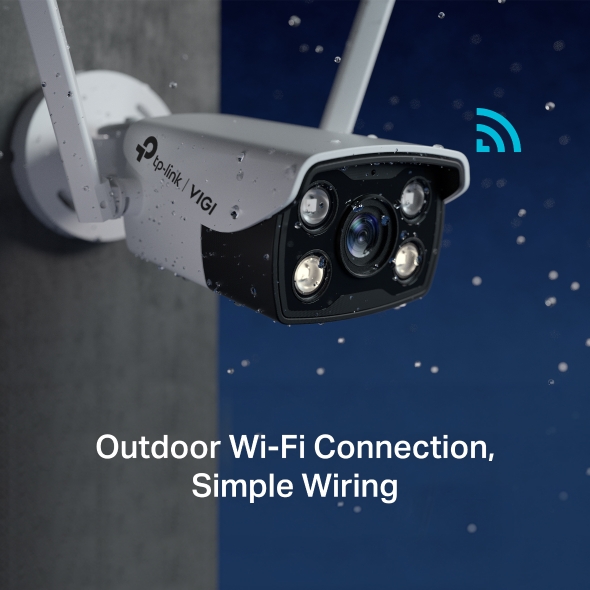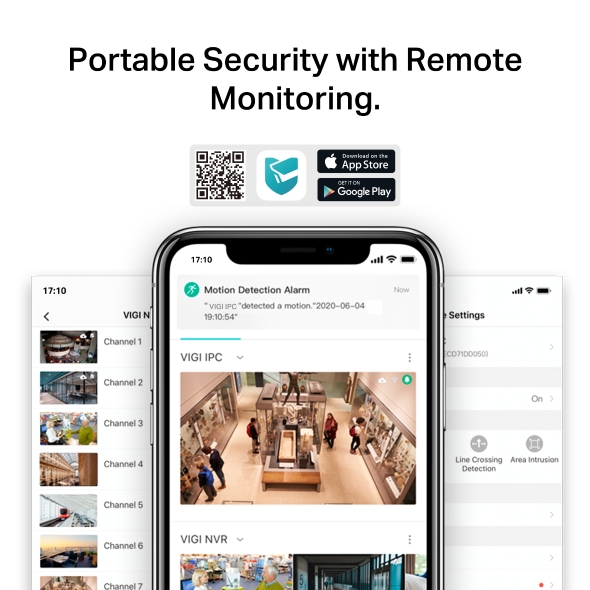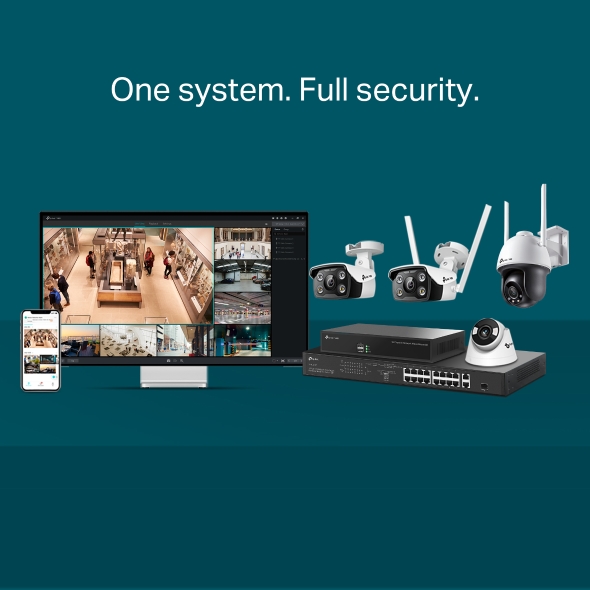 กล้องวงจรปิด VIGI 4MP Outdoor Full-Color Wi-Fi Bullet Network Camera
ความละเอียดของภาพ 4MP High Definition คุณภาพคมชัด เก็บทุกรายละเอียดของภาพได้สมบูรณ์
ภาพสี 24 ชั่วโมง เก็บทุกรายละเอียดสีของภาพ แม้ในที่มืดสนิท ผ่านเซ็นเซอร์ความไวสูงและ LED สปอตไลท์ที่รวมอยู่ด้วย
มาตรฐานกันน้ำ กันฝุ่น IP66 ที่เชื่อถือได้เพื่อมอบประสิทธิภาพ การติดตั้งพื้นที่กลางแจ้งได้อย่างมั่นใจในคุณภาพ
Smart Detection การตรวจจับอัจฉริยะ (การตรวจจับของมนุษย์ การตรวจจับการเคลื่อนไหว การบุกรุกพื้นที่ การข้ามเส้น ตรวจจับการบดบังภาพจากกล้อง): รับการแจ้งเตือนผ่านแอปพลิเคชั่น และตรวจสอบฟีดเมื่อมีคนข้ามเขต เข้าสู่พื้นที่ที่คุณกำหนดไว้ หรือการกีดขวางหน้ากล้อง
H.265+ การบันทึกไฟล์วิดีโอด้วยคุณภาพที่คมชัด โดยไม่ต้องใช้แบนด์วิดท์เพิ่มเติม กล้องของคุณจะส่งวิดีโอที่บีบอัดให้คมชัดเพื่อประหยัดพื้นที่ดิสก์ ลดภาระการโหลดของเครือข่าย โดยไม่ทำให้คุณภาพของภาพลดลง
VIGI App ตั้งค่าและจัดการ ดูแลความปลอดภัยจากสมาร์ทโฟนของคุณ ได้ทุกที่ ทุกเวลา ด้วยแอป VIGI
All The
Colors

,
All The Time

4MP Outdoor Full-Color Bullet Camera

VIGI C340-W
Wired or Wireless Networking

ONVIF Ensures Compatibility
Outdoor Wi-Fi Connection, Simple Wiring
เพียงแค่เปิดกล้องของคุณ จากนั้นการส่งสัญญาณ Wi-Fi จะเริ่มด้วยเสาอากาศแบบ MIMO ขนาด 2×2 และด้วยตัวกล้องที่กันน้ำ กันฝุ่น ช่วยปกป้องประสิทธิภาพการทำงานที่มีความเสถียรในสถานการณ์กลางแจ้ง
Clarity and Colors, All in One
ตรวจสอบรายละเอียดชองภาพที่ชัดเจนและมีสีสันตลอด 24 ชั่วโมงแม้ในคืนที่มืดสนิท กล้อง VIGI Full-Color ให้ความละเอียดสูงสุด 4 ล้านพิกเซล และให้การบันทึกภาพที่มีสีสันด้วยเลนส์รูรับแสงขนาดใหญ่ เซ็นเซอร์ความไวสูง และ LED ไฟเสริมที่แนบมา
VIGI 4MP Full-Color Camera

2MP IR Camera
We keep an eye on your business.
Smart Detection
รับการแจ้งเตือนและตรวจสอบฟีดเมื่อมีคนข้ามเขต เข้าไปในพื้นที่ที่คุณกำหนดไว้ หรือกีดขวางหน้ากล้อง ผ่านแอปพลิเคชั่น
Motion Detection

รับการแจ้งเตือนทันทีเมื่อกล้องของคุณตรวจพบการเคลื่อนไหว

Area Intrusion

กำหนดพื้นที่โซนกิจกรรมที่ปรับแต่งเองรอบ ๆ พื้นที่สำคัญสำหรับการตรวจสอบที่มุ่งเน้นมากขึ้น

Line-Crossing

กำหนดขอบเขตและรับการแจ้งเตือนทุกครั้งที่มีคนข้ามจากทิศทางใดทิศทางหนึ่งหรือทั้งสองทิศทาง

Camera Tampering

รับการแจ้งเตือนเมื่อมีคนมาขวางกล้อง
You will be notified when someone crosses the boundary you set.
Active Defense
เตือนเมื่อมีผู้บุกรุกที่อาจเกิดขึ้นทันที ด้วยเสียงและแสงเมื่อตรวจพบเหตุการณ์ผิดปกติ
Every Event is Under Your Control.
กล้อง VIGI ตรวจจับกิจกรรมอย่างชาญฉลาด แจ้งให้คุณทราบทันทีผ่านแอปพลิเคชั่น และตอบสนองโดยอัตโนมัติด้วยการตรวจจับอัจฉริยะและเสียงสองทาง
Please leave the package by the door.
Never miss a detail.
SmartVid-Smart Video Enhancement
Smart IR
ป้องกันไม่ให้วัตถุถูกแสดงผลต่ำกว่าปกติเมื่ออยู่ไกลหรือเปิดรับแสงมากเกินไปเมื่ออยู่ใกล้กล้องในเวลากลางคืน
General IR Camera
Smart IR Camera
Wide Dynamic Range
ปรับคอนทราสต์ของแสงเพื่อลดเอฟเฟกต์เงาและทำให้ภาพดูสมจริง
3D DNR
ลบภาพพิกเซลที่ผิดปกติเพื่อให้วิดีโอชัดเจนขึ้นและขจัดความผิดเพี้ยน
More compression. More savings. Same quality.
ไม่ต้องใช้แบนด์วิดท์เพิ่มเติม กล้องของคุณจะส่งวิดีโอที่บีบอัดให้คมชัดเพื่อประหยัดพื้นที่ดิสก์ ลดภาระการโหลดของเครือข่าย และลดค่าใช้จ่ายในการตรวจสอบโดยไม่ทำให้คุณภาพของภาพลดลง
**การคำนวณจากการทดสอบในห้องปฏิบัติการโดยใช้กล้อง 3MP VIGI และประสิทธิภาพจริงอาจแตกต่างกันไปตามจำนวนกิจกรรมที่บันทึกไว้ ความละเอียด และตัวแปรอื่นๆ
89%**
Gap
74%**
Gap
H.265+
H.264+
H.265
H.264
Video Coding Technology
Flexible Management and Storage
ควบคุมความปลอดภัยของคุณอย่างเต็มที่ด้วยวิธีการจัดการ 4 วิธี: เว็บ UI, NVR UI, แอป VIGI และ VIGI Security Manger พื้นที่เก็บข้อมูลในเครื่องมีให้สำหรับแต่ละวิธี เช่นเดียวกับที่เก็บข้อมูลในตัวพร้อมช่องเสียบการ์ด SD
Seamless Management

Flexible Storage

HDD
(Installed in an NVR)

PC Client
(VIGI Security Manager Installed)

NAS

SD Card*

FTP
Flexible Installation
ค้นหาจุดติดตั้งกล้องที่สมบูรณ์แบบโดยยึดกล้องไว้กับเพดาน, เสา หรือผนัง
One system. Full security.
Run your business with peace of mind.
ระบบเฝ้าระวังอย่างมืออาชีพของ VIGI โดย TP-Link พัฒนาและทุ่มเทเพื่อปกป้องธุรกิจและครอบครัวของคุณ ผ่านสมาร์ทโฟนได้ ทุกที่ทุกเวลา ด้วยฟังก์ชันที่โดดเด่นของเรา และการรับประกันคุณภาพของสินค้านาน 3 ปีที่เชื่อถือได้ พร้อมการติดตั้งที่เรียบง่าย เพื่อให้มั่นใจว่าธุรกิจของคุณจะปลอดภัย
NETWORK
Security
Password Protection, HTTPS Encryption, IP Address Filter, Digest Authentication
Protocol
TCP/IP, UDP, ICMP, HTTP, HTTPS, DHCP, DNS, RTSP, NTP, UPnP UDP, SSL/TLS
Wireless Rate
11 Mbps (802.11b)54 Mbps (802.11g)150 Mbps (802.11n)
Frequency
2.4 GHz
Wireless Security
WPA/WPA2-PSK
API
ONVIF
Simultaneous Live View
3 Main Streams & 3 Sub-Streams
GENERAL
Package Contents
VIGI Network CameraQuick Start GuideWaterproof Cable AttachmentsPower AdapterMounting Accessories (Screws, Drywall Anchors, Hex Key)
Operating Temperature
-30–60 °C
Certifications
CE, RCM, BSMI, VCCI, RoHS, NTRA, KC
Dimensions( H X W X D )
80 × 70.6 × 173.4 mm
Material
Plastic
Weight
195g
General Features
Two Streams, Mirror, Privacy Masks, Password Reset via E-mail, HTTP Listening
Power Requirements
12V DC ± 5%, 5.5mm Coaxial Power Plug
CAMERA
Image Sensor
1/3" Progressive Scan CMOS
Lens
Fixed focal lens (4 mm)
Aperture
4 mm: F1.6
Lens Mount
M12
Viewing Angle
(4mm) Horizontal FOV: 79°, Vertical FOV: 43°, Diagonal FOV: 93°
Day/Night Mechanism
IR Cut Filter
IR Working Distance
30m
Illumination Distance
30 m
Minimum Illumination
0 lux with IR/white Light
Weatherproof Rating
IP66
Digital Noise Reduction
3D DNR
WDR
DWDR
VIDEO/IMAGE
Video Compression
Main stream: H.265+/H.265/H.264+/H.264Sub-Stream: H.265/H.264
Frame Rate & Resolutions
Main StreamFrame Rate: 1fps, 5fps, 10fps, 15fps, 20fps, 25fps, 30fpsResolution: 2560x1440, 2304x1296, 2048x1280, 1920x1080Sub-StreamFrame Rate: 1fps, 5fps, 10fps, 15fps, 20fps, 25fps, 30fpsResolution: 640x480, 352x288, 320x240
Video Streaming
Main StreamSub-Stream
Image Settings
Mirror, Brightness, Contrast, Saturation, Sharpness, Exposure, WDR, White Balance Adjustable by Client Software
Image Enhancement
BLC/3D DNR/Prevent Overexposure to Infrared Light
Video Bit Rate
Main Stream: 256 Kbps to 4 MbpsSub-Stream: 64 Kbps to 512 Kbps
SMART FEATURE-SET
Smart Event
Area Intrusion Detection, Line-Crossing Detection, Human Detection
Basic Event
Motion Detection, Camera Tampering Detection, Exception ( illegal login)
Linkage Method
Trigger Notification: ONVIF, HTTPS
Region of Interest
1 Region
INTERFACES
Network Interface
1 RJ45 10/100M Self-Adaptive Ethernet Port
Audio Input
Built-in Microphone
Audio Output
Built-in Speaker
Button
Reset Button
Slot
Micro SD card
Picture for reference only.
*Micro SD card is not included in the package.
From United States?
Get products, events and services for your region.