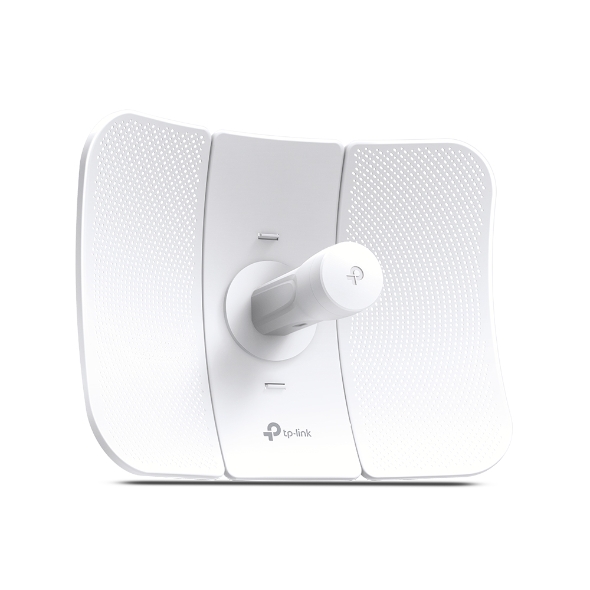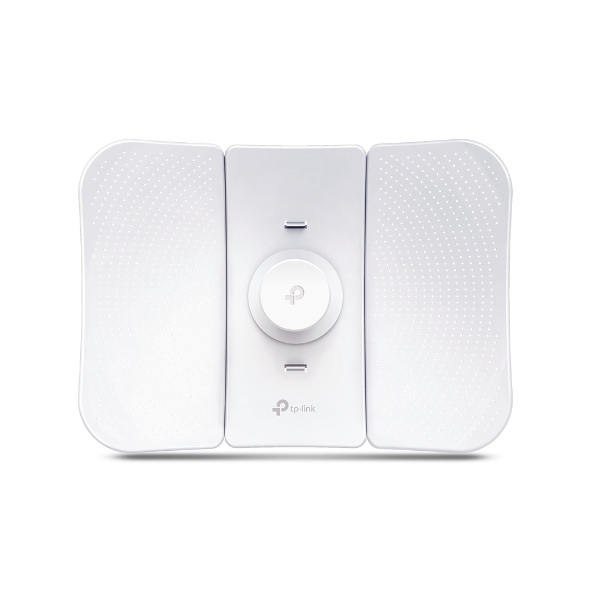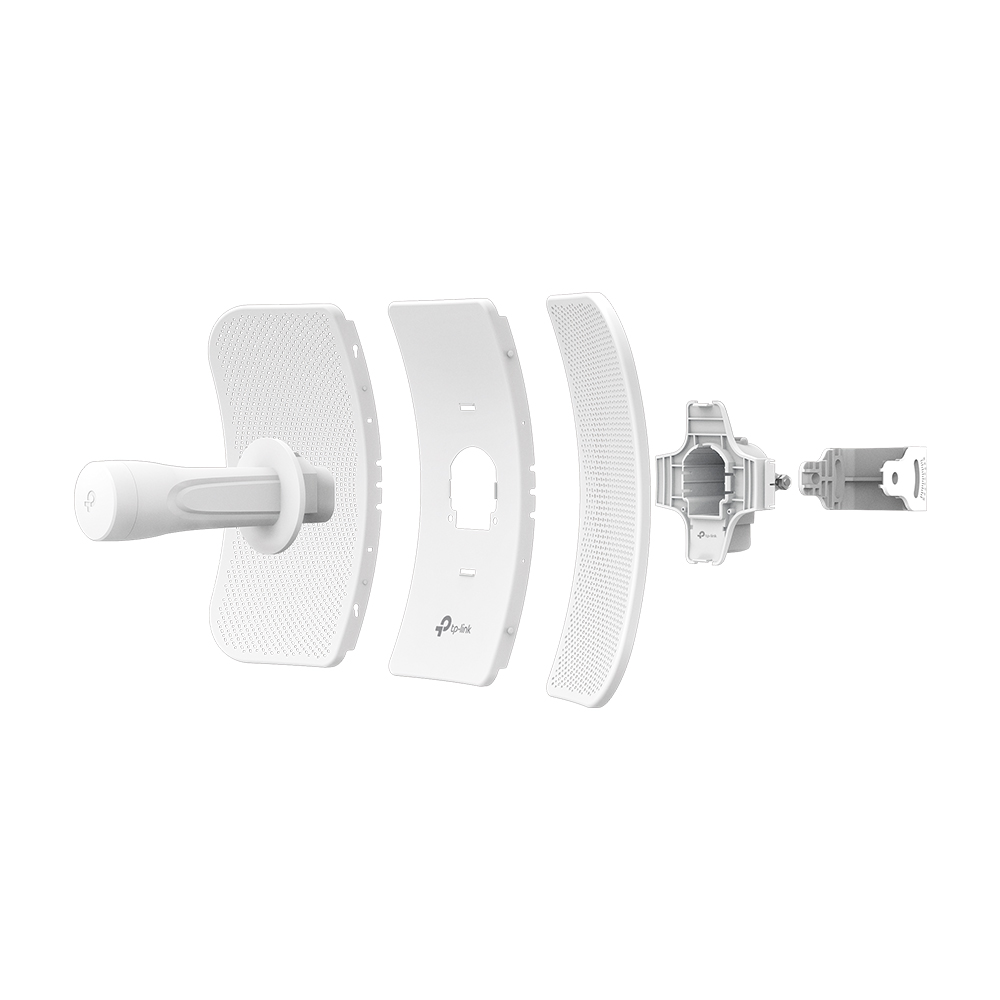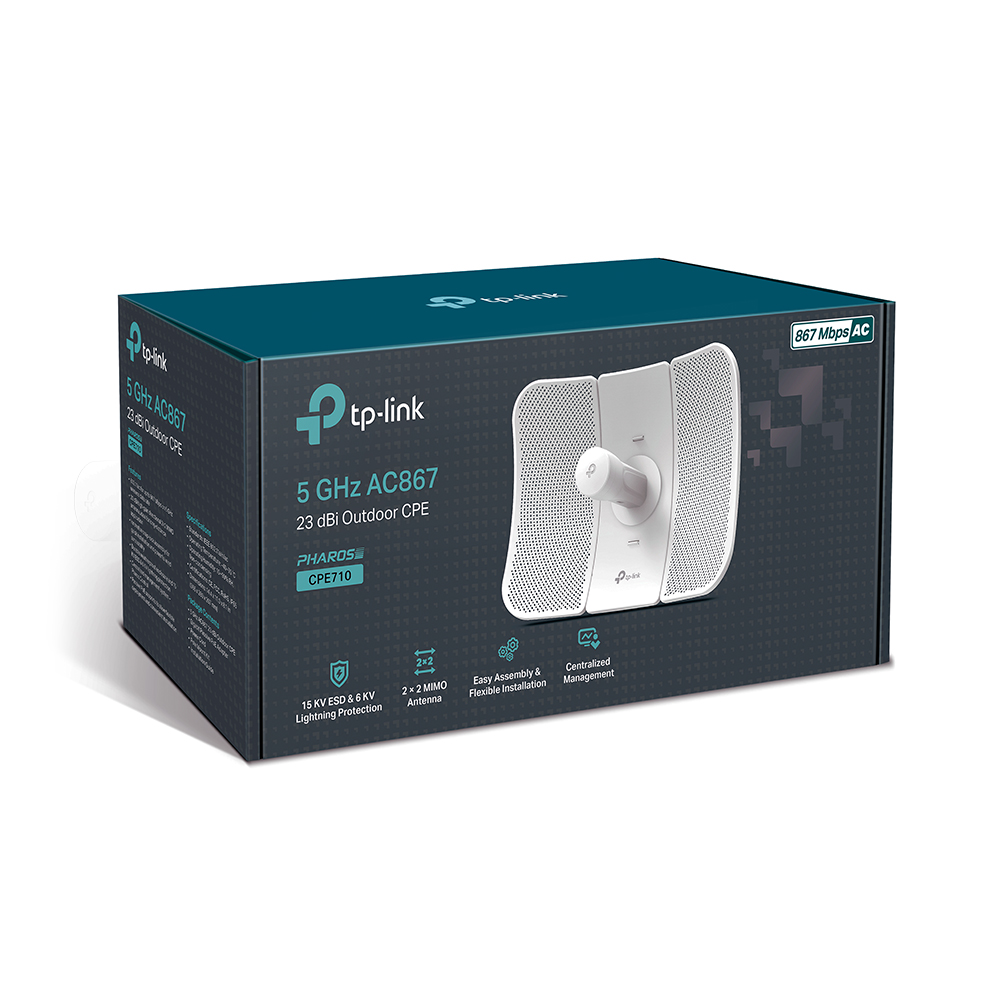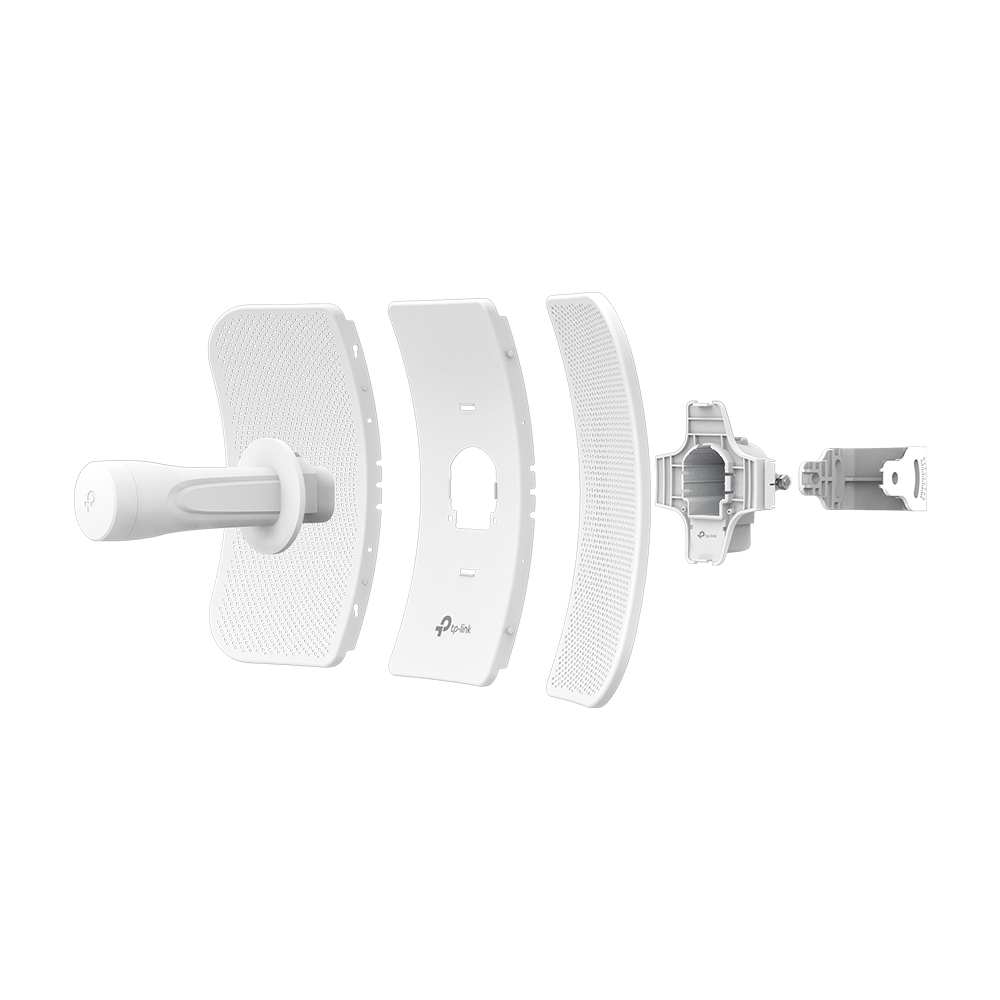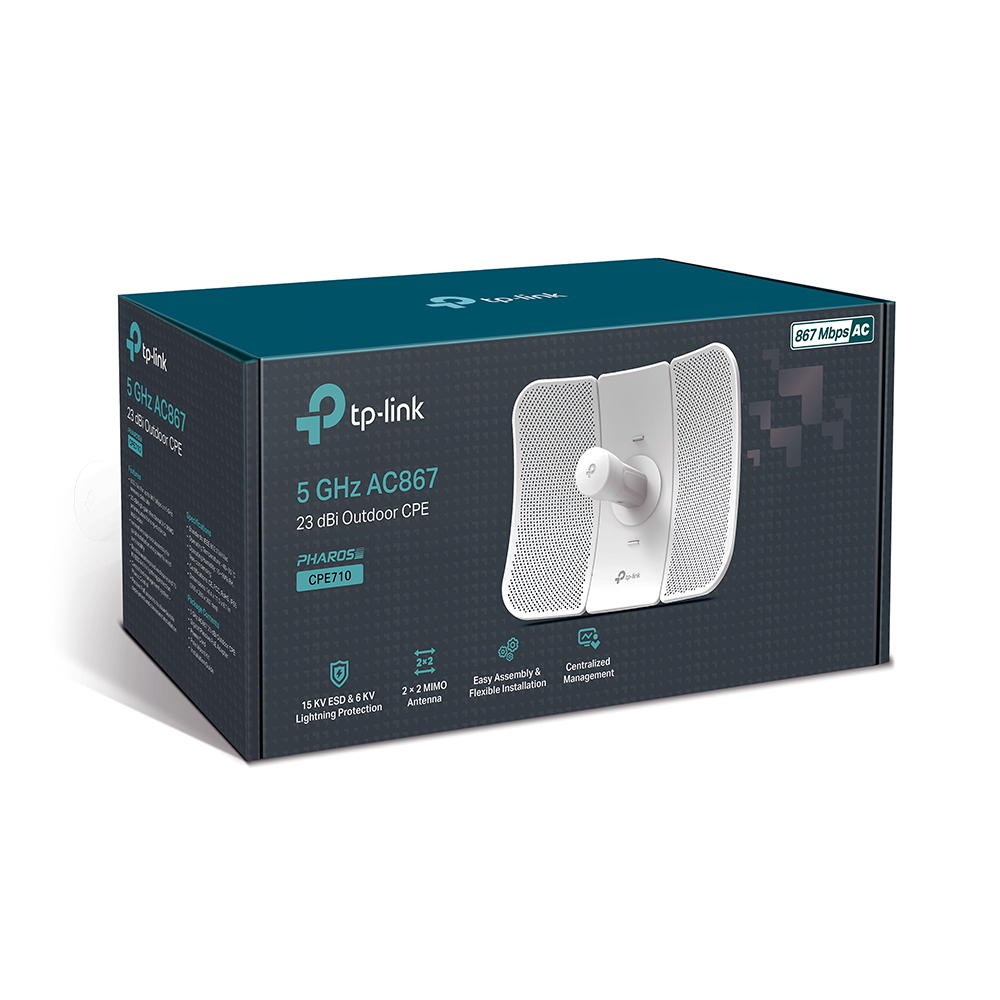 5GHz AC 867Mbps 23dBi Outdoor CPE
802.11ac até 867Mbps na frequência de 5GHz*1
23dBi direcional de alto ganho 2×2 MIMO, ideal para transmissão sem fios de longo alcance até 30km*2
Excelente orientação do feixe, menor latência e cancelamento de ruído
Peças inovadoras de encaixe rápido para uma montagem rápida e um desenho estrutural robusto mantém o CPE710 estável mesmo em ventos fortes
Proteção IP65 que confere uma implementação no exterior, à prova de intempéries juntamente com proteção contra raios de 15kV ESD e 6kV garante a adequação a todas as condições meteorológicas*3
Pharos Control oferece aos administradores um sistema de gestão centralizado e gratuito
Suporta alimentação Passive PoE para permitir uma instalação mais flexível
Saiba mais sobre Pharos Control >
Saiba mais sobre Pharos Long-Range Outdoor Wireless Broadband>​


Stable Outdoor Wi-Fi
for Long-Distance Transmission
23 dBi Directional
2 × 2 MIMO Antenna

15 KV ESD & 6 KV
Lightning Protection

Easy Assembly &
Flexible Installation

Centralized
Management

Wind-resistant
Construction

IP65 Weatherproof
Enclosure
Blazing Speed without Wait
256 QAM and an 80 MHz bandwidth boosts overall speeds up to 867 Mbps, 3× faster than 802.11n Wi-Fi.*1
5 GHz
2 × 2 MIMO 802.11n
300 Mbps
2 × 2 MIMO 802.11ac
867 Mbps
3X
Professional-Standard 23 dBi Directional
Antenna for Long-range Wireless Transmission
With 23 dBi high-gain directional Cassegrain antenna and dedicated metal reflector, the CPE710 provides excellent beam directivity, improved latency, and noise immunity. Professional performance, coupled with user-friendly design, makes the 5 GHz 867 Mbps 23 dBi Outdoor CPE710 an ideal choice and cost-effective solution for outdoor long-distance wireless networking transmission up to 30 km*2.
Stable Structural Design and Flexible Installation
Antenna
Feed
Side
Reflector Panel
Center
Reflector Panel
Side
Reflector Panel
Pole Mount
Feed Receiver
Snap-lock parts make assembly simple and convenient
Pole mount kits and the freedom of three-axis alignment facilitate flexible installation
Sturdy design ensures stability in windy conditions
Compact and
Lightweight Packaging
Small and lightweight boxes
benefit shipping, logistics, and retail.
15.5 cm
0cm
0cm
32.6 cm
0cm
32.5 cm
0cm
14.2 cm
Pharos Control – Centralized Management System
CPE710 comes equipped with Pharos Control centralized management software, helping users easily manage all devices in their network from a single PC. Functions include device discovery, status monitoring, firmware upgrading, and network maintenance. An intuitive web-based interface– PharOS - provides an alternative management method and allows professionals to access more detailed configurations.
Related Products
Model

CPE710

CPE610

CPE605

Wireless Performance

Wireless Speed*1

5GHz 867Mbps

5GHz 300Mbps

5GHz 150Mbps

Transmit Power

27dBm

25dBm

23dBm

MIMO

2 x 2

2 x 2

-

Max. Range*2

30 km

30 km

20 km

Hardware

Compatibility

802.11a/n/ac

802.11a/n

802.11a/n

Antenna Gain

23dBi

23dBi

23dBi

Weatherproof Enclosure*3

IP65

IP65

IP65

Lightning Protection*3

6kV

6kV

6kV

Power Supply

24V Passive PoE Adapter

24V Passive PoE Adapter

24V Passive PoE Adapter

Software

Operation Modes

AP / Client / AP Client Router (WISP Client) / AP Router Mode

Channel Bandwidth

20/40/80MHz

5/10/20/40MHz

5/10/20/40MHz

Transmit Power Control

Stepping 1dBm

Stepping 1dBm

Stepping 1dBm

MAXtream TDMA Mode

-

√

√

Throughput Monitors

√

√

√

Spectrum Analyzer

√

√

√

Iperf Speed Test Tool

√

√

√

Pharos Control Supported
(Central Network Management Application)

√

√

√
Wireless Networking for Elevators

TP-Link offers wireless point to point link delivering up to 300 Mbps throughput. The point to point link provides wireless coverage to the entire shaft, and delivers network to the elevator car, connecting the surveillance cameras or digital signage. So that real time video can be recorded to a DVR without hard wiring coax cable directly from the camera to the recorder.

Easy, Flexible Installation
Stable Connections at High-Speeds
Ideal for Elevator Camera
No Complex Cabling
PoE Support

Long-Range Transmission

Pharos Series devices use wireless technology to provide flexible, cost-effective solutions for outdoor surveillance applications.

Easy and Flexible Installation without Long-Range Cables
Stable Wireless Connections in Outdoor Environments
Ideal for Wireless Surveillance for Remote Sites
Peru WISP

TP-Link Helps WISP to Provide Reliable Wireless Connectivity in Peru

Peru WISP

TP-Link Helps WISP to Provide Reliable Wireless Connectivity in Peru

"The performance of CPE was better than expected, working stable even with -85 dBm of received power." —David Grillo, Engineer, Kroton

ADINET WISP in Indonesia

TP-Link Helps Local WISP Provide Long Distance Wireless Connectivity in Indonesia

ADINET WISP in Indonesia

TP-Link Helps Local WISP Provide Long Distance Wireless Connectivity in Indonesia

"Amazing! The performance of the Pharos Wireless Broadband Solution has exceeded even our wildest expectations." —Bagus Prakoso, Owner of ADINET
CARACTERÍSTICAS DE HARDWARE
Processor
Qualcomm 750MHz CPU, MIPS 74Kc
Memória
128 MB DDR2 RAM, 16 MB Flash
Interface
1 10/100/1000 Mbps Shielded Ethernet Port (LAN/POE)1 Reset Button
Fonte de alimentação
Passive Power over Ethernet via LAN (+4,5pins; -7,8pins)Voltage range: 16-27V DC
Dimensões (L x P x A)
366 x 280 x 207 mm (14.4 x 11.0 x 8.1 in.)
Ganho de Antena
23 dBi
Antenna Beamwidth
9° (Azimuth)/7° (Elevation)
Proteção
15 KV ESD Protection6 KV Lightning Protection
Enclosure
Material: Outdoor PC stabilized plasticWeatherproof: IP65 water and dust proof design
FUNCIONALIDADES WI-FI
Normas Wireless
IEEE 802.11a/n/ac
Wireless Speeds
Up to 867 Mbps (80 MHz, Dynamic)Up to 400 Mbps (40 MHz, Dynamic)Up to 173.4 Mbps (20 MHz, Dynamic)
Frequências
5.15–5.85 GHz
Potência de transmissão
Max. 27 dBm (Adjustable power by 1dBm)
FUNCIONALIDADES SOFTWARE
Network Configuration
WAN: Static/ Dynamic/ PPPoELAN: Static/ Dynamic/ DHCPForwarding: ALG/ UPnP/ Virtual Server/ Port TriggerSecurity: SPI Firewall/ Ping Forbidden/ DoS ProtectionAccess ControlStatic RoutingBandwidth ControlIP & MAC Binding
Wireless Configurations
Selectable Channel Width: 20/40/80MHzAuto Channel SelectionTransmit Power ControlDynamic Frequency Selection(DFS)WDS Enable/ DisableSecurity: WPA/WPA2, WPA-PSK/WPA2-PSK (AES/TKIP) Encryption,SSID Broadcast Enable/ DisableMulti-SSID with VLAN Tagging(AP Mode only)Distance/ ACK Timeout SettingWireless MAC Address FilterWireless Advanced:Beacon Interval/ RTS Threshold/ Fragmentation Threshold/ DTIM Interval/ AP Isolation/ Short GI/ Wi-Fi MultimediaLong Range PtP
Gestão
Discovery and Remote Management via Pharos Control applicationHTTP/ HTTPS Web-based managementSystem logSNMP Agent(v2c)Ping Watch DogDynamic DDNSSSH Server
System Tools
Indicators:Signal Strength/ Noise/ Transmit CCQ/ CPU/ MemoryMonitors: Throughput/ Stations/ Interfaces/ ARP/ Routes/ WAN/ DHCPSpectrum AnalyzerSpeed TestPingTraceroute Antenna Alignment
System-level Optimizations
Optimized IGMP Snooping / Proxy for multicast applications
FUNCIONALIDADES ADAPTADOR POE
Dimensões (L x P x A)
85.8×43.9×29.7 mm
Interfaces
1 AC Jack with Earth Ground1× 10/100/1000 Mbps Shielded Ethernet Port (Power + Data)1× 10/100/1000 Mbps Shielded Ethernet Port (Data)
Button
Remote Reset Button
Power Status LEDs
Green
Input
100-240VAC, 50/60Hz
Output
24VDC, 0.5A Max+4, 5pins; -7, 8pins. (Support up to 60m Power over Ethernet)
Efficiency
>84.29%
Certificações
CE/FCC/UL/IC/GS/PSB/C-tick/SAA/S-Mark/KC-mark
OUTROS
Certificações
CE, FCC, RoHS, IP65, IC
Conteúdo da embalagem
Outdoor Wireless CPE24V 0.5A Passive PoE AdapterPole Mounting KitsAC Power CordInstallation Guide
Requisitos de Sistema
Microsoft Windows 98SE, NT, 2000, XP, Vista™ or Windows 10, Windows 8, Windows 7, MAC OS, NetWare, UNIX or Linux.Note: We recommend you to use one of following Web browsers for an improved user experience: Google Chrome, Safari, and Firefox. IE browsers are not recommended.
Temperatura e Humidade
Operating Temperature: -40℃~70℃ (-40℉~158℉)Storage Temperature: -40℃~70℃ (-40℉~158℉)Operating Humidity: 10%~90% non-condensingStorage Humidity: 5%~95% non-condensing
*1. As taxas máximas de transmissão sem fios são as taxas físicas derivadas das especificações da norma IEEE 802.11. As especificações de alcance e cobertura, juntamente com o número de dispositivos ligados, foram definidas de acordo com os resultados dos testes em condições normais de utilização. A taxa real de transmissão sem fios, cobertura sem fios, e número de dispositivos ligados não são garantidas, e variarão em resultado de 1) factores ambientais, incluindo materiais de construção, objectos físicos e obstáculos, 2) condições de rede, incluindo interferência local, volume e densidade de tráfego, localização do produto, complexidade da rede, e sobrecarga da rede e 3) limitações do cliente, incluindo desempenho nominal, localização, qualidade da ligação, e condição do cliente.
*2. Todos os produtos são testados em ambientes exteriores reais. O alcance real e o rendimento dependem da potência de transmissão e de factores ambientais, tais como interferência sem fios, obstáculos, condições meteorológicas, etc.
*3. A protecção contra descargas atmosféricas e electro-estáticas pode ser conseguida através da instalação adequada do produto, ligação à terra e blindagem do cabo. Consultar o manual de instruções e consultar um profissional de TI para ajudar na configuração deste produto.
*4. As distâncias de fornecimento de energia baseiam-se em resultados de testes em condições normais de utilização. A distância real de fornecimento de energia variará como resultado de 1) estado AP, incluindo potência de transmissão, dispositivos ligados e tráfego de rede, 2) propriedades dos cabos, incluindo tipo e textura e 3) factores ambientais, que incluem temperatura e humidade.
From United States?
Obtenha produtos, eventos e serviços para a sua região.