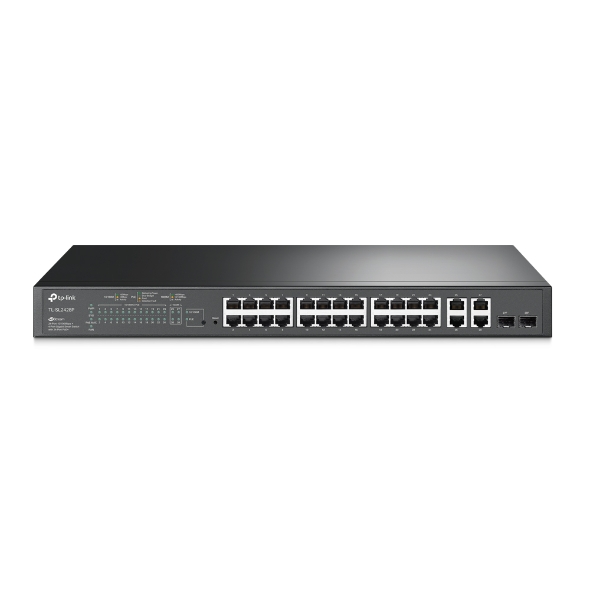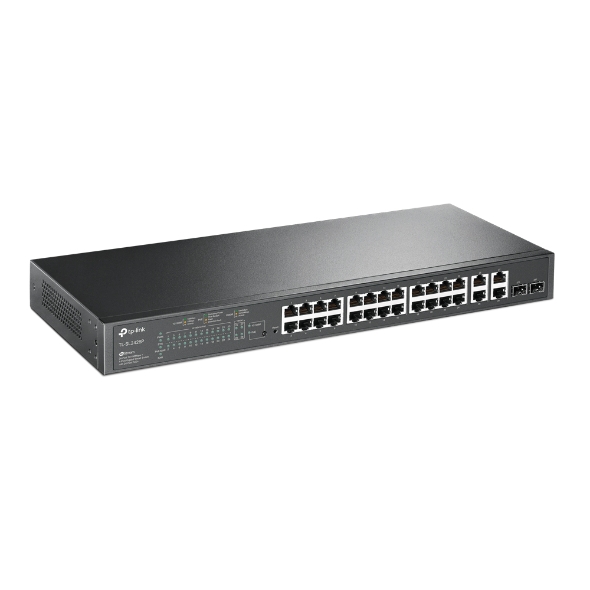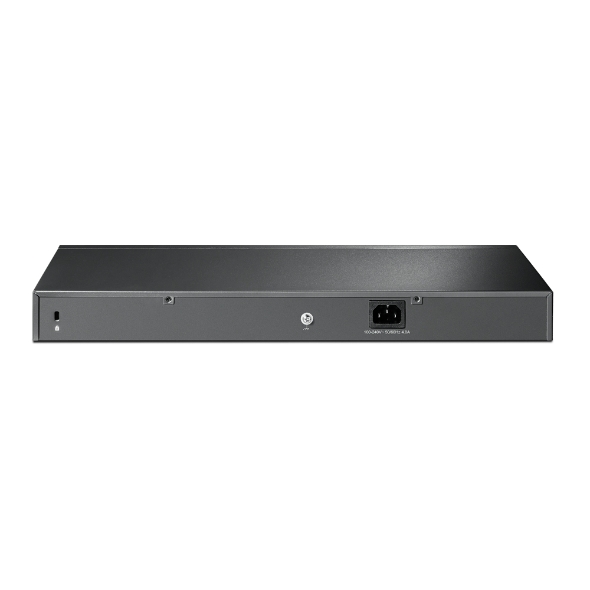 JetStream 24-poorts 10/100 Mbps + 4-poorts Gigabit Smart-switch met 24-poorts PoE+
Voorzien van 24 PoE-poorten met een totale PoE-energietoewijzing van 250 W* en handige functies voor PoE-energiebeheer.

Geïntegreerde beveiligingsstrategie, waaronder 802.1Q VLAN, Port Security en Storm Control, helpt om je LAN-omgeving te beschermen

L2/L3/L4 QoS en IGMP Snooping voor optimale spraak- en videotoepassingen

Modi voor WEB/CLI-beheer, SNMP en RMON bieden uitgebreide beheerfuncties

Dual Firmware Image verbetert de betrouwbaarheid en actieve tijdsduur van je netwerk.
Wat dit product doet
De TP-Link smart-switch TL-SL2428P beschikt over 24 10/100 Mbps RJ45-poorten, 4 10/100/1000Mbps RJ45-poorten en 2 combinatie gigabit SFP-slots. Alle 24 10/100Mbps RJ45-poorten ondersteunen de 802.3at/af-standaard (PoE+) met een totale PoE-energietoewijzing van 250 W* en handige functies voor PoE-energiebeheer. De switch biedt krachtige QoS voor bedrijven, handige beveiligingsstrategieën en uitgebreide L2-beheersfuncties.
De TP-Link smart-switch TL-SL2428P is een betaalbare oplossing voor kleine en middelgrote bedrijven. De TL-SL2428P beschikt over handige beveiligingsfuncties. De functie Storm Control beschermt tegen broadcasting, multicasting en unknown unicast storm. Quality of Service (QoS, L2 t/m L4) biedt een verbeterd beheer van het verkeer zodat uw gegevens sneller en soepeler overgebracht worden. Verder zorgt de web-based beheerinterface samen met SNMP en RMON voor een snellere installatie en configuratie en minder storingstijd. Voor werkgroepen en afdelingen die een kostengevoelige L2-switch en gigabit-functies nodig hebben, is de TP-Link smart-switch TL-SL2428P de ideale oplossing.
IEEE 802.3at/af-conform Power over Ethernet
De TL-SL2428P ondersteunt 24 poorten met IEEE 802.3af/at-conforme PoE en heeft een totale voeding van 250 W* om elk apparaat dat compatibel is met 802.3af/at van stroom te voorzien. Het is een efficiënte en rendabele oplossing voor draadloze access points, bewakingscamera's, VoIp-telefoons en andere apparaten die PoE ondersteunen. Zo heb je geen last meer van rondslingerende (voedings)kabels. De TL-SL2428P is compact en flexibel zodat je PoE kunt gebruiken voor draadloze access points of op IP gebaseerde netwerkbeveiligingscamera's voor projecten of kleine zakelijke netwerken.
Geavanceerde QoS-functies
Voor de integratie van spraak, gegevens en video op één netwerk gebruikt de switch een uitgebreid QoS-beleid. Beheerders kunnen prioriteiten aan het verkeer toewijzen met behulp van diverse functies, zoals Port Priority, 802.1P Priority en DSCP Priority, zodat spraak- en videodiensten altijd helder, soepel en storingsvrij verlopen. Dankzij de Voice VLAN die door de switch wordt ondersteund, werken spraaktoepassingen veel soepeler.
Voldoende L2-functies
De TL-SL2428P ondersteunt een complete reeks L2-functies, waaronder 802.1Q Tag VLAN, Port Isolation, IP-MAC-Port Binding, Port Mirroring, STP/RSTP/MSTP, Link Aggregation Group en 802.3x Flow Control zodat je meer toepassingsmogelijkheden hebt voor L2-switches. Daarnaast beschikken de switches over uitgebreide functies voor netwerkonderhoud, zoals Loop Back Detection, Cable Diagnostics en IGMP Snooping. IGMP Snooping zorgt ervoor dat de switch de multicast stream alleen naar de juiste gebruikers doorstuurt, terwijl IGMP throttling & filtering elke gebruiker tot een bepaald poortniveau beperkt om ongeoorloofde toegang tot multicasting te voorkomen.
Beheerfuncties voor ondernemingen
De TL-SL2428P is eenvoudig te gebruiken en beheren. Hij ondersteunt verschillende gebruikersvriendelijke standaard beheersfuncties, zoals een intuïtieve online grafische gebruikersinterface (GUI) of standaard Command Line Interface (CLI). Dankzij ondersteuning voor SNMP (v1/2/3) en RMON kan de switch waardevolle statusgegevens ophalen en traps sturen in geval van abnormale gebeurtenissen.
Switches for Surveillance

For general surveillance, TP-Link has designed a variety of PoE Switches to meet the requirements of most IPCs. Many robust features provide value well beyond basic networking needs, creating a versatile and reliable surveillance network to grow your business.

Long-Range PoE
Auto Camera Recovery
Enhanced Network Security

Hospitality

TP-Link Omada allows hotels to build reliable WiFi networks. Hotel WiFi network solutions including network topology, design, features, installation, and products are introduced.

Full WiFi coverage and wired connections
Flexible guest control
Seamless roaming
Easy Management

Education

Due to its reliable, scalable, and secure network solution, TP-Link has been widely acknowledged by global customers in the Education market ranging from infant schools with a few APs up to colleges and universities with hundreds of APs.

Easy management
High-density WiFi
Full WiFi coverage and wired connections
VPN and security
Soborka ISP

TP-Link Helps ISP Soborka Provide Better Service for Subscribers

Soborka ISP

TP-Link Helps ISP Soborka Provide Better Service for Subscribers

"TP-Link's products offer tremendous value, which allowed us to reduce the cost of updating our large network without compromising performance. Our customers are much more satisfied with the network since the upgrade. It has done a lot to improve our reputation." —Soborka's CEO

Texas Roadhouse

TP-Link Helps Texas Roadhouse Build Reliable Network

Texas Roadhouse

TP-Link Helps Texas Roadhouse Build Reliable Network

"The newly updated network infrastructure is performing well, and Texas Roadhouse is experiencing no crashes with their POS systems as they were previously, which saves a lot of unnecessary cost causing by POS system crush before."
Functionaliteit van de Hardware
Standaarden en protocollen
IEEE 802.3i, IEEE 802.3u, IEEE 802.3ab, IEEE802.3z, IEEE 802.3ad, IEEE 802.3x, IEEE 802.3az, IEEE 802.1d, IEEE 802.1s, IEEE 802.1w, IEEE 802.1q, IEEE 802.1x, IEEE 802.1p, IEEE 802.3af, IEEE 802.3at
Interface
24 RJ45-poorten (10/100 Mbps)
(Auto Negotiation/Auto MDI/MDIX)
4 RJ45-poorten (10/100/1000 Mbps)
(Auto Negotiation/Auto MDI/MDIX)
2 combinatie gigabit SFP-slots

Netwerkmedia
10BASE-T: UTP-kabel categorie 3, 4, 5 (maximaal 100 m)
100BASE-TX/1000Base-T: UTP-kabel categorie 5, 5e of hoger
(maximaal 100 m)
1000BASE-X: MMF, SMF

Ventilator Aantal
2
Physical Security Lock
Ja
PoE Budget
250 W
Afmetingen ( B x D x H )
440 x 180 x 44 mm
Montage
Rackmontage
Max Power Consumption
18,8 W (220 V / 50 Hz zonder verbonden apparaat)
286,7 W (220 V / 50 Hz met verbonden apparaat van 250 W)
Max Heat Dissipation
64,1 BTU/h (zonder verbonden apparaat)
977,6 BTU/h (220 V / 50 Hz met verbonden apparaat van 250 W)
Prestatie
Schakelvermogen
12.8 Gbps
Packet Forwarding Tarief
9.5 Mbps
MAC Address Table
8K
Jumbo Frame
9216 bytes
Functionaliteit van de Software
Kwaliteit van de Dienst (QoS)
• Prioriteit voor 802.1p CoS/ DSCP
• 8 prioriteit-wachtrijen
• Priority Schedule Mode
- SP (strikte prioriteit)
- WRR (Weighted Round Robin)
• Queue Weight Config
• Bandbreedtebeheer
- Port/Flow based Rating Limit
• Soepelere prestaties
• Acties voor datastromen
- Mirror (voor ondersteunde interface)
- Redirect (voor ondersteunde interface)
- Rate Limit
- QoS Remark
• Storm Control
- Multiple Control Modes(kbps/ratio/pps)
- Broadcast/Multicast/Unknown-Unicast Control

L2-Functionaliteit
• Link Aggregation
- Static Link Aggregation
- Tot 8 aggregatiegroepen en tot 8 poorten per groep
- 802.3ad LACP
• Spanning Tree Protocol
- 802.1D STP
- 802.1w RSTP
- 802.1s MSTP
- STP Security: Loop back detection, TC Protect, BPDU Filter/Protect, Root Protect
• Loopback Detection
• Flow Control
- 802.3x Flow Control
• Mirroring
- Port Mirroring
- One-to-One
- Many-to-One
- Flow-Based
- Ingress/Egress/Both
- CPU Mirroring
• Device Link Detect Protocol(DLDP)


L2 Multicast
• 512 IPv4,IPv6 gedeelde multicastgroepen
• IGMP Snooping
- IGMP v1/v2/v3 Snooping
- Fast Leave
- IGMP Snooping Querier
- IGMP Authentication
- Static Group Config
• MLD Snooping
- MLD v1/v2 Snooping
- Fast Leave
- MLD Snooping Querier
- Static Group Config
• Multicast VLAN Registration
• Multicast Filtering

IPv6 Support
• IPv6 Dual IPv4/IPv6
• Multicast Listener Discovery(MLD) Snooping
• IPv6 neighbor discovery (ND)
• Path maximum transmission unit (MTU) discovery
• Internet Control Message Protocol (ICMP) versie 6
• TCPv6/UDPv6
• IPv6 applications
- DHCPv6 Client
- Ping6
- Tracert6
- Telnet(v6)
- IPv6 SNMP
- IPv6 SSH
- IPv6 SSL
- Http/Https
- IPv6 TFTP

VLAN
• VLAN-groep
- Max. 4K VLAN-groepen
• 802.1Q tag VLAN
• MAC VLAN
• Protocol VLAN
• GVRP
• Voice VLAN

LijstToegangsbeheer
• Ondersteunt tot 230 entries
• Time-Range
- Time Slice
- Week Time-Range
- Absolute Time-Range
- Holiday
• Time-based ACL
• MAC ACL
- Source MAC
- Destination MAC
- VLAN ID
- User Priority
- Ether Type
• IP ACL
- Source IP
- Destination IP
- IP Protocol
- TCP Flag
- TCP/UDP Source Port
- TCP/UDP Destination Port
- DSCP/IP TOS
• IPv6 ACL
• Combined ACL
• Rule Operation
- Permit/Deny
• Policy Action
- Mirror
- Rate Limit
- Redirect
- QoS Remark
• ACL Rules Binding
- Port Binding
- VLAN Binding

Veiligheid
• AAA
• 802.1X
- Op poort gebaseerde authenticatie
- Op MAC-adres (Host) gebaseerde authenticatie
- Authenticatiemethoden: PAP/EAP-MD5/EAP-TLS/EAP-TTLS/EAP-PEAP
- MAB
- Guest VLAN
- Ondersteunt Radius-authenticatie en -beheer
• IP/IPv6-MAC Binding
- 512 Binding Entries
- DHCP Snooping
- DHCPv6 Snooping
- ARP Inspection
- ND Detection
• IP Source Guard
- 253 entries
- Source IP+Source MAC
• IPv6 Source Gurad
- 183 Entries
- Source IPv6 Address+Source MAC
• DoS Defend
• Statische/synamische/permanente poortbeveiliging
- Tot 64 MAC-adressen per poort
• Broadcast/Multicast/Unicast Storm Control
- kbps/ratio/pps-besturingsmodus
• Port Isolation
• Veilig webbeheer via HTTPS met SSLv3/TLS1.0
• Beheer via Secure Command Line Interface (CLI) met SSHv1/SSHv2
• IP/Port/MAC-gebaseerd toegangsbeheer

Management
• Online gebruikersinterface en CLI-beheer
• SNMPv1/v2c/v3
• SNMP Trap/Inform
• RMON (1, 2, 3, 9 groepen)
• SDM Template
• DHCP-/BOOTP-client
• Dual Image, Dual Configuration
• CPU Monitoring
• Cable Diagnostics
• EEE
• Systeemlogs
• 802.1ab LLDP/ LLDP-MED

MIBs
• MIB II (RFC1213)
• Interface MIB (RFC2233)
• Ethernet-interface MIB (RFC1643)
• Bridge MIB (RFC1493)
• P/Q-Bridge MIB (RFC2674)
• RMON MIB (RFC2819)
• RMON2 MIB (RFC2021)
• Radius Accounting Client MIB (RFC2620)
• Radius Authentication Client MIB (RFC2618)
• Remote Ping, Traceroute MIB (RFC2925)
• Ondersteunt TP-Link privé MIB's

Overige
Certificatie
CE, FCC, RoHS
Pakketinhoud
TL-SL2428P
Voedingskabel
Installatiehandleiding
Rackmount-set
Rubberen voetjes
Systeemvereisten
Microsoft® Windows® 98SE, NT, 2000, XP, Vista™ or Windows 7/8, MAC® OS, NetWare®, UNIX® or Linux.
Omgeving
Gebruikstemperatuur: 0°C~40℃
Bewaartemperatuur: -40°C~70℃
Rel. luchtvochtigheid gebruik: 10%~90%, niet-condenserend
Rel. luchtvochtigheid bewaren: 5%~90%, niet-condenserend
*Berekeningen van de PoE-energietoewijzing zijn gebaseerd op laboratoriumtests. De werkelijke PoE-energietoewijzing kan niet worden gegarandeerd en kan variëren op basis van beperkingen van de client en omgevingsfactoren.
From United States?
Get products, events and services for your region.