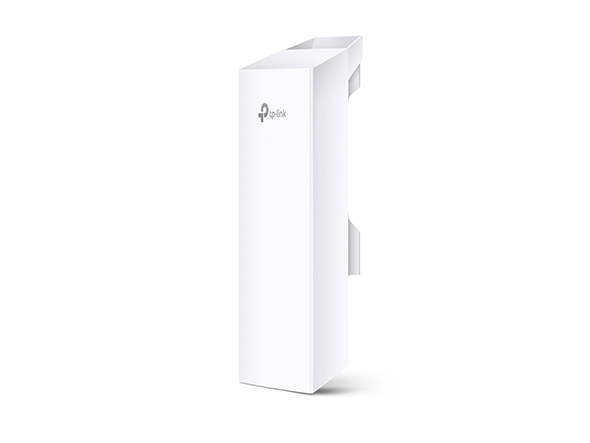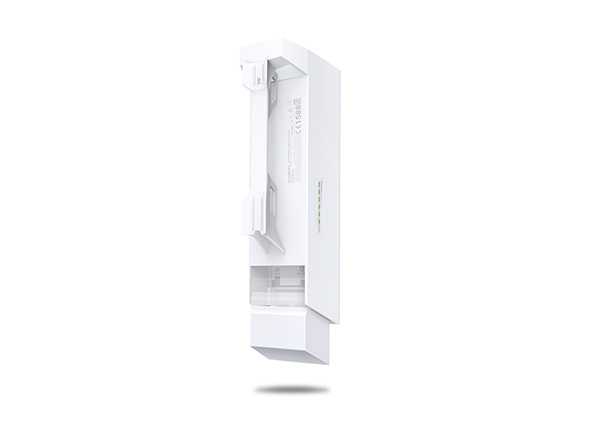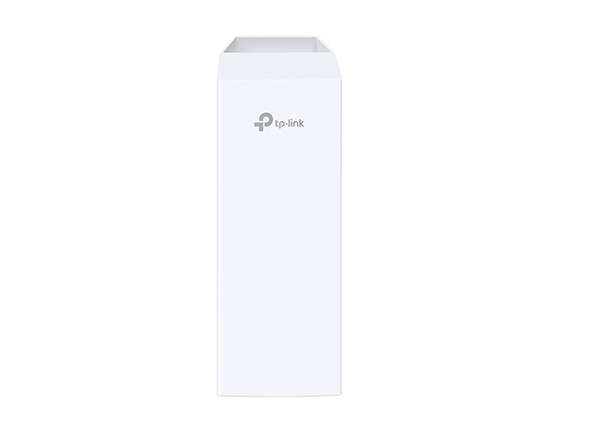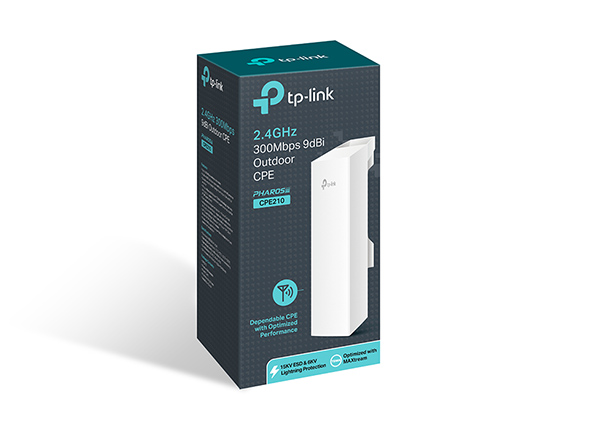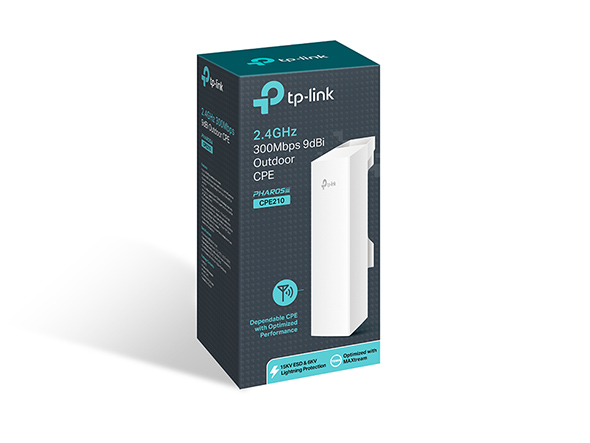 CPE210
2.4Ghz 300Mbps 9dBi CPE voor buiten
Ingebouwde 9 dBi 2x2 dual-gepolariseerde directionele MIMO-antenne
Verstelbaar zendvermogen van 0 tot 27 dBm/500 mW
Optimalisatie op systeemniveau voor draadloze transmissie over meer dan 5 km
TP-LINK Pharos MAXtream TDMA-technologie (Time-Division-Multiple-Access) verbetert de prestaties van het product op het gebied van doorvoer, capaciteit en latentie, ideaal voor PTMP-toepassingen
Gecentraliseerd managementsysteem – Pharos Control
Acces point / client / bridge / repeater / AP-router / AP-clientrouter (WISP) gebruiksmodi
Passieve PoE-adapter ondersteunt tot 60 meter Power over Ethernet en zorgt dat het apparaat op afstand kan worden gereset
2.4 GHz 300 Mbps 9 dBi CPE voor buiten
De CPE210, TP-Link's 2.4 GHz 300 Mbps 9 dBi CPE voor buiten, biedt efficiënte oplossingen voor draadloze netwerktoepassingen voor buitenshuis. Dankzij de gecentraliseerde managementtoepassingen is hij flexibel en ideaal voor point-to-point, point-to-multipoint en wifi-toepassingen voor buitenshuis. Door de professionele prestaties en het gebruiksvriendelijke ontwerp is de CPE210 de perfecte keus voor zakelijke en thuisgebruikers.
Enterprise hardware
Met Qualcomm Atheros chipsets, high-gain antennes, het hoogwaardige
materiaal, een speciaal ontworpen behuizing en PoE-stroomvoorziening is de CPE210
speciaal ontworpen voor buitenshuis en werkt hij feilloos in vrijwel ieder klimaat,
met gebruikstemperaturen van -40℃ tot +70 ℃.
Qualcomm Atheros 650MHz-processor
Krachtig Tx- en zeer gevoelig Rx-radio front-enddesign
Geavanceerde antenne
Ingebouwde high-gain dual-gepolariseerde antenne
Speciale metalen reflector zorgt voor extra sterk signaal en minder interferentie
Horizontale as
Horizontale azimut
Verticale as
Verticale azimut
Draadloze gegevensoverdracht over meer dan 5 km
Speciaal ontworpen voor buitenshuis en ideaal voor gegevensoverdracht over afstanden van meer dan 5 km. Dit is in de praktijk getest.
5km+
TP-Link MAXtream TDMA-technologie
Doordat netwerken steeds groter worden, zal de draadloze concurrentie en conflicten tussen CPE's en basisstations
zo enorm worden dat de daadwerkelijke doorvoer van het netwerk daalt, wat een grote impact heeft op de
ervaring van de eindgebruiker. Om deze effecten te verminderen, gebruikt de CPE210 MAXtream TDMA-technologie.
Totale doorvoer*
MAXtream TDMA-modus
802.11 CSMA-modus
Werkelijke doorvoer hangt af van de werkelijke omgeving waarin de toepassing wordt gebruikt.
Aantal clients
Pharos Control – gecentraliseerd managementsysteem
De CPE210 wordt bovendien geleverd met de gecentraliseerde managementsoftware Pharos Control waarmee gebruikers eenvoudig
alle apparaten binnen hun netwerk kunnen beheren vanaf één computer. Functies zoals apparaten zoeken, statuscontrole, firmware bijwerken en netwerkonderhoud kan beheerd worden via Pharos Control.
PharOS
Gebruiksvriendelijk online
managementsysteem waarmee
professionals specifieke
configuraties kunnen toepassen.
2.4 GHz 300 Mbps 9 dBi CPE voor buiten CPE210
AP / client / repeater / AP-router /
AP-clientrouter (WISP) gebruiksmodi

Weerbestendige behuizing

Passieve PoE-adapter
Ingebouwde 9 dBi dual-gepolariseerde
directionele antenne

6000V-bliksembeveiliging

15 kV ESD-beveiliging
Wireless Networking for Elevators

TP-Link offers wireless point to point link delivering up to 300 Mbps throughput. The point to point link provides wireless coverage to the entire shaft, and delivers network to the elevator car, connecting the surveillance cameras or digital signage. So that real time video can be recorded to a DVR without hard wiring coax cable directly from the camera to the recorder.

Easy, Flexible Installation
Stable Connections at High-Speeds
Ideal for Elevator Camera
No Complex Cabling
PoE Support
Peru WISP

TP-Link Helps WISP to Provide Reliable Wireless Connectivity in Peru

Peru WISP

TP-Link Helps WISP to Provide Reliable Wireless Connectivity in Peru

"The performance of CPE was better than expected, working stable even with -85 dBm of received power." —David Grillo, Engineer, Kroton

ADINET WISP in Indonesia

TP-Link Helps Local WISP Provide Long Distance Wireless Connectivity in Indonesia

ADINET WISP in Indonesia

TP-Link Helps Local WISP Provide Long Distance Wireless Connectivity in Indonesia

"Amazing! The performance of the Pharos Wireless Broadband Solution has exceeded even our wildest expectations." —Bagus Prakoso, Owner of ADINET
Functionaliteit van de Hardware
Processor
Qualcomm Atheros 560 MHz CPU, MIPS 74Kc
Geheugen
64 MB DDR2 RAM, 8 MB flashgeheugen
Interface
1 10/100 Mbps afgeschermde ethernetpoort (LAN0, passief PoE in)
1 aardaansluiting
1 resetknop
Uitgangsvermogen
Passief Power over Ethernet via LAN0 (+4,5 pins; -7,8 pins)
Spanningsbereik: 16 - 27 VDC
Energieverbruik
Max. 10,5 watt
Opmerking: Wanneer gebruik wordt gemaakt van passief PoE zal het stroomverbruik van de stroomvoorziening hoger zijn op basis van de lengte van de kabel.
Afmetingen ( B x D x H )
224 x 79 x 60 mm
Type Antenne
Ingebouwde 9 dBi 2x2 dual-gepolariseerde directionele antenne
Bundel: 65° (H-Plane) / 35° (E-Plane)

Opmerking: raadpleeg het gegevensblad voor meer informatie
Beveiliging
15 kV ESD-beveiliging
6000V-bliksembeveiliging
Enclosure
ASA gestabiliseerd plastic materiaal voor buitenshuis
IPX5-certificering voor waterdichtheid
Draadloze Functies
Standaarden voor Draadloze Netwerken
IEEE 802.11b/g/n (met Pharos MAXtream uitgeschakeld)
Proprietary Protocol
TDMA-modus (met Pharos MAXtream ingeschakeld)
Wireless Speeds
Tot 300 Mbps (40 MHz, dynamisch)
Tot 144.4 Mbps (20 MHz, dynamisch)
Tot 72.2 Mbps (10 MHz, dynamisch)
Tot 36.1 Mbps (5 MHz, dynamisch)
Frequentie
2.4~2.483 GHz
Opmerking: Beschikbare werkfrequentie kan variëren op basis van de beperkingen van de landen of regio's waarin het apparaat wordt gebruikt.
Overdrachtsvermogen
27 dBm/500 mw (regelbae voeding per 1dBm)
Opmerking: maximale zendvermogen kan variëren door verschillende kanalen afhankelijk van de beperkingen van de landen of regio's waarin het apparaat wordt gebruikt.
Functionaliteit van de Software
Wireless Configuraties
Pharos MAXtream TDMA-technologie
802.11b/g/n modi
Selecteerbare kanaalbreedte: 5/10/20/40 MHz
Automatische kanaalselectie
Zendvermogenregeling
Dynamische frequentie selecteren (DFS)
WDS inschakelen/uitschakelen
Beveiliging: WPA/WPA2, WPA-PSK/WPA2-PSK (AES/TKIP) encryptie, 64/128/152-bits WEP-encryptie
SSID Broadcast inschakelen/uitschakelen
Multi-SSID met VLAN Tagging (alleen AP-modus)
Distance/ACK Timeout instellen
Draadloos MAC-adresfilter
Geavanceerd:
> Beacon Interval/RTS Threshold/Fragmentation
>Threshold/DTIM Interval/AP Isolation/Short GI/Wi-Fi Multimedia
Management
Zoeken en op afstand beheren via Pharos Control
HTTP/HTTPS online management
Systeemlog
SNMP Agent(v2c)
Ping Watch-dog
Dynamisch DDNS
SSH-server
System Tools
Indicaties voor draadloze signaalkwaliteit:
Signaalsterkte/ruis/uitzenden CCQ/ CPU/ geheugen
Monitors: doorvoer/stations/interfaces/ARP/routes/WAN/DHCP
Spectrum Analyzer
Speedtest
Ping
Traceroute
System-level Optimizations
Geoptimaliseerde IGMP Snooping/Proxy voor multicasttoepassingen
Hardware-watchdog
POE ADAPTER FEATURES
Dimensions(W x D x H)
110*57*33,5 mm
Interfaces
1 AC-jack met Aardpen
1 10/100 Mbps afgeschermde ethernetpoort (stroom + data)
1 10/100 Mbps afgeschermde ethernetpoort (data)
Knop
Resetknop op afstand
Power Status LEDs
Groen
Input
100-240 VAC, 50/60 Hz
Input Voltage
100 VA~240 VAC @ 50 Hz~60 Hz
Input Current
Max. 0,8 A @ 100 VAC
Output
24 VDC, 1,0 A max.
+4, 5 pins; -7, 8 pins (ondersteunt tot 60 m Power over Ethernet)
Output Voltage
24 V DC (+4,5 pins; -7,8 pins)
Efficiëntie
>80%
Certificaties
CE/FCC/UL/IC/GS/PSB/C-tick/SAA/S-Mark/KC-mark
Overige
Certificatie
CE, FCC, RoHS, IPX5
Pakketinhoud
Draadloze CPE voor buitenshuis
24 V 1 A passief PoE-adapter
Paalbevestigingen
AC-voedingskabel
Installatiegids
Systeemvereisten
Microsoft Windows 98SE, NT, 2000, XP, Vista™ or Windows 10, Windows 8, Windows 7, MAC OS, NetWare, UNIX or Linux.
Opmerking: We raden u aan om 1 van de volgende webbrowsers te gebruiken voor een verbeterde gebruikerservaring: Google Chrome, Safari, en Firefox. IE-browsers worden niet aangeraden.
Omgeving
Gebruikstemperatuur: 30℃~70℃
Bewaartemperatuur: -40℃~70℃
Rel. luchtvochtigheid gebruik: 10%~90%, niet-condenserend
Rel. luchtvochtigheid opslag: 5%~95%, niet-condenserend
*Maximale draadloze overdrachtssnelheden op basis van specificaties van de IEEE 802.11-standaard. Het bereik, de dekking en het aantal verbonden apparaten zijn gebaseerd op testresultaten onder normale gebruiksomstandigheden. De werkelijke draadloze overdrachtssnelheid, draadloos bereik en aantal verbonden apparaten kunnen niet gegarandeerd worden en variëren op basis van 1) omgevingsfactoren, met inbegrip van bouwmaterialen, fysieke objecten en obstakels, 2) netwerkomstandigheden, met inbegrip van lokale interferentie, omvang en dichtheid van het verkeer, locatie van het product, complexiteit van het netwerk en overhead, en 3) clientbeperkingen, met inbegrip van nominaal vermogen, locatie, verbinding, kwaliteit en toestand van de client.
*Beveiliging tegen bliksem en elektrostatische ladingen is mogelijk op basis van de juiste opstelling, aarding en kabelmantels. Raadpleeg de gebruiksaanwijzing en neem contact op met een IT-specialist voor advies over de opstelling van dit product.
*Het bereik van de stroomvoorziening is gebaseerd op testresultaten onder normale gebruiksomstandigheden. Het werkelijke bereik van de stroomvoorziening varieert op basis van 1) status van het access point, met inbegrip van het zendvermogen, verbonden apparaten en netwerkverkeer, 2) eigenschappen van de kabel, met inbegrip van type en textuur en 3) omgevingsfactoren, met inbegrip van temperatuur en luchtvochtigheid.
From United States?
Get products, events and services for your region.