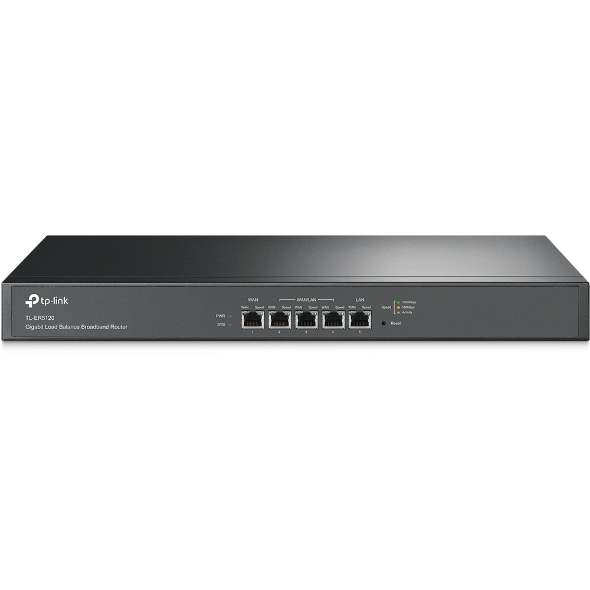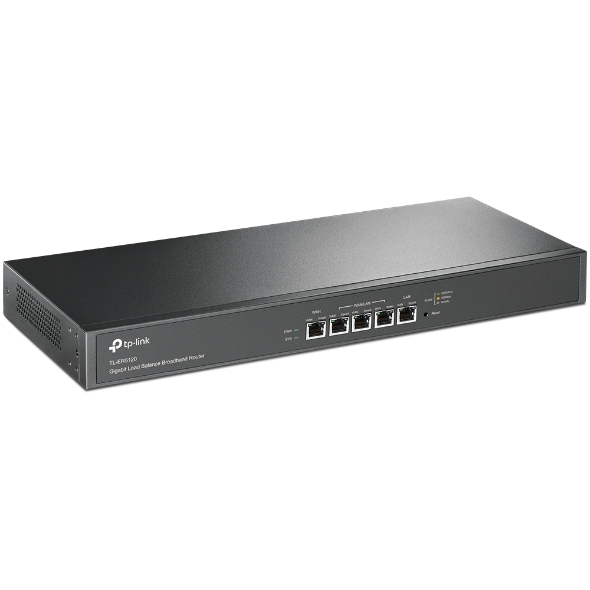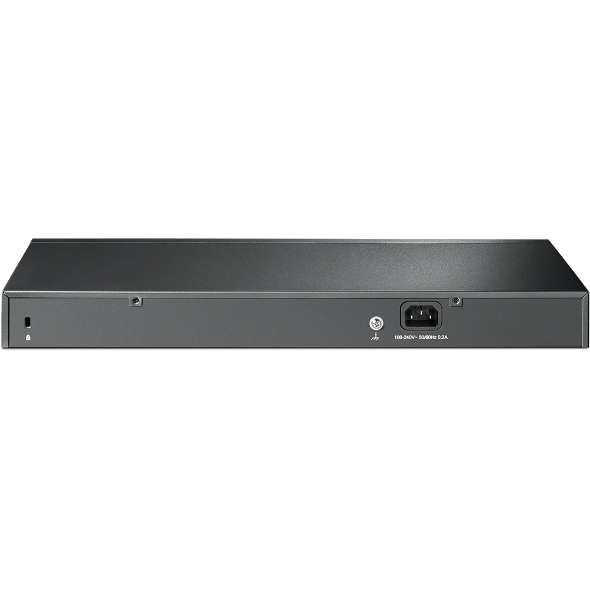 Router Gigabit Broadband Load Balance TL-ER5120
1 porta Gigabit WAN, 1 porta Gigabit LAN/DMZ, 3 porte intercambiabili LAN/WAN
Numerose funzionalità di sicurezza come ARP Inspection, DoS Defense, Filtro URL / Keyword Domain e Controllo Accessi
One-Click restriction per applicazioni IM/P2P che consente facilmente di gestire il comportamento degli utenti collegati
Server PPPoE per una migliore gestione della rete interna
Load Balancing (Bilanciamento di Carico) con selezione automatica della route a seconda dei carichi
Protezione da shock elettrico fino a 4000V per la salvaguardia d'investimento
Possibilità d'Impiego
Il Router Gigabit Broadband Load Balance TL-ER5120 garantisce eccellenti performance di routing corredate da importanti funzionalità di Load Balance, Controllo Accessi, Controllo IM/P2P, protezione da attacchi DoS, Bandwidth Control, Limitatore di Sessione e Server PPPoE. TL-ER5120 integra tutto il necessario per l'utilizzo in piccole o medie imprese con elevato numero di utenze, mantenendo le condizioni di sicurezza e semplicità di gestione.
Numerose Funzionalità di Sicurezza
Per garantire la protezione da attacchi provenienti dall'esterno, TL-ER5120 integra difese automatiche contro attacchi DoS (Denial of Service) come TCP/UDP/ICMP Flooding, TCP Scanning, Ping of Death e molte altre metodologie di offesa. Inoltre, incorpora una porta hardware DMZ, che permette di rendere raggiungibili dei server da web, senza esporre la rete interna, che rimane inattaccabile. Per garantire una gestione efficace, è possibile configurare vari tipi di regole per regolamentare, a titolo esemplificativo, l'accesso a siti web ed applicazioni IM (Chat) e P2P (Peer to Peer) o per limitare l'uso di alcuni protocolli come FTP, HTTP o SMTP.
Gestione Efficace
Configurando il server PPPoE e creando account per gli utenti, il router consente l'accesso alla rete solo agli utenti autenticati. Associando questo tipo di autenticazione con il Bandwidth Control IP-based, è possibile disciplinare la banda allocabile ad ogni utenza. Queste funzioni, utilizzabili congiuntamente, consentono di impostare una priorità di allocazione delle risorse.
Ottimizzazione di Banda
TL-ER5120 monta 3 porte dinamiche configurabili come LAN o WAN che consentono di instaurare fino a 4 connessioni WAN, in modo da soddisfare ogni tipo di architettura. Il sistema Intelligent Load Balancing distribuisce i flussi su tutte le porte WAN massimizzando l'efficienza su reti multi-line. Infine, tramite i sistemi Bandwidth Control IP-based e Session Limit, gli amministratori di rete possono gestire la banda in modo rapido e flessibile.
Salvaguardia d'Investimento
Questo prodotto è protetto da scariche elettriche fino a 4000V, tramite un apposito sistema di scarico a terra. Questo consente di evitare il danneggiamento dei circuiti interni, salvaguardando l'investimento.
CARATTERISTICHE HARDWARE
Standard e protocolli
IEEE 802.3, 802.3u, 802.3ab
TCP/IP, DHCP, ICMP, NAT, PPPoE, SNTP, HTTP, DNS, IPsec, PPTP, L2TP

Interfaccia
1 Fixed 10/100/1000Mbps WAN Port
3 Free Changeable 10/100/1000Mbps WAN/LAN Ports
1 Fixed 10/100/1000Mbps LAN/DMZ Port
1 Console Port (RJ-45 On RS232)

Media
10BASE-T: UTP category 3, 4, 5 cable (Max 100m)
EIA/TIA-568 100Ω STP (Max 100m)
100BASE-TX: UTP category 5, 5e cable (Max 100m)
EIA/TIA-568 100Ω STP (Max 100m)
1000BASE-T: UTP category 5, 5e, 6 cable (Max 100m)

Tasto
Reset Button
Alimentazione
Internal Universal Power Supply
AC100-240V~ 50/60Hz Input

Flash
8MB
DRAM
DDRII 128MB
LED
PWR, SYS, Link/Act, Speed, WAN, DMZ
Dimensioni ( L x P x A )
17.3x8.7x1.7 in.(440x220x44 mm)
19-inch Standard Rack-Mount Width, 1U Height

PRESTAZIONI
Sessioni concorrenti
120000
Throughput NAT
350Mbps
FUNZIONI DI BASE
Tipo connessione WAN
Dynamic IP, Static IP, PPPoE, PPTP, L2TP, Dual Access, BigPond
DHCP
DHCP Server/Client
DHCP Reservation

MAC clone
Modify WAN/LAN/DMZ MAC Address
Configurazione switch
Port Mirror
Rate Control
Port Config
Port VLAN

IPTV
Bridge, Custom
IPv6
IPv6 Support
VLAN
802.1Q VLAN, Port VLAN
FUNZIONALITA' AVANZATE
Load balance
Intelligent Load Balance
Policy Routing
Protocol Binding
Link Backup (Timing, Failover)
Online Detection

NAT
One-to-One NAT
Multi-nets NAT
Virtual Server, DMZ Host, Port Triggering, UPnP
FTP/H.323/SIP/IPsec/PPTP ALG

Routing
Static Routing
Dynamic Routing (RIP v1/v2)

Traffic control
IP-based Bandwidth Control
Guarantee & Limited Bandwidth
Time-scheduled Policy
IP-based Session Limit

TRANSMISSION
Load Balance
Intelligent Load BalanceLink Backup (Timing, Failover)Online Detection
NAT
One-to-One NATMulti-nets NATVirtual ServerPort TriggeringFTP/H.323/SIP/IPsec/PPTP ALGUPnP
Routing
Static RoutingPolicy Routing
Session Limit
IP-based Session Limit
Bandwidth Control
IP-based Bandwidth Control
SICUREZZA
Porta DMZ
1 Hardware DMZ Port
Application control
IM, P2P, Web IM, Web SNS, Web Media, Protocol, Proxy Blocking
Attack defence
TCP/UDP/ICMP Flood Defense
Block TCP Scan (Stealth FIN/Xmas/Null)
Block Ping from WAN

Filtering
MAC Filtering
URL/Keywords Filtering
Web Content Filtering (Java, ActiveX, Cookies)

ARP inspection
Sending GARP Packets
ARP Scanning by WAN/LAN
IP-MAC Binding

Access Control
Source/Destination IP Based Access Control
AUTHENTICATION
Web Authentication
Local User Authentication,Radius Sever Authentication,Onekey Online
GESTIONE
Servizio
PPPoE Server
E-Bulletin
Dynamic DNS (Dyndns, No-IP, Peanuthull, Comexe)

Manutenzione
Web/CLI/Telnet Management Interface
Remote Management
Export & Import Configuration
NTP Synchronize
Syslog Support

ALTRO
Certificazione
CE, FCC, RoHS
Contenuto della confezione
TL-ER5120
Resource CD
Power Cord
Rack-mount Kit
Installation Guide

Requisiti di sistema
Nessuno
Ambiente
Operating Temperature: 0℃~40℃ (32℉~104℉)
Storage Temperature: -40℃~70℃ (-40℉~158℉)
Operating Humidity: 10%~90% non-condensing
Storage Humidity: 5%~90% non-condensing