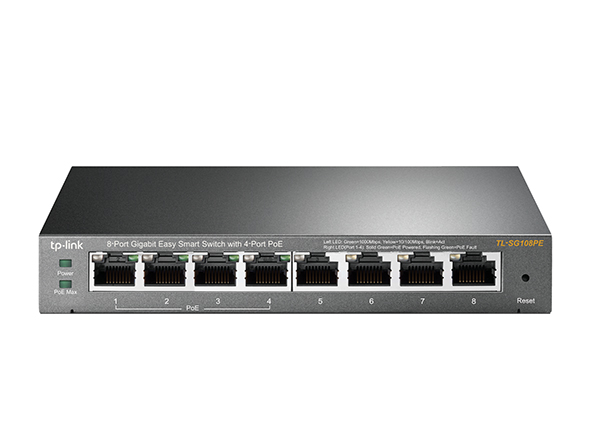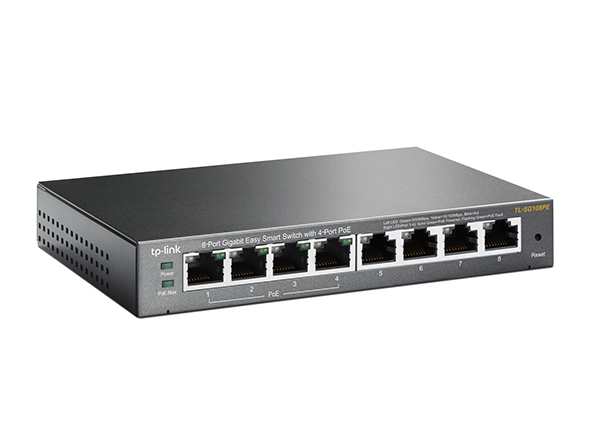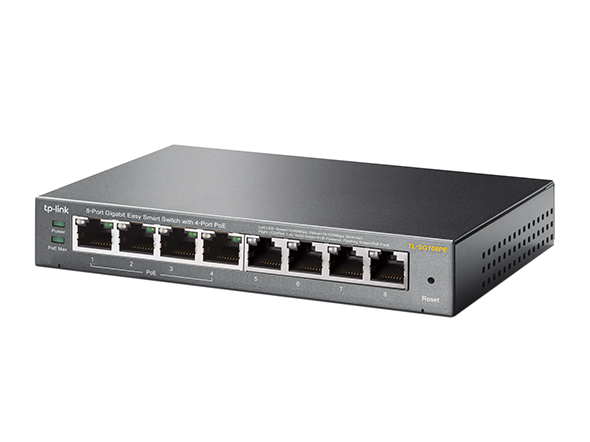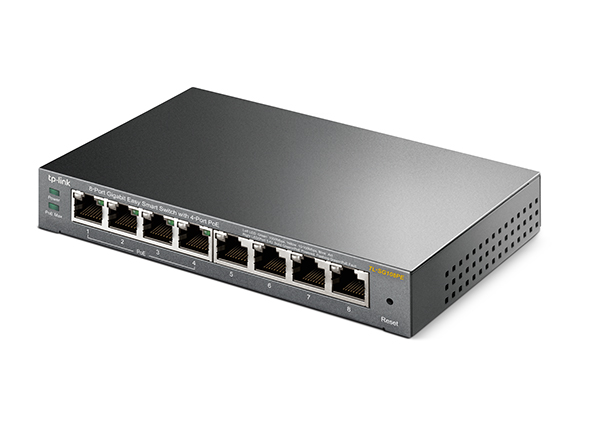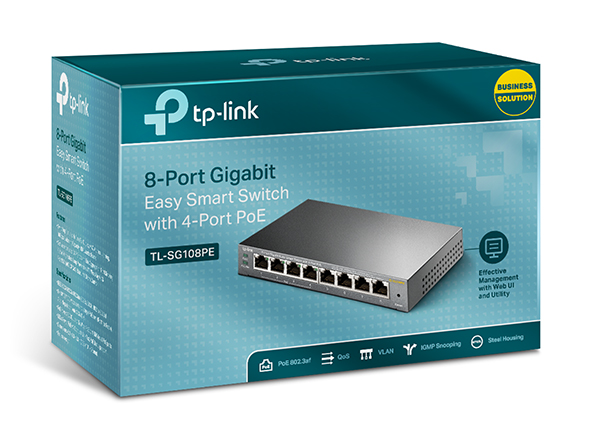 TL-SG108PE
8 portos gigabites Easy Smart Switch 4 PoE csatlakozóval
8 db 10/100/1000 Mb/s-os RJ45 csatlakozó
Négy PoE támogatott csatlakozóval, a tápellátás és az adattovábbítás egy kábelen
Hálózat megfigyelést, forgalom priorizálást és VLAN funkciókat biztosít
Egyszerű hálózatbeállítás Plug & Play kapcsolódással
Webes alapú beállítási felület és az Easy Smart konfigurációs segédprogram könnyíti meg a beállítást
Hogyan működik?
A TL-SG108PE egy 8 portos gigabites Easy Smart Switch 4 PoE csatlakozóval, ami ideális fejlesztési eszköz a nem menedzselhető Switch technológiáról. Kifejezetten a kisvállalkozásoknak szánták, ahol egyszerűbb hálózatvezérlés és PoE funkcionalitás szükséges. A TL-SG108PE-hez legfeljebb 4 db PoE-s eszköz csatlakoztatható, mint AP, IP-kamera és IP-telefon. A webes beállítási felületen és a vezérlő segédprogramon keresztül a TL-SG108PE megannyi hasznos funkciót kínál, többek közt hálózatmegfigyelés, forgalompriorizálás, QoS. Ezen túlmenően port/tag-alapú és MTU VLAN-nal a TL-SG108PE nagyban hozzájárul a hálózat biztonságához, és több hálózati szegmentációs követelmények felel meg.
Power Over Ethernet
4 csatlakozó a 8 Auto-Negotiation RJ45 csatlakozóból (1-től a 4. csatlakozóig) támogatja a Power over Ethernet (PoE) technológiát. Ezek a PoE csatlakozók automatikusan felismerik és beállítják a szükséges tápot a IEEE 802.3af-képes eszközöknek (PDs).
Hatékony vezérlés
A TL-SG108PE hálózati felügyeletet nyújt a felhasználók számára, hogy megfigyelhető legyen az adatforgalom. A webes beállítási felületen és a vezérlő segédprogramon keresztül a TL-SG108PE több hasznos funkciót is kínál, többek közt hálózatmegfigyelést, forgalompriorizálást, QoS-t. A port tükrözéssel, hurok elleni védelemmel és a kábeldiagnosztikával a TL-SG108PE be tudja azonosítani, és akár lokalizálhatja is a csatlakozási problémákat a hálózaton. Sőt, a rendszergazdák kijelölhetik a forgalmi prioritást, a port prioritás és a Port/802.1p/DSCP prioritás alapján, hogy hang és videó mindig tiszta, sima és akadásmentes legyen. Továbbá a biztonság és a hálózati teljesítmény javításához a TL-SG108PE támogatja MTU VLAN, port alapú VLAN és 802.1Q alapú VLAN funkciókat. A TL-SG108PE egy plug & play, nem menedzselhető switch hálózat fejlesztése, nagy értéket hordozva, miközben erőteljesebbé teszi hálózatát és hasonlóan nagy értéket ad a végfelhasználónak is.
Könnyű használni
A TL-SG108PE-t egyszerű használni és vezérelni. Auto-MDI/MDI-X kábelészlelés révén nincs szükség fordított bekötésű kábelre és uplink portra. Az Auto-negotiation minden porton érzékeli a kapcsolat sebességét (akár 10, 100 vagy 1000 Mb/s) és intelligensen beállítja a kompatibilitást és az optimális teljesítményt. Kompakt méretének köszönhetően ideális asztali elhelyezéshez kevés hellyel rendelkező irodákban. Aktív LED lámpái valós idejű működési állapotról és alapvető hibakeresési eredményről nyújtanak információt.
Switches for Surveillance

For general surveillance, TP-Link has designed a variety of PoE Switches to meet the requirements of most IPCs. Many robust features provide value well beyond basic networking needs, creating a versatile and reliable surveillance network to grow your business.

Long-Range PoE
Auto Camera Recovery
Enhanced Network Security

Hospitality

TP-Link Omada allows hotels to build reliable WiFi networks. Hotel WiFi network solutions including network topology, design, features, installation, and products are introduced.

Full WiFi coverage and wired connections
Flexible guest control
Seamless roaming
Easy Management

Education

Due to its reliable, scalable, and secure network solution, TP-Link has been widely acknowledged by global customers in the Education market ranging from infant schools with a few APs up to colleges and universities with hundreds of APs.

Easy management
High-density WiFi
Full WiFi coverage and wired connections
VPN and security
Hardver jellemzők
Szabványok és protokollok
IEEE 802.3i, IEEE 802.3u, IEEE 802.3ab, IEEE 802.3af, IEEE 802.3x, IEEE 802.1q, IEEE 802.1p, IEEE 802.3at
Csatlakozások
8 db 10/100/1000 Mb/s RJ45 csatlakozó
AUTO Negotiation/AUTO MDI/MDIX
Hálózati összeköttetés
10BASE-T: 3, 4, 5 kategóriás UTP-kábel (maximum 100 m)
EIA/TIA-568 100Ω STP (maximum 100 m)
100BASE-TX: 5, 5e kategóriás UTP-kábel (maximum 100 m)
EIA/TIA-568 100Ω STP (maximum 100 m)
1000BASE-T: 5, 5e, 6 vagy magasabb kategóriás UTP-kábel (maximum 100 m)
EIA/TIA-568 100Ω STP (maximum 100m)
Ventilátorok száma
Ventilátor nélküli
Hálózati tápegység
Külső tápegység (Kimenet: 48 VDC / 1,25 A)
Energiafelvétel
Maximum (PoE-val): 65,2 W (220V/50Hz)
Maximum (PoE nélkül): 5,2 W (220V/50Hz)
PoE portok (RJ45)
Szabvány: 802.3af kompatibilis
PoE-s csatlakozók: 1-4. csatlakozók
PoE össztápellátás: 55 W
Méretek (Sz x Mé x Ma)
6.2 × 4.0 × 1.0 in (158 × 101 × 25 mm)
Max. áramfelvétel
4.43 W (220V / 50Hz with no PD connected)75.13 W (220V / 50Hz with 64 W PD connected)
Max Heat Dissipation
15.11 BTU/h (with no PD connected)256.19 BTU/h (with 64 W PD connected)
Működési jellemzők
Switching teljesítmény
16 Gbps
Csomagtovábbítási sebesség
11.9 Mpps
Fizikai (MAC) cím tábla
4 K
Csomag puffer memória
1,5 Mb
Jumbo Frame
16 KB
Szoftver jellemzők
QoS (szolgáltatás minősége)
Támogatott a port alapú/802.1p/DSCP prioritás
Támogatott a 4 prioritás sor
Sebességszabályozás
Storm felügyelet
L2 jellemzők
IGMP Snooping V1/V2/V3
Link Aggregation
Port tükrözés
Kábeldiagnosztika
Hurok elleni védelem
VLAN
Támogatott a 32 VLAN egyidejűleg
MTU/Port/Tag VLAN
PoE
Extend Mode**PoE Auto Recovery
Vezérlés
Webes alapú kezelőfelület
Easy Smart beállítási segédprogram
Továbbítás módja
Tárol és továbbít
Egyéb jellemzők
Tanúsítványok
FCC, CE, RoHS
Csomagolás tartalma
TL-SG108PE
Tápegység
Beüzemelési útmutató
Telepítési segéd-CD
Gumitalp
Rendszerkövetelmény
Microsoft® Windows® a segédprogramhoz
Környezet
Működési hőmérséklet: 0℃~40℃ (32℉~104℉)
Tárolási hőmérséklet: -40℃~70℃ (-40℉~158℉)
Működési Páratartalom: 10%~90% változatlan halmazállapot
Tárolási Páratartalom: 5%~90% változatlan halmazállapot
From United States?
Get products, events and services for your region.