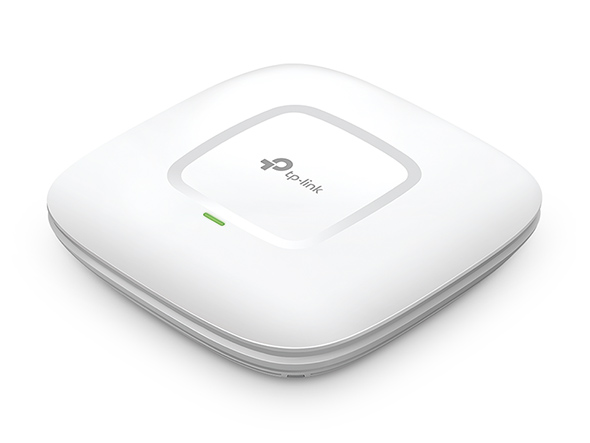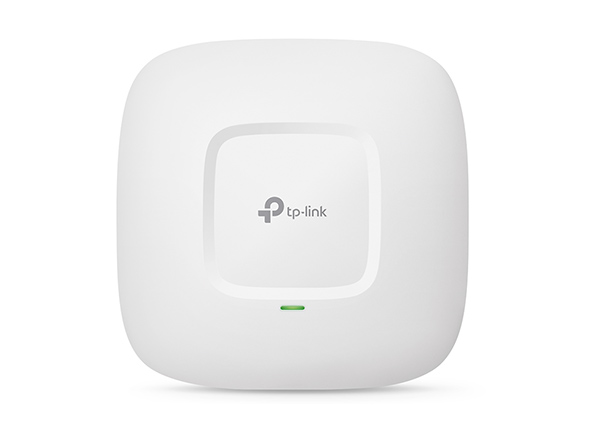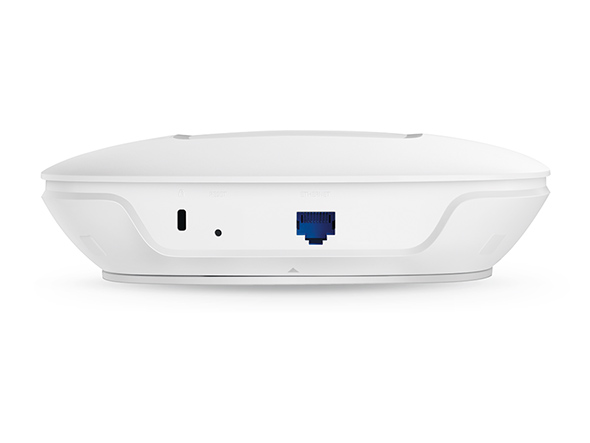 EAP110
Point d'accès Wi-Fi N 300 Mbps - Plafonnier
Le logiciel contrôleur Wi-Fi fourni offrent une administration centralisée facile jusqu'à 100 EAP*
Fonctionnalité Power over Ethernet jusqu'à 30 mètres pour un déploiement flexible. (PoE passif injecteur fourni, ne supporte pas la norme 802.3af des switches PoE)
Un design conçu pour une installation facile au plafond, au mur ou sur un bureau
Un portail captif fournit une méthode pratique d'authentification des clients Wi-Fi invités
Les fonctionnalités de sécurité performantes, incluant le protocole WPA/WPA2-enterprise, l'authentification sécurisée 802.1X avec RADIUS et la détection des points d'accès indésirables vous permettent de protéger votre réseau WLAN
Fonction Multi-SSID offrant différents réseau Wi-Fi pour des utilisateurs différents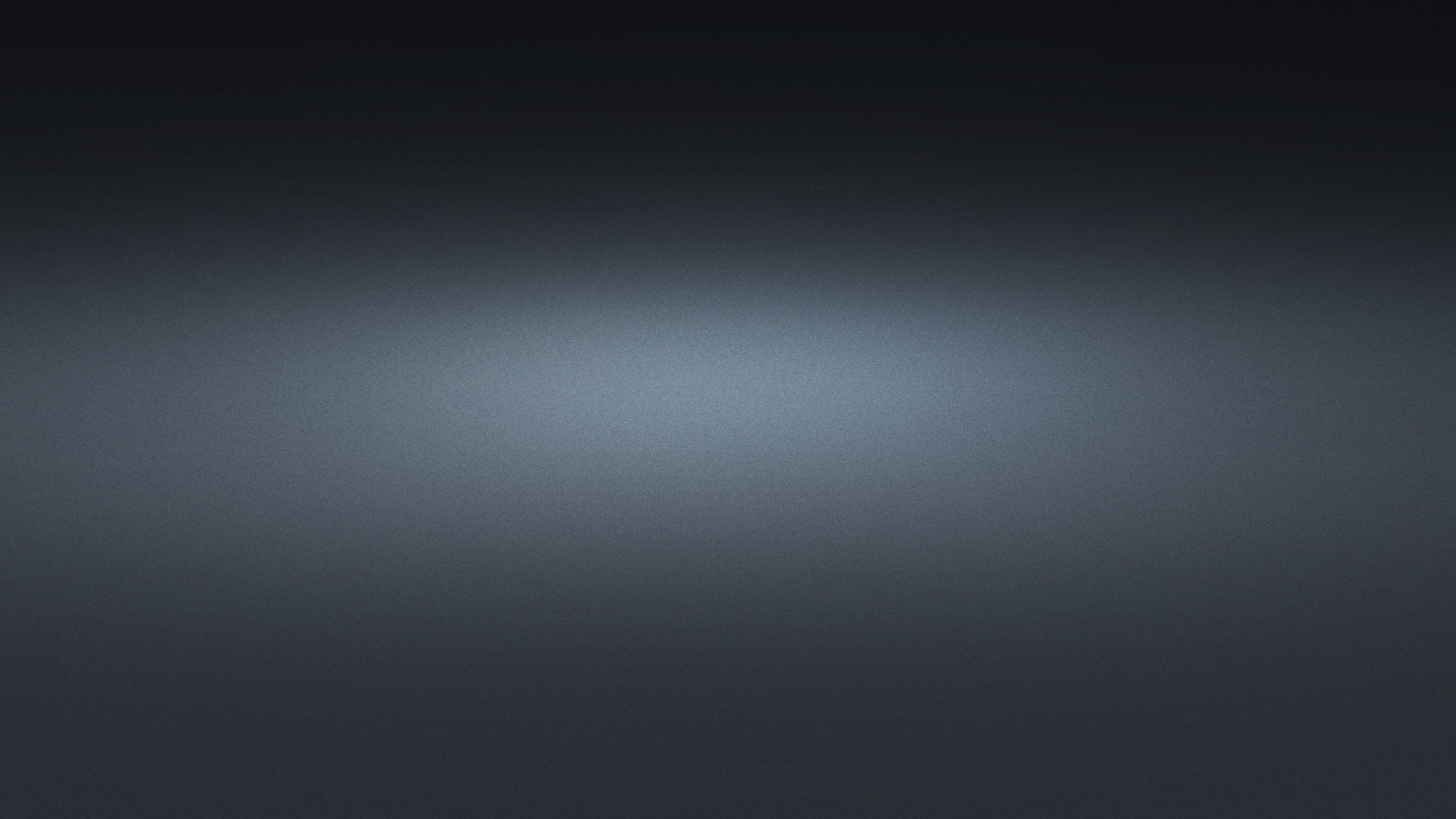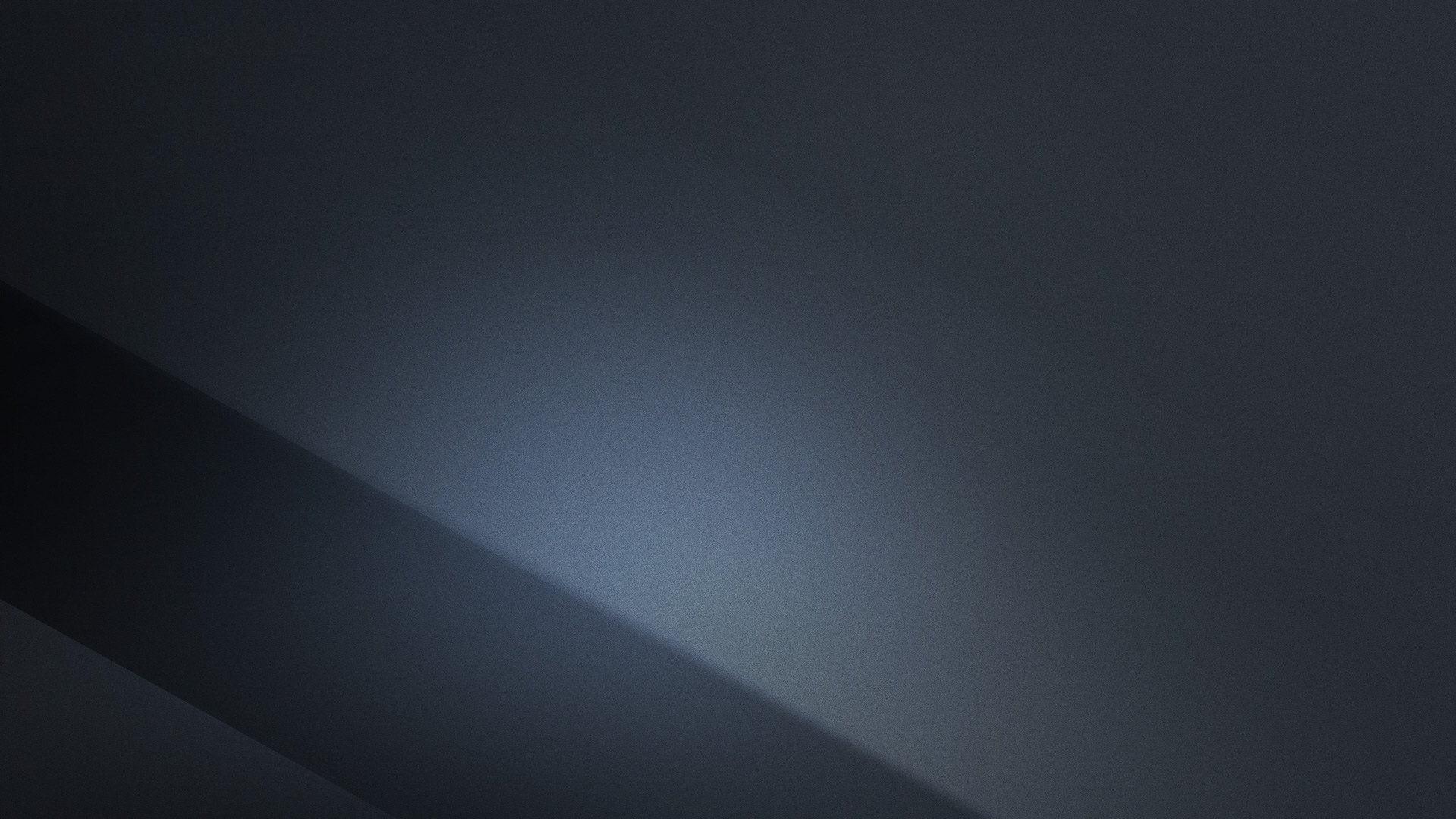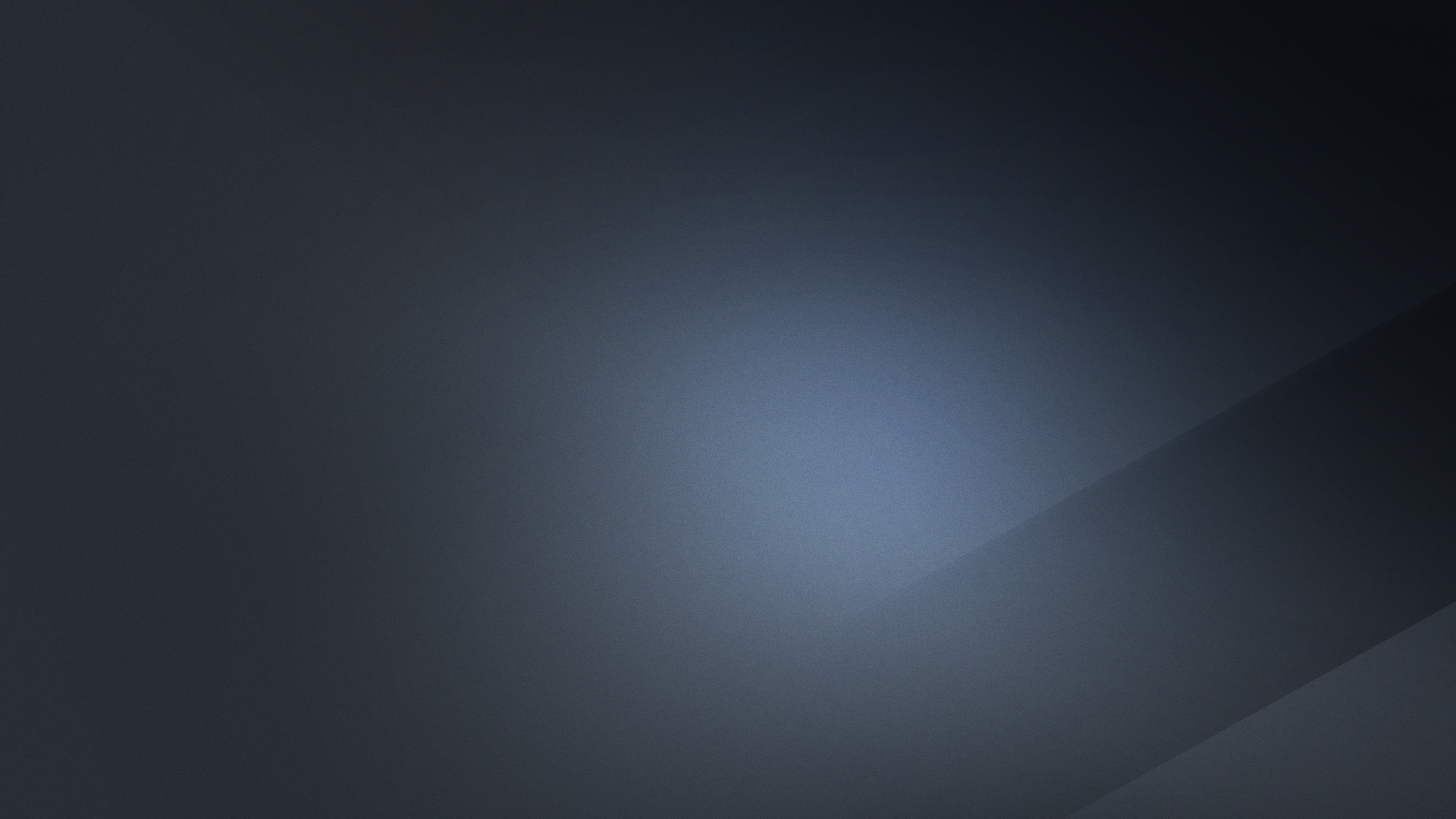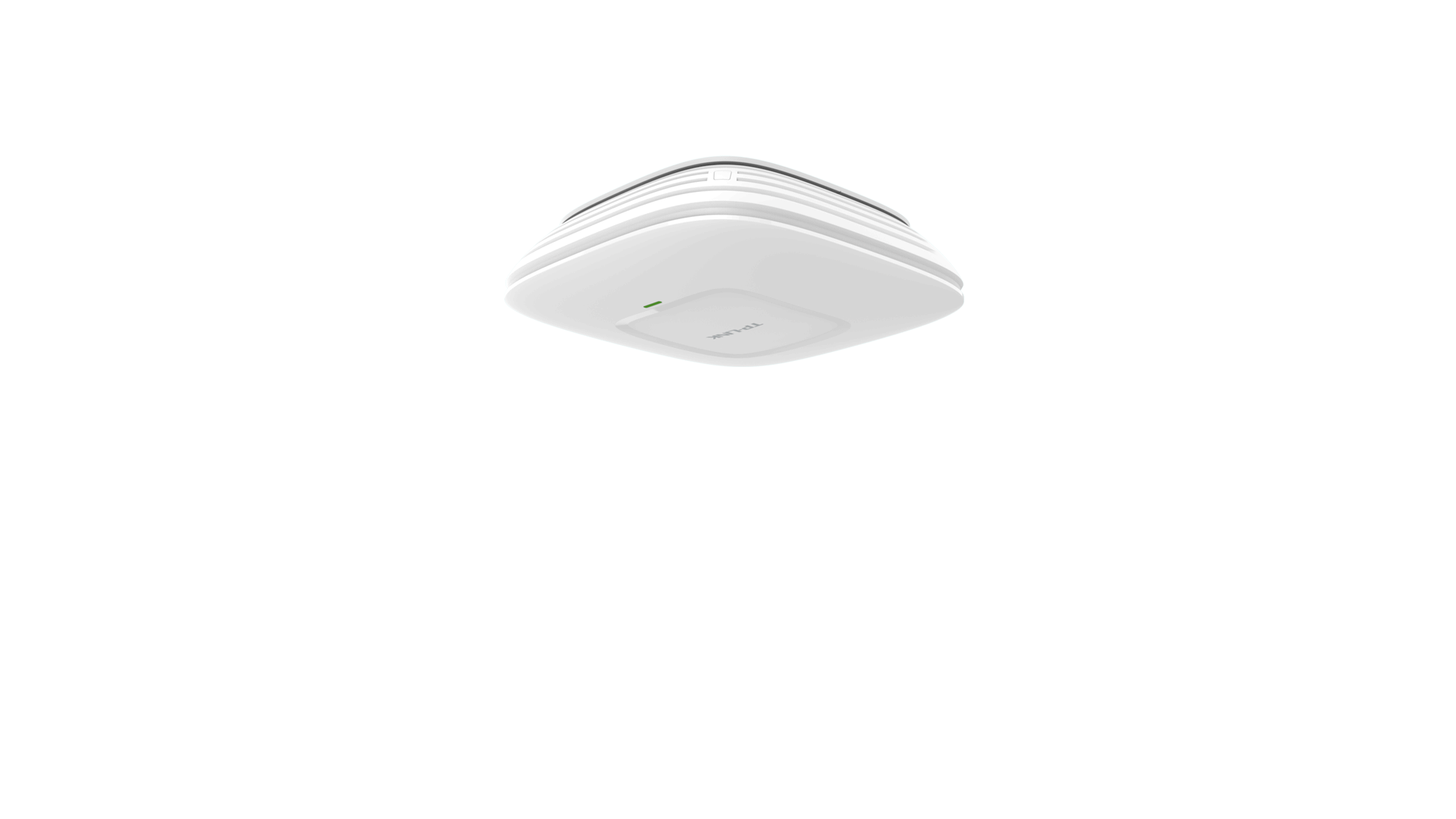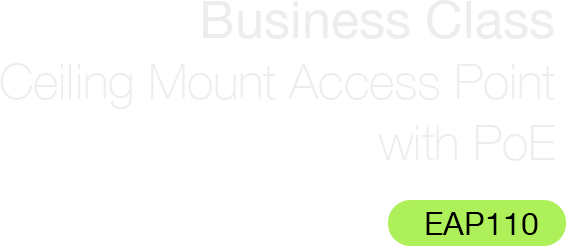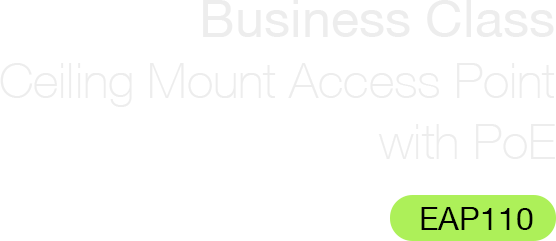 Déploiement flexible
Conception mural/plafonnier & PoE Passif
La conception du design "plafonnier" et le chassis de montage du point d'accès EAP110 offrent une installation facile au plafond, au mur ou sur un bureau. Il s'intègre facilement dans tous les décors d'intérieurs.EAP110 supporte la connectivité PoE Passif pour assurer un déploiement flexible et facile.
PoE
Passif
Sécurité Kensington
Business Class Wireless

Matériel puissant
802.11n Wi-Fi - EAP110 supporte la bande 2.4GHz pour un débit de 300Mbps
avec un chipset Qualcomm Atheros 560MHz, EAP offre une couverture WiFi performante et une stabilité de connexions
300Mbps
2.4GHz
Authentification réseau invité efficace
Portail captif
Le portail captif fournit une méthode pratique d'authentification des clients Wi-Fi. Le portail captif requiert certaines actions de l'utilisateur avant l'autorisation d'accès au réseau. L'action requise est vérifiée par un portail sur serveur externe ou une base de donnée personnalisée par l'administrateur réseau, qui peut être aussi tout simplement l'acceptation des conditions d'utilisation du réseau, ou la saisie d'un identifiant et d'un mot de passe.
Compatible tout environnement
Conçu pour allier les performances d'entreprise.
Grâce au design plafonnier, l'alimentation PoE passive, la fonction de clustering, le logiciel de gestion centralisé, le portail captif, les sécurités d'entreprise et la qualité professionnelle du matériel, le point d'accès EAP110 est spécialement conçu pour répondre aux besoins intensifs à des environnements denses comme les écoles, les hôtels, et les entreprises.
Compatibilité

EAP110 supporte
802.11 b/g/n products

Répartition de charge

Fonction répartition de charge pour assurer la connectivité réseau pour un grand nombre d'utilisateurs

Cluster/contrôleur

Fonctionnalité de cluster pour dupliquer et regrouper plusieurs AP et le logiciel contrôleur Wi-Fi fourni offrent une administration centralisée
Norme LSOH

Norme d'inflammabilité et de toxicité - matériel LSOH (Low Smoke Zero Halogen) UL2043

Design pensé

Aération conçue pour éviter le dépôt de poussière sur le circuit imprimé et de ce fait fourni un meilleur fonctionnement à long terme.

Qualié de service (QoS)

Fonction QoS (qualité de service) pour prioritiser le traffic de données, de voix et des applications vidéos

EAP Series
EAP110
EAP120
EAP220
Product
300Mbps Wireless N
Access Point
300Mbps Wireless N
Gigabit Access Point
N600 Wireless
Dual Band Gigabit Access Point
Wireless Standards
IEEE 802.11 n/b/g
IEEE 802.11 n/b/g
IEEE 802.11 n/b/g/a
Speed
2.4GHz : 300Mbps
2.4GHz : 300Mbps
2.4GHz : 300Mbps
5GHz : 300Mbps
Ethernet Port
10/100Mbps Port*1
Gigabit Port*1
Gigabit Port*1
PoE
Passive PoE
802.3af
802.3af
Internal Antennas
2 * 3dBi
2 * 4dBi
4 * 4dBi
EAP Controller
√
√
√
Multiple SSIDs
8
8
16
Captive Portal
√
√
√
MAC Filtering
√
√
√
Wireless Schedule
√
√
√
Rogue AP Detection
√
√
√
Automatic RF Management
√
√
√
Note:
For EAP120 that's currently supporting cluster function, please upgrade the device's firmware to the latest to be compatible with the EAP controller software.
Hospitality

TP-Link Omada allows hotels to build reliable WiFi networks. Hotel WiFi network solutions including network topology, design, features, installation, and products are introduced.

Full WiFi coverage and wired connections
Flexible guest control
Seamless roaming
Easy Management

Education

Due to its reliable, scalable, and secure network solution, TP-Link has been widely acknowledged by global customers in the Education market ranging from infant schools with a few APs up to colleges and universities with hundreds of APs.

Easy management
High-density WiFi
Full WiFi coverage and wired connections
VPN and security

Retail

A good wireless network cannot only serve the network office system of the mall, but also bring a more comfortable shopping experience to customers. The TP-Link Omada SDN Solution empowers store owners to create a modern and compelling in-store experience for every customer.

Boost online business
Full WiFi coverage
Seamless roaming
High-concurrent clients
Easy management
Click-Storm eSports Tournament

TP-Link the life of the LAN party for Russia's Click-Storm

Click-Storm eSports Tournament

TP-Link the life of the LAN party for Russia's Click-Storm

"We chose TP-Link to create our network based on the expert reviews of system administrators in Kazan's internet cafés. TP-Link allowed us to quickly deploy its Wi-Fi access points, which were able to connect over 100 smartphone and tablet-based players to Hearthstone." —Alexey Talan, CEO at Click-Storm

Patmos Aktis Suites & Spa

Improving Guest Satisfaction and Loyalty with Great Wi-Fi

Patmos Aktis Suites & Spa

Improving Guest Satisfaction and Loyalty with Great Wi-Fi

"TP-Link has helped us provide an outstanding customer experience with an affordable and easy-to-maintain system. The high-performance Wi-Fi provided the level of service that we need to keep our customers completely satisfied. I look forward to continued cooperation with TP-Link's professional team on future projects." —Nikolaos Pouliou, Owner of Patmos Aktis Suites & Spa

Kos Aktis Art Hotel

TP-Link Provides Better Wi-Fi for the Unique Destination in Greece

Kos Aktis Art Hotel

TP-Link Provides Better Wi-Fi for the Unique Destination in Greece

"Broad coverage, high performance, portal service, and easy management—the TP-Link Omada Solution had all the features we needed and the right price. The professionalism and qualifications of the TP-Link partner team contributed to our ability to provide an excellent hotel experience for our customers." —Michael Chatzistergos, General Manager of Kos Aktis Art Hotel.

Barranquilla Plaza Hotel

TP-Link Helps Barranquilla Plaza Hotel Build a Reliable and Efficient Network

Barranquilla Plaza Hotel

TP-Link Helps Barranquilla Plaza Hotel Build a Reliable and Efficient Network

"HBP management has expressed intense satisfaction with their newly implemented solution and 100% of the staff has reported improved internet service. TP-Link's Omada Solution provided the reliable, high-performance wireless network that HBP and its guests demanded."
CARACTERISTIQUES MATERIELLES
Interface
Fast Ethernet (RJ-45) Port *1(Support Passive PoE)
Bouton
Reset
Alimentation
24V Passive PoE (+4,5pins; -7,8pins. PoE Adapter Included)
Consommation
2.8W
Dimensions
189.4×172.3×29.5mm
Type d'antenne
Internal 2* 4dBi Omni
Montage
Ceiling /Wall Mounting (Kits included)
Caractéristiques WiFi
Standards WiFi
IEEE 802.11n, IEEE 802.11g, IEEE 802.11b
Fréquence
2.4-2.4835GHz
Débit du signal
11n: Up to 300Mbps(dynamic)
11g: Up to 54Mbps(dynamic)
11b: Up to 11Mbps(dynamic)
Sensibilité de réception
300M: -71dBm@10% PER
150M: -75dBm@10% PER
54M: -78dBm@10% PER
11M: -93dBm@8% PER
6M: -92dBm@10% PER
1M: -96dBm@8% PER
Fonctions WiFi
Multiple SSIDs (Up to 8 SSIDs)
Enable/Disable Wireless Radio
Automatic Channel Assignment
Transmit Power Control (Adjust Transmit Power on dBm)
QoS(WMM)
Rate Limit
Reboot Schedule
Wireless Schedule
Wireless Statistics based on SSID/AP/Client
Sécurité WiFi
Captive Portal Authentication
Access Control
Wireless Mac Address Filtering
Wireless Isolation Between Clients
SSID to VLAN Mapping
Rogue AP Detection
802.1X Support
64/128/152-bit WEP / WPA / WPA2-Enterprise,WPA-PSK / WPA2-PSK
Puissance de transmission
CE:
<20dBm
FCC:
<26dBm
Administration
Accès Cloud Omada
Yes
Omada App
Yes
Contrôleur Cloud Omada
Yes
Administration Centralisée
• Omada Hardware Controller (OC300)• Omada Hardware Controller (OC200)• Omada Software Controller
Contrôleur Logiciel Omada
Yes
Accès Cloud
Yes (Through OC300, OC200, or Omada Software Controller)
Alertes Email
Yes
DEL ON/OFF
Yes
Administration de contrôle d'accès des adresses MAC
Yes
SNMP
v1,v2c
Journal système local/distant
Local/Remote Syslog
Telnet
Yes
SSH
Yes
Administration par interface WEB
HTTP/HTTPS
Administration VLAN
Yes
Autres
Certification
CE, FCC, RoHS
Contenu de l'emballage
300Mbps Wireless N Ceiling Mount Access Point EAP110
Passive PoE Adapter,
Power Cord,
Mounting Kits,
Installation Guide
Système requis
Microsoft Windows 10/8/7/Vista/XP
Environnement
Operating Temperature: 0℃~40℃
Storage Temperature: -40℃~70℃
Operating Humidity: 10%~90% non-condensing
Storage Humidity: 5%~90% non-condensing
Newsletter TP-LinkTP-Link prend votre vie privée au sérieux. Pour plus de détails sur la politique de confidentialité de TP-Link, veuillez consultez la page suivante Politique de confidentialité de TP-Link .
De United States?
Infos produits, événements, services pour votre pays.