How to configure system time of TL-WR902AC (standard wireless router/hotspot router mode) (new logo)
Ce document concerne les modèles suivants :
Time Settings is only available when the TL-WR902AC is on standard wireless router/access point/range extender/hotspot router mode. Before we start, please make sure it's configured successfully, otherwise, click the corresponding mode below for internet setup instruction.
1. Visit http://tplinkwifi.net, and log in with the username and password you set for the router.
2. Go to System Tools > Time Settings and configure the system time as needed.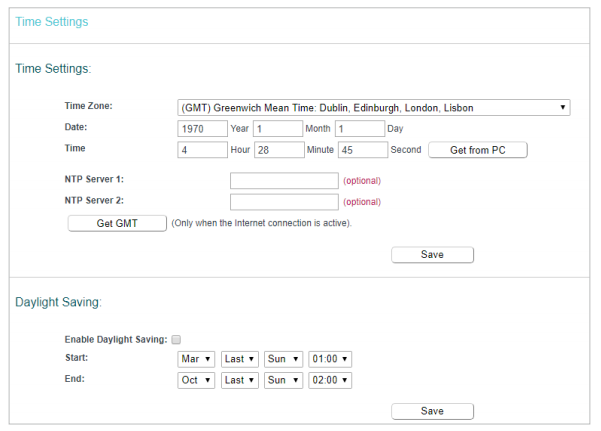 To set time manually:
1. Select your local time zone.
2. Enter the Date in Month/Day/Year format.
3. Enter the Time in Hour/Minute/Second format.
4. Click Save.
To set time automatically:
1. Select your local time zone.
2. Enter the address or domain of the NTP Server I or NTP Server II.
3. Click Get GMT to get time from the internet if you have connected to the internet.
To set Daylight Saving Time:
1. Select Enable Daylight Saving.
2. Select the start time from the drop-down list in the Start field.
3. Select the end time from the drop-down list in the End field.
4. Click Save.
Note: This setting will be used for some time-based functions such as firewall. You must specify your time zone once you log in to the router successfully; otherwise, time-based functions will not take effect.
Get to know more details of each function and configuration please go to Download Center to download the manual of your product.
Est-ce que ce FAQ a été utile ?
Vos commentaires nous aideront à améliorer ce site.
SubscriptionTP-Link prend votre vie privée au sérieux. Pour plus de détails sur la politique de confidentialité de TP-Link, veuillez consultez la page suivante Politique de confidentialité de TP-Link .
De United States?
Infos produits, événements, services pour votre pays.