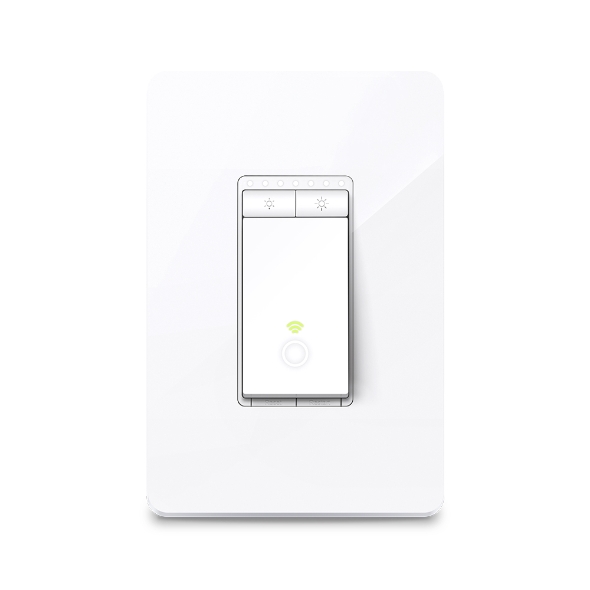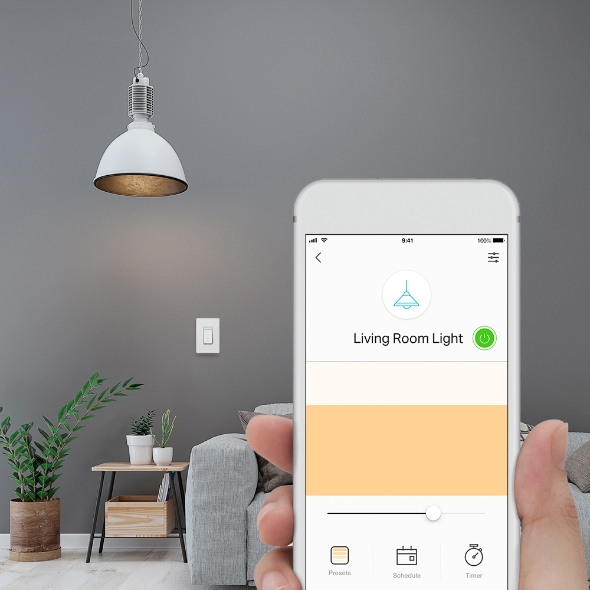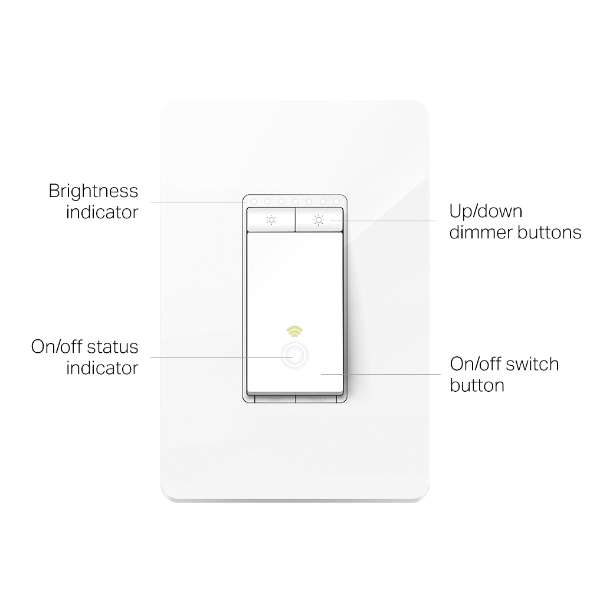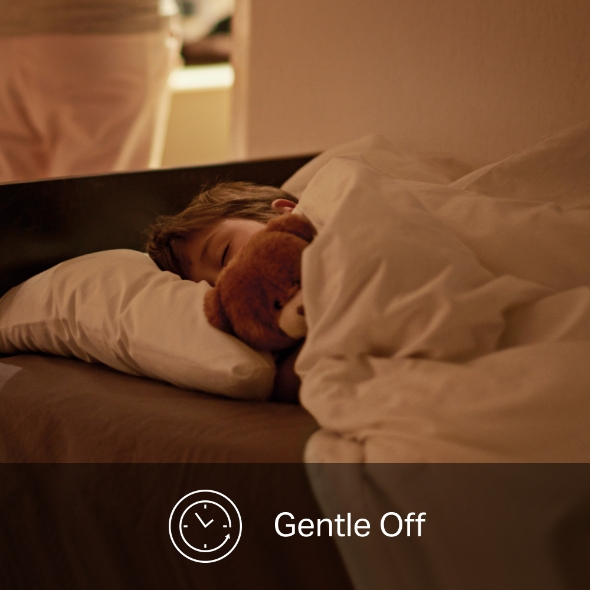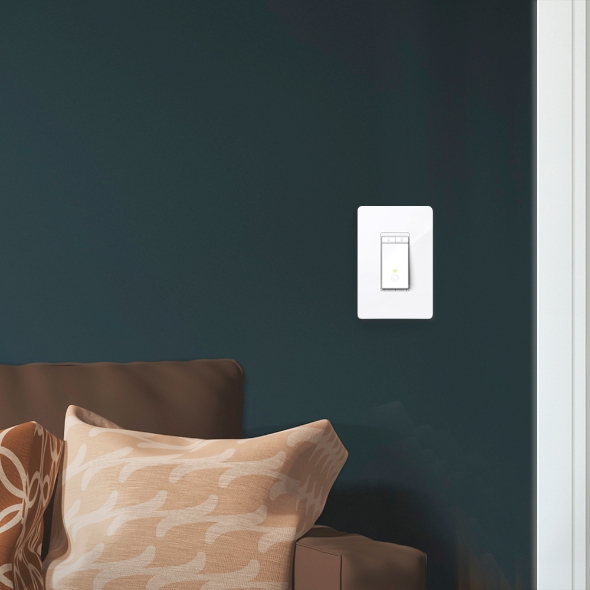 HS220
Smart Wi-Fi Light Switch, Dimmer
Easily set the perfect room lighting to match any activity. Designed to dim today's energy efficient LED bulbs with convenient control from the wall switch or with the Kasa app.
Set lighting levels with Amazon Alexa, Google Assistant or Microsoft Cortana for a convenient hands-free experience. Add more convenience by setting your lights to switch on when driving home using IFTTT or activate Away lighting with Nest.
Tailor your lighting to fade on with a click of the switch or a double-click to gently fade off the lights while your child drifts off to sleep.
Use Kasa Schedules to automatically turn on and off while you're away from home for enhanced peace of mind.
NOTE: Requires a neutral wire / Works in a single-pole setup only / Secured 2.4 GHz wireless network required.
Dim and Control Your Lights
from Wherever You Are.
Smart Wi-Fi Light Switch, Dimmer
HS220
Smart Dimming

Remote Access

Scheduling

Gentle Off
With the Smart Wi-Fi Dimmer, you can control any room's brightness and set the ambiance for any mood or activity using the Kasa app.
Convenient Lighting Customized to Your Life
Personalized Switch Setting

Choose the action you want when you hold down or double tap your Smart Dimmer with the Kasa app.
Scheduling

Turn fixtures on and off based on your
daily schedule and preferences.
Kasa Lighting Scene

Control groups of lights with a single tap
from the Kasa app.
Gentle Off
Use "Gentle Off" to fade lights as your child falls asleep or allow yourself time to exit a room
without bumping into things.
min
Intuitive Design
Brightness indicator
A circular LED status indicator lights up to help you locate the switch button in the dark
Built-in up & down dimmer buttons for fine tune lighting
A quick tap of the switch toggles lighting to previous levels
App-guided Worry-free Installation
1

Download Kasa for Mobile from App Store or Google Play store

2

Launch Kasa and follow the wiring steps provided*

3

Connect the Smart Switch to secured home Wi-Fi network (2.4GHz). No hub required!

* Do not attempt to install the product unless you have the proper training and equipment. The product is designed for indoor use to dimmable LED and incandescent bulbs. Improper installation or misuse of the product may cause severe property damage, environmental damage, burns, electrical shock, bodily injury, or death. Any modification may void warranty.
Voice is the Power
Use voice commands with Alexa or Google Assistant supported devices for a hands-free experience.

HS220
(Dimmer)
HS200
HS210KIT
(3-Way)
Mobile App
Kasa
Kasa
Kasa
Dimmer
√
Gentle Off
√
3-Way Switches
√
Scheduling
√
√
√
Timer
√
√
√
Sunrise & Sunset Control
√
√
√
Supports Amazon Alexa
√
√
√
Supports Google Assistant
√
√
√
IFTTT
√
√
√
No Hub Required
√
√
√
Réseau
Standards et Protocoles
Secured Wi-Fi Network
Protocole
IEEE 802.11b/g/n
Type WiFi
2.4GHz, 1T1R
Système Requis
iOS 10+, Android 5.0+
Général
Contenu de l'emballage
- 1 HS220 Smart Wi-Fi Light Switch, Dimmer- 1 Wall Plate- 2 Wire Nuts- Quick Installation Guide- Wiring labels
Certification
RoHS, FCC, IC, UL
Environnement
Indoor use only
Dimensions (LxPxH)
3.35 x 1.77 x 5.04in (85.1 x 44.96 x 128mm)
Materia
PC
Matériel
PC
Boutons
- On/Off Switch Button- Brightness Increase Button- Brightness Decrease Button- Restart Button- Reset Button
Poids
0.24 lb (net weight)0.109 kg (net weight)
Dimensions du Packaging
5.12 x 2.76 x 6.3in (130.04 x 70.10 x 160.02mm)
Etat de fonctionnement
Tension d'entrée
- 100 - 120VAC 60Hz- Neutral wire required
Charge Maximale
150W LED 300W Incandescent
SubscriptionTP-Link prend votre vie privée au sérieux. Pour plus de détails sur la politique de confidentialité de TP-Link, veuillez consultez la page suivante Politique de confidentialité de TP-Link .
De United States?
Infos produits, événements, services pour votre pays.