How to build a Factory Network using TP-Link products
A modernized factory can't be running without network. Normally a factory network will be separate into working network and entertainment network. Considering the security of the information and the safety of the work, network in the offices and workshops are usually deployed with Ethernet cable. While in the dormitory and the mess hall, wireless access point should be installed as the entertainment network for the workers. It would greatly inspire the enthusiasm of the workers for hard working and make them feel happy so that improving the efficient. This article is going to talk about an entire wireless network deployment solution for the factory.
What the basic needs of factory network?
Normally, a factory network should meet the following needs:
No blind zone. All the areas of lives should be covered with WiFi.
Wireless roaming. The clients can switch to another AP automatically while moving.
Centralized management. It is not convenient to configure the APs one by one, so all the APs should be managed and monitored by one controller.
Network security. The entertainment network should be isolated from the working network by VLAN. All the clients should be isolated to each other logically.
Flexible authorization method allows the user to access internet only in proper time.
What kind of solution can meet the needs of factory network?
Here we provide a full solution including the network topology, product features and parameters.
Topology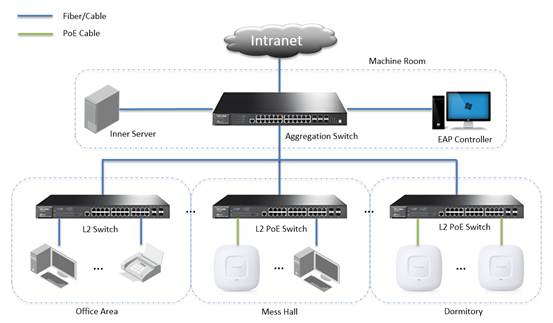 Tips for deploying this network topology:
In a factory, the distance between the workshop and dormitory is always far more than 100 meters. In this case, fiber with SFP module is the recommended transmission way. Link aggregation could help to break the Ethernet 1Gbps limitation.
Wireless network is more convenient and flexible, while the wired network is more stable and securer. For the transmission related to the confidential information, wired connection is suggested. And for the entertainment network environment such as dormitory and mess hall, wireless access points are suggested. Besides, the refectory MIS should be connected to the enterprise network and isolated from the working network and entertainment network.
The mess hall and the dormitory is not all the same while deploying the wireless access points, but there are always mainly 3 points should be considered, they are the coverage, the interference and the clients number. For the mess hall, it has large people flow at dining time, so there will be high burst flow. This require the capacity to handle large number of clients and high speed connection. For the dormitory, the clients' number is fixed and the flow is more stable, we should think about how to deploy the APs reasonably to cost down the investment. Please refer to Dormitory solution for the dormitory deployment.
What are the highlights of this solution?
The EAP is celling mount designed, PoE supported, good looking and easy to install.
EAP is very suitable for large area coverage solution like mess hall or dormitory. It can reach up to 1900Mbps by using 802.11ac/802.11n technique.
All the EAP use unified SSID and security method, clients can switch to other EAP automatically while moving.
EAPs are centralized managed by EAP controller software, which is free for use. All the EAP status can be monitored on the web GUI of the controller.
Security network environment
tp-link switch supports standard VLAN function, it can isolate different departments into different VLANs. Multi-SSID working with VLAN is supported, so clients can be isolated from other hosts by VLAN. AP isolation can help to isolate clients to each other. WPA-Enterprise security makes the network securer.
EAP provides 802.1x, portal authentication and access voucher, it can prevent unauthorized connection, and limit the access time for each client as well. People can't connect to the network if the voucher expired.
tp-link switch link aggregation makes the link bandwidth together. There are two 10Gbps SFP ports on T3700G-28TQ, and it can be used either for trunk port or stack port.
Which products should I choose to build the dormitory wireless network?
Here is a list which includes the TP-LINK devices for reference:
| | |
| --- | --- |
| Model | Brief Introduction |
| EAP330 | Celling mount 802.11AC dual band enterprise AP, speed up to 1900Mbps, managed by EAP controller software, 802.3at PoE supported with good looking surface |
| TL-SG3424P | Standard PoE switch with 24 gigabit ports. 802.1q 802.3af/at PoE L2 switch, VLAN, IGMP snooping, QoS, LACP supported, variety management methods, easy to configure, suitable for managed PoE network |
| T3700G-28TQ | Stackable L3 switch, 2 10Gps SFP ports, 4 Gigabits SFP ports, support IP routing, DHCP, VLAN, LACP, ACL and etc. |
| TL-SG3424 | Standard L2 switch with 24 gigabit ports. VLAN, IGMP snooping, QoS, LACP supported, variety management methods, easy to configure. |
Is this faq useful?
Your feedback helps improve this site.
SuscripciónTP-Link toma en serio su privacidad. Para obtener más detalles sobre las prácticas de privacidad de TP-Link, consulte la Política de privacidad de TP-Link.
From United States?
Get products, events and services for your region.